Manufacturing requires a lot of attention to detail and coordinating various moving parts to deliver the final product. In order to accomplish those goals and meet a tight deadline and an even tighter budget, you need these 10 free manufacturing Excel templates.
ProjectManager has dozens of free templates to download. We curated our template page to select 10 of the essential manufacturing templates for Excel that all manufacturers can benefit from. It doesn't hurt that they're free, either.
A production schedule is how you ensure that you get your product into the hands of your customers on time. But a schedule is similar to keeping a lot of balls in the air. You have to juggle your employees and their work schedule, vendors and suppliers, materials, maintenance of your machinery and more.
Our free production schedule template for Excel is a gift to manufacturers. It helps put all of the pieces of your manufacturing schedule together in such a way that you're on time. There are places to note the order status, product variations and quantity, but also starting and ending inventory, ship date and much more.
A production schedule template is an essential part of your supply chain management. It helps you manage your resources effectively and even supports the sales team as they know when products will be delivered and available for sale.
Gantt charts have been essential project management tools for over a century. Project managers across all industries have flocked to them to organize tasks and resources. They are best for traditional projects, such as manufacturing, which follow a more waterfall type of methodology.
Our free Gantt chart template for Excel helps you organize all the tasks in your manufacturing cycle. It captures the start date, end date and duration. But more than that, it then translates those columns of numbers into a visual timeline that you can color code to make it easy to see the different stages of your manufacturing process.
The Gantt chart is the cornerstone of any project schedule. You can share the Gantt chart with stakeholders so they have a picture of the manufacturing process. If there are changes, you can input them manually and the timeline adjusts accordingly.
Just as a car has a dashboard so the driver can see how fast the car is traveling, how much gas is left and more, manufacturing projects need a tool to give teams a view of their work to better manage it. What you get is a high-level view of your manufacturing process whenever you want it.
Using our free dashboard template for Excel provides you with four metrics to measure your manufacturing process. You can see the percentage complete of all tasks in your schedule, your team's workload, the length of tasks and even project costs. All of these are displayed in easy-to-read graphs and charts.
This manufacturing Excel template is a free tool that can help you capture anomalies in your production cycle so you can respond to them quickly and avoid costly delays. It's a great tool for any production manager to get a glimpse of the progress and performance of the manufacturing process in one place.
A bill of materials describes the materials, assemblies, parts and components needed to make a product. Bills of materials are primarily used to train manufacturing employees on how to assemble products, but they might also be sent to external parties when outsourcing manufacturing processes.
A standard operating procedure is a recurring activity that's part of the manufacturing process of a product. Standard operating procedures should be standardized and well-documented to ensure employee safety, comply with industry regulations and maintain quality standards.
An equipment inventory is a form that helps manufacturers keep track of the various pieces of equipment and machinery that are used in their production process. Equipment inventories typically include the description of the equipment, its current value, operating and maintenance costs, and depreciation information.
Resources are what make manufacturing work, and a resource plan is how you organize and manage your resources for greater productivity. Resources can mean equipment, tools and materials. But the most important resource is your employees.
When you use our free resource plan template for Excel you can set up your resources by your team instead of their rate and the cost you've budgeted for their work. Then you can schedule them across the week or month and manage your resources more effectively.
Now you have the means to align your resources with your schedule and stay on budget. This resource plan template should be part of your larger planning phase. Use it with a scheduler and budget to develop a well-rounded project plan that keeps you on track.
To keep your employees productive, you need to know their workload. ProjectManager is online software that tracks your team's workload in real time. Our resource management tools help you track availability, but once assigned the workload chart is color-coded to make it easy to see who is over or under-allocated. Then you can balance their workload right from the chart and keep them productive. Get started with ProjectManager today for free.
Getting your manufacturing project off the ground involves turning an idea into a plan and then taking action. An implementation plan helps you create the steps that will lead to the manufacturing of your final product. Planning is key to delivering your product on time and within budget.
In order to do that, you can use our free implementation plan template for Excel. Our free template helps you define the strategy, process and actions necessary to create your final deliverable. The implementation plan template helps you turn your strategic plan into something real.
There are places to detail the manufacturing information, such as the manager, stakeholders, etc. The spreadsheet is divided into three, first where you show the strategy, then the process and finally the actions you'll take to fulfill that strategy. There's a timeline and planned hours, too, to estimate how long the work will take.
When you contract with outside vendors, you need a work order to address the labor, tools and materials that'll be needed to complete the job. The work order can also show the contractor how to do the work, which can be very important in complex manufacturing projects.
Manufacturers will want to download our free work order template for Excel. It standardizes the relationship between manufacturers and contractors as well as details the job, due dates and much more. This governing document also sets the pricing for the work contracted.
You'll want to use this manufacturing Excel template with an external worker. In fact, the template should be filled in when you're assigning the task to collect all the details surrounding that work to make sure it's clear for all involved.
You can't complete a project if you don't have the money to finance the manufacturing. Those financial details must be created early and cover all the costs necessary to manufacture the product, from labor to materials and everything in between.
When you use our free project budget template for Excel you're able to cover all the financial bases and help get a better return on your investment. There are spots to collect the labor and material costs, including planned and actual hours, dollars per hour, unit cost and more. There's also space for other line items to make sure your budget addresses all costs.
You'll also have a place to view the budget again the actual costs, with a column showing how much over or under budget you are. This is essential data if you want to deliver your manufacturing project under or at a budget to make or increase your profits.
Managing your inventory is key to manufacturing. If you don't know your stock, you're not going to be able to build your products without costly delays. In order to keep track of what's in your warehouse so you can better plan your manufacturing, you need to know your inventory.
That's where this manufacturing Excel template comes in. It's a customizable spreadsheet with columns to capture the inventory number, name and description of the material or part, including unit price, quantity and whether it's in stock.
There's even a pulldown menu to note whether you have to reorder the item. The reorder level column allows you to avoid the stock falling so low that you can't continue the manufacturing process and gives you time to reorder and restock before anything is delayed.
Sourcing materials or parts when manufacturing is one of the many factors you have to include in your planning. Having an effective purchase order pipeline helps to streamline your manufacturing and reduce issues. If issues arise, provide a paper trail to track them.
You can help achieve those goals with our free purchase order template for Excel. It helps you track delivery information, such as the name of the vendor you're working with, their contact information, shipping information as well as the date the goods are scheduled for delivery.
You'll also be able to list the inventory that you're purchasing. The items are broken down by name, description, quantity, and unit price and there's a line total so you're always clear on what you spending and what you're getting for those costs.
Risk is what might happen within your project, whether it's for the better or worse. Being able to identify what that could be and how you'll respond to it is risk management, which is how you keep to your manufacturing schedule.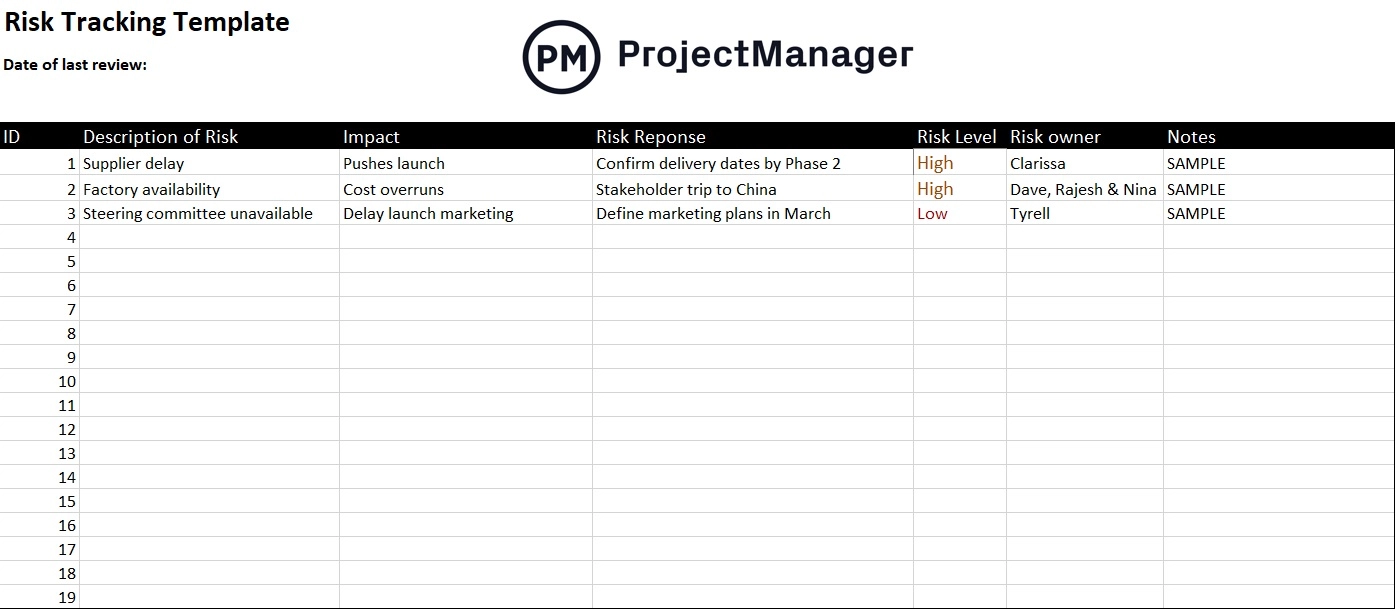 To capture all that data and have it on hand when you need it, there's our free risk register template for Excel. It identifies all the risks to your manufacturing process and describes what might happen and its impact. There's also a place to add risk response, note the level of risk and determine who's responsible for resolving it if it in fact occurs.
You'll want to set up your risk register template early in the planning stage and refer to it throughout the manufacturing cycle. Now you have a document that tells you what to do and even if you need to do something. Remember, not all risks are bad, they just impact manufacturing. Good risks can be taken advantage of, but you can't do a thing without our free risk register template for Excel.
Get More Than Templates Can Provide With ProjectManager
We encourage you to download every template on this list. Go to our site and look over the dozens more project management templates we have to help manage your work. But templates can only go so far. They're static documents and require manual updates to be effective.
ProjectManager is software that delivers real-time data for more insightful decision-making. We have features that work together in ways that templates can't. From task management and risk management to resource management, we've got you covered.
Plan Your Manufacturing Process on Interactive Gantt Charts
Instead of a static Gantt chart template, plan on our online Gantt chart. You can organize your tasks, assign team members and even link dependent tasks to avoid delays. More than that, you can even filter for the critical path without any lengthy calculations. Once you set the baseline, you've captured your planned effort and can compare it to your actual effort in real time. Your teams can see the same information across our multiple project views, such as list, calendar and sheet views or kanban board to visually track your workflow.
Track Progress and Performace With Real-Time Dashboards
To make sure you're progressing as planned, you need a tool that gives you a high-level view of the manufacturing process. Our real-time dashboards do just that. They automatically collect live project data and display them in easy-to-read graphs and charts. That way, you can see your costs, time, tasks, workload and more when you need to. There's no setup necessary, and customizable reporting tools give you more detail when you need it. Then share these reports with stakeholders to keep them updated.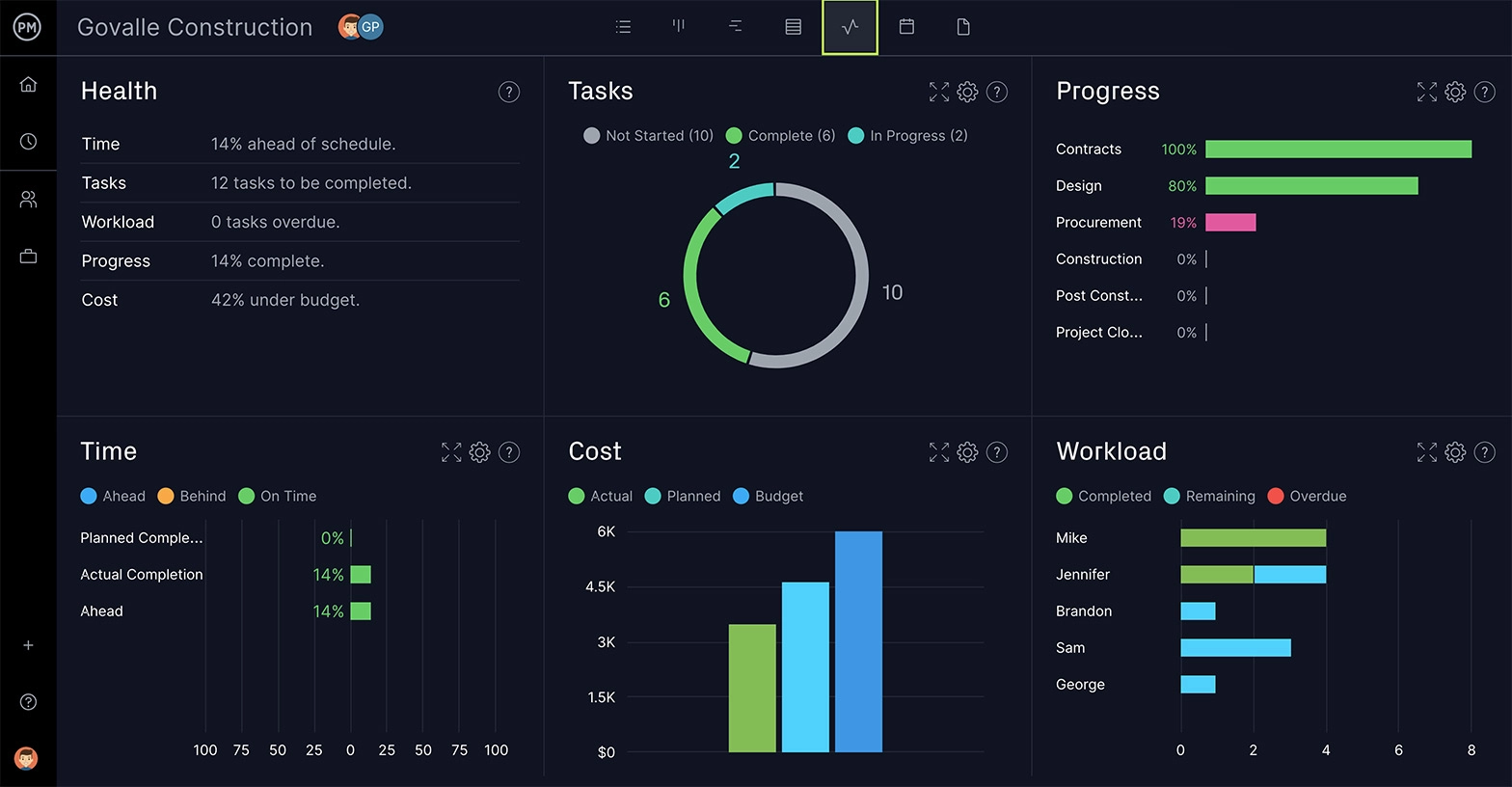 That's only a short tour of some of our features. Manufacturers love our automation, which allows you to set as many triggers as you need that'll result in a specific action. That frees up your team to focus on more important work. Managers can create task approvals to make sure nothing slips past them and quality is ensured. There are even recurring tasks. We streamline manufacturing and give you more control to deliver success.
ProjectManager is an award-winning software for managing any project. Our collaborative platform connects your teams and gives you access to the manufacturing floor no matter where you are or what time it is. Join teams at NASA, Siemens and Nestle who are using our tool to empower their teams. Get started with ProjectManager today for free.