A bill of materials is a list of what's required to assemble a product. It's much more than a listing of materials; it's a document that acts as an instruction manual and a tool to help avoid production delays and waste. With so much importance resting on the bill of materials, you'll want to make sure yours is thorough, which is why you should download our free bill of materials template for Excel.
What Is a Bill of Materials Template?
A bill of materials (BOM) is the document used by manufacturers to plan what materials they'll need to buy. It helps with manufacturing estimates, planning and inventory control. When done, a bill of materials should be a safeguard against production delays and waste.
The bill of materials identifies all the pieces needed to assemble or create the final product in the assembly line. This includes not just the product itself, but any packaging required to ship it and even how the product will be used.
The purpose of the BOM is more than only listing the quantity and cost of those materials. It is also used to communicate the procurement process, assemble and even repair of the product. The bill of materials helps with inventory, showing what's in stock and what you'll need to order to keep the production line moving forward.
Therefore, a bill of materials, as stated above, is more than a list. It's a tool that helps add efficiency to the supply chain and makes sure that the materials you need for production are always on hand. That avoids delays and extra warehousing costs.
The BOM is also a foundational piece of data that will help you build and support your production plan. ProjectManager is award-winning software that takes a bill of materials and turns it into a workable plan by organizing resources with tasks and costs on a Gantt chart. This visual timeline can also capture your plan when you set a baseline, which then tracks your planned effort against your actual effort in real time to keep you on schedule. Get started with ProjectManager today for free.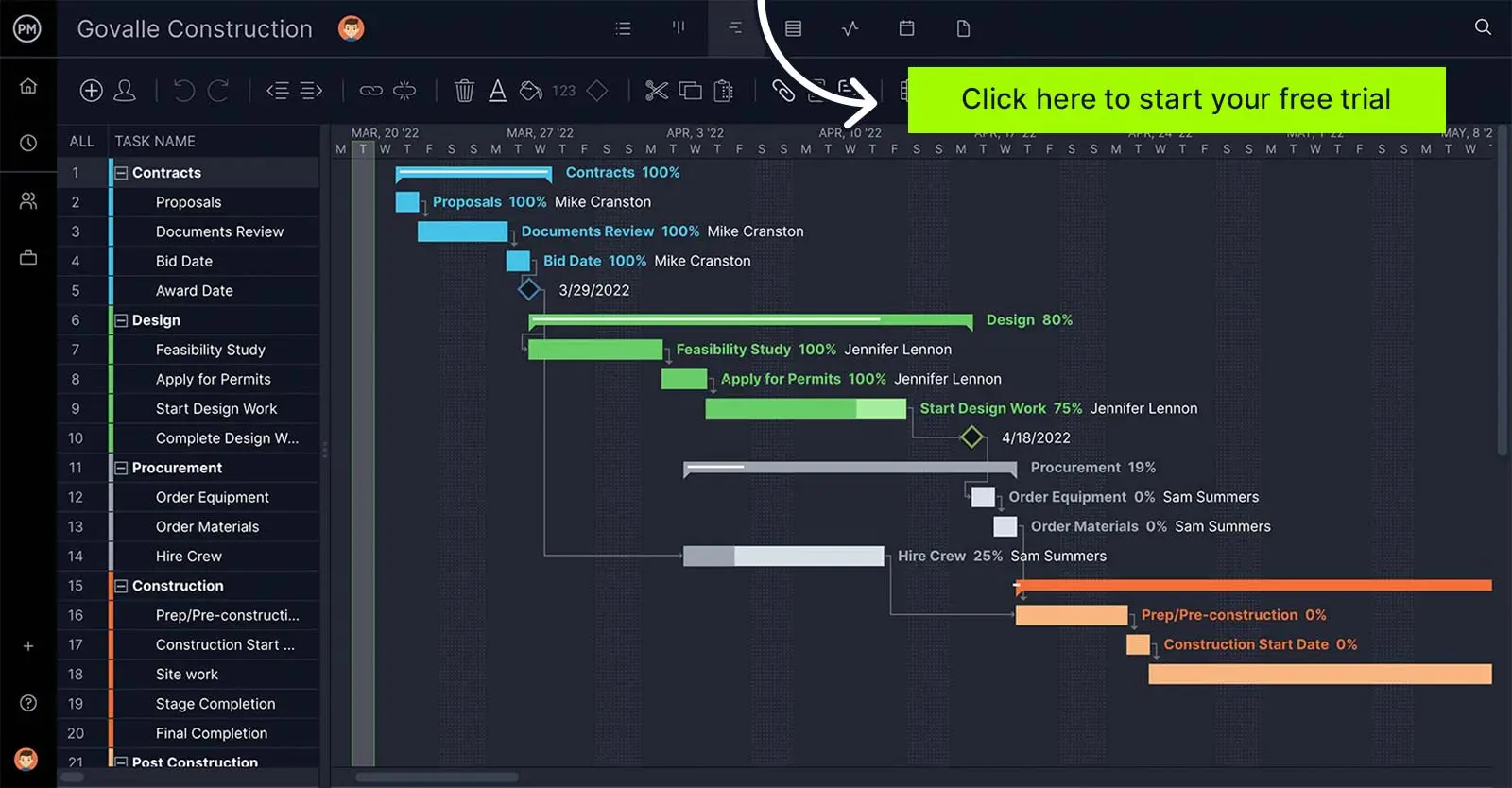 Why Should You Use a Bill of Materials Template?
There are many reasons to use a bill of materials template, the most profound being that it helps manufacturers identify their inventory stock, such as raw materials, assemblies and other parts that they'll need when producing products. The bill of materials is essential to efficient inventory control.
Another reason to use the bill of materials template is that it helps identify waste because you'll map the necessary components for the final project. This knowledge helps in the manufacturing process as operation and production teams can make trade-offs between time, cash flow and inventory control.
Because you're defining costs with a bill of materials, you can also better manage your production costs. It helps identify cost-effective ways to outsource materials. This is especially true for those who outsource manufacturing.
What Is Included in This Bill of Materials Template?
The various things that a bill of materials template can do are based on the information it holds. While knowing what you need, including the quantity and cost, is important, there are other factors that the BOM provides that prove helpful beyond the assemblage on the production line.
If you've ever had a Lego set, then you know what a bill of materials is. The instruction pamphlet included in the Lego box is the bill of materials, at least in a simplistic form. It shows you what's included, the number of pieces and the process by which they can be assembled to end up with the final product.
But a bill of materials is often associated with complex production planning and inventory management. There are various types of bills of materials, but all share common core elements. One thing that isn't included in any bill of materials is labor. The following are items included in our free bill of materials template for Excel.
BOM level: This shows where the item fits in the hierarchy of the assemblage and has a unique number.
Raw materials: The raw materials required to produce the finished product.
Assemblies & sub-assemblies: Parts of the larger assemblage or product are illustrated with drawings or pictures to show how to put them together.
Part number: In order to easily identify each item or assemblage, they are numbered.
Part name: Similarly, each part has a unique name to help identify it from the rest.
Part description: Here, enter more details about each part, including a description, the name of the manufacturer, specifications and other general details.
Unit cost: Lists how much the unit or assemblage costs.
Quantity: Outlines how many of each item or assemblage are needed to assemble or create the final product.
Total cost: Each unit cost is multiplied by the amount needed and then added to tally the total cost.
Procurement details: In order to trace the delivery of the parts on this list, add procurement details such as how they'll be purchased or products manufactured by subcontractors.
When Can You Use This Bill of Materials Template?
The bill of materials is clearly an essential document for production planning, but it can also benefit your business in other ways. Besides helping manufacturing operators at the production line, an effective BOM template impacts key areas of your business such as operations management, supply chain management and inventory management.
Inventory management benefits from the information collected in the bill of materials and allows for just the right amount of warehouse space necessary to carry the inventory necessary for production. Enterprise resource planning also is informed by the bill of materials. It can use the BOM to determine the necessary resources to produce the products being manufactured.
Who Should Use This Bill of Materials Template?
Anyone involved in the handling of raw materials, the production process and manufacturing process, resource planning or working with finished goods and components parts will want to access this bill of materials template for Excel.
You'll find professionals in engineering, design, operational planning, manufacturing and more using a bill of materials. Also, anyone involved in the planning or purchasing of materials and estimation of those costs—including planning and controlling inventory and managing production to minimize delays and waste—will all have their hands on this template.
You'll find a bill of materials used in the design of enterprise resource planning (ERP) systems and materials requirement planning (MRP), too. There are even BOM specialists who are responsible for the development and maintenance of the bill of materials in manufacturing.
More Manufacturing Templates
The bill of materials is one of many dozens of free project management templates for Word and Excel that we have available on our site to download. You can get a template to address any one of the five phases of project management and several industries, too. Here are a few of the templates that relate to manufacturing.
The bill of materials feeds into any production schedule. Therefore, a good companion to the BOM is this free production schedule template for Excel. It'll help you balance supply and demand as you produce your commodity.
If you're working with contractors, then you need this free work order template for Excel. It covers labor as well as the tools and materials that are required to complete the contracted job. While more common in construction, they're also found in manufacturing.
Manufacturers source products and materials. That's what is on the bill of materials. In order to have an effective purchase order pipeline use our free purchase order template for Excel. It can be used as a contract between the buyer and seller to define the price, quantity, delivery and more.
Plan Your Production Process with ProjectManager
Once you have a bill of materials, you have your production set up that must be run. That involves more than any template can provide as templates are static documents. Manufacturing is anything but static. It needs the robust features found in ProjectManager, award-winning project management software. We've already shown how our robust Gantt charts are able to set up production plans that manage the resources on your BOM, but that's only the start.
Monitor Resources in Real Time
The bill of materials only lists resources, but once you start using them in production, you have to keep track of them. That's especially true for your labor, which isn't included in the BOM. Our real-time dashboard gives you a high-level view of production. Unlike lightweight tools, there's no time-consuming setup. The live dashboard is ready when you are with easy-to-read graphs and charts that show cost, time and more. As for your production crew, you can view their assigned work on our color-coded workload chart and directly make adjustments to keep them working productively. We even have secure timesheets that track how much time they're spending on jobs.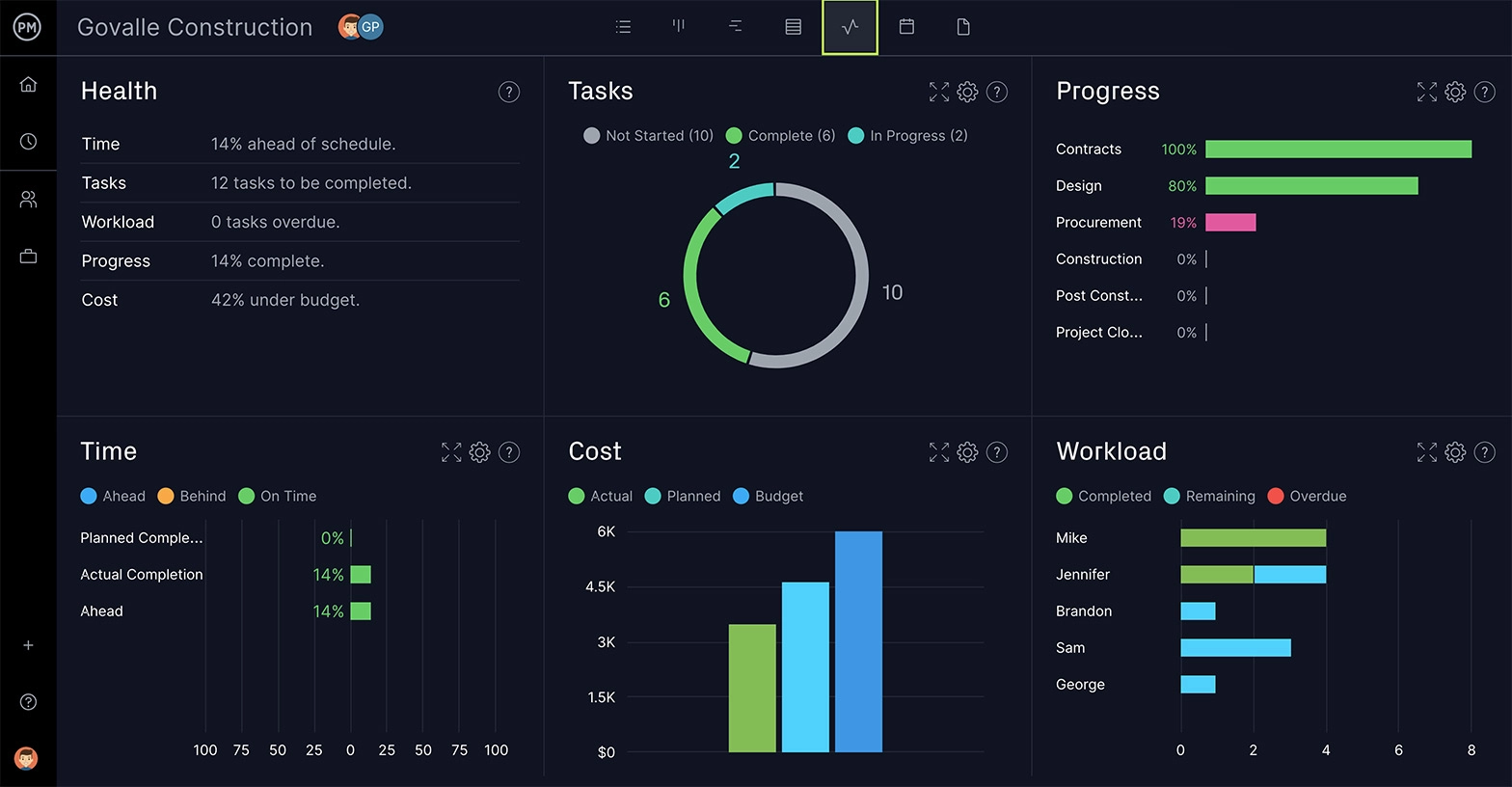 Manage Tasks & Schedules with Multiple Tools
Gantt charts are great for scheduling resources and costs, but they're only one way to manage your manufacturing production. Different departments use different tools, which is why we offer multiple project views that share the most updated data. Production teams will get more mileage out of kanban boards to visualize their workflow or task lists to track what needs to be done and what percentage is complete. There are also calendars to track milestones, which is often what stakeholders are concerned with.
Related Manufacturing Content
If you need more time before taking a free trial and want to explore more manufacturing articles, check out the links below. It's related content from our online hub of weekly blogs, tutorial videos, guides and, of course, templates.
ProjectManager is online project management software that plans, manages and tracks business processes, manufacturing, construction projects and more. Our features include task management, risk management and resource management to give you the control needed to deliver success. Get started with ProjectManager today for free.