Construction projects can be big, complex and often unruly, with regulatory issues, safety concerns, equipment rentals, multiple teams and more. If you want to keep a construction project on track and meet your deadlines, you want construction scheduling software that's robust and dynamic.
What Features Make the Best Construction Scheduling Software?
Before we learn about the best construction scheduling software of 2023, let's review the project management tools and key features any construction project management software should offer.
Task management tools: The first step when creating a construction schedule is identifying tasks and their duration by using project management techniques like a work breakdown structure or the critical path method. Then, you'll need construction scheduling software with task management tools to assign someone to follow those tasks to successful completion.
Resource management tools: All project tasks involve resources such as labor, raw materials and equipment, so you'll need construction scheduling software that includes resource management features such as workload charts and resource dashboards to allocate your resources effectively.
Project planning & scheduling tools: Once you've identified the tasks that make up your construction schedule, you'll need project planning tools such as Gantt charts and project calendars to turn task lists into actionable construction schedules.
Project tracking tools: Creating a construction schedule is important, but so is tracking it. Look for construction scheduling software with project tracking features such as real-time dashboards to track your team's performance and whether due dates are being met.
Project reporting tools: Reporting is fundamental for the successful and timely completion of construction projects. You'll need construction scheduling software that allows you to create status reports to communicate with project owners, general contractors, subcontractors and other construction stakeholders.
Cost management tools: While costs aren't directly involved in creating a project schedule, every task in your construction schedule needs resources that cost money for your organization. Construction scheduling should include cost tracking such as timesheets and dashboards to help you stay on budget.
2023 Best Construction Scheduling Software Rankings
There are many construction scheduling software products on the market that sell themselves as the go-to tool for the construction project manager. But how do they measure up to the task? We've taken a look at the best for you—here are our top picks.
1. ProjectManager
Best construction scheduling software for construction project management
Online Gantt charts for construction planning and scheduling
Real-time dashboards and timesheets for resource tracking
ProjectManager is online project management software that can be used anywhere and by anyone. Of course, this is a benefit to construction scheduling, where work occurs on-site and among multiple teams.
Beyond that, the suite of tools featured offers a means to control every aspect of the construction planning, from organizing tasks, costs and resources to linking dependent tasks and setting milestones to break the larger schedule up into more manageable bits. That's in addition to the larger construction project management of construction project planning, construction vendor management, construction cost management and more.
Schedule With Gantt Charts
For example, ProjectManager has an online Gantt chart tool that's a visual timeline of the project, with tasks represented by a start date and end date. The duration of the task is indicated by a line, which can be easily edited by simply dragging and dropping when and if there's a schedule change.
You can use the online Gantt chart to assign tasks to individuals on the team. They can then collaborate at the task level, leaving comments and adding relevant documents and images directly to the task. If any of those tasks are dependent on another being completed before they can begin, the construction project manager can link them, preventing bottlenecks and leaving your crew idle.
Track Your Resources
Another aspect of construction schedule software that is complex is resource management. Construction requires many different skill sets working together throughout the many phases of the project, and ProjectManager makes it easy to coordinate moving parts with features that chart availability, skillset, cost and allocation of the various workforce and materials. All of this occurs in real time, so the pieces come together as you need them.
Streamline Payroll
Once you've scheduled the work, you can track your crew and streamline the payment process with timesheets that track the hours your team works, whether in the office or on-site. Timesheets can be updated and submitted anywhere for easy review by managers, who can approve with a keystroke. Plus, all your files are uploaded to the cloud, where they can be accessed when needed.
Given all these amazing features at a low price point, it's clear that ProjectManager is the heavyweight champ of construction project management software. Click here to start a 30-day free trial!
Pricing
Team plan: $13 per user/month, billed annually, no user minimum
Business plan: $24 per user/month, billed annually, no user limits
Quick Facts
ProjectManager has a 30-day free trial
ProjectManager has a mobile app for Android and iOS
2. Procore
Best construction scheduling software for large projects
Document management features for construction management
Time tracking features for the job site
Construction project managers use Procore for HR, safety and financial concerns related to the construction schedule. It has a place for the many documents related to construction. There's an employee contact log, with everyone's certification, though billing is very confusing and, even if understood, not up to the industry standard.
It's a decent construction scheduling software for medium to large construction companies, but if you're running a smaller company, the software is too bulky and likely too expensive. It's good for end-users, in that it involves them in the planning for future projects and improvements.
That said, it's not great if you're interfacing with architects and engineers or subcontractors. The integrations are also spotty, including financials, and the bidding module doesn't update automatically.
Pricing
Procore requires a custom quote
Quick Facts
Procore doesn't offer a free trial
Procore has a mobile app available for Android and iOS
3.CoConstruct
Best construction scheduling software for residential building
Scheduling software equipped with timesheets
Cost estimating features for construction teams
CoConstruct is a popular construction software with limited scheduling features. It's web-based and used by contractors, modelers and design-build companies. It has features such as activity planning, scheduling, estimating, budgeting and communications.
One of the pluses of CoConstruct is that it's easy to customize and has good customer service if you need assistance. However, one downside for those who are window shopping is the fact that CoConstruct doesn't offer a free trial.
It's also expensive and has limited integrations, which can frustrate users who are interested in a system that works with their other software packages, related to construction or not, such as accounting and social tools.
Pricing
Essential plan: Starts at $99/month when billed annually and then increases to $299/month after 2 months
Advanced plan: Starts $399 a month billed annually, increases to $699 after 2 months
Complete plan: $699 a month billed annually, increases to $999 after 2 months
Quick Facts
CoConstruct doesn't have a free trial
CoConstruct has a mobile app available for Android and iOS
4. e-Builder
Best construction scheduling software for capital improvement projects
Helps contractors and project owners create construction reports
Equipped with document management features for construction bidding
The good thing about e-Builder is that it's made with scheduling government projects in mind. It helps with updating submittals, communications and invoicing. It, however, is a bit of an uphill battle to learn how to use it.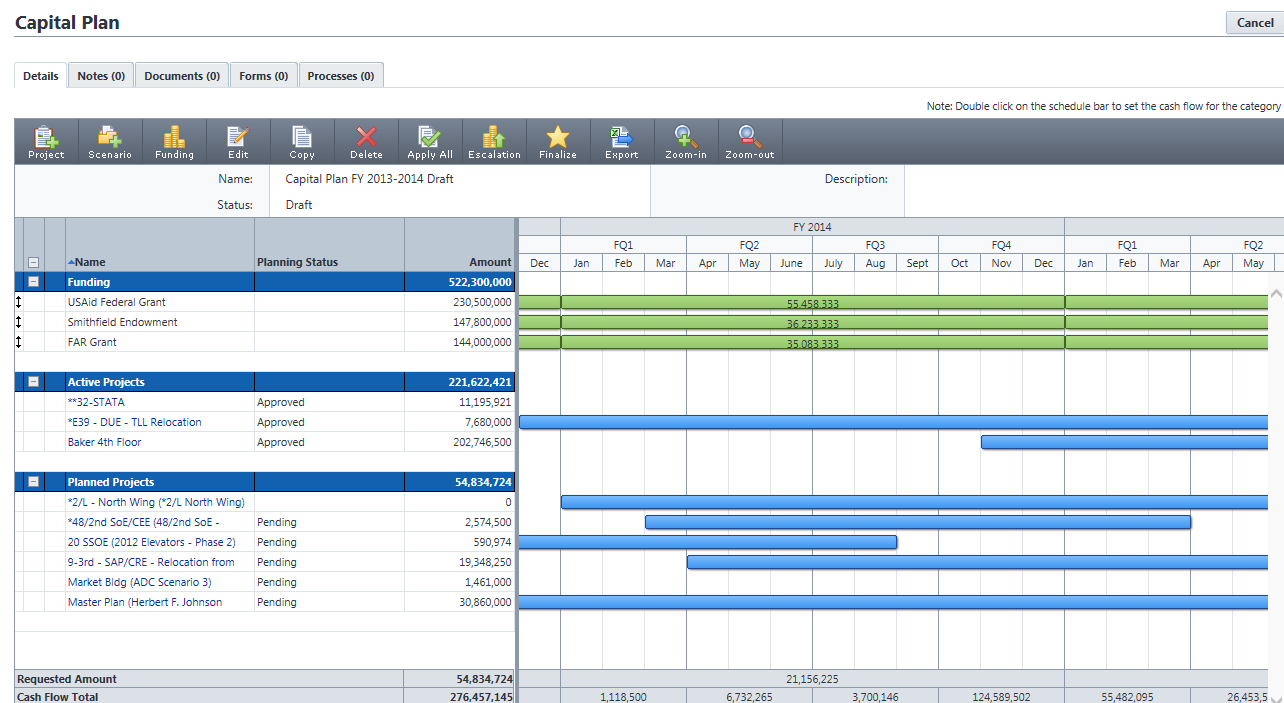 Once you clear the training hurdle, it organizes documents easily and has notifications, which help with updates and changes throughout the project. The layout can be confusing; it's cluttered and overwhelming but does offer a lot of specifics related to managing government-issued projects.
It has a nice scheduling feature, which helps manage large organizations with many employees, but the usability isn't ideal or intuitive. It also doesn't autosave, which can be problematic.
Pricing
e-Builder requires a custom quote
Quick Facts
e-Builder doesn't offer a free trial
e-Builder has a mobile app available for Android and iOS
5. B2W Software
Best construction scheduling software for civil construction
Ideal cost-estimating features for construction management
Multiple resource scheduling tools
B2W Software is an estimating software for civil construction and bidding. It helps contractors bid faster, more accurately and within their business strategy. Therefore, it's helpful for construction scheduling in that it helps create accurate estimates for cost, labor, tasks, materials and equipment.
It has a central resource database, work breakdown structure (WBS) and can be used simultaneously by multiple estimators. An issue, though, is that if a user mistakenly changes a production rate or cost, you can't undo that change.
There are also costly maintenance fees each year and the cost, which is only provided upon request, can get expensive. And to add more users only jacks up that price further.
Pricing
Contact the company for a quote
Quick Facts
B2W Software doesn't have a free trial
B2W Software has a project management app for Android and iOS
6. eSUB
Best construction scheduling software for subcontractors
Helps subcontractors make field notes
Single platform for document management
eSUB is construction scheduling software that is made for subcontractors. It has features that allow them to create field notes, make daily reports, create and approve requests for information (RFIs) and schedule equipment.
In terms of scheduling, there are calendars that capture contractors' schedules and track the project. This software works best for small to mid-sized subcontractors, such as electrical, mechanical and other specialty trades. However, users better not make any errors in the submission because if they do they can't be erased.
While it's good for much of a subcontractor's job, it's not ideal for planning or scheduling projects due to its lack of project management tools. It's also not built for service work or any short-term project that is only a week or two in duration.
Pricing
Base plan: $49 user/month billed annually
Advanced plan: $69 user/month billed annually
Quick Facts
eSUB has a 14-day free trial
eSUB has a mobile project management app for Android and iOS
7. BuilderTrend
Best construction scheduling software for home builders
Intuitive interface makes it easy to use
Good customer support helps with any questions
BuilderTrend is construction schedule software for construction managers and contractors. It's got a Gantt chart to create construction schedules and an intuitive user interface. If you run into any trouble, they provide good customer support. It's expensive, but you're paying for that hand-holding among other things.
The dashboard is especially well-designed and there are strong reporting tools. Both of these features are critical to keeping to your construction schedule. However, there's no free version, so if you're interested in the software, you'll have to pay.
The estimating functionality, which is an important part of any construction scheduling software, is poor and very labor-intensive. Another frustrating aspect is that there aren't alerts to let users know when they have a message.
Pricing
Essential Plan: $99 monthly billed annually, $399 after 1 month
Advanced Plan: $399 monthly billed annually, $699 after 1 month
Complete Plan: $699 monthly billed annually, $999 after 1 month
Quick Facts
BuilderTrend doesn't have a free trial
BuilderTrend has a project management app for Android and iOS
8. AutoDesk Build
Best construction scheduling software for workflow management
Connects office and field teams
Has multiple construction products for sale
AutoDesk Build is a great tool for connecting your office staff with workers in the field. It connects workflows and helps teams securely collaborate. It's made up of many different products, a fact that's good and bad. It's nice to have many tools, but each comes with its own pricing structure which can get expensive.
It's a great product for transferring files and keeping your team informed. But some of its products, such as the BIM 360 Document Management are confusing and customer service is hard to reach and often not helpful.
This is more of a construction management software than a construction scheduling software, however, it does help get everyone on the same page with the schedule and communicate any changes to that schedule, which is a critical part of staying on track.
Pricing
Look up individual product prices on the company's site
Quick Facts
AutoDesk Build has a 30-day free trial
AutoDesk Build has a project management app for Android and iOS
9. Buildxact
Best construction scheduling software for small builders
Tracks cash flow and profit
Estimates jobs and order materials
Buildxact is construction scheduling software equipped with Gantt charts that helps run projects with flexible scheduling and keeps them on budget with cash flow and profit tracking. It also helps to estimate jobs and order materials, which is key data for creating construction schedules.
Another plus is that the company is open to suggestions for improvements from its customers, which is a great way to retain a happy consumer base. The trouble with that is there's a lot of room for improvement.
Customers have complained about the software's inability to adjust purchase orders after they've been created. The customizing of quotes is unnecessarily complex as are some of the other features, such as advanced editing. Also, the pay structure can get expensive fast if you want more features and users.
Pricing
Entry plan:$149 for 1 user/month, $59 for an extra user/month
Pro plan: $249 for 2 users/month, $69 for an extra user/month
Team plan: $399 for 4 users/month, $79 for an extra user/month
Quick Facts
Buildxact has a 14-day free trial
Buildxact does not have a project management app
10. Smartsheet
Best construction scheduling software for scheduling templates
Workflow management features for project teams
Resource management tools that can be used for construction projects
Communication is key to good construction scheduling and executing that schedule. Smartsheet is a nice program to streamline and add efficiency to your project communications. With Smartsheet, work is managed so that construction projects can stay productive through better communication.
The software also manages the avalanche of paperwork involved in any project, which goes double for a construction project. With improved documentation to capture issues as they arise in a project, teams can collaborate more effectively on Smartsheet. Not only teams but vendors and clients can also be added into the loop.
All of this saves time and creates more accurate management of project resources. However, Smartsheet lacks good Gantt functionality, which is critical for making and executing construction schedules and plans. Check our blog to learn about the best Smartsheeet alternatives of 2023.
Pricing
Pro plan: $7 user/month
Business plan: $25 user/month
Quick Facts
Smartsheet has a 30-day free trial
Smartsheet has a mobile app available for Android and iOS
Construction project management is a big field that requires robust and dynamic project management software to handle all its moving parts. ProjectManager is construction project management software that has the tools to plan, monitor and report on every phase of the project's life cycle. It's uniquely equipped for construction, with visual workflow features like its kanban boards and online Gantt charts that schedule and help teams collaborate. See for yourself by taking this free 30-day trial.