A standard operating procedure (SOP) is a set of instructions that direct an organization or project team on how to do a task. It's a step-by-step guide similar to the assembly instructions found inside many products one might purchase.
These instructions are a repeatable process and provide clear documentation on how to execute a task. Some call the standard operating procedure a playbook that explains how to complete a process.
Having an SOP template is going to ensure that the process or task is always done correctly. Our free standard operating procedure template for Word captures the instructions and displays them in a uniform fashion that makes it easier for teams to understand and share.
Why You Need an SOP Template
There are many reasons why having a standard operating procedure template is important. It documents company processes to ensure consistency. It also establishes guidelines for employees and teams so they know what to do, which leads to greater productivity without sacrificing regulatory compliance and quality expectations.
This is especially helpful when an organization is growing quickly in that it builds communication between management and its employees when hands-on instruction might not be possible. A standard operating procedure template can also help reduce training time when onboarding new employees.
Increase Productivity and Consistency
We've already noted the boost in productivity because it guides employees through the process, but it also helps reduce errors. An SOP template won't eliminate mistakes, but even reducing them will lead to a better process with less rework. It also builds employee confidence so it's a win-win.
Plus, production consistency improves brand loyalty. When customers can expect a company to deliver what it promises, they'll develop brand loyalty and even pass on recommendations to friends. Consistency also ensures quality expectations are achieved to deliver a product that customers want.
Legal Compliance
There are also legal and regulatory compliance requirements that are more likely to be adhered to by following the clear and precise direction of an SOP template. It ensures nothing is missed in the process without needing a more experienced employee to ensure compliance is being met. The standard operating procedure captures institutional knowledge and saves it even if there's employee turnover, which keeps that knowledge in the company.
The importance of an SOP template is clear, but it only points toward the way to do things. Project management software provides the tools to execute those process steps more efficiently. ProjectManager is award-winning software that lets you create and manage workflows with robust kanban boards. You can even automate workflows and set task approval settings to ensure quality standards are met. Kanban boards visualize your team's workload to help identify potential bottlenecks and allocate resources to remove them. Teams can manage their backlog and collaborate to execute the process steps in the standard operating procedure template. Get started with ProjectManager today for free.
When to Use a Standard Operating Procedure Template
A standard operating procedure is a critical document in any industry, but especially in manufacturing to ensure that production is done properly and without incident. An SOP template is used prior to running the job to make sure everyone on the manufacturing floor was clear on what the process steps are and how to do them.
Another time to use the standard operating procedure template is when there are new hires to the organization or a team needs training. This helps quickly bring the new person or train the team to understand how to follow procedures, execute specific tasks or even work on equipment.
In fact, organizations can train teams to collect, track and store key performance indicators (KPI) reports to help determine how the project is doing in terms of its goals and objectives. This also ensures that the service or products they're responsible for are being done correctly.
Who Should Use This SOP Template?
The use of standard operating procedures is common across industries. It serves a purpose that can be applied to anyone making a product or delivering a service. It's universally applicable because it ensures consistently high-quality work across one or many teams.
The SOP template can be used by project teams, employees and anyone who's tasked with doing work. They're created by anyone who does the task or job being described, and they're usually the person who will then lead the work or, at the very lead, the training for the work.
There can be a standard operating procedures writer who's responsible for creating the document or filling out the SOP template, but a project manager can also do this. Whoever creates the SOP should always be in close communication with the teams or employees who will be executing that work as they're a wealth of knowledge in terms of advice on completing the job successfully.
Related: Free Operating Budget Template for Excel
How to Use This Free SOP Template
Now that you understand what standard operating procedures are and why they're important, download our free SOP template for Word. Once you've opened it, the document can be edited and customized as needed. You can add your company logo or delete or add sections as there isn't only one way to make a standard operating procedure document.
We've set up the template with sections and a short description of what you'll need to add to each of these sections. Again, you can add and subtract as you see necessary, but the following is the basic structure of a standard operating procedures document.
General Information for the SOP
As mentioned, there are many industries served by SOPs and you'll want to begin by describing the details of your task or job, which will include each of the following details.
Process title: The title identifies the document and differentiates it from other SOPs.
Department: The department that's being tasked with the work should be noted here.
Contact info: Have a name, title and contact information here for the person who created the SOP.
SOP ID: Every SOP should have a unique identifier to make it easier to find when you need it.
Effective date: This is the date on which the SOP is valid.
Revision number: The SOP can be revived several times before signed off on and this indicates the version you're working on.
SOP Process Overview
In this section of the SOP, you'll outline a description of the process, its purpose and scope. These terms are explained below.
Process description: Explain the goal of the task or process, what are the roles and responsibilities associated with it, if there are any regulatory requirements, terminology, etc.
Purpose & scope: For this purpose, define the rationale for the procedure in a sentence or two. For scope, you'll want to define the areas covered by the procedure and who or what it applies to.
Process Steps
Here, you'll provide a step-by-step list of what must be done, as in an instruction manual for executing the task or process. It should be detailed and thorough, not neglecting anything so that by the end the task or process is completed. There's a column to add the work breakdown structure (WBS) number, the task and then the team member who's responsible for executing that work.
Resources
This section captures all the resources needed to complete the process steps above. The chart is broken down into two columns, one to note the WBS number and the other to list the materials, equipment, etc., required to complete the task.
Frequency
Here, you can note if the task or process is recurring. This might be a one-time-only procedure, or it could be repeated on a daily, weekly or monthly basis, which is answered in this section.
Reviewers & Signatures
An SOP template is a living document. If there are changes, those changes need to be incorporated into the standard operating procedures. However, there's a finish to the initial process of the SOP template. This is where the supervisor, manager or whoever is in authority will review the document and, if approved, will sign off on it.
Other Free Templates to Help Your Business
The SOP template is used by many businesses for a variety of reasons. It's but one of many business templates you can download for free on our website. We offer dozens of free project management templates for Excel and Word that help for every phase of your project. Here are a few that can help you run your business.
Having a workable schedule for your employees is an essential part of managing your human resources. Our free work schedule template for Excel helps you manage your team's workload and keep them productive.
Using our free timesheet template for Excel helps you keep track of your team's working hours. Set it up as weekly or monthly to track each team member's hours, including any overtime they accrue.
The ability to track your team's tasks helps ensure that work is done in accordance with the schedule and keeps your business on track. Our free task tracker template for Excel lists the task name, description, any dependent tasks, who is assigned, priority, duration and status.
How ProjectManager Helps Manage Standard Operating Procedures
Templates are a good start, but if you want to take your work to the next level, you need project management software. ProjectManager is award-winning project management software that tracks work as it happens to ensure you meet your deadlines. Unlike static documents, our software updates in real time and connects everyone on your project team, no matter where or when they work.
Keep Track of Tasks & Schedules With Gantt Charts
Turn your process steps into action items on our powerful Gantt charts. You can schedule all your tasks and track them in real time. We also allow you to link all four types of task dependencies to avoid costly delays, filter for the critical path to identify the essential tasks and then set a baseline to track variance so you're always aware of your actual progress against your planned progress.
Oversee Progress With Real-Time Dashboards
Once you've set a baseline on the Gantt chart, you can track progress and more throughout the software. There are customizable reports that are easy to generate for status on one or a portfolio of projects, project variance, timesheets, workload and more. You can filter the reports to show only the data you want to see and then share them with stakeholders to keep them updated. Or, for a high-level view of the project whenever you want, toggle to the live dashboard with easy-to-read graphs and charts that require no time-consuming setup as with lightweight tools.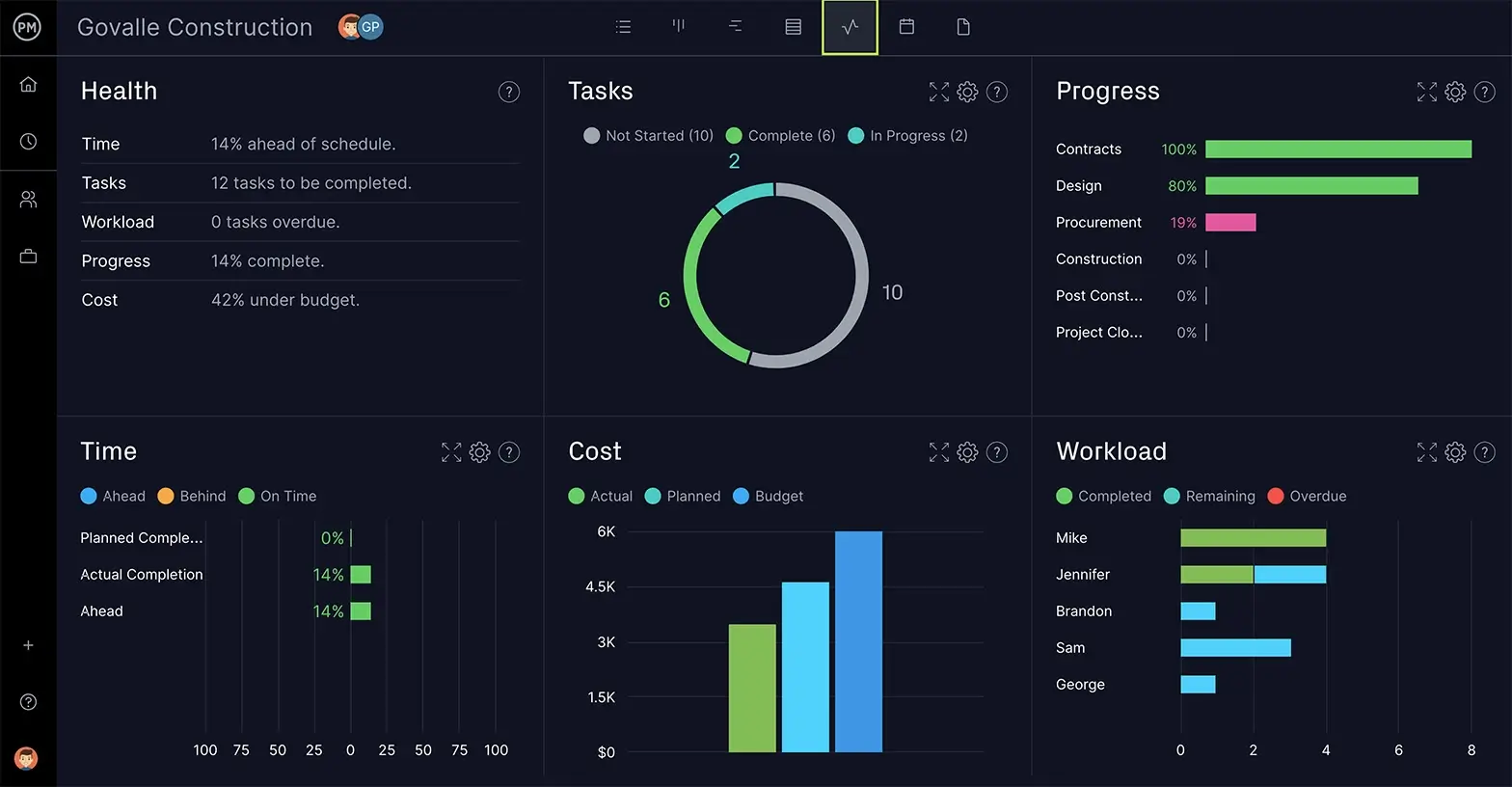 Related Business Content
There's still plenty of business-related copy to read if you find the standard operating procedures template helpful. ProjectManager is excellent software, but our site is also the online hub for all things project management. We publish weekly blogs, tutorial videos, guides, and, of course, free templates. Here are some of the business-related content for you to read.
ProjectManager is online project management software that connects teams anywhere and at any time. Our software empowers teams to plan, manage and track projects in real time. Deliver success with our task management, resource management and risk management features. Join teams at Avis, Nestle and Siemens who are using our tool to work more efficiently. Get started with ProjectManager today for free.