What Is a Gantt Chart?
A Gantt chart is a project management tool that allows project managers to create a project schedule. It has two main parts, a task list on the left side and a bar chart timeline on the right. The Gantt diagram was created by Henry Gantt in the early 20th century to improve project planning, scheduling and tracking by illustrating completed work compared to planned work. Today, project managers and team members use Gantt charts to plan projects, allocate resources and track progress with just one project management tool.
At a basic level, a Gantt chart allows project, program and portfolio managers to easily map out project plans by organizing project tasks on a visual timeline. However, Gantt charts are used for many other purposes in project planning, project scheduling, project tracking and resource management.
With ProjectManager's Gantt chart you can assign tasks to your team members, set due dates, estimate costs and monitor progress in real time. The best part is that it can be used along with other project management tools such as kanban boards, real-time project dashboards, timesheets and team collaboration tools.
What Is Included In a Gantt Chart?
There are two halves to most Gantt chart tools you see online today. On the left is a grid that lists project tasks and important information about them as shown in the image below.
On the right side, there's a Gantt timeline, which is represented with a stacked bar chart where each task has a corresponding bar that runs on the horizontal axis. The task bars start on the date that the work is scheduled to start. The longer the bar, the longer the task will take.
ProjectManager's robust Gantt chart tool lets you zoom into all the details of your project schedule. Simply fill out the following information to map out your project plan.
Task Name: Briefly describe your task. You can also add more task details using other project views such as kanban boards and task lists.
Task Owner: Assign tasks to team members.
Task Priority: Set a priority level for all your project tasks so you can better allocate your resources.
Due Dates: Add planned start and planned finish dates and adjust them at any time by dragging and dropping tasks on the Gantt timeline. You can also compare planned vs. actual task duration.
Task Dependencies: You can also show the task dependencies in number form. Choose the "Linked From" column in the column settings.
Percent complete: A figure, mostly always based on an educated guess by the person doing the task, of how much work they have done and how much is still to do.
Critical Path Activities: ProjectManager's Gantt chart maker automatically identifies the critical path based on your project task list, dependencies and due dates.
What Is a Gantt Chart Used For?
Because the Gantt chart is such a diverse project management tool for identifying timelines and task dependencies, it can be used in any industry or field. Here are some examples.
Gantt Charts in Project Management: Gantt charts compile the information project managers need to create a visual timeline that shows all the elements of a project plan in one place. With Gantt charts, project managers can schedule projects, allocate resources, set cost and scope baselines, and identify the critical path.
Gantt Charts in Construction: Gantt charts are used by project owners, general contractors and construction project managers to plan the different phases of a construction project, such as initiation, pre-construction and procurement. However, Gantt charts can also be used on a smaller scale to manage everyday tasks.
Gantt Charts in Software Engineering: Software engineering teams use Gantt charts to create
project roadmaps, which are essential for task management when developing new products. This is done by simply mapping software development tasks on a timeline, just as if it was a project plan.
Gantt Chart Example
Here's a Gantt chart example made with project management software. On the left side, there's a list of tasks for a manufacturing project. The tasks on this Gantt chart sample are grouped into phases and include details such as percent complete, estimated duration and due dates.
On the right side, you can see the bars that represent the duration of each task.
In this Gantt chart example, you can easily see:
The Gantt chart timeline
What the project tasks are
Which team member is working on each task
When project activities start and finish
The percent complete for each activity and work package
How tasks group together, overlap and link with each other
Task dependencies such as finish-to-start, start-to-start, finish-to-finish and start-to-finish
Milestones and project phases on the schedule
Gantt Chart Template
This free Gantt chart Excel template helps you build a Gantt chart and a project timeline in minutes. It gives you a visual overview of your entire project from start to finish. Simply add all of the tasks needed to reach your final deliverable and manually update any changes during the execution of the project. It's a great example of a Gantt chart in Microsoft Excel.
However, this free Gantt chart template is best suited for creating simple Gantt charts, as it lacks advanced project management features that are needed for larger projects such as resource management and cost tracking.
Excel Gantt Chart Templates Are Great, But They're Limited
Even if you create a Gantt chart in Excel, it has many limitations compared to Gantt chart makers available online. Gantt chart templates are great for beginners, but if they live in Microsoft Excel, they're going to be static documents.
That means you'll have to manually update them during the project execution phase, and they simply aren't dynamic. You can't use them to assign tasks, manage costs, balance resources and more. It's essentially a timeline at the start of the project. To take your Gantt chart skills to the next level, you need Gantt chart software.
ProjectManager is Gantt chart software that lets you make dynamic, online Gantt charts with your team. Build timelines, create dependencies, add milestones, track costs and more. The best part is, your team can execute your plan in multiple views, and as they make progress, the Gantt chart automatically updates. Get started with ProjectManager for free today.
What Is a Gantt Chart Maker?
Once computers introduced new ways of working, project managers found they could save time in creating and updating their Gantt charts. Gantt chart software, also called project planning, project management, or even project scheduling software, was created to automate the process to support more advanced Gantt requirements like creating task dependencies, adding milestones or identifying the critical path of a project plan.
Watch the video below for a quick introduction to ProjectManager's online Gantt chart maker and its benefits.
Many project managers traditionally used local desktop programs like Microsoft Project—and many still do. But today, most Gantt chart makers and project management software have moved online, enabling anyone to create shareable and collaborative Gantt charts and project plans.
Must-Have Gantt Chart Software Features
While no two Gantt chart tools are the same, there are key features that you'll need to get the most out of your Gantt chart tool:
Milestones
Milestones are represented by a diamond symbol on the Gantt and have no duration. A milestone marks the end of a piece of work, task sequence or phase of the project. They're often fixed dates or important dates on your project schedule that you need to be aware of. Read more: Learn how to use milestones in your scheduling.
Dependencies
These show which tasks are linked together. Links are shown with lines on the Gantt chart, and the arrow points to the task that comes next. Dependencies can be set up as start-to-finish, start-to-start, finish-to-finish or finish-to-start. Read more: Learn how to manage task dependencies.
Summary Tasks
A summary task is a skinny 'umbrella' task above various individual tasks. It's a good way of grouping activities together, especially as part of a project stage or phase. You can 'roll up' your tasks (in other words, hide them from view) so that only the summary task is shown. The summary task also displays the task progress with shading, so you can view the progress of all tasks underneath in that one bar.
Collaboration
A Gantt chart without collaboration is just a static plan. It's nice to have, but it isn't helping you advance the work your team is doing. Be sure that you can chat or comment around tasks to keep the workflow documented. Your team will then get alerts every time a task has been updated, so they know when new activity has occurred.
File Sharing
It's important as you collaborate to also be able to attach files, images, videos or other notes to document the task progress and keep all the task information together. That way, you always know where to look to find the file related to the work you're doing.
Planned vs. Actual Progress
This is represented in a couple different ways on the Gantt. Shading on the bar indicates how complete the planned work is. When the bar is totally shaded, the task is finished. You can also see just a view of the actual progress anytime in the settings. Don't forget to set a baseline for the best tracking experience.
How To Make a Gantt Chart in Excel
Making a Gantt chart in Excel is a time-consuming and labor-intensive process because Microsoft Excel doesn't have built-in features for making Gantt charts like ProjectManager.
However, you can still manually create Excel Gantt charts if you're an advanced Excel user, as complex Excel formulas and formatting is required to shape a spreadsheet into a Gantt chart from scratch. Here's a quick overview of what this process looks like.
1. Make a Project Table
Make a table with 4 columns as shown in the image to list your project tasks. Then, add a formula to calculate the duration of each task by subtracting the end date from the start date. This is the duration value.
2. Make a Stacked Bar Chart
Make a standard stacked bar chart with data from your project table. The first thing you'll need to do is to select the "Start (Date)" column and then click on insert and select the stacked bar chart from the graph menu, as shown in the image below.
3. Add Data to Your Excel Gantt Chart
Right-click the stacked bar chart and then click on "select data" from the dropdown list.
Then click "Add" under "Legend Entries (Series)" and use the data selection tool to grab values from the "Duration (Days)" column. Select only the "Duration (Days)" cell to set it as the "Series name".
Then select the rest of the column as the "Series Values".
4. Edit the Horizontal Axis of Your Excel Gantt Chart
Right-click your stacked bar chart again, click on "Select Data", but this time, click on "Edit", under "Horizontal (category) Axis Labels.
Next, select all values from the "Task Name" column.
After you've taken these steps, your stacked bar chart should look like this.
5. Format Your Excel Gantt Chart
To turn this stacked bar chart into a Gantt chart timeline, you'll need to format this stacked bar chart to show the task bars like a Gantt chart. To do so, follow these two steps:
1. Right-click the blue bars, go to format data series and then remove the fill color
2. Now right-click the task names, go to format axis and then check the "categories in reverse order" checkbox.
And that's how you make a Gantt chart in Excel. However, if you'd like to save some time, you can use our Gantt chart template for making an Excel Gantt chart in minutes. In addition, ProjectManager is an online hub for all things project management and offers dozens of free project management templates that can help you build a Gantt chart, make an action plan and then assign those tasks to your team.
How to Make a Gantt Chart with ProjectManager
Onboarding your team members with ProjectManager's Gantt chart maker allows you to better plan, schedule and track all types of projects. Once you have invited your team members to the new Gantt chart tool, you can start improving the way you manage tasks, resources and timelines. But before we get to the benefits of using online Gantt chart software, let's go through a step-by-step guide to making a Gantt chart in ProjectManager.
It's easy for anyone to create a Gantt chart online in ProjectManager. You can import a task list from a CSV file, an Excel Gantt chart template, a Microsoft Project file or create one from scratch. Unlike Gantt chart Excel templates, our Gantt chart maker does the heavy lifting so you can focus on what's important.
Simply add project tasks to the tool, fill in the information and a fully-fledged Gantt chart will generate automatically. Our Gantt chart has advanced project management features that will let you set task dependencies, identify the critical path and use timesheets for resource tracking, just to name a few.
Also, since it's an online Gantt chart maker, you and your team members can build the Gantt chart together in real time while you share files and documents with unlimited storage.
Now, without further ado, here's a step-by-step guide to creating a Gantt chart with ProjectManager, one of the best Gantt chart software available in the market.
1. Create a New Project
When you first log in, you simply enter a project name and select "Create." You'll be directed to the Gantt chart view.
2. Add Project Tasks to Your Gantt Chart
As you add tasks, the default date will be today, and since you haven't added a longer due date than today, the tasks appear in the Gantt chart tool to the right as circles, representing that they start and end today. The dotted line represents today's date.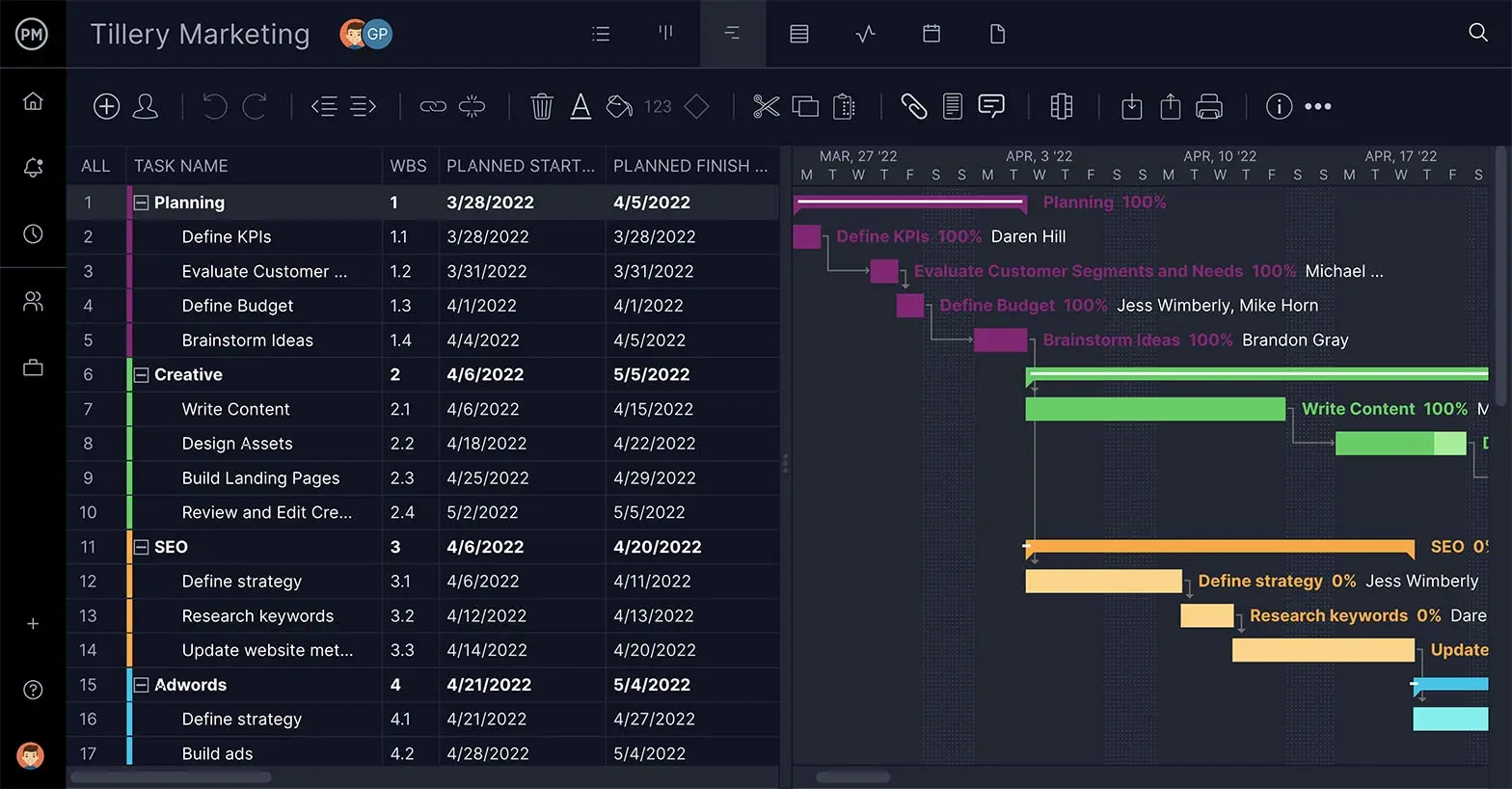 3. Assign Tasks to Team Members
You can easily assign or re-assign tasks to team members based on their availability in real time, which is ideal for workload management. When people are assigned tasks, their name appears above the task bar on the Gantt chart. The Gantt chart maker lets you know whether your team members are available, or if they're already scheduled for other tasks.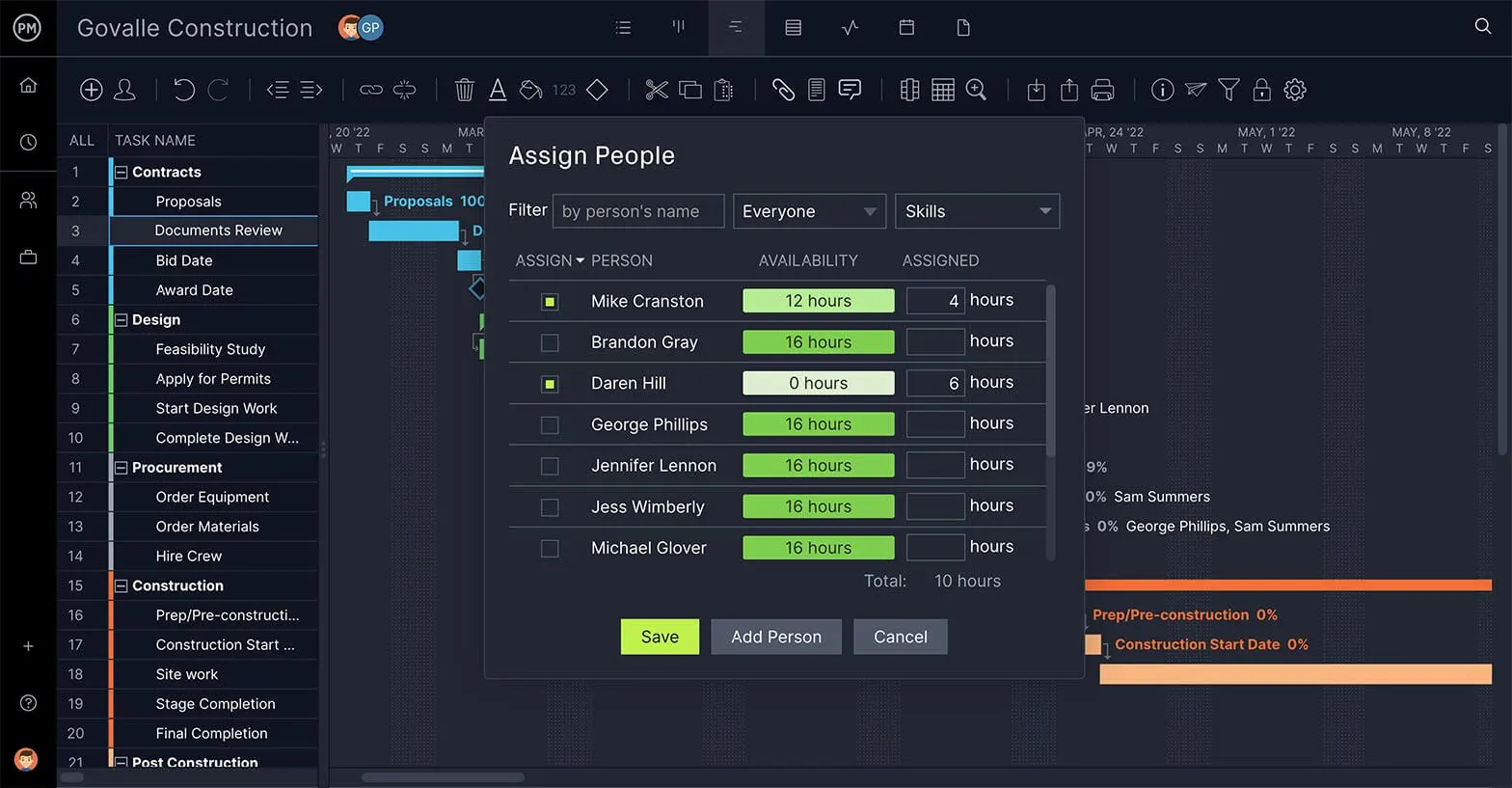 4. Add Due Dates to Your Gantt Chart
As you extend the start and end dates, the task bars on the Gantt chart view extend too, showing you how long each task will take. Add those dates under the planned start and planned finish columns.
5. Prioritize Your Project Tasks
The Gantt chart maker has a task prioritization feature that allows you to establish a priority level for each task so you and your team can focus your efforts on the most important activities. Best of all, this priority tag can also be used in other project views, like task lists and kanban boards for better task tracking.
6. Estimate Task Costs
Add the estimated costs for each task. Our Gantt chart maker helps you estimate labor costs for each project task based on how many team members are working on it and their hourly rate. On top of that, these labor costs are also updated on timesheets you can easily share with your team members.
7. Link Task Dependencies Using the Gantt Chart Timeline
Linking task dependencies is an advanced project planning feature that lets you create a realistic project schedule. There are 4 types of task dependencies that allow you to understand how your projects' task sequences are interrelated. In the picture below, you can see how Gantt chart bars are connected by arrows, which indicates there's a dependency between tasks.
8. Identify Critical Path Activities & Project Milestones
The Gantt chart maker automatically identifies the critical path of your project, which helps you focus on the critical tasks or the tasks that must be completed on time so that your project is completed on time. In addition, you can mark any project task as a milestone, which lets you pinpoint an important achievement, deliverable or the end of a project stage for detailed project tracking.
9. Customize Your Gantt Chart
You can customize your Gantt charts in whatever way suits your team. Here, you can see that different people are represented by different colors on the Gantt task bars, so it's easy to see at a glance who is responsible for which tasks. Others might use colors on the stacked bar chart to represent different phases of a project or different teams responsible for a group of tasks.
10. Attach Files, Comments or Notes
When your team works collaboratively on an online Gantt chart maker, you can do so much more than just plan tasks. You can add images, videos, links, notes or comments right at the task level, so all the relevant task work is captured and easily accessible in one place.
11. Get Email Alerts
Your team can customize email alerts in a way that works for them. That way, whenever their tasks have been updated on the Gantt diagram or anywhere else in the system, your team is instantly alerted to that change.
12. Track Your Team's Progress
All the updates on the Gantt diagram can be seen in one view. You can see what the team is working on and when tasks have been updated. Team collaboration is easy with online Gantt charts.
Benefits of Online Gantt Chart Software
Project management software has radically improved the way teams work. A desktop Gantt chart maker is best suited for one manager who likes to plan projects individually, without a need to easily share the project plan with team members or stakeholders. Similar to managing projects in Microsoft Excel or even Word, desktop Gantt chart maker offers one local version per user license.
It becomes hard to share large Gantt or plan file sizes without the enterprise integration of a file-sharing hub like Microsoft Sharepoint. Even with Sharepoint, other people you want to share the file with also require the desktop license of the project planning software, which can further increase costs.
Online project management or Gantt chart software supports ease of sharing and collaborative project planning. Because the software is 100% online, anyone you invite can not only see your project plan but update their tasks and attach files right to the tasks they're working on in real time. And the costs of online project management tools are dramatically less than the desktop versions because there are no costly server installations, integrations and associated license costs for each user.
Ultimately, most project managers find the decision to move online with your project planning & Gantt charts is a no-brainer since the productivity gains far outweigh the headaches of older desktop ways of working.
Many people are used to creating task lists in Excel or other spreadsheet tools. They might have created a simple Gantt chart as we have offered in this free Gantt chart template. This works fine when you're creating a task list of activities for one person to view.
When you want to share your project timeline with more people, it becomes so much easier to create the Gantt chart online. Tasks update whenever anyone changes their % complete or adds a comment or attaches a file in real time. In addition, as a project manager, you can drag and drop project tasks to easily make changes to the project schedule in real time.
Gantt Chart Video for Beginners
If you still need help setting up and understanding your Gantt chart, watch this video by Jennifer Bridges, PMP.
How to Import Gantt Chart Excel Templates into ProjectManager
If you've been using Microsoft Excel to create Gantt charts from templates, it might be daunting to let go of that work to switch to online project management software. It's easy to import Excel task lists into online tools to instantly populate the online Gantt chart.
1.

Find the file you want to import.

You can import simple task lists, Excel files, MS Project files or CSV files.
2.

Click "Import."

It's easiest if you match columns in your file with the destination files. The software will help you do this. Use our handy downloadable Excel Gantt chart template in the popup window to easily map your columns. Or when you upload your own files with custom columns, the software will guide you to map your columns.
3.

See your tasks represented on the Gantt chart view.

The Gantt diagram auto-populates based on the dates you have added on your task list. If there are no due dates, then the Gantt view will populate with small dots. Simply click on a task bubble and drag it to extend its due date on the Gantt charts. Just like that, you're scheduling your project online!
Gantt Chart FAQs
If you still have questions about Gantt charts, they should be answered in the following frequently asked questions.
Is there a Gantt chart in Excel?
Microsoft Excel doesn't have a Gantt chart feature. You can create one by customizing the stacked bar chart or using one of the free Gantt chart templates available online.
How do you create a Gantt chart in Google sheets?
To make a Gantt chart in Google Sheets, open a new blank spreadsheet, add the tasks data for your project (including duration, start and end dates), insert a stacked bar graph and then transform the bar graph into a Gantt chart. There are Gantt chart templates for Google Sheets too. Read more about it in our blog here.
How do I create a Gantt chart in Word?
You can create a Gantt chart in Word by opening a new document and setting the orientation to landscape, then inserting a stacked bar chart into the document and adding your project schedule (such as start, end dates and duration). Next, format the graph to look like a Gantt chart and customize it for greater readability.
What does Gantt stand for?
The Gantt chart was named after Henry Gantt, and many think he was the one who first had the idea of project planning on bar charts. Well, that's not entirely true.
Karol Adamiecki devised the first Gantt diagram back in 1896. He was a Polish engineer turned management professor who came up with the idea of displaying processes visually so that he could make it easier to see production schedules. (He did most of his work in the steel industry.) He called it the harmonogram (a much better word) but Adamiecki published his articles on it in Polish and Russian, so the English-speaking world didn't know much about it.
Henry Gantt had the same idea as Karol Adamiecki, but about 15 years later. In 1910, Gantt started planning visually with bar charts to allow supervisors in the steelworks to see if production was on track or behind schedule. It was Gantt's name that got attached to this way of project planning, but today it's generally recognized that Adamiecki had the idea first.
Who uses a Gantt chart?
Today, nearly everyone can use a Gantt chart to help them visualize their tasks. Because all the difficult work is now done by project management software, anyone can just create a simple task list, add start and end dates, and the software does the work instantly of displaying your tasks over a project timeline.
Gantt charts are effective tools for these roles:
Project managers
General managers
Team leaders
Operations managers
Scheduling managers
Work managers
Marketing managers
CEOs & CTOs
… and frankly, anyone who wants an instant view of a project timeline.
It used to be that Gantt charts were the exclusive tool of formally trained project managers. These were people planning complex projects, or waterfall projects, of all different types: construction, engineering, military, manufacturing, infrastructure, IT and more. Creating long task lists and complex project schedules with lots of moving parts, required training in the art and science of task management, critical path analysis, baselining and so on.
While still considered the purview of project managers, today with the wide range of project management software and Gantt chart tools, anyone might be found to be using Gantt charts online.
Gantt Chart Users by Industry
Because of the collaborative nature of online Gantt chart applications, more and more teams use them to plan and track all kinds of work together. Gantt charts can be used by all kinds of teams, such as:
IT & dev teams
Project management teams
PMOs
Marketing teams
Professional services teams
Engineering & architectural teams
Construction teams
Manufacturing teams
Product development teams
Remote teams
Telecommunications teams
Healthcare teams
Public works teams
Oil & gas industry teams
Government teams
Whereas a project used to have a single project manager leading a single team for a single project, now many people across the organization manage projects with multiple teams of people. And many of those people are working on projects under different project managers.
Today's project teams often need to plan tasks and manage resources in multiple projects across different teams, too. It's important to make sure your Gantt chart tools can support resource management, workload management, and task management across projects.
Is online Gantt chart software secure?
Many people debating the pros and cons of online versus desktop Gantt chart software wonder about the security of online project plans. Rest assured, most companies offer bank-level security and encryption with online project management software and have multiple security protocols in place to secure data and data recovery. For more information about security at ProjectManager, visit our security page.
Start your free 30-day trial
Deliver faster, collaborate better, innovate more effectively — without the high prices and months-long implementation and extensive training required by other products.