If you're a manufacturer or any business that requires equipment to do its work, you need an equipment inventory list. It's the only way to manage your equipment and know when you need to restock or make new purchases without causing costly delays. Download our free equipment inventory template for Excel to stay on top of your company assets.
What Is an Equipment Inventory Template?
A properly executed equipment inventory template is a thorough collection of your company assets. Depending on the type of business you're managing, that could be IT related, such as computers, laptops, printers and scanners. In a manufacturing business, it could mean heavy machinery.
These inventory lists are more than the names of the equipment used in your business. They're detailed and cover everything from serial numbers to loan payments. This allows for accurate audits and the correct insurance policy to protect you against theft or breakdowns.
It might seem labor-intensive to categorize your equipment in this free equipment inventory template, but once you do, the return on that investment is huge. You know what equipment you have and what state it's in; that alone will help you decide when it's time to retire a piece of equipment and replace it with something new.
Why You Need an Equipment Inventory Template
There are more reasons beyond having a complete inventory of your equipment for using an equipment inventory template. This template allows you to track your assets so you always know what's available and if there are inventory gaps.
Equipment costs can also throw your budget into turmoil. An equipment inventory list helps you keep track of your equipment costs. That means you know when to replace older equipment before it breaks down and causes costly delays. It can also help with scheduling regular maintenance to keep your equipment running better and longer.
All that information informs your project budget and helps you make more accurate forecasts. You can track equipment usage, maintenance and more. But it's not only dollars and cents that are helped with an equipment inventory list. It helps keep your employees accountable, as you know who's working on what based on sign-outs and usage. This also informs policies so they're fair and logical. All of this leads to greater efficiency.
You want to have that information at your fingertips so you can keep track of it. ProjectManager is online software that allows you to manage and track your equipment inventory in real time. Collect data on your equipment on our list view and know it's available whenever or wherever you're working. Plus, you can edit and keep track of updates to better inform your equipment inventory decisions. Get started with ProjectManager today for free.
How to Use This Free Equipment Inventory Template
Once you download our free equipment inventory template for Excel, you'll see five categories that each have their own subcategories. This covers the basic equipment inventory items and issues, but you can add or subtract as necessary as the free template is completely customizable.
1. General Information
In this section, you'll collect items such as the serial number, description of the item and what condition it's in.
2. Location
Now you want to detail where it is, such as which branch, if you're dealing with multiple locations, and the department.
3. Acquisition Details
This is purchase information, such as the vendor you bought or leased the equipment from, the transaction date, the initial cost and the down payment. You'll also want to note how much time the equipment will be of value, such as when it's operational. Note the loan term in years, the loan rate and the expected value at the end of the loan term.
4. Monthly Costs
At this point, you want to record the monthly operating cost for the piece of equipment and what the monthly payment is if any.
5. Depreciation Information
Finally, you'll calculate the life of the equipment. That starts by noting the current value and determining an annual straight-line depreciation to know the rate the item loses value over the year. A monthly straight-line depreciation calculates the monthly loss in value.
Templates to Complement Your Equipment Inventory List
The equipment inventory template is only one of dozens of free templates for Excel and Word that you can download on our site. We have free templates for almost every industry and every project phase. Here are only a few that relate to the free equipment inventory template.
Equipment inventory is only one piece of your larger production schedule. If you're a manufacturer, those machines need raw materials to produce whatever it is you're making. Our free production schedule template helps you balance supply and demand by tracking production over a period of time.
Equipment, materials, people—they're all resources. You need to organize all these elements to come together when you need them to produce what you need and get it to market on that. That's where our free recourse plan template comes in. Plan both your storable and non-storable resources and integrate them with your schedule and budget seamlessly.
Equipment inventory is only part of what you're stocking. The warehouse has other inventory that needs to be managed. Using our free inventory template records how much inventory you have and tracks it as it moves through production so you can replenish it without pausing work.
How ProjectManager Helps with Resource Management
Equipment inventory is one of many resources to track as you're working in any industry, whether it's manufacturing, construction, etc. Having project management software helps you manage, schedule and track your resources. ProjectManager is online software that does this in real time. We have features that keep track of human and non-human resources, both of which are critical to your success.
Plan Your Resources on Interactive Gantt Charts
An equipment inventory list serves to organize and manage your assets, but it's a static document until you put it into our tool. Now you can view it across multiple views, such as a list, kanban board or Gantt chart. The latter tracks costs and schedules for the equipment as well as your human resources who have to use the assets to get their work done. By setting a baseline on the Gantt chart, you can track the planned effort against the actual effort in real time for more accurate decision-making.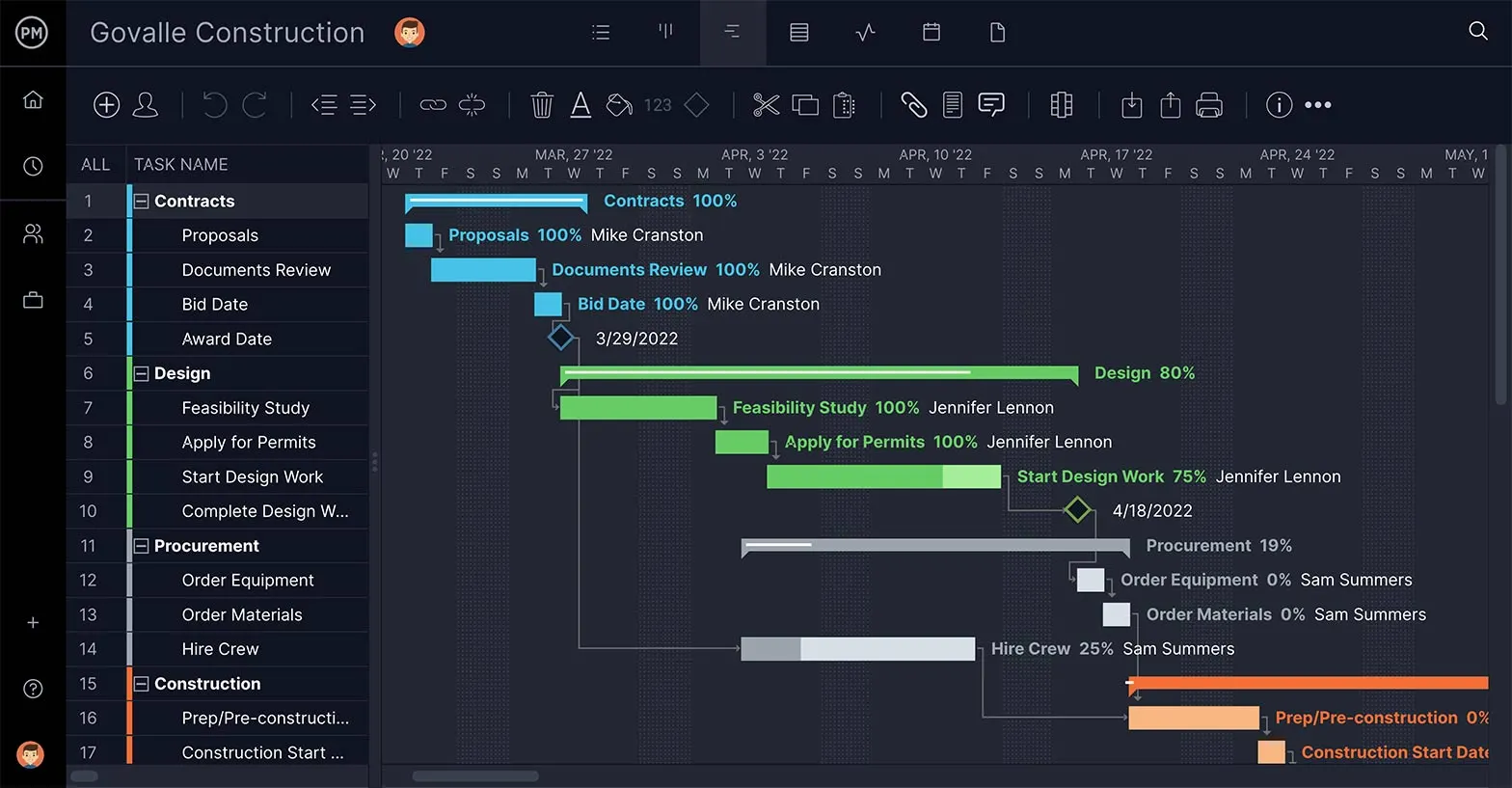 Track Your Resources with Real-Time Dashboards
Once you've set a baseline in the Gantt, you can track your resources in real time throughout the software. That means you can make better allocation choices to keep production moving forward and avoid costly delays. For example, you can get a high-level view of the project whenever you want by toggling over to the live dashboard. It automatically collects data and displays such metrics as cost, time, workload and more in easy-to-read graphs and charts. Unlike other lightweight tools, you don't have to waste time configuring our dashboard. It's ready when you are.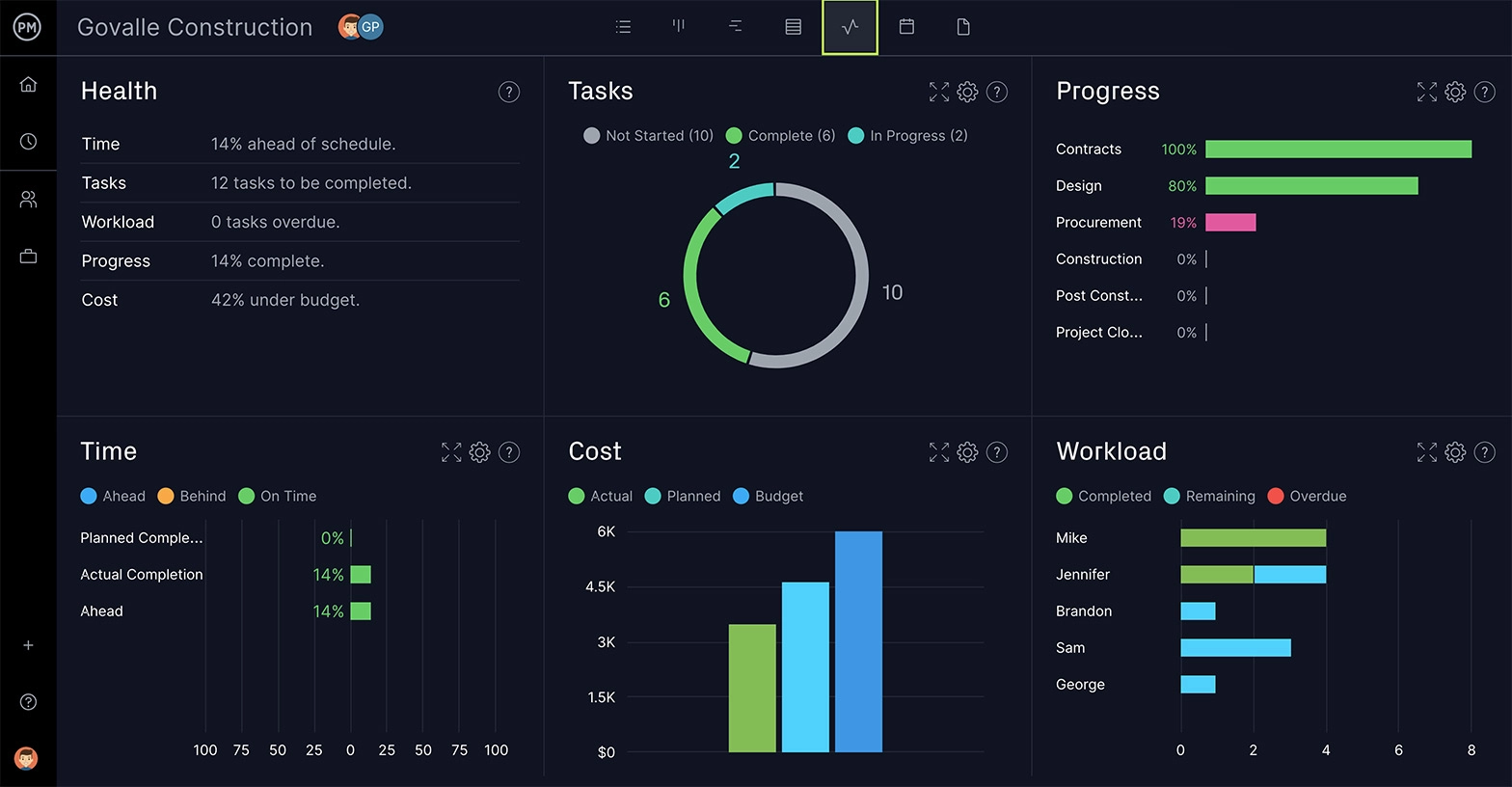 Related Content
There's so much more to equipment inventory. If you're interested in reading more, you're in luck. Our website is a hub for project management information, with weekly blogs, tutorial videos, tons of templates, guides and white papers. We've already shared some of the templates so here is some content that will interest manufacturers and anyone tasked with managing inventory.
ProjectManager Does More Than Manage Equipment Inventory
ProjectManager is award-winning software that helps you plan, manage and track resources in real time. Our tool does more than resource management, it empowers teams with task management tools that keep them productive. You can even manage risk to keep your work on time and avoid going over budget. Get started with ProjectManager today for free.