Microsoft Project is a project management software that's commonly used by project managers around the globe. However, that doesn't mean it's the best tool. This is why many Microsoft Project alternatives have been developed through the years.
As projects grow in complexity and workforces expand globally, the need for online project management tools is no luxury. There is no lack of MS Project alternatives to choose from, with varying degrees of usefulness and project management features. Microsoft has thrown its considerable weight into the ring with Microsoft Project. While MS Project has become an industry standard in project management, it comes with problems, leaving people to search for the best Microsoft Project alternative.
Why People Seek a Microsoft Project Alternative
Microsoft Project can do much of what you need when planning and managing a project, but it's not a perfect tool. There are many reasons why people who use it are searching for Microsoft Project alternatives. Thankfully, there are many other project management solutions on the market that offer users a great alternative to Microsoft Project. We'll get to those in a moment, but first, let's outline the reasons people are dissatisfied with MS Project.
Steep Learning Curve: Microsoft Project is not for beginners. The software is very technical and not user-friendly. That might be fine if you have an advanced degree in project management, but for the rest of us it's going to require a lot of work, time and training to get a handle on how to use the tool. Why do that when you can simply use one of the best MS Project alternatives?
Poor Team Communication: Microsoft Project falls short in this category. You can't easily message your team in the app, which means you're going to have to jump onto one of the messaging tools that Microsoft offers, such as Teams, Outlook or Skype. Why do you want an add-on when it's so much more efficient to choose a Microsoft Project alternative?
Lack of Integration: While MS Project works okay with other Microsoft products, that's not the case if you want to use a tool outside of the Microsoft family of apps. So, if you're looking to integrate with Salesforce, Slack or other tools, you're probably going to find yourself frustrated and looking for MS Project alternatives.
High Price: If money is your bottom line, then Microsoft Project's price tag will be a tough pill to swallow. What makes matters worse is that you have to pay for each license. You may have to selectively license MS Project to your team. Luckily there are low-cost and even free Microsoft Project alternatives in the market.
Hard to Share Data: It's almost as if Microsoft Project doesn't want your team to work together. If anyone on your team works on an Apple product, they're out of luck. It's such a problem that a cottage industry of online tools has emerged that offer ways to take MPP files, convert them into friendlier formats to edit and share, then convert them back to MS Project files. That's not very efficient!
2023 Best Microsoft Project Alternative Software Rankings
There are many Microsoft project alternatives in the market, and each of them has key features and characteristics that make them unique. The following list includes free, freemium, cloud-based or open source options. Look through them and decide which is the best Microsoft project alternative for you.

1. ProjectManager
Best Microsoft Project alternative for Mac
Best Microsoft Project alternative with a free plan
Great for agile, waterfall and hybrid teams
Suited for industries such as IT development, construction and marketing
ProjectManager is online project and work management software that tops our list for its ease of use, competitive pricing and compatibility with Mac. This MS Project alternative helps you plan and schedule projects while delivering real-time updates with live dashboards and powerful reporting tools to continuously improve your performance and progress. Best of all, it's collaborative at its core, connecting teams, no matter where or how they work or what they do in the organization.
Work How You Want
Not everyone works the same, which is why you get access to five different project views including Gantt, kanban, task list, spreadsheet and calendar. Teams that work in a traditional project management environment and agile project management teams can work together on the same tool with this MS Project alternative. Users can customize workflows and set task approvals, too. Updates are reflected across the software giving everyone one source of truth and keeping them on the same page and productive.
Get All the Robust Features, Plus Mac Compatibility
ProjectManager not only works on all Mac products but it does nearly everything that MS Project does, faster, easier and at a lower price point, which puts it at the top of the best Microsoft Project alternatives list. You can collaborate without jumping through hoops, manage schedules, resources, workload and much more. Once you use ProjectManager you might never go back to the clunky Microsoft Project again.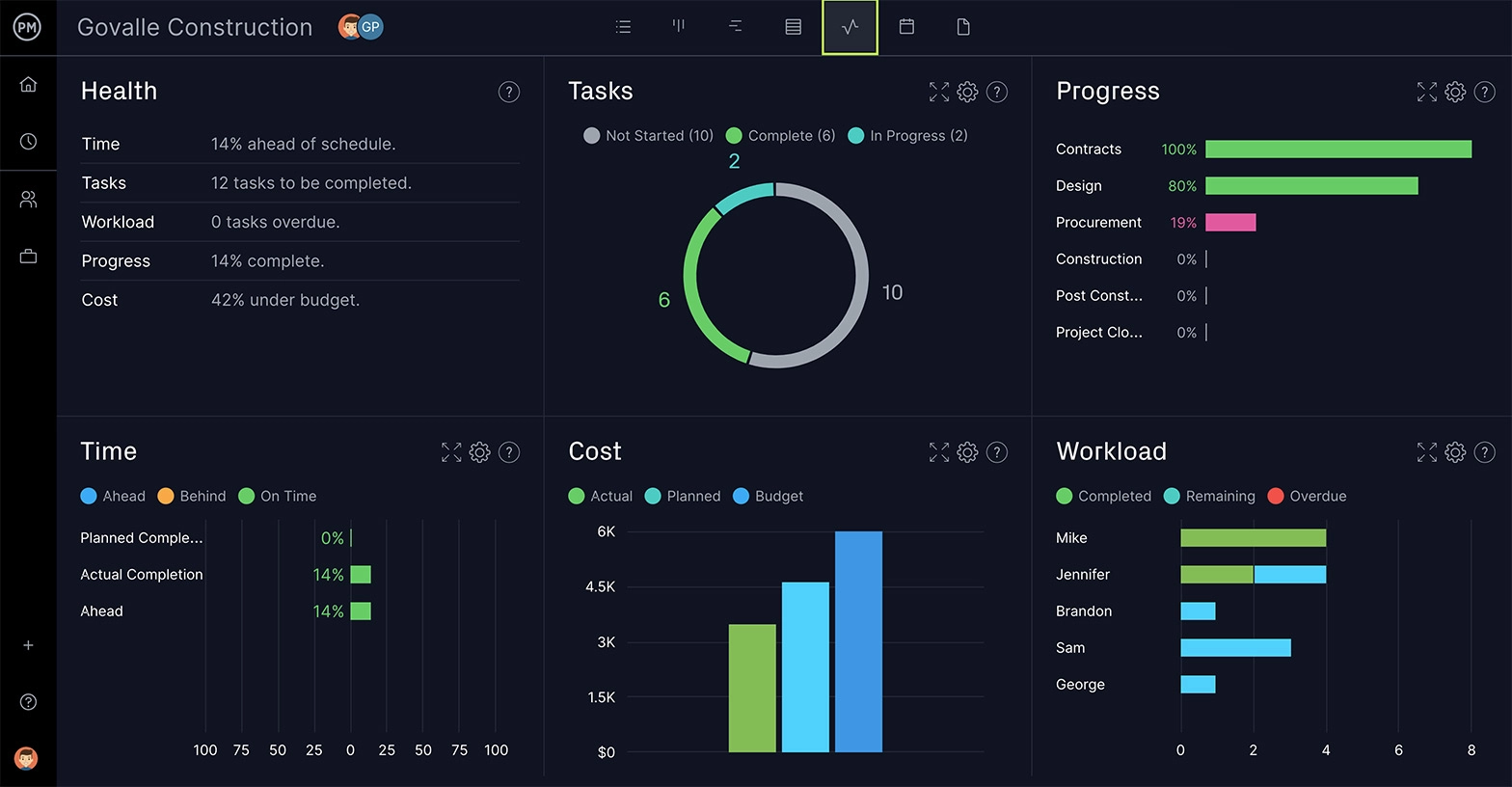 Seamlessly Import and Export MS Project Files
Unlike other alternatives on this list, ProjectManager offers a seamless import and export of MPP files. If some team members still use Microsoft Project, it's never been easier to collaborate on MPP files and project plans. It's so simple, you might just convince them to make the switch to this Microsoft Project alternative, too. There isn't a more powerful, yet easy-to-use software in this Microsoft Project alternatives list. Get your free 30-day trial today!
Pricing
Team plan: $13 user/month
Business plan: $24 user/month
Q&A
Does it offer a free trial? Yes, ProjectManager has a 30-day free trial
Does it offer a mobile app? Yes, ProjectManager offers a mobile app

2. Smartsheet
Best Microsoft Project alternative for project management spreadsheets
Mac-friendly
Robust reporting
Smartsheet is an online MS Project alternative that functions like a spreadsheet but adds collaborative features that connect teams. Its focus on collaboration means that the scheduling and task management features are lighter than some might want, but they're not absent from the tool. It's powerful like MS Project but more customizable, supporting automation.
However, because of its limited reach in terms of managing projects, users will have to spend extra to get such tools as time tracking, budgeting and resource management. There's no real-time updates, and autosave can be a little slow, which is frustrating if you lose data before it has been saved. If you need advanced project management features, you'll need to look for other MS Project alternatives.
Pricing
Pro plan: $7 user/month
Business plan: $25 user/month
Q&A
Does it offer a free trial? Yes, Smartsheet has a 30-day free trial
Does it offer a mobile app? Yes, Smartsheet has a mobile app

3. ProofHub
Best Microsoft Project alternative for work management
Cloud-based
Good for team collaboration
ProofHub is one of those Microsoft Project alternatives that also pushes the collaborative nature of its tool as its selling point. It has kanban boards to visualize workflows and help teams work on their tasks as they work together. The tool is easy to use, which gives it an advantage over the difficult MS Project, and it has a less expensive point of entry for users.
However, like many Microsoft Project alternatives, it does one thing very well and then relies on third-party integrations to fill in the gaps. That solution is a frustrating one. Ideally, users want one tool to carry the load of their project management needs. Here you have to integrate, and the tool doesn't even have very many integrations available.
Pricing
Proofhub has a flat pricing fee of $89 per month or $45 with limited features
Q&A
Does it offer a free trial? Yes, Proofhub has a 14-day free trial
Does it offer a mobile app? Yes, Proofhub has a mobile app

4. GanttProject
Free Microsoft Project alternative for Gantt charts
Open Source Microsoft Project Alternative
Good for project planning
GanttProject has one giant advantage over MS Project and even most of the Microsoft Project alternatives—it's free. Gantt charts are the heavy lifters in project management and a free one is sure to be attractive. Especially one that's easy to use and that can export documents to MS Project. That means this could prove a major asset to MS Project users.
That is also its deterrent. You're still wedded to MS Project. Though, perhaps you'd use GanttProject all by itself to manage your project. After all, Gantt charts are great tools. The problem is that this Gantt is limited in what it can do. For this free MS Project alternative, you're going to have to use a suite of other apps to get the project management features that MS Project offers.
Pricing
GanttProject is a free Microsoft Project alternative

5. Trello
Good Microsoft Project alternative for kanban boards
Mac-friendly
Easy-to-use task management interface
Trello is a tool that manages projects and helps teams collaborate. This software uses a kanban board interface that allows users to visualize their workflow. It provides transparency and fosters collaboration. It has real-time updates, which is definitely a plus and has easy onboarding for teams. It's a fun and easy-to-use MS Project alternative, which is why it made it number five on our list.
But, as a fully-fledged Microsoft Project alternative, Trello falls short. It has a project bar chart instead of a Gantt. While that feature might try to mimic the usefulness of a Gantt it doesn't set a baseline to track your actual progress against your planned effort, there are no inter-project dependencies and it can't filter for the critical path in your schedule. Since it's not the best project management software, Trello is recommended only for basic project management features.
Pricing
Free plan: $0 user/month
Standard plan: $5 user/month
Premium plan: $10 user/month
Enterprise plan: $17.50 user/month (min 25 users)
Q&A
Does it offer a free trial? Yes, Trello has a 14-day free trial
Does it offer a mobile app? Yes, Trello has a mobile app

6. Zoho Projects
Best Microsoft Project alternative for file management
Mac-friendly
Visual team collaboration tools
Zoho Projects is a Microsoft Project alternative with kanban boards that organizes tasks, a social feed that captures updates on those tasks and forums for lengthier discussions. It definitely connects teams to foster productivity and even has a timesheet feature for managers to see how much time each team member spends on their tasks. It offers issue tracking and a Gantt project view.
What it lacks as an MS Project alternative are resource management tools and reporting. In a sense, a manager is flying blind if they can't generate status reports and then reallocate resources to keep their teams working at capacity. There is also no function for managing more than one project at a time, leaving the tool limited in what it can do for users.
Pricing
Premium: $5 user/month
Enterprise: $10 user/month
Q&A
Does it offer a free trial? Yes, Zoho Projects has a 15-day free trial
Does it offer a mobile app? Yes, Zoho Projects has a mobile app

7. Teamwork
Best Microsoft Project alternative for team collaboration
Good for task management
Simple to use
Teamwork is an easy-to-use Microsoft Project alternative. It organizes tasks and subtasks, labeling priorities and identifying dependencies to avoid bottlenecks. There are messages at the task level to connect teams as they work on their tasks and time tracking for managers to monitor progress. Like many Microsoft Project alternatives, it also features a Gantt chart view.
There's a free version that has limited features. Reviewing all these apps shows the shortcomings of MS Project when it comes to teamwork, hence the name of this product. But the tool is not great for every type of collaboration. For example, you can't mark up files, which is a problem if teams are working on visual materials. But it's still miles ahead of MS Project and other alternatives.
Pricing
Free plan: $0 user/month
Deliver plan: $10 user/month
Grow plan: $18 user/month
Q&A
Does it offer a free trial? Yes, Teamwork has a 15-day free trial
Does it offer a mobile app? Yes, there's a mobile app for Teamwork

8. Monday.com
Best Microsoft Project alternative for ease of use
Good for startups and those new to project management
Different project views
Monday is a Microsoft Project alternative that is fun to use, which makes it nearly the polar opposite of Microsoft Project. Monday is a project management software that doesn't feel like a project management software. It is easy to start customizing workflows, and it has automation to keep users aligned and updated on due dates. Agile users will love the kanban boards for task management and the custom dashboard that tracks progress in real time.
If all this sounds like a good MS Project alternative and you want to check it out, you'll only have two weeks to play around with the trial version or use the free edition, which is limited to two users. That's not really enough time to get a handle on an app. More a collection of customized spreadsheets than project management software, Monday might fall short of your management needs. For example, there's no Gantt chart. The timeline they offer is a lightweight attempt to match the power of the Gantt There are no dependencies, for one, which is sure to cause headaches as you execute your project. But if you're looking for simple MS Project alternatives, this could be it.
Pricing
Individual: Free for two users
Basic: $24 user/month
Standard: $30 user/month
Pro: $48 user/month
Enterprise: Custom pricing
Q&A
Does Monday.com offer a free trial? Yes, Monday.com has a free 14-day trial
Does Monday.com offer a mobile app? Yes, Monday.com has a mobile app

9. Asana
Best Microsoft Project alternative for task management
Collaborative
Feature-rich and flexible
Asana is a great Microsoft Project alternative that organizes work across all your teams and makes sure everyone is always productive. It's highly collaborative and tracks tasks and workflows, which makes it an ideal tool for task management. It's flexible in that regard, and it has some of the best communication tools on this list, including video messaging that can be shared with the team. There are also multiple project views, including kanban boards, lists and calendar.
But, even with all its features and integrations, it still doesn't mean Asana is a fully equipped Microsoft Project alternative. There are big holes in the platform. For example, there are no resource management tools, no budgeting and expense tracking and other things that project managers have come to expect in project management software. Projects that involve a lot of design work are not going to be happy that you can't markup or proof visuals. But many will be won over by the design and flexibility when looking for Microsoft Project alternatives.
Pricing
Premium plan: $10.99 user/month
Business plan: $24.99 user/month
Q&A
Does Asana offer a free trial? Yes, Asana has a 30-day free trial
Does Asana have a mobile project management app? Yes, it's available for Android and iOS.

10. Wrike
Best Microsoft Project alternative for planning
Gantt charts and calendars
Task management boards
Wrike is an MS Project alternative that makes our list because it's easier to use than Microsoft when planning, tracking and analyzing projects. It's far more collaborative than MS Project, but then almost all the Microsoft Project alternatives on this list are too. You can easily invite freelancers, contractors, clients and teams from other departments into the tool for free, which is a nice touch.
Those planning and collaborative features are great, but you'll need a good deal of time to get comfortable using them. Don't forget to add training time to your projects to get everyone up to speed with using Wrike. That doesn't mean it's hard to use, just difficult to know which is the right plan for you to move forward with. There are the pricing tiers we outline below, but then they have industry-specific versions of the software that add to the confusion. It's an expensive project management tool, with user minimums, which might stop users from even exploring it as an option.
Pricing
Professional plan: $9.80 user/month
Business plan: $24.80 user/month
Q&A
Does Wrike offer a free trial? Yes, Wrike has a 14-day free trial
Does Wrike have a mobile project management app? Yes, it's available for Android and iOS.
Which MS Project Alternative Is Right For You?
There are a lot of MS Project alternatives out there and for good reason. Microsoft has clunky, expensive and hard-to-use project management software. While it might be the default for many organizations, you don't want to follow the crowd. Get a more nimble tool, one that's easier to use, less expensive and fosters live collaboration.
ProjectManager is award-winning software that organizes tasks, teams and projects. It's the best Microsoft alternative, with all the features and none of the frustration. You can use it to import and export MS Project files or better yet, abandon the expensive tool and subscribe to ours with multiple payment tiers. Try it free today.