Construction projects are highly structured endeavors. Whether the project consists of building a shopping mall or a single-dwelling residence, each project has many moving parts that must be precisely coordinated.
Just like any other project, construction project management has phases. From designing to planning to scheduling to the build itself, each phase is complicated and part of a more complex overarching process.
That's why there's construction project management software. But is project management software robust and dynamic enough to carry the weight of a construction project? Before answering that question, it's important to first have an understanding of what exactly construction management is.
What Is Construction Project Management?
In brief, construction management is the process of managing construction projects. When comparing construction project management to other types of projects, the main distinction is that construction is mission-based. That means that the project's organization ends with the completion of the project build.
While generally project management is defined as managing resources over the life cycle of a project through various tools and methodologies to control scope, cost, time, quality, etc.⁠—when working in the construction industry, your outlook must be broader. Construction management usually includes a wider variety of constraints to consider that are specific to the design and build of construction projects.
Construction project management can interact with a variety of different disciplines in the lifetime of a project as well, from architecture to engineering to public works to city planning.
Related: Free Construction Schedule Template
Construction Sectors
There are a variety of different types of construction projects that depend on the construction sector. The two sectors in construction are residential and commercial and there are four different types of projects:
Residential home building and renovation
Heavy industrial construction
Commercial and institutional construction
Engineering construction
That means there are a wide variety of types of construction projects that require construction management in order to be successful. Construction management might be required for a simple home to a large bridge, from engineering a dam build to an airport seismic retrofit project. Construction project managers, then, manage the beginning and end of a project build, often managing on-site to ensure safe, successful construction.
There are several types of construction projects and each of them has different challenges. However, all of them require a project owner, construction project manager and general contractor.
Construction Project Management Team
Project Owner
The project owner commissions the project and directly or indirectly finances it. The owner also supervises the project from a high-level view and makes important decisions such as defining the bidding process, selecting the contractor and choosing the project delivery method.
Construction Project Manager
Construction project management is run by a construction project manager. This person plans, coordinates, budgets and supervises the construction project.
The construction project manager is responsible for the following tasks:
Estimating and negotiating project costs
Formulating the construction budget
Managing the construction scheduling and work timetables
Managing work orders
Determining which project management methods and strategies are appropriate for the project
Communicating with the project owner and stakeholders, re. budget, progress, etc.
Leading or interfacing with construction site workers, teams and other construction professions on technical and contract details
Working with building, construction and regulatory specialists
The construction project manager is usually a Project Management Professional (PMP) certified by the Project Management Institute (PMI). The Project Management Body of Knowledge explains the different roles and responsibilities of a project manager in depth.
Also, the Construction Management Association of America (CMAA) explains the responsibilities of a construction manager, which is basically a project manager that specializes in the construction industry.
The role of a construction project manager requires a thorough understanding of the construction process. Check out our construction management templates to help you get started.
General Contractor
A general contractor oversees the daily operations of the job site and provides the equipment, materials and labor required for the execution phase of the construction project. General contractors usually hire subcontractors to execute specific tasks.
Below are some of the main responsibilities of a general contractor:
Supervising the work of subcontractors
Setting up job site safety protocols
Applying for building permits and licenses
Disposing construction waste
Managing personnel on the construction site
Monitoring construction daily reports
Communicating with the project owner and construction project manager
A general contractor is selected after the project owner reviews bids from multiple general contractors and chooses the bid that better adjusts to the project requirements.
Our construction proposal template for Word can be easily customized to fit your needs as a general contractor when creating a project proposal for the bidding process.
Construction Estimator
A construction estimator is a construction professional who's capable of estimating the costs of a construction project. To do so, he must include all types of costs such as hard & soft costs, labor, materials and unit prices.
This person can be either in-house or subcontracted by the general contractor. There are also construction estimating firms that can help you throughout the process of creating an accurate and competitive construction estimate.
Construction estimates are one of the most critical documents for a construction firm as it affects their profitability and their ability to win the bidding process. That's why construction estimators rely on construction estimating software to make sure everything goes well.
Related: Construction Estimate Template
Construction Subcontractors
Construction subcontractors are construction firms that specialize in a particular area of construction such as plumbing, electrical work or carpentry. General contractors usually reach out to them to execute work that's outside their expertise.
It's the responsibility of the general contractor to oversee the performance of the subcontractors. They do so by checking daily construction logs. But, at the end of any construction project there will always be some unfinished tasks or work that needs to be re-done. Our punch list template is the perfect tool to help you make sure no task is left behind at project closure.
Construction Management Bidding Process
Most construction projects follow the design-bid-build model. First, the project owner gets the design from architects or engineers. Once the project owner has blueprints and a material take-off (MTO) for the construction project, the next step is to select the general contractor through the bidding process.
Then, general contractors present their bids, which include details like the statement of work, payment terms and how much it will cost.
Project owners usually issue two types of bids:
Open bid: These bids are publicly advertised and are used on public projects. Any general contractor can submit a bid.
Closed bid: The project owner selects a group of contractors and only receives bids from them for the construction project.
Once project owners receive the general contractors' bids, they choose the best by any of these selection methods:
Low-bid selection: Consists of selecting the contractor with the lowest price bid.
Best-value selection: This selection method evaluates both the contractors' qualifications and the price to choose the contractor with the best price-quality relationship. The project owner also closely examines the request for proposal (RFP) submitted by contractors to make a decision.
Qualifications-based selection: This selection method focuses on the contractors' qualifications. To do this, project owners analyze each contractor's request for qualifications (RFQ) to decide which is the most qualified contractor for the project.
Once a contractor is chosen, a payment agreement contract must be signed, and the bidding process will be finished. Let's review the most commonly used contract types.
Types of Construction Management Contracts
These construction contracts are a legal agreement between the project owner who needs to outsource job site work and the general contractor who will get it done. Their purpose is to clarify things like the project scope and payment terms so that everybody is on the same page.
Some projects may involve a contract administrator, superintendent or field engineer, which act as assistants to facilitate the process.
Lump Sum Contract: A lump sum contract or fixed price contract, defines a total price for the completion of the project.
Cost Plus Contract: Cost plus fee contracts are made of two parts: a fixed fee that's agreed upon by the project owner and the contractor, plus additional costs that are added as the project progresses.
Guaranteed maximum price: It's the same as a cost plus contract, but a maximum price is defined.
Time and Materials Contract: This type of contract is used when there's uncertainty about the project scope. The general contractor charges an hourly rate for labor and materials.
Unit Pricing Contract: Used when costs can't be determined ahead of time, it sets unit prices for materials.
In addition to the contract type, the owner must decide which delivery method works best for the project.
Construction Project Delivery Methods
The purpose of these construction delivery methods is to define how the project owner, the general contractor and the licensed designer (architect or engineer) will interact throughout the project.
Design-bid-build: The design-bid-build method consists in choosing a general contractor after the design phase is completed.
Design-build: In the design-build method, the design and build phases are executed by the same party known as the design-builder.
CM at risk: The CM at risk model empowers the construction manager, giving him more functions than he would normally have. In this project delivery method, the construction manager acts in two ways. On one hand, he is a consultant to the project owner during the design and development phases, and on the other hand, he monitors the contractor during the construction phase to control costs and guarantee that the project is delivered within the guaranteed maximum price.
Once the project owner has the blueprints, material take-offs, a construction project manager and a general contractor, the project can begin.
Read Next: Best Construction Scheduling Software of 2023 for Managing Projects
Construction Project Management Processes
Construction project management requires a broad variety of skills, along with the ability to interface with a diverse range of agencies and people in order to lead the project from concept to build. It's important that construction project managers follow the principles of project management during every phase of the project life cycle.
Project Initiation
You can't start a project unless you know you'll be able to finish it. First comes the due diligence to determine if the project is even feasible. How do you figure this out? You want to go through a feasibility study or what is often called a business case, in which you look at the goals, cost estimates and timeline to see if you have the resources to reach a successful project end within those constraints. You also want to define the reasoning behind the project and make sure it's sound. If so, then you create your project charter to help initiate the project. You'll also identify potential issues and risks in this phase.
Project Planning
You have approval, now how are you going to achieve success? Outline the tasks within the timeline, noting project milestones, and the resources needed to do those tasks within the budget allotted. Be transparent in your project plan, so everyone is on the same page and understands what needs to be done over the life cycle of the project. That includes detailing the cost, scope, duration, quality and communications used in the project. This is also when you'll be able to conceptualize the best project team for the project and begin the process of assembling them.
The planning phase is probably the most important project management phase because you'll create the documents that will guide the project execution. Here are some of them:
Risk management plan
Project schedule
Scope management plan
Cost management plan and project budget
The project schedule is a big part of the planning phase in construction project management. Here's an example of a project schedule from ProjectManager's free construction schedule template.
Once you've completed the work breakdown structure, you'll add your tasks to the left-hand side of the construction schedule template. You can add subtasks, add resources and costs, deadlines and more. Project phases can also be color-coded. To the right is a timeline that captures the entire project plan in one place.
On the timeline side of the Gantt chart, you can link dependent tasks, set milestones and a baseline to capture the project plan to compare to your actual progress when the project is being executed. There are a lot more features to play with on the Gantt chart that will help you plan and control your project. Download the free template to practice making your own construction schedule.
Once you have a construction plan that includes all the information you need to manage costs, scope, risks, time and other aspects of your project, it's time to execute.
Project Execution
At this stage, you're executing the project and taking the project plan and implementing it while factoring in the changes and work management issues that can arise during such a process. Whatever deliverables you promised must come through in the timeframe you noted. Now, as a construction project manager, you must deal with the project owner, stakeholders and customers and teams. The latter have tasks that must be completed, which means workload management and resource allocation. You'll be setting up meetings and reporting frequently throughout this stage. This is where your project management tool will really be tested, but more on that later.
Project Monitoring and Control
You can't know the progress of your project if you don't have a way to monitor it. You'll be doing this during the previous stages of the project, but it's important enough to demand its own separate stage in your management. You'll want to have a way to note the progress, which is why you need to set up key performance indicators for cost control, time tracking and quality control. If you can stay on top of these figures, it's less likely you'll manage a failing project. Therefore, stay flexible and communicative throughout so you can adapt quickly to change when it occurs, and it always occurs.
The 4 Stages of Construction Project Management
When you're managing a construction job, there are certain objectives you should consider. Just like in any project, you accomplish overall project success by breaking it down into phases. The following are four steps you can take to organize a successful construction project management project.
Design
There are four parts to designing a construction project. It's the project manager's responsibility to make sure your design meets with building codes and other regulations.
The concept. What are the needs, goals and objectives of the project? You'll be making decisions based on the size of the project, the site allocated for the build and the actual design of what you're building. This is comprised of a list for each room or space under consideration, including all critical data.
The schematic design. The schematic design is a sketch that identifies the various parts, materials, sizes, colors, textures, etc. It includes the floorplan, elevations, etc. and even a site plan.
Design Development (DD). Design development requires research. What are the materials to use? What equipment will be needed? How much are the materials? What is the material take-off?

Once you have a design, you'll need to use information from construction drawings and documents from the previous stage to create a bill of quantities which will specify the materials and labor that's required. Knowing local building codes and adhering to them will be important at this stage.

Get the contract documents together. These are the final blueprints and construction specs. These will be used by outside contractors to bid on the job.
Preconstruction
The preconstruction phase starts once the general contractor bid is accepted, but before ground is broken. During that time, you'll want to work on these three steps.
Assign a project manager. If the project manager hasn't already been determined, you'll want to establish it now. Sometimes a project manager is on board early and participates in the first stages of a project, while other times they aren't hired until the design is complete.
Determine the rest of the personnel. Find a contract administrator or the person who helps the project manager. A superintendent is also needed to keep everything on schedule in terms of the materials, deliveries and equipment. Superintendents are also on-site to deal with construction activities. Finally, you want to have a field engineer, which is more of an entry-level position to deal with paperwork.
Investigate the job site. Conduct a site analysis to understand the social, climatic and demographic variables that might affect your construction project.
Procurement
By this point, you've established your team and you've planned for the construction and materials necessary to complete it. Now you must purchase those materials and equipment. Depending on the organization, procurement might be the responsibility of the general contractor or subcontractors.
This is the stage you'll be working with purchase orders, which are used as an agreement between the buyer and the seller.
Construction
Finally, you're ready for the build! But first, set a preconstruction meeting to deal with work hours, the storage of materials, quality control and site access. Then get everyone on the construction site and set up as needed.
You'll need to create a payment schedule and a process to deliver payments. This information needs to be transparent, not only to meet financial obligations but to maintain a happy and productive workforce and environment. Make sure your work orders are detailed enough to avoid misunderstandings between you and your contractors.
The last part of the project is after the construction is complete and the occupants move into or take ownership of the site. You must make sure all their requirements have been met, and usually provide a warranty period to make that arrangement official and binding.
What Is Construction Project Management Software?
Construction project management software organizes the planning, scheduling, building, resources and reporting associated with construction projects. It streamlines the process and improves productivity—all while keeping to a tight schedule and budget.
Construction management software is designed to help managers control every phase of their projects by organizing its disparate parts and automating routines to add efficiencies. A construction project management tool also keeps stakeholders updated by sharing data-rich reports.
Because of the many documents related to any construction project, file storage and management of those files are also one of the key features of construction project management software. Having real-time data to foster collaboration, plan, schedule and manage resources is also an essential feature. Microsoft Project is one of the most commonly used project management software, but it has major drawbacks that make ProjectManager a better alternative.
To learn more, check our article about the best construction scheduling software of 2023.
Construction Project Management Tools
Just as you need the right tools to build a structure, you need the right tools to manage that construction. ProjectManager provides construction project scheduling, construction project planning, construction vendor management, cost management in construction projects and other features that allow you to work more efficiently and productively.
When you work with an interactive online construction management software like ProjectManager, project management becomes that much easier. You create a platform on which teams can collaborate and assigning them tasks and tracking progress becomes that simpler. You need a construction management solution that has the following features:
Cloud-based
Team scheduling
Resource allocation & management
Task lists
Online file storage
Email alerts
Mobile app
Gantt Charts
ProjectManager has an online Gantt chart maker, which provides a visual timeline for your construction project. It also makes editing construction project schedules super easy. You simply drag and drop a task bar to change the task's deadline, and you can also see the actual progress in real time as the task bar is shaded each time the status is updated.
Also, look for a Gantt chart with task dependencies, so you can connect dependent tasks like steel delivery with the build phase automatically. That way, everyone knows the status of the different phases and aspects of the project. Gantt charts also allow you to find the critical path, which is essential for keeping your project on schedule.
Task lists
Task lists are a simple yet very effective work management tool for construction crews. Task lists great to keep track of your daily work or for teams that need to create daily construction logs or a punch lists. With ProjectManager's interactive task lists you can share files, leave comments and assign work to your team members in real time.
Dashboards
Monitoring your project execution phase is essential to the project performing as planned. Construction project management dashboards give you a high-level view, collecting data and calculating that information into graphs and charts that show a number of project metrics to keep you on track.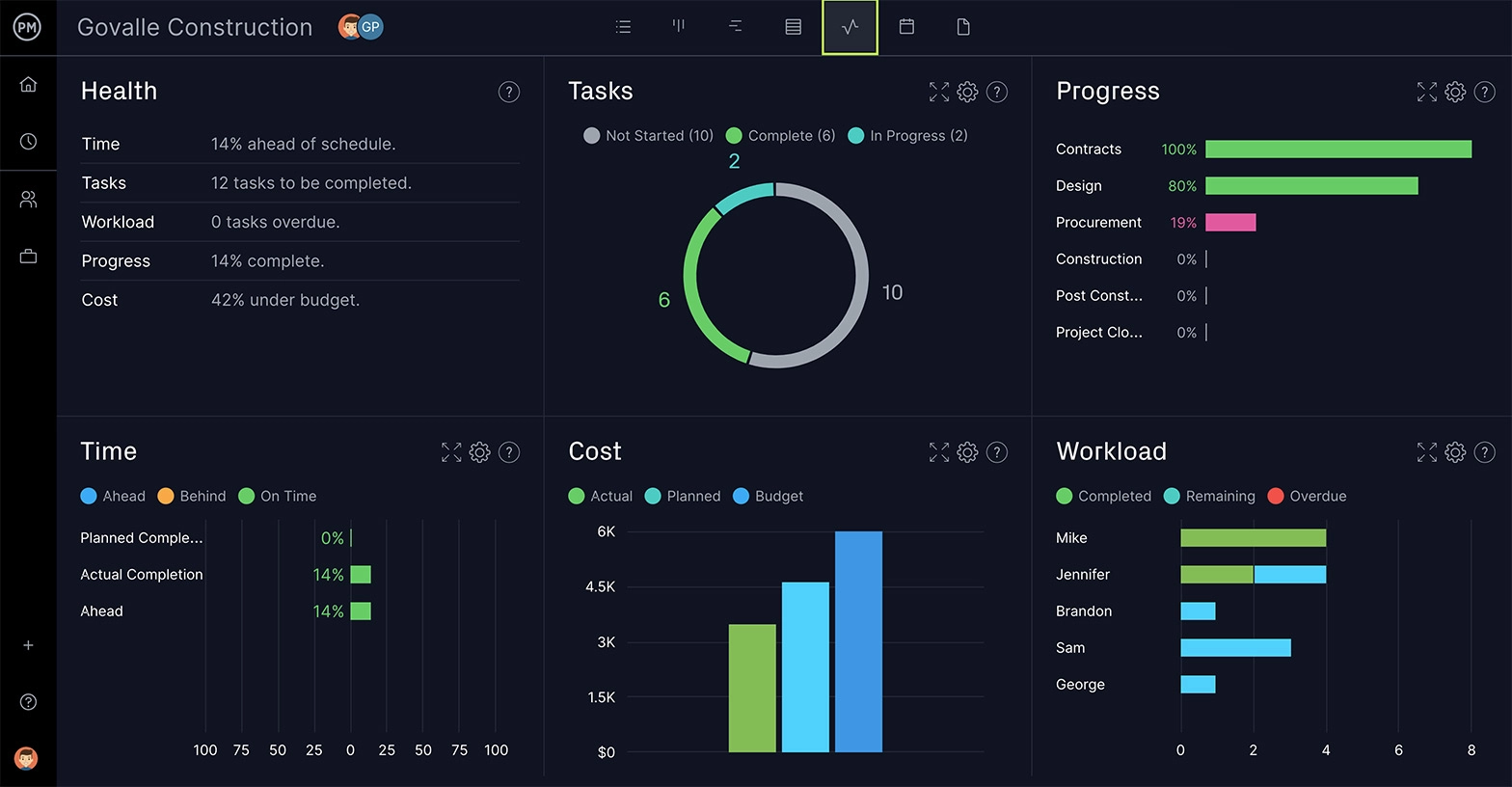 Resource Management
Team scheduling and resource management are other essential features you'll want, to help you chart the availability, skill set, cost and allocation of your workforce and your construction materials in real time.
You can also monitor their workload and create calendars to help you manage team members' hours, knowing when they're going to be out, so you can plan. It also helps with tracking other resources and their costs, such as construction equipment rentals to keep your projects on budget.
Timesheets
Another way to manage your team's hours is through timesheets. No matter where your team is located, either onsite or in the office, they can update their timesheets fast. They submit in seconds, and managers can easily review and approve all with a keystroke. And you can notify them that timesheets are due with automated emails.
Not only your team but the many vendors you employ on a construction project can be managed anywhere and at any time, with the cloud-based construction project management software from ProjectManager. They can send updates while in the field and you can monitor their progress and track costs and performance.
Reports
Reporting features go further than the dashboard, focusing on project variance, tasks, cost and more. The better your data, the better your decision-making process. That's why you want a reporting tool that can filter your information to show what you want to see and also target it for stakeholders.
Construction management software from ProjectManager is cloud-based and gives you unlimited file storage for all your documents, and there are even more documents in a construction project than the already paper-heavy regular project. You can then attach those files as needed to any communication or even task, and track updates to the documents.
Sign up now for ProjectManager and get 30 days free to try out these amazing features.
Types of Construction Projects
When looking into how to break down construction project management into types of projects, one must go to the source. There are three types of construction, in general, and they are buildings, infrastructure and industrial. The distinction can be further divided into residential and nonresidential.
From the three general types of construction, seven subsets can be listed.
Agriculture
Residential
Commercial
Institutional
Heavy Civil
Environmental
Construction project management is broken down into 10 markets.
Transportation
Petroleum
Buildings
Power
Industrial
Water
Manufacturing
Sewer/Waste
Telecom
Hazardous Waste
Waterfall Project Management for Construction Projects
Construction is a more traditional project and most projects in construction project management use the waterfall methodology. This is a technique with clear milestones, tasks with set due dates, deliverables and expectations from the project owner or stakeholders. All this is organized on a timeline.
Waterfall offers a systematic approach, which lends itself to most construction projects. You can't build a skyscraper without first digging a hole to create the foundation to support it. Waterfall and construction management work so well together because both use a sequential process.
The term waterfall illustrates the process of the methodology, which is one that moves downhill towards completion. Each stage or phase of the project moves the process to the next point, which aligns with construction's design-bid-build, design-build and CM at-risk methodologies. You can't design a building until you know the requirements. Therefore, in waterfall as in construction projects, you can't move on to the next step until the one you're working on is complete.
The benefit of this for construction management teams is that it allows them the time to focus on one aspect of the project at a time. This makes for a quality product at every stage of the build. Also, working with a waterfall model offers the attention to detail that keeps small things from falling through the cracks and being overlooked, which can have a devastating effect later in the project.
Unique Challenges of Construction Management
Like any project, construction project management has hurdles to clear, some of which are common and others unique to the field. For example, having undefined goals. This is usually a communication problem.
Another issue is scope changes or scope creep, which means that scope is moving past what had originally been planned for. This will ding your budget, so any change orders must be carefully regarded as to whether they're worth implementing or not.
Having the wrong team or a team that is not skilled to the level that the project requires is a problem with construction project management, as the skills are varied. Training before the start of a project is crucial.
Another key to a successful construction project is accountability. There are many teams working separately but together for the greater good of the project. However, if contractors or team members are not willing to take responsibility for those tasks assigned to them, the whole process can suffer. Strong leadership is the cure for this ill. You can use our construction daily report template to keep track of the daily progress of your construction site.
With construction project management, risk management is even more important than on other projects. There are issues with safety that are more dangerous than risks that can impact other types of projects. Therefore, spending time with the team gathering their input as well as researching other sources is key to a strong risk management plan.
Things will go wrong, even with the best risk management plan in place, so having a contingency plan is critical. However, an ambiguous one is going to make a bad matter worse.
Poor communication is the death knell for any project, so is not having a strong engagement with the project owner and stakeholders. This is true in any project, and construction project management needs to always be aware of resource allocation, as there tends to be a lot of materials and equipment to manage.
Start your free 30-day trial
Deliver faster, collaborate better, innovate more effectively — without the high prices and months-long implementation and extensive training required by other products.