What Is a Timesheet?
A timesheet is a time-tracking tool that helps employers keep an eye on labor costs. Timesheets are used by management, human resources and accounting departments to record time and pay employees based on the calculation of their total work hours. The most common association is with time cards or time clocks.
In project management, timesheet software has become invaluable for businesses to monitor their time and keep projects on track. Timesheets can also be used as a management tool for expense tracking, capacity planning, or estimating team availability.
ProjectManager weds timesheet management with cutting-edge project management software for a comprehensive tool that takes care of your project and time tracking needs. Sign up for a free trial today to see how much more efficient you can be when you combine time management with project management.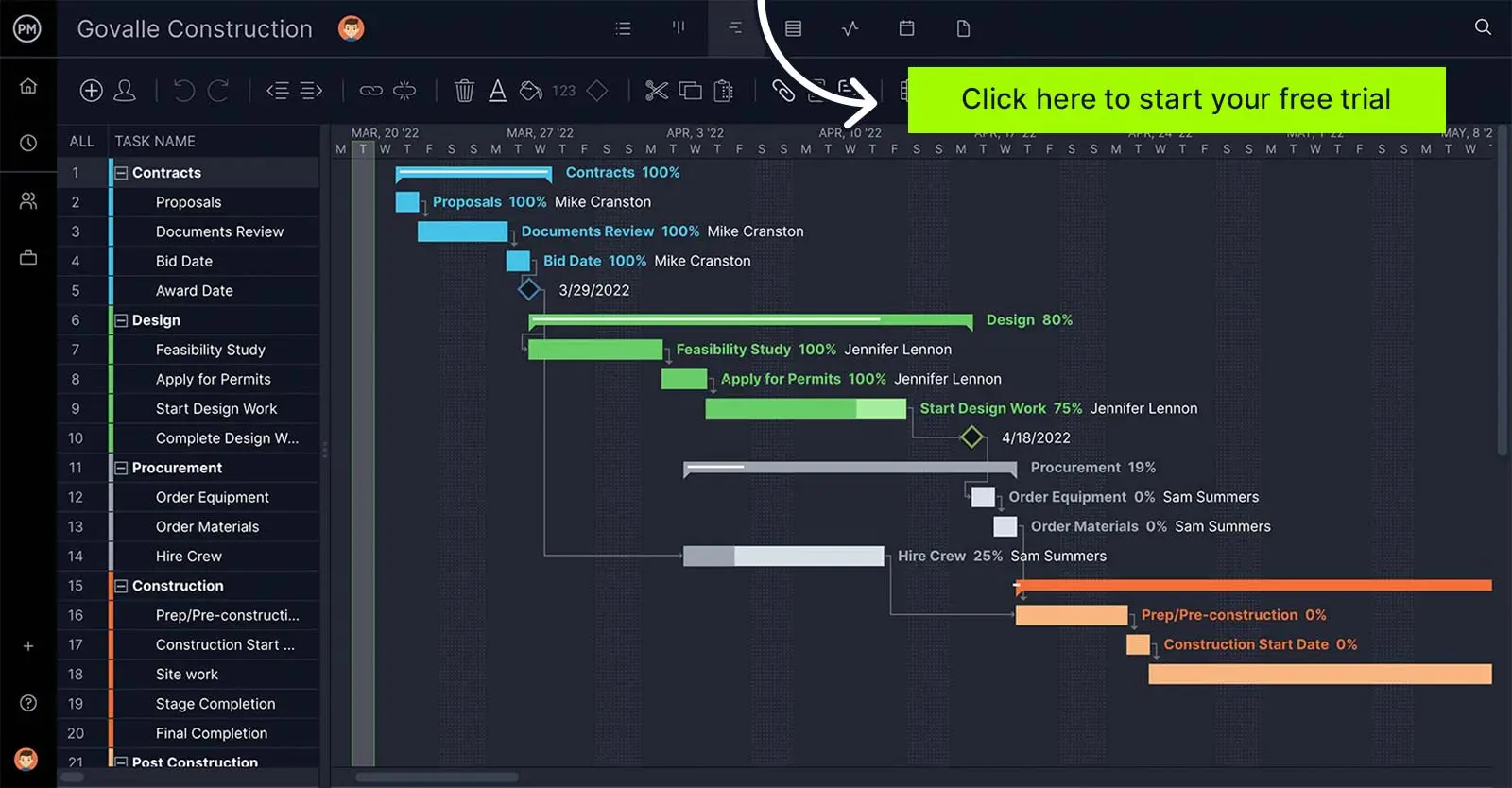 Types of Timesheets
There are four main types of employee timesheets; daily, weekly, bi-weekly and monthly timesheets, which are used depending on the type of work to be performed and the preferred pay period. Most time cards, time clocks and timesheet calculators have these four alternatives.
What Is Timesheet Software?
Timesheet software can also be called a time card calculator, time clock calculator, work hours calculator or even a payroll hours calculator. All of these terms typically refer to software that lets you create timesheets, timecards or time clocks to keep track of your employee's billable hours.
Timesheet software is used to streamline the payroll process. Modern software offerings have also expanded to include features that track the time it takes to complete each task and helps managers keep the project on schedule.
In fact, nearly every aspect associated with time management in a project can be monitored and tracked with timesheet software. Beyond just collecting the time a team works on a task, software can keep track of scheduling, resources and other variables that are associated with task execution.
Microsoft Project is one of the most commonly used project management software, but it has major drawbacks that make ProjectManager a better choice to manage timesheets.
Timesheet management is a key component to bringing a project to a successful conclusion. Project managers need to monitor the time in their projects accurately to reduce costs and stay on track. The better your timesheet software does this, the better it is for your project. Timesheet software helps managers streamline their payroll process better than old-fashioned methods such as time cards and time clocks.
How to Make a Project Timesheet
There are a number of ways to create and use timesheets. The simplest is a physical, paper-based timesheet. Using a physical timesheet template to calculate work hours saves costs, but can introduce issues such as lost timesheets and difficult-to-search archives.
Electronic timesheets can be made in Excel or Google Sheets with a breakdown of tasks, projects, programs, client billing and more. Using an Excel timesheet template saves time and streamlines much of the time management and payroll process. However, it can be unprofitable as it requires more time spent inputting data and shepherding the timesheet through departments.
The best way to create a timesheet for payroll processing is to use a timesheet calculator like ProjectManager. Here are some simple steps you can follow to create a timesheet using our timesheet software, so you can replace antiquated time cards and time clock calculators.
1. Create a Work Schedule
Before you can calculate your employee's work hours, it's important to create a schedule for them. Timesheets are much easier to manage when you have an idea of what tasks employees will be working on ahead of time.
We recommend you begin building your work schedule by laying out the tasks that need to be done in the upcoming days, weeks or months, depending on the type of timesheet you choose.
With ProjectManager, you can use different work management tools such as task lists, project calendars, kanban boards or Gantt charts to map out the tasks that need to be done.
2. Assign Tasks to Your Employees
Now that you've mapped out your project tasks using either one of those work management tools, you'll need to assign them to your employees. In the software, invite team members to the project. They'll be notified by email that they have been added.
As you assign tasks to team members, the timesheet calculator will automatically calculate their work hours and keep track of labor costs.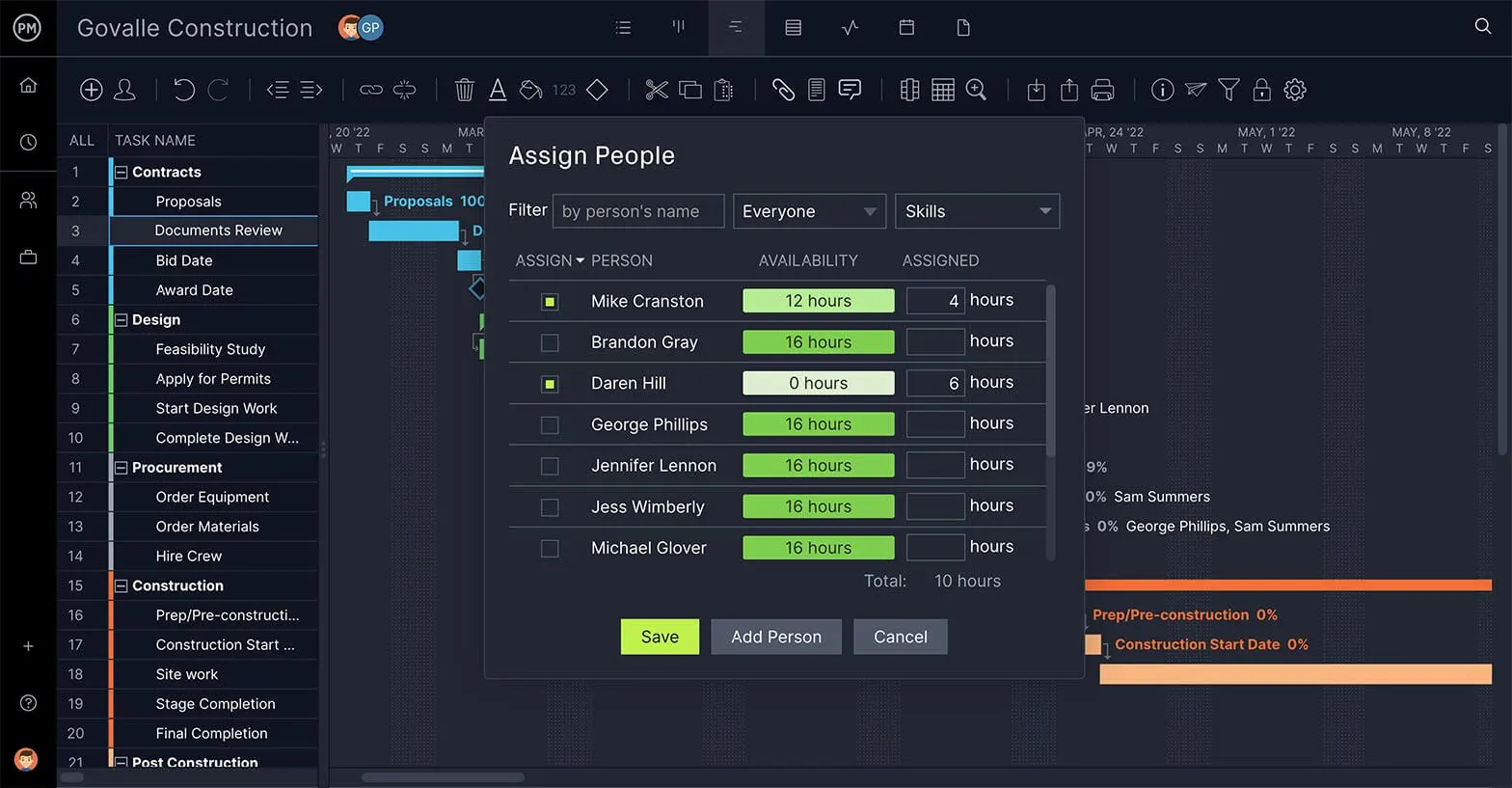 3. Track Employee Work Hours
Each team member is responsible for tracking the hours they work on a task. This information is then collected on the timesheet. Log hours on individual tasks or log them on the timesheet. You can also click auto-fill to pull in all the tasks assigned to you.
Then, assign an hourly rate for your employees, so that the software can automatically calculate the labor costs based on each employee's work hours.
4. Designate a Timesheet Approver
Assign someone from the team who will receive the submitted timesheets. This person, usually a manager, will make sure that the billable hours match the tasks completed.
Under the Manage Users tab, choose an approver to whom the team member will submit their timesheet for review. This person will be in charge of the approval process and acts as the gatekeeper between workers and payroll/human resources.
5. Review & Approve Timesheets
A manager can be notified when timesheets are ready for approval and then locked when they're approved, creating a seamless payroll process that saves time and money. Online time card calculators like ProjectManager also allow you to create printable timesheets.
Much of the timesheet process in ProjectManager is automated to save time and increase efficiency. However, there still needs to be a person who looks over the timesheet to make sure it's correct before passing it on to payroll.
After the requisite amount of time has passed (typically weekly, bi-weekly, monthly, or bi-monthly), it's time to review the timesheet before submission. View the timesheet by clicking time on the primary navigation menu. Set the week you want to review.
6. Share Timesheets & Workload Reports With Stakeholders and Clients
Now that your timesheet is approved, you can take your time tracking even further by using reports. Reporting is useful to review your data and identify bottlenecks, overages and other discrepancies. They're also an essential timesheet management tool for keeping stakeholders in the loop.
You can make reports from timesheet data for individual users or projects over a specific date range to get more detailed information on progress. Customize and share reports as a PDF or spreadsheet for when you have a stakeholder presentation.
ProjectManager is a trusted, award-winning software that has helped project managers complete over two million projects. Access to our robust timesheet software can be just what you need to unlock the next level of productivity.
If you're not ready to use our automated time card calculator, you can still use our free timesheet template for Excel to calculate work hours.
Free Timesheet Template for Excel
To get acquainted with a typical timesheet, we've created a free timesheet template for newcomers to play with and explore on their own. It's a typical, weekly timesheet example that includes hourly rate total hours, regular hours, overtime hours and vacation considerations.
If you decide to eventually use ProjectManager, the above Excel template can be directly imported for you to continue your work.
Related: Free Project Management Templates
What Should Be Included in a Timesheet?
Whether you use time clocks, time cards, timesheet templates or timesheet software to create and manage timesheets for your organization, your timesheets should include the following data:
The Name of the User: This is the person who's completing the timesheet. Managers may have access to employee timesheets to verify whether they've logged in their billable hours correctly.
Date: Weekly timesheets are the most popular. The date field lets you navigate through the calendar and enter your working time for a particular week.
Project: Timesheets can group tasks by project (this is how it works in ProjectManager) to make it easier for the user to see what they're recording at a glance.
Task: The list of tasks that the user has been allocated to work on that aren't yet marked as complete.
Copy Last Week: If you're working on similar or the same tasks each week, you can auto-populate the timesheet with last week's tasks rather than have to input them again.
Days of the Week: The rest of the timesheet columns display the days of the week. Mark the hours worked on each task against the correct days. Some projects might demand the use of daily timesheets, which describe the tasks performed in a day and other details such as hours worked, clock-in and clock-out time, among others.
Percentage Complete: See what percentage of your tasks are done.
Auto-Totals: Columns and rows will automatically total so you can see at a glance how many hours you've worked in a day or on a particular task. This helps both employers and employees calculate total hours, regular hours, overtime hours and double time for payroll purposes.
Submit: If an approver has been assigned, the timesheet when ready can be sent to that person to review. Electronic timesheets are easily shared online, while printable timesheets can be delivered in person.
Notes: Add comments and upload files to timesheet entries to remind yourself of what the task was about or to note why it took longer (or less time) than expected.
You'll also typically see lines on the timesheet that don't directly tie back to tasks on the project schedule. These lines could represent things like paid time off (PTO), team meetings, training and so on. These tasks take up time during the working week but don't necessarily contribute directly to a project.
For What Are Timesheets Used?
Employers need timesheet software to calculate how many work hours should be paid to their employees. They're used for payroll processing by companies or project teams from any industry. Here are its two most common uses.
Timesheets, Payroll & Client Billing
Timesheets are essential to the payroll and client billing process. Employers use timesheets to record data related to an accounting of their employees' work time to accurately pay them. To create a timesheet managers must consider many variables such as their employee's time cards, pay period, hourly rate, regular hours, overtime hours, mileage log, among others. Timesheets can be submitted weekly, biweekly, monthly or bimonthly.
Timesheets are mostly used for nonexempt employees, as it allows employers to not only pay for the hours worked but track them to stay compliant with state and federal regulations such as the Fair Labor Standards Act. This is known as timesheet compliance, and the standards differ depending on the industry and the regulatory entities. For any firms that bill their clients regularly, timesheets work as a means to track those billable hours for each client.
The importance of timesheets is myriad, from lowering costs due to inaccurate invoicing to tracking the time of your employees and using that data to adapt roles and improve performance. They act as protection against possible litigation by providing detailed records.
Timesheets and Project Management
We're long past the age of office workers clocking in and out on an antiquated time log sheet or time card machine, but that doesn't mean timesheets are no longer in use to track time. In fact, their utility has only increased as project management tools have become more advanced. Today, timesheets are a very versatile time-tracking tool.
Project management is modern, knowledge-based work, which requires the tracking and processing of large amounts of data in real time—and that includes time spent on tasks. Some project teams working in consultancy or agency environments will bill for the work hours that their team spends on projects using this data.
Savvy project managers, though, make full use of rigid adherence to online timesheets to identify avenues of optimization and improvement for their projects or business operations. The real value of timesheet tools is that they provide an easy way to see what the team is working on, at any time and determine if that work is being properly executed.
With proper use of a project timesheet, you can easily identify:
Who is working on what
What tasks are still outstanding
What tasks are going to overrun their scheduled time
Who is really busy and logging lots of hours
Who isn't recording many hours and may have the capacity to pick up more work to optimize the team availability
Data that's useful for capacity planning and expense tracking
Timesheets and Construction
The construction industry is one of the most labor-intensive industries there are, which means construction project managers have to keep close track of all the activities that take place on the construction site. This includes the work of their own construction crew and any subcontractors that might need to be hired.
ProjectManager's timesheet calculator is ideal for construction projects as it can be used in conjunction with other tools such as project calendars, Gantt charts and task lists, which are ideal for construction management.
Benefits of Using Timesheet Software
Timesheets keep track of team hours—that's a necessity—but is it worth investing in an online timesheet software, or could a classic time clock calculator, time card calculator or time tracking spreadsheet suffice?
Certainly, a small business that doesn't have to keep track of dozens of employees might only need to use printable timesheets, or just time log sheets and time cards. But once an organization scales, so too do the complexities of ensuring proper payment to their employees.
Timesheet Software Is Customizable
One advantage of an online timesheet compared to the old-fashioned way of logging hours with time log sheets and time cards is that you can customize them to fit the structure of your business. Not all companies are the same—they work in different sectors and have different needs when processing payroll. Online timesheets have the flexibility these businesses need to get their timesheets tracking more accurately.
Timesheet Software Facilitates Reporting
The problem with printable timesheet templates or even electronic timesheets made on Excel or Google Sheets is that they're data islands. While they're functional, they don't go beyond the basic needs of a timesheet. On the contrary, an online timesheet has a central repository that can then be tapped to generate reports that give managers insight into how their teams are working and information to track the time in projects.
Timesheet Software Is Secure
Having an online timesheet software means that it can be electronically locked, keeping anyone from changing the information held within. Once a manager approves the employee timesheet, they can secure it to make sure that what arrives at payroll is the same as what they saw. No one can come in and change the numbers.
Timesheet Software Lets You Access & Edit Your Employee Timesheets With Ease
Printable timesheets have to be physically distributed, and even digital copies must be sent electronically. However, online timesheet software is accessible anywhere and at any time. If you're managing teams who work in different locations and time zones, they can log into their timesheet when they need to update it without requiring you to send it to them.
This doesn't even speak to having timesheets that are integrated with a larger project management software and can update automatically as teams submit their status. While not completely dismissive of the classic timesheets of yesterday, the online timesheets of today are what the workforce of tomorrow needs.
Must-Have Timesheet Software Features
The following timesheet software features are crucial, and should be kept in mind as you compare and contrast different offerings to make your choice.
Make Data-Driven Decisions
Accurate monitoring requires accurate time tracking. Online timesheet software that automatically updates in real time gives users a current picture of the work hours their team is logging. Better data drives successful projects.
Submit Secure Timesheets
Keeping timesheets protected and making sure that they can't be tampered gives teams and managers confidence in the payroll process. Look for timesheets that can authorize a person to approve them, and once approved, locks the document to insure its integrity.
Automation Improves Efficiency
Features that streamline the timesheet process save time. Timesheets should have an auto-fill option to populate the timesheet with recurring tasks that have been assigned to a team member. When tasks are repeated, they should be easy to copy to the next timesheet.
Share Timesheets With a Click
It's important to have a simple way to get your timesheet where it needs to go—whether you need to export it as a PDF and email it or print a paper version. Ideally, you want a tool that can export it to your manager, who in turn shares it with payroll.
Get Deep Project Insights
Timesheets are a potential well of information if used properly. You want to tap into that data with reports that can be filtered to show what you want to see and then shared with stakeholders to keep them updated on progress.
Add Files and Comments to Timesheets
The ability to attach files and comments to your timesheets is important. If, for example, your team submits a timesheet with more hours than expected, they can attach a file of their deliverable to justify the extra hours. A timesheet should have unlimited file storage to do this.
Why Are Timesheets Important?
The importance of timesheets are myriad, from lowering costs due to inaccurate invoicing to tracking the time of your employees and using that data to adapt roles and improve performance. They act as protection against possible litigation by providing detailed payroll records.
We touched on this earlier, and now we'll take a deeper dive into the importance of timesheets as a project tracking tool.
Timesheet Information Helps You Build a Database for Future Projects
The data output from time tracking comes in the form of timesheets that show how long an individual spent doing a particular task. This is valuable data because many of those tasks will happen again in the future. Your time-tracking data repository will let you estimate better in the future because you can draw from real-life data.
For example, let's say you estimate that preparing the wireframes for a new website will take 5 days. You put that on the project schedule and it automatically feeds through to the timesheets for the relevant resources. They complete the timesheets with the actual work hours spent on doing the wireframes. The wireframes take two people 4 days, so that's 8 days of effort in total.
The next time you come to estimate the task for creating wireframes, you can use the real data of 8 days and create a far more accurate project schedule.
Timesheets Streamline the Billing Process
As we explained at the start, if your commercial model relies on charging clients for your time, then you need to know how much time to charge them. Timesheets also give you the detail so you can spell out exactly what you did on a project.
This is helpful if ever your invoices are queried, and especially when work takes longer than planned because of changes the client requested. Weekly timesheets are the standard to keep clients informed. However, daily timesheets can be more effective in projects with a shorter duration.
Timesheets Help You Manage Your Team's Workload
Managers and employees are often surprised when they start to track their time because they can see exactly where they're spending the most effort. And it isn't always where it should be.
Timesheets can be helpful in pointing out why you aren't as efficient as you think you should be because they flag where your time is going. This helps you manage your workload more efficiently, both during a single day and also over a longer period of time.
Why ProjectManager Is the Best Project Timesheet Software
ProjectManager is more than just a simple time box or time card calculator, it's robust project management software that lets you create automated & secure timesheets, create schedules, manage your team's workload and much more. Here are some of the features you can use for time tracking and resource management.
Multiple Project Management Views
ProjectManager offers multiple project management tools that you can use to assign, schedule and track work. Choose between online Gantt charts, kanban boards, project calendars and other project views to create work plans. Your timesheets will automatically populate as team members log their work hours.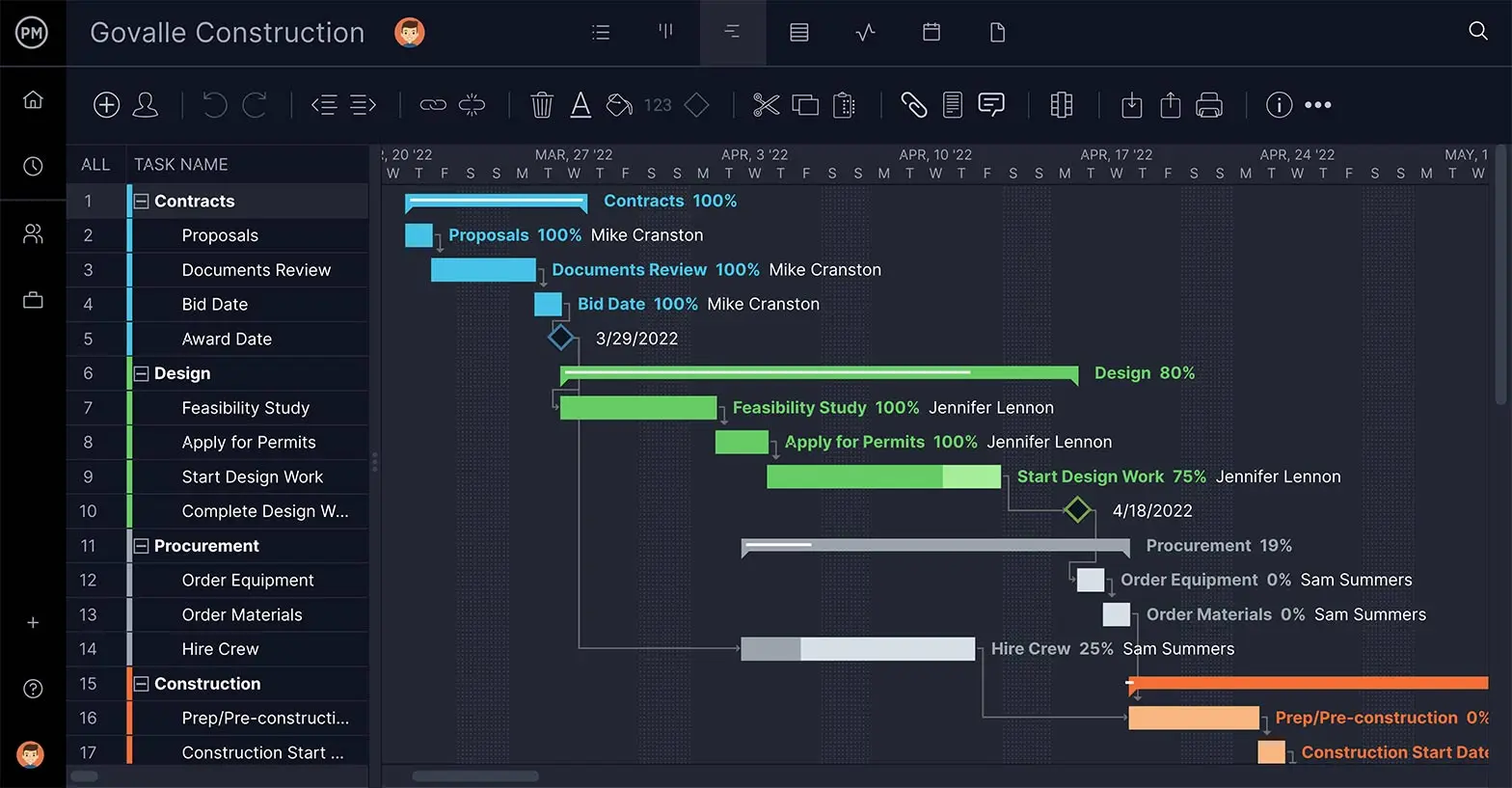 Real-Time Project Dashboards
Our real-time project dashboards allow you to keep track of the time each team member spends on each task, as well as their labor costs and workload capacity.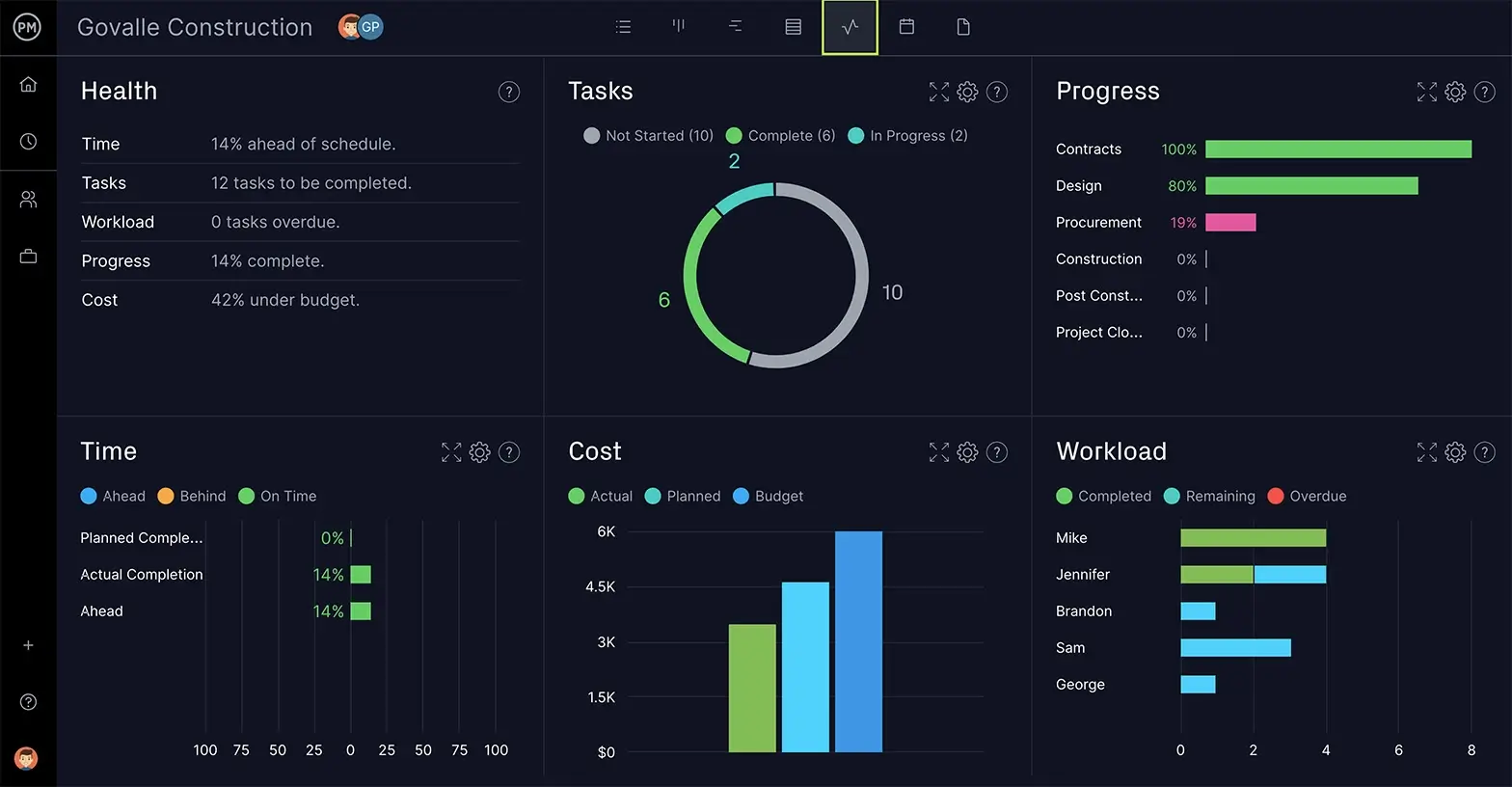 Workload Charts
Workload charts, like our timesheets, track hours as your team members complete the tasks you assign to them using our project management views.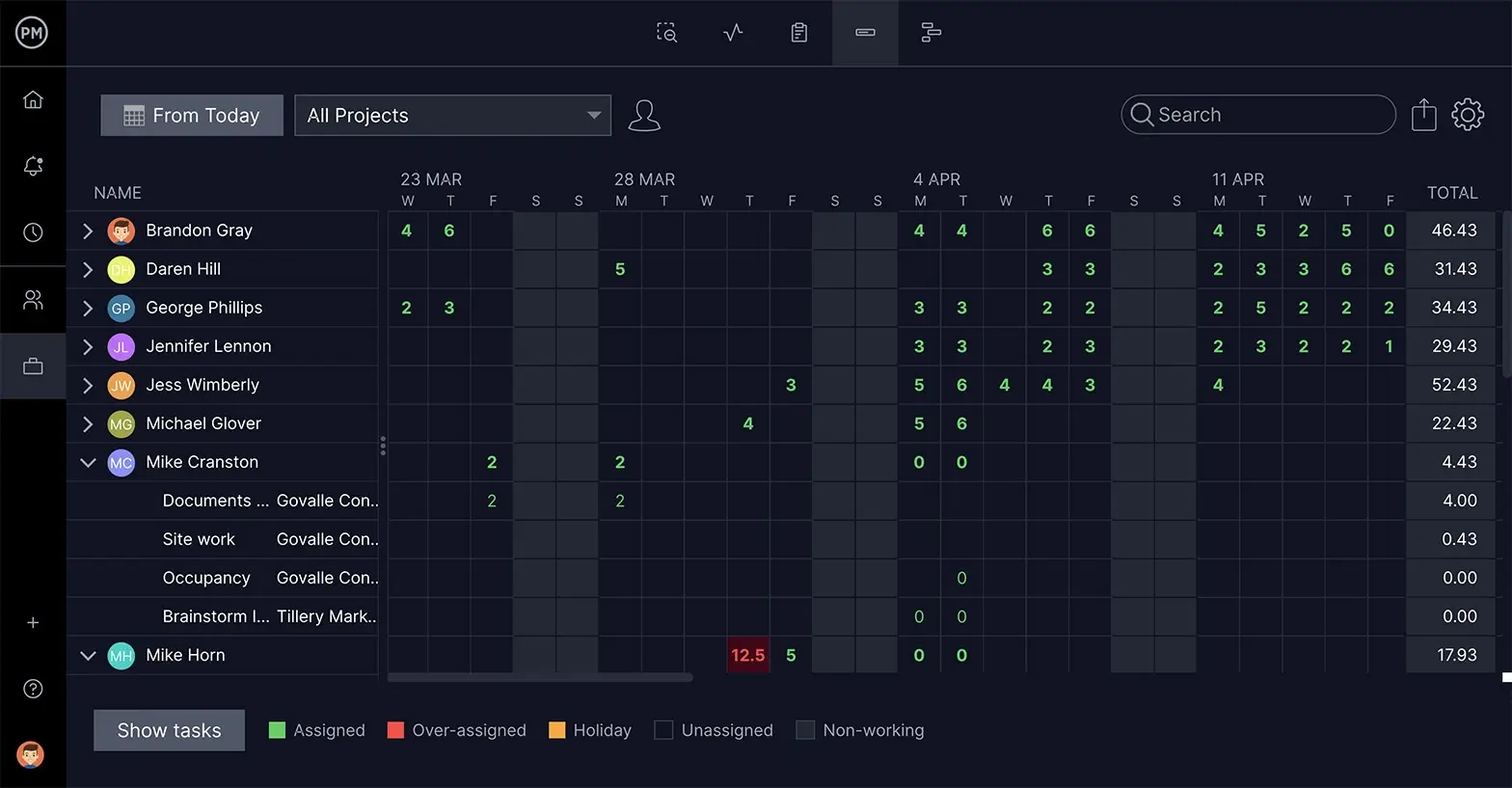 Start your free 30-day trial
Deliver faster, collaborate better, innovate more effectively — without the high prices and months-long implementation and extensive training required by other products.