Documentation is required in any project, but even more so when it comes to construction project management. Construction projects demand regular and detailed reporting during execution so you can review and analyze your progress. This data is delivered in the form of a construction daily report.
The construction daily report is usually handled by the site manager and will be repeatedly created and delivered over the course of a project. It's an important aspect of construction project management so you'll want to make sure you're doing it correctly!
What Is a Construction Daily Report?
A construction daily report is a log that lists the events that occurred during a work day on a construction site. This includes the weather conditions, material inventories and work performed, among other details. There are several reasons why a general contractor, construction project manager or even a project owner would need a construction daily report.
This construction report must collect pertinent information about the job site—from the weather conditions to a list of visitors that day at the site. It's a complete record of the day's work that provides a log of everything that has transpired.
What Is the Purpose of a Construction Daily Report?
As you can imagine, the construction daily report is essential to getting work started quickly and accurately for the next day. It lets subcontractors know where their tasks left off and if they have the equipment and supplies necessary to continue the next day. This is critical for keeping your construction project on schedule.
Additionally, a construction daily log protects workers and managers on the site. If there's a delay, for example, that is captured in the report and explained. That paper trail prevents blame from falling on an undeserving party. This is important if there are any legal issues, as you have a record to support your defense.
Better Reporting for Practical Results
Keeping a record of the day's events offers insight into what's going on in the project and allows you to tweak resources to get things done more effectively. Construction sites are complex with many activities taking place at once. Reporting keeps everyone aware of what's going on so workers and subcontractors can do their jobs without getting in the way of others.
Finally, the daily report also communicates the status of the project, so it updates those with a vested interest in the construction and keeps them informed.
How to Create a Construction Daily Report
Creating a construction daily log can seem intimidating. There is so much to cover and you don't want to overlook anything that might be crucial to proper documentation. But daily reports have been a normal staple of construction sites for almost as long as there have been construction sites so there's a roadmap you can follow.
1. Log General Information About Your Project
The first step is to create a cover page or include general information about the project at the top of your construction daily report.
2. Log in the Weather Conditions
Weather conditions can greatly affect construction projects. This means that your daily log must have a place where you can log the weather conditions for the day.
3. Create a Crew List
An important step when making a construction daily log is to list the crew members that were at the job site and log their hours worked.
4. Document Work Accomplished
The work accomplished by the crew must be documented in the daily construction report. It's important to include a status for each task such as to-do, doing and done. This will help you better track the progress of your team.
5. Track Your Equipment on Site
Just as with your crew, you need to keep track of your equipment. Your construction daily report should list the equipment that was used on the job site and the hours for which it was employed. This is important for resource management purposes as well as maintenance and security.
6. Track Your Construction Materials
Keeping track of construction materials such as wood, paint, concrete or glass is very important. As a construction site manager, you'll need to do two things to track materials with a construction daily report. First, you must check your inventories and list the material type and quantity that are available.
Secondly, you need to document any delivery of materials that occurred during the day. If a scheduled delivery of materials doesn't occur, you'll need to document that in your daily log.
7. Document Delaying Events
There are several events that can cause a construction project to be delayed. Some common delaying events are poor weather conditions, equipment malfunctions or a failed delivery of materials.
8. Document Accidents, Incidents & Other Events
Unfortunately, construction projects are prone to incidents, accidents and other unplanned events. It's important that you document everything that occurs on your job site and take any necessary actions promptly.
9. Track Your Meetings
As a site manager, it's important to keep track of any meetings that occur on the job site. Any meetings that occur outside shouldn't be included in your daily construction daily report.
10. Keep Track of Site Visitors
Every daily construction report should document any visitors who were at the construction site. This is important for compliance reasons, as it's a safety requirement for all construction projects.
11. Signatures
Whoever is in charge of preparing the daily construction report must sign the document. This is the last step that formalizes the document and holds the preparer accountable for any mistakes or omissions.
Construction Daily Report Template
Since the report is daily, it's good to have a template with all the information you need to capture already built-in. This way all the vital data is already laid out and you just have to fill in the details. ProjectManager has dozens of free project management templates, including a construction daily report that you can download and customize as needed.
Best Practices When Keeping a Construction Daily Log
As useful as a construction daily report is, creating one is not without its challenges. The first thing is to be consistent. Don't complete a daily report every other day as it loses its purpose. These daily reports are named for a reason and need to be filled out at the end of every workday.
Keep good records, too, because taking the time and effort to fill out a daily report is wasted if you can't find it when you need it. Make it part of the process to file away the work. Keeping good records is critical for any project, especially in construction, which is another reason to look into project management software that can store your digital files.
7 Tips to Make Better Construction Daily Reports
To make the best construction daily log possible, here are some tips to apply when going through the process.
Be detailed: Find the right balance. It shouldn't be too broad to make the daily report unusable, but you should also know when to go into detail such as when there's a stoppage or incident.
Be timely: The reports need to be filed as early as possible. If you wait until the next morning to fill out the daily report for the previous day, much of the detail will be lost.
Be simple: While you need to be detailed in your reporting, it should also be clear and concise. Many people will read this and you don't want to lose them in jargon.
Be open to input: As the site manager (a position not privy to everything that has occurred on the worksite) usually fills these out, it's good to be open to participation from the crew. Even a brief chat before they leave can help you fill in the report more accurately.
Be transparent: The daily report is a communication tool and should deliver information to a wide variety of project team members to identify any problems and to keep a record of progress.
Be compliant: The daily report is a good way to make sure you're meeting the standards outlined in the construction contract. Take the necessary steps each day to make sure you're in compliance with your contract, code and other regulations.
Be efficient: The best way to save time and money is by incorporating your daily reports into a larger construction project management software. With this tool, you'll file reports faster and be able to use that data when managing your plan and schedule.
Construction Project Management Templates
Managing construction projects can be very complex. That's why we've created free construction project management templates you can use to help you plan, schedule and track your construction projects. Here are some of them.
Work Order Template
Our free work order template helps project owners and contractors reach an agreement on the construction work to be performed and the amount that will be paid for it.
Construction Schedule Template
Having a well-planned schedule is key to success in the construction industry. Our construction schedule template allows you to set due dates, assign tasks to team members, set task dependencies and much more.
Punch List Template
Our free punch list template is ideal to track tasks that are left uncompleted as teams get close to project completion. It's a great tool for construction project managers, site managers and anyone who wants to make sure no work is left behind at the final stages of the construction project.
Related Content
How ProjectManager Creates Construction Daily Reports
ProjectManager is an award-winning project management software that reports in real time and organizes your tasks to keep you on track. If you're looking to get rid of the paper construction daily report and move to a dynamic software tool that can let you better manage and report on your construction project, then you need project management software.
Create Reports in Seconds
Much of what you have to track on the construction daily log can be generated with one click of your keyboard with our reporting feature. The project status report gives you an overview of the health of your whole project and tasks. You can see which tasks are overdue. Other reports include the project plan, tasks, timesheets, availability of your crew, their workload and the project variance to see if your actual progress is aligned with your schedule.
Maintain a High-Level View
You can get an instant status report by using our real-time dashboard. The dashboard collects data from your team's status updates and automatically calculates that information and displays it in easy-to-read charts and graphs. Anytime you need to see if you're on schedule or keeping to your budget, it's available immediately.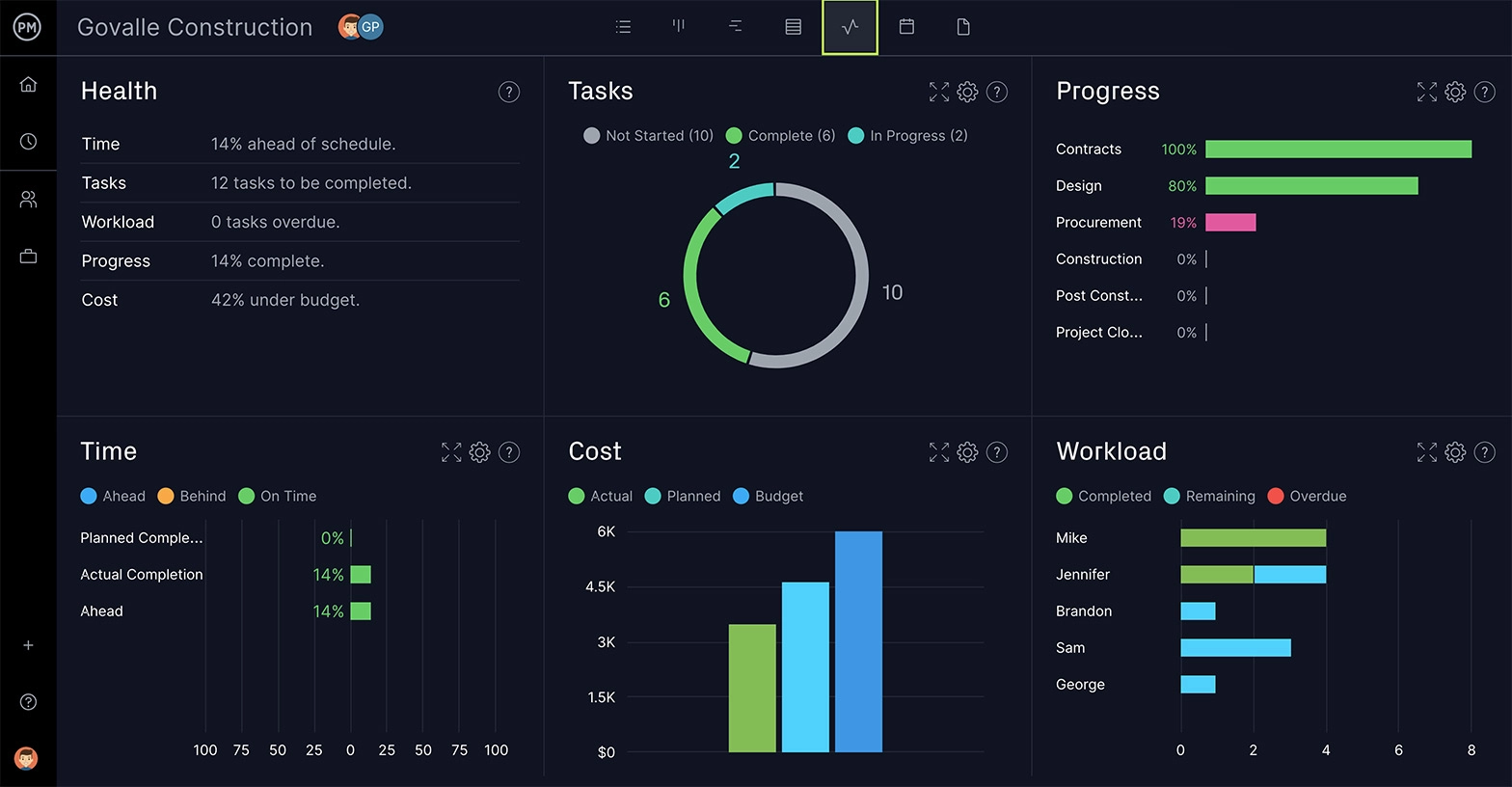 ProjectManager is a project management tool that organizes tasks, teams and projects with real-time reporting tools, so you always know where you are and what you're spending on your project. Join the tens of thousands of teams and organizations that use our tool to run successful projects. Take our free 30-day trial today.