Construction is a field with a lot of disciplines. After all, it takes a lot of different craftsmen, engineers and more to assemble a building, bridge or any safe and integral structure. Every process is important to construction project management, especially construction engineering.
But what is construction engineering and is it the same as civil engineering? Spoiler alert: it's not. We'll explain what a construction engineer is and how it differs from a civil engineer. We'll then explore the different roles related to construction engineering management.
What Is Construction Engineering?
Construction engineering is the process of overseeing and managing a large-scale and complex construction project. These types of construction projects tend to be large buildings and the infrastructure that supports them.
As construction project management is almost always a complex and collaborative effort, you'll find construction engineers working with other types of engineering professionals. But construction engineers are often responsible for the design and safety of temporary structures that are used during construction, such as scaffolding. Construction engineers can work on electrical systems, mechanical systems and even building a new highway or tunnel, making sure they're connected to new buildings correctly.
Construction engineering relates to the construction project as the construction engineer manages it and keeps the project on schedule. They have to make sure that the construction is proceeding according to the construction plan.
Such responsibilities require powerful project management tools to ensure schedules and safety standards are being met. ProjectManager is award-winning project management software that helps maintain construction schedules with robust Gantt charts. With our tool construction engineers can link all four task dependencies, filter for the critical path and set a baseline that allows them to track the planned schedule against the actual schedule in real time. Get started with ProjectManager today for free.
Construction Engineering vs. Civil Engineering
As we alluded to, there's a lot that construction engineers and civil engineers have in common. That makes the distinction between construction engineering and civil engineering subtle. But there's a difference and it's important that the line between the two is clear.
The main difference is that civil engineers are more involved in the design, planning and implementation of a construction project. For example, they'll analyze the survey reports and maps to prepare the project documentation around the construction plan.
Civil engineering is also responsible for pulling the necessary permits that must be obtained in order to begin construction. They're the ones on the construction site who collect and test soil samples to discern if the foundation is suitable. Civil engineers also manage the construction project's budget, providing cost forecasts for all resources associated with the construction project, including labor and equipment. They meet with the public to discuss new proposals and their impact on the community.
As you can see, civil engineering is a varied profession. You'll often find civil engineers specializing in one of the many responsibilities listed above. That might be structural, environmental or transportation engineering.
Construction engineering is more concerned with day-to-day construction site management. While construction engineers might participate in the processes that civil engineers lead, they focus on project execution.
As with civil engineers, some construction engineers are also involved in creating the construction budget. They assemble the equipment and materials needed for the execution of the construction plan. Because they're involved in coordinating, organizing and managing day-to-day operations, ensuring compliance with the design and plans, they also build and manage the construction team and engineering professionals involved in the build.
Another aspect of construction engineering is overseeing the construction processes. They'll report back to the stakeholders, use machinery on site and other tools such as computer software that helps ensure they're conforming to design specifications. If the construction differs from the design, construction engineers work to modify the design.
Construction engineers are essentially responsible for everything that occurs on the construction site. In a sense, they do what a construction project manager would do on a smaller, less complex project.
Construction Engineering Roles
Construction engineering is made for big jobs. That means there's often more than one person responsible for the work that falls under the umbrella of construction engineering. Let's take a look at a handful of them.
Construction Engineer
We've already talked about construction engineers and we've drawn the line between them and civil engineers. The truth is that line is porous. Because so many of their duties overlap, you can find a construction engineer or a civil engineer in this position. It depends on the project, construction project manager and other factors. But, as noted, there's a thin line separating the two professionals and often on a construction site, that line is crossed.
Construction Estimator
Before any work can be done, the construction estimator is needed. Without them, a construction project will cost too much. The construction estimator estimates the materials to determine how much the construction project will cost. That might sound straightforward, but it's a time-consuming task that requires a great amount of skill. They need to understand construction design, such as in engineering or architecture, and require degrees in mathematics, preferably with a history in construction or manufacturing because they have to check the scope of work to ensure it's accurate before they begin.
Site Engineer
Another aspect of construction engineering is being a site engineer. These engineering professionals work on-site in construction but also in other fields, such as factories. They have varied responsibilities including inspecting and installing equipment and new technologies, directing crews on the construction site, researching the site and reporting on the status.
If there are equipment malfunctions, they're responsible for resolving them. They're tasked with the management of the technical functions and infrastructure on site. Site engineers tend to focus on one technical aspect, whether that's software, hardware or other types of systems maintenance.
Structural Engineer
A structural engineer is found in both construction engineering and civil engineering. Structural engineering revolves around the making of drawings and specifications, performing calculations, reviewing the work of other construction engineers, writing reports and observing the site. They have licensed professionals to do the numerical quantities of the physical forces and force-resisting elements you'd find on a construction site. The main difference between a civil engineer and a structural engineer is that the former designs and maintains structures while the latter analyzes, designs builds and maintains the structures and materials that reinforce loads.
Environmental Engineer
The environmental engineer is a construction engineer who seeks solutions to the environmental challenges that impact the construction project. They use the principles of engineering, soil science, biology and chemistry to determine how to solve environmental problems on the construction site or created by it. They design technologies and processes that control pollution and clean up contamination. They need a background in one or more of the following disciplines: civil engineering, environmental engineering, marine engine, mechanical engineering, chemical, engineering and process engineering.
Project Manager Helps With Construction Engineering Management
With such a vast array of responsibilities, construction engineering professionals need project management software that can help them work more effectively. ProjectManager is online project management software used by the construction industry to plan, manage and track work in real time. Our collaborative platform means whether you're on-site on in the office, you're always connected and can share files, comment on tasks and much more.
Manage Teams With Resource Management Tools
Planning, scheduling and costs related to a construction project are all just estimates until you execute the job. Our resource management features help construction engineers keep track of their teams and ensure productivity. When onboarding the team you add their availability to make it easier to know who can work and who is off or on holiday. Get visibility into what your team is working on with our color-coded workload chart. If you see someone is over-allocated, you can reallocate their tasks right from the chart to balance workload and keep team morale high and productivity up.

Track Work With Real-Time Dashboards
Being able to track resources is only part of managing a construction project's day-to-day operations. The ability to toggle from your Gantt chart or whatever project view you prefer to our real-time dashboard gives you an instant high-level view of the progress and performance of the project. There's even a portfolio dashboard if you're managing more than one construction project. Both automatically capture project metrics such as time, cost, workload and more and display them in easy-to-read graphs and charts. Unlike lightweight alternatives, there's no time-consuming configuration needed. It's ready when you are.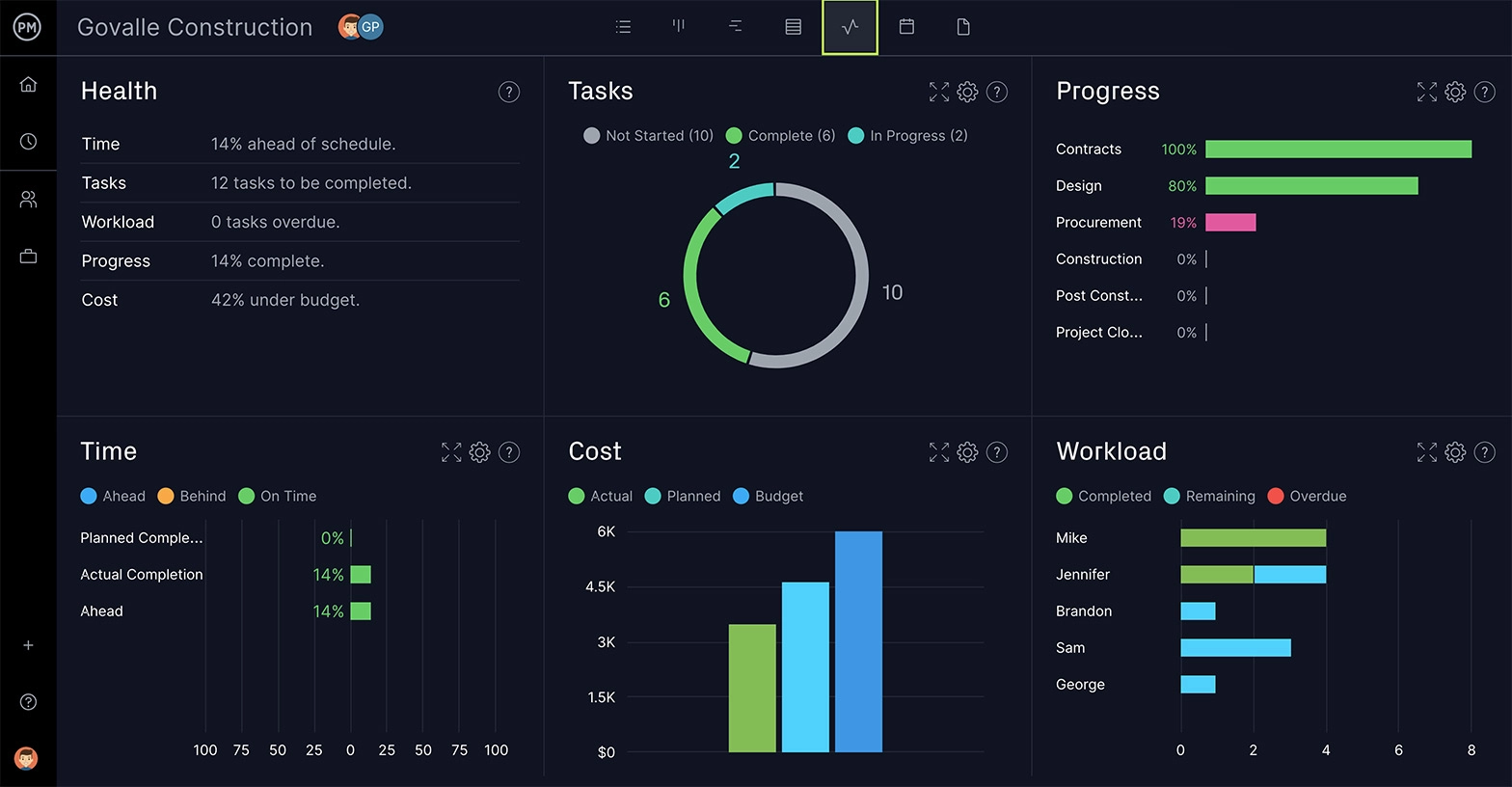 Of course, those are only a few of the features of our software. There are task management tools, such as kanban boards and task lists, and risk management ones to help you identify, track and resolve issues that arise in the project. You can automate recurring tasks, search globally and so much more. It's not easy being a construction engineer, but our software helps make your work more efficient.
ProjectManager is award-winning project management software that empowers teams to plan, manage and track their work in real time. Construction professionals use our tool to schedule work, manage teams and keep everyone working at capacity. Get started with ProjectManager today for free.