All projects use reporting to monitor progress and performance, but in construction, reporting is especially important. Construction reports are more varied and chart everything from project status to incidents and compliance.
First, let's define what construction reporting is and then explain why construction reports are so important. After that, we'll list and detail a number of different types of construction reports to give you a full picture.
What Is Construction Reporting?
Construction reporting is the creation of informational documents on everything from project events to stages and processes for monitoring and controlling the project, but also to present to stakeholders and keep them updated. Construction reports can be written or generated by project management software, but they're always data-rich and usually illustrated by graphs and charts.
That doesn't mean construction reporting is verbose; they're best when short and concise. The idea is to get a snapshot of the project or various aspects of it in an easily understandable fashion. The language should be clear and the format should be simple. The information in the construction report should stay on topic. There are other reports that can capture specific information.
While you could manually create construction reports, project management software is designed to do it faster and better. ProjectManager is award-winning construction project management software with reporting tools that automatically gather real-time data. For example, you can create a status report with a couple of keystrokes, filtering the results to show only what you want to see. Reports can be shared in a variety of formats and even printed out for stakeholder presentations. Get started with ProjectManager today for free.
Why Is Construction Reporting Important?
The foremost importance of construction reporting is keeping the project on track. Construction reports offer insightful data on the project's progress, status and performance, all of which are necessary for the project manager to ensure that the project is moving forward as planned.
Construction reports are made to be shared with the general contractor, subcontractors, project managers, stakeholders and everyone involved in the construction project. This transparency helps everyone make more informed decisions and also identifies and corrects issues when they arise.
There's also the budget. Reports create a window into costs and make sure that project spending aligns with the budget. This provides a reference point for contractors. The more accurate and up-to-date the construction reporting is, the more likely that the project will be delivered on time and within budget as overspending will be caught early and corrected quickly.
There are other types of construction reporting that we'll get to in a moment. They're equally important in keeping the construction site safe and within code and state regulations. Construction reports go beyond the ability to view the planned versus actual efforts to give data to general contractors to examine how productive work has been, chart the impact of weather and serve as a living record if there are personnel changes or to archive historic data.
Types of Construction Reports
As mentioned, there's more than one type of construction report. Each covers a different activity but all serve a common purpose. There are more than those listed below, but these are some of the more common types. All of them are of great importance to the viability of the project.
Construction Site Inspection Report
A construction site inspection report isn't about progress or performance. It summarizes the findings and the recommendations by a site supervisor or consultant after their site visit. The purpose of this report is to point out any hazards on the site and then offer suggestions on how to fix them or provide some sort of protection to mitigate the hazard. It is used to identify and record potential hazards in the workplace that require immediate attention and evaluate the integrity of any structures on site. It also inspects and evaluates the integrity of any equipment on the site. The inspection report will track the recommended corrective actions and, when completed and closed out, it's archived for future reference.
Daily Construction Report
Another unique construction report is the daily construction report, which is a report that's filed daily. It documents the project's daily activities, lists the details of the site and the job and provides a record for subcontractors and stakeholders. The daily construction report covers a lot of ground, including the job name, location, type, job number and phase. Then it reports on the weather conditions, such as the temperature, precipitation and wind speed. Weather can impact the project timeline and create risks for workers on the site.
Speaking of the crew, the daily report captures their work logs and crew timesheets. It also logs the equipment on the site, tracking the hours each has been used and its current status. Materials on the site are handled the same way. Any delays are reported, such as which task, why it's delayed and for how long in terms of days and hours. There are also safety details and risks, noting any incidents, all of which can protect the general contractor from litigation. Any site visitors have to be logged in the report. Finally, there's a section for notes and commentary to provide clear communication between the contractor, management team and other stakeholders.
Get your free
Construction Daily Report Template
Use this free Construction Daily Report Template for Excel to manage your projects better.
Construction Cost Management Reports
A construction cost management report measures how the project is doing through a fiscal lens. As with most reports, it's used by the project manager, stakeholders and others to capture various project financial aspects. This report is usually made more than once over the life cycle of the project, often monthly or quarterly, though it can sometimes be on demand. The construction cost management report tends to include how the project is performing on an absolute dollar basis and how it's performing against the planned budget. The scope of the report can be wide but focuses on revenue and costs. They can also include information on legal agreements with subcontractors, taxes, payroll costs, insurance agreements, cleanup-related payouts and permit fees. Not only does this provide a financial picture of the project, but it can reveal areas for cost-cutting.
Construction Incident Report
Construction projects are unique due to the hazards inherent in building. Another type of construction report that's only found in construction project management is the construction incident report. This report documents any incident that occurs on the construction site. It identifies the cause of the incident, if possible, and is used to prevent similar occurrences from happening again. The purpose of an incident report is to ensure that the construction site is safe and that problems are quickly addressed. Incidents are logged in the construction incident report whether they're minor or major. Not only does this make the construction site safer by addressing the cause of the incident, but it also provides legal protection to employees and the employer in case of litigation.
Work In Progress Report
A work-in-progress (WIP) report is like a project status report. It shows whether the project is on budget and how it looks in comparison to the scheduled project timeline. That's the basic idea, but the execution is more complicated depending on the complexity of the project. Work-in-progress reports include the following: the total amount as stated in the contract, estimated costs, remaining profit, costs incurred so far, percent completion of the project, billed revenue, paid revenue, over and under billing and the project backlog. This data is compiled across departments, including the office and in the field, to help contractors work more efficiently by having an accurate picture of the business.
Punch List Report
A punch list report is another unique construction report that captures the work that still needs to be completed on the construction project. It's work that requires immediate attention or work that was done but not to contract specifications and therefore needs to be redone. The punch list report can include specifications on damages to materials or items that happened over the course of the project and new demand repair. Or there might be incorrect installations or parts of the build that are not functioning as designed. Mostly, the punch list will have minor fixes as larger ones are usually dealt with earlier through change orders. The contractor will have to complete all the work on the punch list report before they can receive payment for their job.
ProjectManager Is a Robust Project Reporting Software
ProjectManager is award-winning construction project management software that has customizable reports that can be easily shared with stakeholders. Our unlimited file storage allows contractors and project owners to store all construction reports and documents on our software, which makes them easily accessible for everyone involved. Our mobile app allows crew members to photograph issues and upload them to their tasks, such as if they're working on a punch list. Our collaborative platform connects the construction site to the office or anywhere in between all in real time.
Quickly Generate Construction Reports
Construction status reports are only one of the many quick and easy ways to do construction reporting on our software. If you're managing more than one construction project, you can generate a portfolio status report. There are also reports on timesheets, availability, workload, variance and more. All of these reports can be filtered and shared with stakeholders so they stay updated on progress. General contractors get insightful data to help them make better decisions and keep their projects on schedule and on budget.

Get a High-Level Overview With Real-Time Dashboards
Any time you need to get a look at project metrics such as cost, time, workload and more, just toggle over to the real-time dashboard. Now you can view live data that are captured automatically and displayed in easy-to-read graphs and charts. It's like a status report whenever you want one. Unlike lightweight software products, there's no time-consuming configuration required to use our dashboard. It's plug-and-play.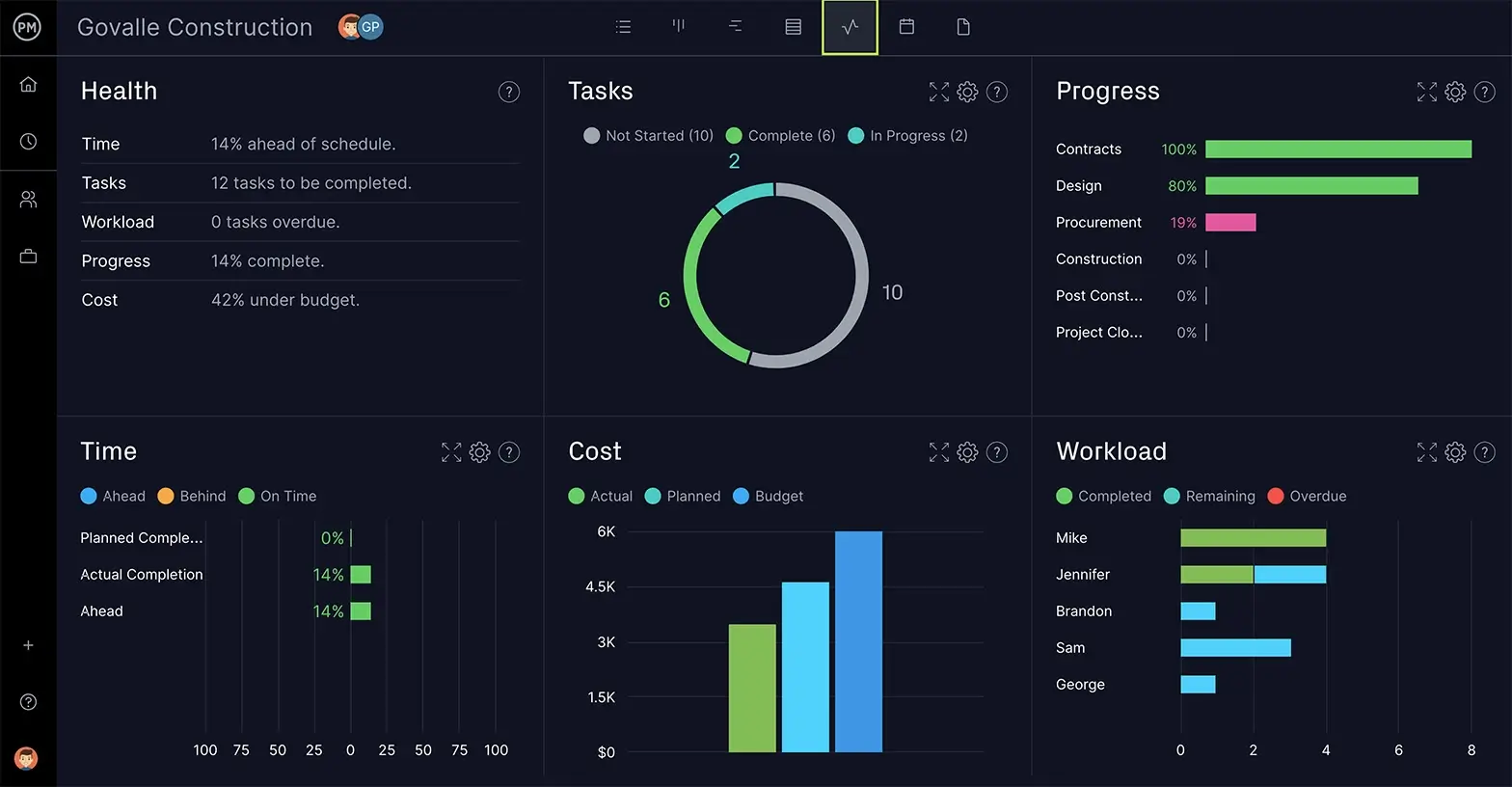 Construction reporting is but one slice of a large pie in terms of construction project management features you'll find with our software. There are task management and resource management tools to keep your crew working at capacity with the materials and equipment they need. Plus, use our risk management feature to identify and track issues until they're mitigated.
ProjectManager is online construction project management software that empowers teams to plan, manage and track their work in real time. Connect your architects and engineers in the office with the crew on the construction site with collaborative features that allow them to share files, comment on tasks and much more. Get started with ProjectManager today for free.