Getting an accurate figure on how much a build is going to cost is fundamental to a successful construction project. Making such a forecast requires a construction estimating tool to collect all your research to help you come up with a realistic price tag. Use our construction estimate template for Excel to gather all the profit margin, labor costs and material costs and make a reliable budget for your construction projects.
But if you create a construction estimate using ProjectManager instead, you'll be able to make your estimates even more detailed and comprehensive. Use a dynamic Gantt chart to map out construction plans with timelines, planned start dates, planned resource costs, planned effort, milestones and more.
The best part? Once the project kicks off, you can turn that construction cost estimate into a budget that you can track with real-time dashboards and timesheets. Once the construction phase begins, you can monitor your team's progress with five different views: Gantt, spreadsheet, kanban, task list and calendar. Plus, you can track construction progress along the way with dashboards and instant status reports. Get started with ProjectManager for free today and make a better construction estimate.
What Is a Construction Estimate?
A construction estimate is a document that details the direct, indirect, labor and material costs associated with a construction project. Construction estimates are used by project owners, construction estimators and contractors during the construction bidding process.
Types of Construction Estimates
There are many different types of construction estimates that can be used for your project. They can be used at different stages of your construction planning process. You can use our free template to create any of these construction estimates.
Preliminary Estimate
A preliminary construction estimate provides a general overview of the total project cost and is primarily used to determine whether a construction project will be feasible from a cost management standpoint. Preliminary construction estimates are usually created before design documents are available, so this type of construction estimate relies on historical data.
Detailed Estimate
A detailed construction estimate uses the information from construction design documents to estimate the costs of raw materials, equipment and labor. This type of construction cost estimate should include all your project costs.
Quantity Estimate
Quantity construction estimates rely on material takeoffs to measure materials into units, which are then assigned a unit price. Similarly, a work breakdown structure can be used to split up the work into small tasks that can be priced accurately.
Bid Estimate
A bid construction estimate is the final version of a cost estimate that is sent by general contractors to project owners during the construction bidding process. Besides including indirect, direct and overhead costs, it also includes the profit margin for the general contractor.
What's Included in This Construction Estimate Template?
This construction estimate template lets you add labor costs, material costs and a profit margin for the contractor. These are the must-have elements of any construction estimate for both project owners and contractors. However, you can easily customize this Excel template to add as many soft or hard construction costs as needed.
Labor costs: The costs associated with the human resources needed for the construction project.
Material costs: The costs of raw materials needed to build structures.
Profit margin: There's room to specify what's the profit margin percentage for the contractor who will execute the construction work. This profit margin should cover not only labor costs and material costs but also direct costs, indirect costs and overhead costs.
Why Should You Use This Construction Estimate Template for Excel?
This free construction estimate template is ideal to collect all the construction costs you need for either preliminary, detailed, quantity or bid construction estimates.
Having an accurate construction estimate is key for a realistic construction budget and better profit margins for general building contractors and project owners. This construction estimate notes all labor, material, direct and indirect costs for your construction projects.
Who Is This Construction Estimate Template For?
This construction estimate form can be used by:
Construction estimators: Construction estimators specialize in calculating costs for construction projects based on the analysis of architectural design documents and construction estimating software.
General building contractors: Clear cost estimates help general contractors create competitive bids.
Project owners: Accurate cost estimates allow project owners to find the best bid for their construction projects.
Construction project managers: Cost estimates are essential for construction project managers because they need to be aware of all project costs.
Construction companies: Construction companies use cost estimates during the cost estimating and bidding process.
Whoever is tasked with filling out the construction estimate template, they'll need to use cost estimation techniques to forecast how much the project will cost. That includes looking up similar construction projects and using that historic data as a rule by which to measure the one they're working on now.

How to Use ProjectManager's Construction Estimate Template
Download our free construction estimate template to get started on making more accurate cost estimates for your projects. This free Excel template has everything you need, and it's fully customizable. All you have to do is fill in the blanks to begin controlling your construction costs. Follow these steps to use this construction estimate form.
1. Enter General Information About Your Construction Project
First, you need to identify the project. At the top of the page is a section to name your company, the project, its number (if there is one), followed by the client, location, architect, date of the document and project manager on the site. This is helpful for companies running more than one project at a time or as a reference when you're looking for historic data.
2. List Activities by Construction Phase
After that, the template is broken into the three main stages of any construction project: pre-construction, construction and post-construction. Our template lists the general activities that would occur during these phases, followed by the vendor or subcontractor responsible for it, the labor and material costs, a line item total and a cell to add any notes if necessary.
For example, the pre-construction phase will have expenses for creating the design, getting permits, looking into zoning regulations, survey costs, insurance and more.
Construction will concern itself with demolition, digging a foundation, pouring concrete, structural work, adding electrical, plumbing and heating, ventilation and air conditioning, etc.
Post-production will have smaller fixes captured by the punch list, trash removal and the closure of all construction documentation.
Related: Free Construction Schedule Template
3. Additional Costs
Every section in the template has a row for any additional costs. Each section has a subtotal to tally those costs, with a grand total added up at the very bottom. With this construction estimate format, you should be able to capture all your expenses throughout the planning process.
The best part of this construction estimate template is that it can be imported into ProjectManager, so you can use robust construction project management software to manage your project.
How to Track Construction Budgets With ProjectManager
Once you've completed the construction estimate template, you need to make sure your budget sticks to it. That can be a problem if you're not able to monitor and track your expenses in real time. ProjectManager is online project management software that gives you live data to make better decisions for your construction projects.
Track Budgets in Real Time
Changes happen on a construction site. If you're not getting up-to-the-minute data on your progress and performance, you're going to get off track. Our real-time dashboard gives you a high-level view of progress, automatically calculating time, cost and more like an instant status report. When you see an issue, you have time to resolve it before it becomes a problem.
Build Construction Schedules
Lenders, sponsors and other stakeholders are always breathing down your back, wanting to know if you're progressing as planned. Once you set your budget and schedule on our online Gantt chart, just click a button and you've saved the baseline. This means you have a ruler to measure your project against your actual process and always can see if you're on target or not.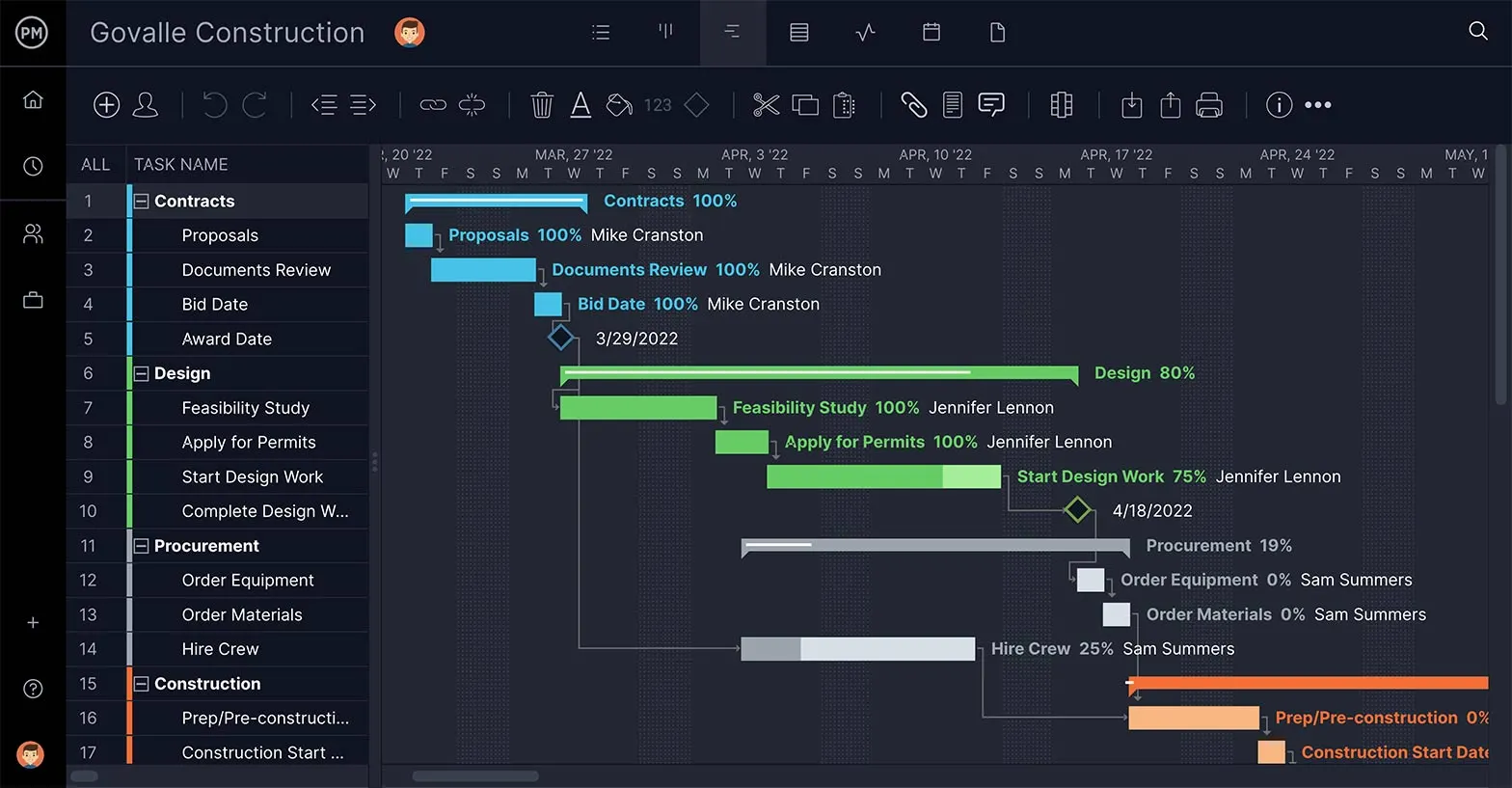 Report on Progress
Not only that, we have one-click reporting features that can provide you with details on your construction project or portfolio, if you're responsible for more than one. You can filter these project management reports to show just the data you want to see and then share them with stakeholders to keep them updated.
More Free Construction Project Management Templates
Our free construction estimate template is only one of the dozens of free project management templates for Excel you can download on our site. We picked some of our construction templates below:
Once you start the execution phase of your project there are a lot of things to keep track of. Using our free construction daily report is a great way to capture the activities, issues, tools and anything else on the job site so you can pick up right where you left off the next day.
To make sure everything has been done on your construction project to meet the expectations of your client as defined by the plan, you need a punch list. Our free punch list template helps you record any fixes or items that need to be finished so you can close the job and get paid.
The free request for quote template can help you fine-tune your construction estimate. You can send it to vendors and have them competitively bid on your construction project. That way you can choose the materials and/or services that fit your budget.
Related Content
If you're looking for more to read on estimating and construction project management, you're in the right place. Our site is the online hub for all things project management. There're free blogs, video tutorials and guidebooks for both the novice and experienced professional. Here is a selection of some content that will help your construction estimate.
ProjectManager is award-winning software that organizes your budget, teams, tasks and projects. Our online tool gives you real-time data to better lead your project to a successful end. See how we can help manage your costs, time and scope by taking this free 30-day trial today.