Construction projects are well-orchestrated. There must be a seamless collaboration between the owner, construction project manager, teams, vendors and, of course, contractors. Part of that is determining the budget accurately. When bidding for contractors, use our free contractor estimate template for Excel to get an accurate forecast of how much their work will cost.
What Is a Contractor Estimate?
A contractor estimate is a cost estimate that forecasts the expected direct, indirect and overhead costs of a construction project. Contractor estimates are created by general contractors and even subcontractors and submitted to potential clients.
Construction contractors create these estimates by looking at the construction specifications for the project, determining the raw materials they'll need and the labor involved in completing the work. While they have a good idea of how much labor costs are, contractors must go to their suppliers to get quotes for the raw materials.
What Is Included in This Contractor Estimate Template?
This contractor estimate template helps you gather all the construction costs for a particular project, whether you're a general contractor, subcontractor or project owner. Here are its main components.
Labor costs: Labor costs are measured at a rate per hour that varies for different types of construction workers.
Material costs: To estimate material costs, simply establish a unit of measurement for your raw materials and then price them.
Indirect costs: Use this column to add any other costs such as overhead costs, equipment rental fees, and any other hard or soft construction costs that might apply to your project.
Profit margin: Contractors and project owners should agree on the profit margin for the contractor. There's a field where you can set the profit margin percentage for the project.
Our free contractor estimate template can help you create a more accurate construction project plan. ProjectManager is award-winning construction project management software with robust Gantt charts that capture labor costs and materials costs, as well as resources. You can organize your tasks, link all four types of task dependencies and even filter for the critical path without having to do time-consuming calculations. Then set a baseline and track variance in real time. Get started with ProjectManager today for free.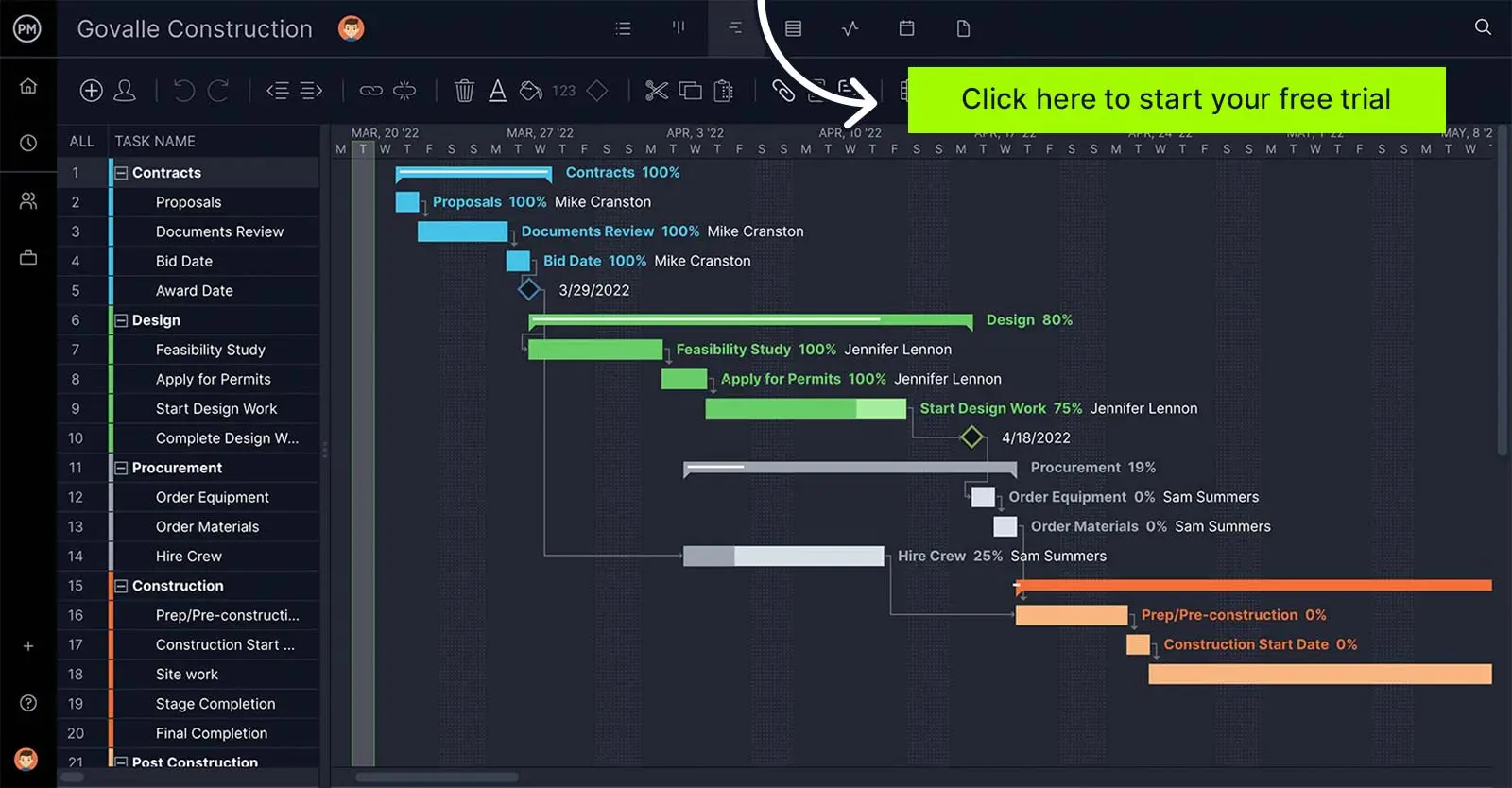 Why Should You Use This Contractor Estimate Template?
This contractor estimate template can help you create accurate construction estimates so you can get more construction projects. It's especially important for construction companies, construction estimators, general contractors and subcontractors who regularly send construction estimates to potential clients.
How to Use This Contractor Estimate Template
Follow these steps to create your own contractor estimate using our free Excel template.
1. Enter General Information About the Construction Project
The first section is made up of general construction management information. There are fields to add the name of the company, project and project number. You can also put the name of the client, the location of the project, the architect, the date and the project manager.
After that, the template is broken up into four distinct sections: site, exterior, structural and heating, ventilation and air conditioning (HVAC). Each section has space to list what activities will be worked on and the cost of each. A short description of each follows.
2. Add Site Work Costs
The site is everything outside of the building, excluding the building itself, which is addressed in the next section. Each section is a place to add the item number to make it easier to refer to when tracking various jobs.
There's also a field to describe what needs to be done, who the contractor or subcontractor is, the labor and material costs and a line total. There's also a place to add any notes to add context.
3. Estimate Exterior Work Costs
When talking about the exterior, the next section in our template, we mean anything outside and on the building. This includes the roof, gutters, masonry and much more. We've listed some common tasks and, again, the columns capture the item number, description, costs and total.
4. Add Structural Work Costs
The structural section of the contractor estimate template is for everything from framing the building to digging the foundation and pouring concrete. The columns are the same and anything more can be placed simply by adding a column.
5. List HVAC System Costs
The last section of our template, (you can add as many as you need), focuses on HVAC. These systems are almost always installed by HVAC contractors who have expertise in the area. The ductwork especially is complex and will snake through much of the structure, while the heating and cooling units are attached by planted in one place. The costs for this are detailed here.
When Should You Use a Contractor Estimate Template?
Contractor estimates are very detailed cost estimates that are based on construction design documents such as blueprints or computer-aided designs. Contractor estimates are created by general contractors so they can send them to project owners to be considered during the construction bidding process.
Construction cost estimates are a very important part of the construction project planning phase as they help determine the project's costs, resources and duration. Our free contractor estimate template for Excel is part of that larger process as it informs not only the construction budget, construction schedule and construction plan.
However, for better construction estimating and cost management, you should use ProjectManager. ProjectManager is award-winning project management software that helps contractors plan, manage and track their projects in real time with multiple tools such as Gantt charts, timesheets, workload charts and real-time dashboards. Now you have a tool to manage the cost, resources and schedule of the work you contracted for. When you set a baseline, it can be tracked in real time against the construction plan. Get started with ProjectManager today for free.
Who Should Use This Free Contractor Estimate Template?
Naturally, general contractors and subcontractors use the contractor estimate template when bidding for a construction job. They need the thoroughness of the contractor estimate template to ensure they cover all their bases when it comes to labor and materials costs. Once the contractor estimate has been approved, a construction contract follows, and contractors can start doing their work.
The contractor estimate template is a versatile tool that can be used by many. For example, construction companies, project owners and construction estimators can also use it to estimate the cost of the project and help them formulate a more accurate budget.
Benefits of Using a Contractor Estimate Template for Excel
There are many benefits to using a contractor estimate template. One is consistency. The template is always the same and only the details change, which makes it easier to understand. It's also easy to use since the outline is already done; all you have to do is fill in the blanks.
Having a contractor estimate is also a communication tool between the contractor and the general contractor. It helps iron out the differences in terms of what needs to be done and the costs of executing those tasks so both parties have a contractual agreement.
The more accurate your cost estimate, the less likely you'll have to dip into your own pocket to make up the difference. The contractor estimate template is a great tool to forecast the resources needed for the job and ensure the work stays on track.
Disadvantages of Using a Contractor Estimate Template for Excel
Templates, in general, are great tools, but they're limited. An Excel spreadsheet is a static document and that means a person must manually input the data. These templates can be shared, but they're not collaborative and it's possible there are many versions floating around. That makes it hard to know if you're looking at the most current data.
Outside of the fact that it's a template, a contractor estimate suffers from what all estimates suffer from, uncertainty. The project can change or people can act on assumptions that they have. This is especially problematic on larger, more complex projects, such as construction projects that involve multiple teams. That only creates more uncertainty.
It's possible to manage that uncertainty by doing multiple estimates. This may or may not help draw a more accurate forecast. Either way, it's going to be time-consuming. The time it takes to do a few estimates takes project managers and contractors away from other tasks and can prolong the duration of the project.
How ProjectManager Helps Track Contractor Estimates & Construction Budgets
As noted above, templates are great within limits. If you're looking to go beyond those limits, you'll want to upgrade to project management software. ProjectManager is award-winning project management software that takes estimates and turns them into plans that you can manage and track in real time.
Track Progress With Real-Time Dashboards
Once you've set a baseline in the Gantt chart, that information is reflected across the construction project management software. Toggle to the real-time dashboard and you get a high-level view of the live project. Data is automatically collected and displayed in easy-to-read charts and graphs. You can see your real-time costs and five other project metrics. There's no time-consuming configuration like you'll find with lightweight tools. Our dashboard is set up and ready to go when you are.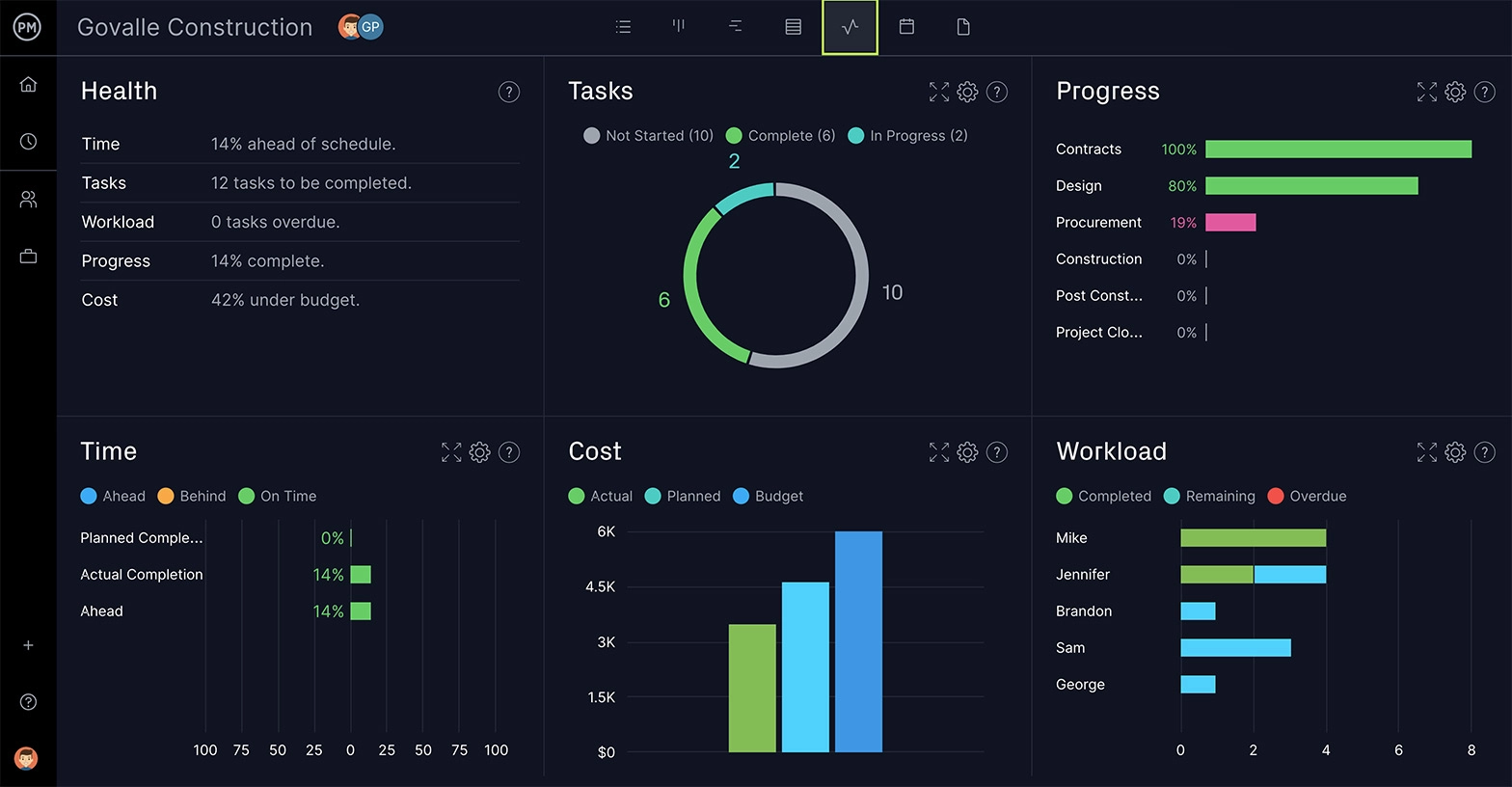 Get More Detail With Customizable Reports
When you need more than a dashboard can show you, go to our reporting features. You can get reports on costs, project variance, timesheets and much more with just a keystroke. Each report can also be filtered to show you only the information you're looking for. The reports can also be shared by saving them as a PDF or even printing them out if stakeholders prefer a paper copy. Now you can keep stakeholders updated and manage your project.
Track Labor Costs With Timesheets
Of course, there are more tools to help you keep to your estimate. Our software has task management, resource management and risk management features to keep you productive and on track. There are timesheets to manage the time your crew spends on tasks and provide a secure payroll. That's why contractors, general contractors and construction project managers prefer our tool.
More Construction Project Management Templates
That said, sometimes you just need a template with all its pros and cons. ProjectManager understands that, which is why we have dozens of free project management templates for Excel and Word available for free download on our site. We even have blogs that round up related templates, like this one for construction. Below are just a few examples of construction project management templates you can get for free.
Contractor estimates are going to influence the duration of the project. Use our free construction schedule template or organize their work and all the other activities in your project. Detail the project on a timeline and keep your construction project on time and keeping to its budget.
Before you can act on a construction schedule you first have to win the bid for the project. Our free construction proposal template for Word can help you win the job. It's a detailed document of project information, such as quotes for raw materials, subcontractors and more.
When you get the job and have a schedule, you need a tool to track your progress and more. Use our free construction daily report template for Excel to log all your construction activities. There's room for work performed, completed work, what's needed and much more.
Related Contractor Estimate Content
If you're still looking to read more about estimating construction projects, we have lots of free content available for you to view. ProjectManager isn't only a great software tool but an online hub for all things project management. Besides free templates, you can read weekly blogs, guides and much more. Here's a sampling of that content.
ProjectManager is online project management software that helps construction teams plan, manage and track their work in real time. Our collaborative platform means that whether you're on-site or in the office, you're always able to comment, share files and more with the crew. Get started with ProjectManager today for free.