Projects are expensive. There are labor costs, material costs, overhead and operational costs. When a contractor bids on a project or a manufacturer takes on a job, they need to have an accurate forecast of the price for the project to make a profit, which is why job costing is so important.
Making accurate estimates of construction costs requires an understanding of job costing, knowing what a costing sheet is and what needs to be included in that costing sheet. We'll go over all, plus explain when to use job costing and provide an example of job costing to make sure the definition is clear.
What Is Job Costing?
Job costing is a type of accounting method that helps identify project costs and track them to keep to your budget. It tracks all costs and revenue associated with a particular project and is commonly used in construction projects, but it can also be found in manufacturing, engineering, retail, logistics, healthcare and more.
When doing job costing for a project, you'll break down your project costs into three areas: labor, materials and equipment or overhead costs. We'll get into more detail on that in a moment. The goal is to clearly understand the profit or loss related to each project by looking at the cost of each piece of the project, which allows managers to track the profitability of each.
Using job costing can also help future projects. By looking back at past estimates and comparing them to actual costs, you can make more accurate estimates when planning for a similar project. Job costing can help managers identify inefficiencies and excess costs that can be addressed by automating work or allocating resources better.
Project management software can help you plan, schedule and track your project costs. ProjectManager is award-winning project management software with multiple project views that let you plan costs and resources on Gantt charts, track workflow on kanban boards and allow teams to execute their work on task lists. When a project is planned on a Gantt, set a baseline to capture your planned costs and compare them to actual costs in real time so you can track your expenses and keep to your budget. Get started with ProjectManager today for free.
What Is a Costing Sheet?
A costing sheet lists all the component costs for a project. The pricing is done per unit and often shows the cost of that component from a previous project so they can be compared. The costing sheet will then add the final cost of the project.
As noted above, this can be applied to a number of different projects but is also found when manufacturing distinctive products. It's a good fit for businesses that provide specialized goods or expensive projects, such as computers and automobiles.
Benefits of using a costing sheet include that they show the product's production cost overall as well as the unit costs. In terms of manufacturing, they can help keep product costs under control. They also help develop product policy and aid in the decision-making on product pricing. And, as noted, helps managers compare costs to past outcomes and benchmark costs.
What Costs Should Be Included in a Costing Sheet?
A costing sheet is made up of three components: labor, materials and overhead costs. Let's go into a short description of each of these pieces.
Labor Costs
These are salaries or contractors an employer must cover employee wages and benefits. These costs include payroll taxes but can also include third parties and subcontractors. Labor costs are calculated by multiplying the daily payroll rate for each employee by the number of days they're working on a specific job.
Materials Costs
These can be both direct raw materials that'll be used in the finished product (usually raw materials) and indirect materials (tools, machinery, office supplies, etc.) that are used to create the product. To calculate the material costs, all the direct material costs with the indirect material costs.
Overhead Costs
Overhead costs are less clearly defined. To find them, break down daily operating costs and then attribute the correct proportion to the project. This should include office or manufacturing facility rent, electricity, internet and other business expenses. Because this is a difficult figure to discern, companies will often apply an overhead fee to each project of 10 percent of the job.
When to Use Job Costing
As we've mentioned, job costing is used in virtually every industry that manages projects. Therefore, managers use job costing in a variety of disciplines. Let's look at three of the more commonly used job-costing industries: project management, construction and manufacturing.
Job Costing in Project Management
Project management is a discipline that crosses many fields. It's a methodology for delivering a project and costs are one of the most important aspects of that management. Job costing is often used to help estimate costs on a project, but also to help track the project to ensure that there's no overspending. This is done through the job costing technique of comparing the planned costs against the actual costs. If a project is going over budget, then either the scope or the time must be adjusted unless additional funding can be secured.
Construction Job Costing
Job costing is often found in construction where it's used to accurately track all costs associated with the job. As we've noted, that includes labor, material and overhead costs. It starts by getting a detailed breakdown of the entire project, which allows managers to track expenses and calculate future profitability. By quickly identifying expenses that cut into profits, construction contractors can rectify the problem and save their profit margin.
Manufacturing Job Costing
Again, in manufacturing, job costing plays the same important role. It adds the labor, materials and overhead for each job to make sure that production costs are correct. As in construction, this allows the company to measure profitability and hit targets for margin. It also allows them to benchmark themselves against the competition to uncover areas that can be improved and make them more competitive. Using job costing in manufacturing also helps plan budgets and operating expenses over the long term.
Job Costing vs. Process Costing
We've talked a lot about job costing, but to sum up, it's an accounting method of tracking all costs and revenue associated with a project. There's also something called process costing, but it's a different accounting method and it's important to understand the difference between the two,
Process costing is also an accounting method, but it's deployed when there's mass production of similar products by collecting and assigning manufacturing costs to the units produced. Unlike job costing which is used in customized manufacturing, process costing is used in standardized or mass-produced manufacturing.
With job costing, the cost of each complete job is done. In process costing, the cost is determined by the process and the number of products that are produced. The cost calculation for process costing is based on the process, not the job, as in job costing.
Another difference is that costs can't be transferred in job costing, but that can be across processes in process costing. Also, each job is different in job costing, but process costing is about projects produced in large volumes.
Related: 10 Free Manufacturing Excel Templates
Job Costing Example
To better understand job costing, let's move from the abstract to a practical example. We'll make up a simple construction job, say, Acme Construction, which has been hired to dig a hole and lay the concrete for the foundation of a building.
The first thing is to figure out labor costs. There will be the crew making the foundation pit. That's five people at $100 a day per person, with a duration of three days to make the hole. Next comes the cement crew. Again, this is a five-person job at $100 per day per person, with a duration of two days. Labor, therefore has a total of $2,500.
Next, we have to look at materials. Concrete will cost $1,000. There's also the excavator to dig the hole and the cement truck to deliver and dispose of the cement. Rentals for these two machines add up to $1,000. Therefore, material costs are $2,000
To calculate the overhead costs, we'll spitball the figure at 10 percent of our project total, which is $4,500. That gives us an overhead cost of $450. That means our job will cost $4,950.
ProjectManager Helps Keep Track of Project Costs
Job costing gets you a figure for the estimated cost of the project and that figure can then be used to track your costs and revenue throughout the project with project management software. ProjectManager is award-winning project management software that lets you plan, manage and track your project costs in real time. Use our Gantt charts to plan your costs and view the whole project on a visual timeline. Link all four dependencies to avoid costly bottlenecks and set the baseline to track costs in real time throughout the software.
Track Labor Costs With Online Timesheets
When teams log their hours in the software, management isn't only getting secure timesheets that streamline the payroll process but another tool to track time and costs. Our timesheets help managers control labor costs and help with project estimates by looking at timesheets from previous projects. Timesheets can automatically log hours and give managers a window into the percentage of tasks their team has completed in real time. This helps managers spot issues and keep projects on track, both in terms of schedule and cost.

Monitor Budgets With Real-Time Dashboards
Once a baseline is set on the Gantt chart, live data is delivered to the real-time dashboard and six project metrics are displayed in easy-to-read graphs and charts. There's a cost chart that allows managers to get a high-level view of their budget, including the planned and actual costs so they can respond accordingly if the project is spending beyond what's been allocated. Unlike other project management tools, there's no time-consuming setup required with our software. It's plug-and-play. If you want to get more details toggle over to our customizable status, portfolio and more reports. Filter the report to see only what you want and it's easy to share to update stakeholders.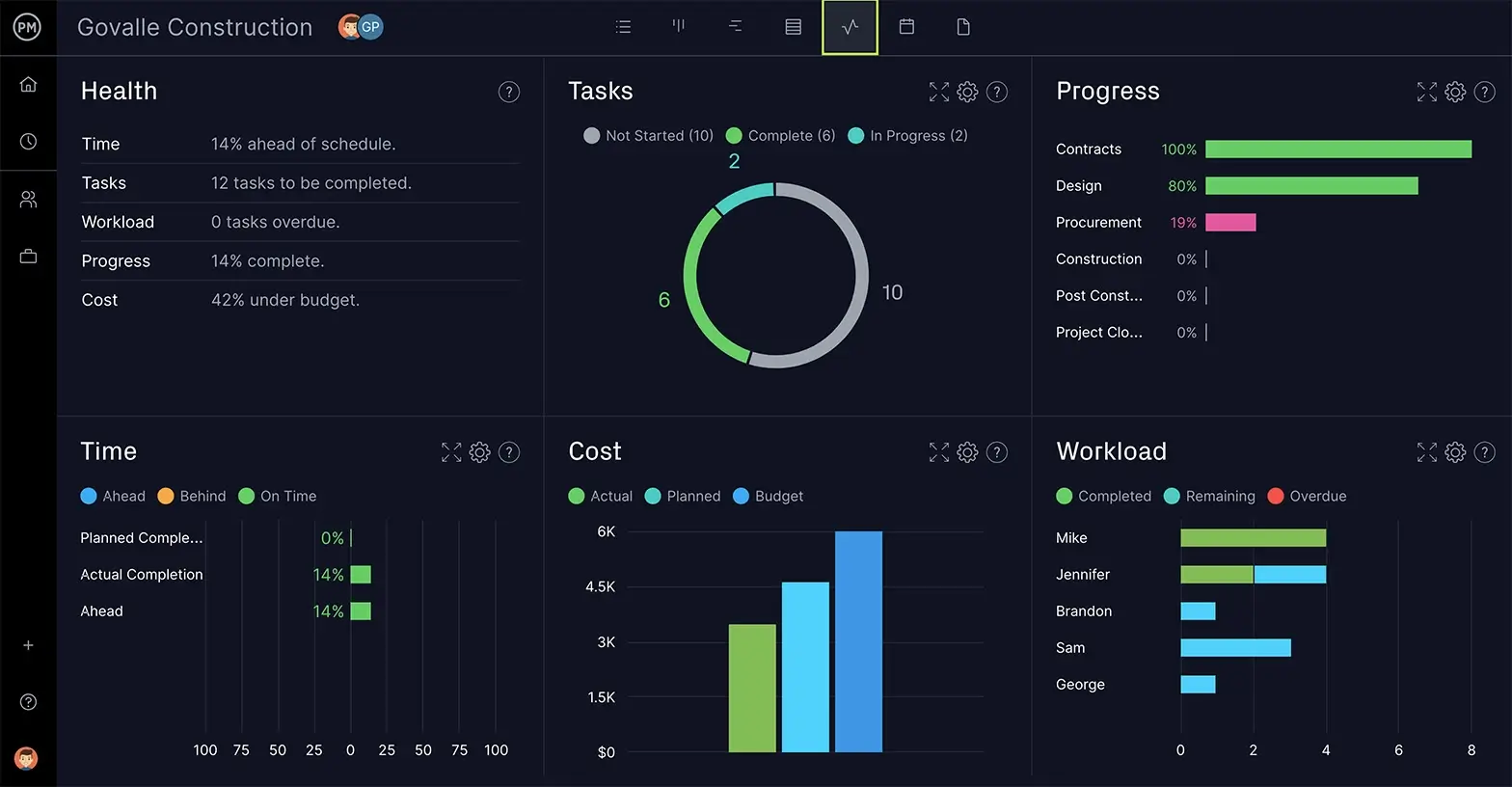 There are other features to help you stay on budget, such as resource management tools that allow you to keep your team's workload balanced so they can work at capacity and stay productive. Risk management features allow you to identify risks and track issues until they're resolved. There are also task management features, automated workflow with task approvals to ensure quality deliverables and much more.
ProjectManager is online project management software that connects teams across departments and time zones, allowing them to share files, comment at the task level and more. Our software allows managers to plan, manage and track more than costs but every aspect of their budget. Join teams at companies such as Avis, Nestle and Siemens who are using our tool to succeed. Get started with ProjectManager today for free.