If you're in the market for a software tool that can help simplify task management, then you've probably explored Microsoft Planner. It's a task management tool that's part of the larger Microsoft universe, which includes Microsoft Teams and Microsoft Project. It might seem as if Microsoft has cornered the market in project management until you take a closer look. While Microsoft claims to offer everything a project manager and their team requires, the truth is they fall short in terms of price, usability and even features. That's why people seek a Microsoft Planner Alternative.
How Microsoft Planner Works
Microsoft Planner is similar to many task management tools on the market. It organizes teamwork and tasks for project management. It's a hub for teams to work together and make plans, assign tasks and check on progress with dashboards.
The tool acts as a hub for project documentation for sharing files and providing visibility for the project team. It's part of the larger Office 365 offered by Microsoft that includes OneDrive, mail, calendar, Word, Excel, PowerPoint and much more. Microsoft Planner works with Microsoft Teams and Microsoft Projects, but don't get us started on how complicated, buggy and expensive that product suite is. You'll be paying a lot for so little.
But, it's understandable why people use it. Microsoft promises a holistic approach to business, offering everything they need in one place. If that sounds too good to be true, then you understand why search terms such as Microsoft Planner alternative are so popular.
Why Seek a Microsoft Planner Alternative?
There are many reasons why people are looking for a Microsoft Planner alternative. The software uses kanban boards, which are a great visual workflow tool, but one size doesn't fit all. Those who work in an agile environment certainly appreciate kanban boards, but probably not the rigidity of Microsoft Planner.
Managers will wonder where the Gantt charts are and others will want a task list. But they'll be sorely disappointed as Microsoft doesn't have multiple project views to let users work how they want. They don't even provide a timeline, which is far from a Gantt chart, but Microsoft doesn't seem to care what users want.
Notifications are key, but Microsoft Planner won't let you send a notification to one person. You have to send them to everyone. That's distracting the rest of the team and saps productivity. There are comments, but they're bare bones—no emojis, tagging, etc. But Microsoft is the gorilla in the room, and they do what they please.
Maybe most damning for task management software, there aren't recurring tasks. Yes, you can't create recurring tasks with Microsoft Planner. That might not seem like a big deal, but setting recurring tasks saves time, and time is one of the most important constraints when managing a project.
2023 Best Microsoft Planner Alternatives Software Rankings
We've looked at 10 of the best Microsoft Planner alternatives on the market and created a list for you to see which one fits your needs. We did some editorializing and started the list with our number-one choice and then worked our way down the top 10. You're sure to find a Mircosoft Planner alternative that's a good fit for your next project.
1. ProjectManager
The best Microsoft Planner alternative by far is ProjectManager. ProjectManager is an online project management software that excels at both project planning and collaboration. This means that you can build a robust project plan as a manager, and then your team can easily log in and execute their tasks. To ensure your plan stays on track, it's packed with tracking and reporting features like dashboards, portfolio roadmaps, resource schedules, risk management and workflow automation. With so many powerful, yet easy to use features, it's clear that ProjectManager is the best Microsoft Planner alternative.
Use Gantt Charts and More to Manage and Execute Projects
Unlike Microsoft Planner, ProjectManager has multiple project views, including kanban boards, task lists, sheet and calendar views. All data is updated in real time across each view, and there are interactive Gantt charts that can link dependencies, set baselines to track project variance and even filter for the critical path. You can even manage costs and track the progress as it happens. The Gantt chart can be easily edited and shared to keep everyone updated on the most current iteration of the plan.

Monitor and Track Progress and Performance in Real Time
All of the task management in the world isn't going to help carry the project over the finish line in time if you aren't monitoring progress. ProjectManager tops our list of Microsoft Planner alternatives because it has real-time data to track progress and performance to help project managers stay on schedule. For a high-level view of the project, there are dashboards that require no configuration and automatically capture six project metrics that are displayed in colorful graphs. For more detail, there are customizable reports for project and portfolio status, timesheets and more. They can also be easily shared with stakeholders to keep them updated.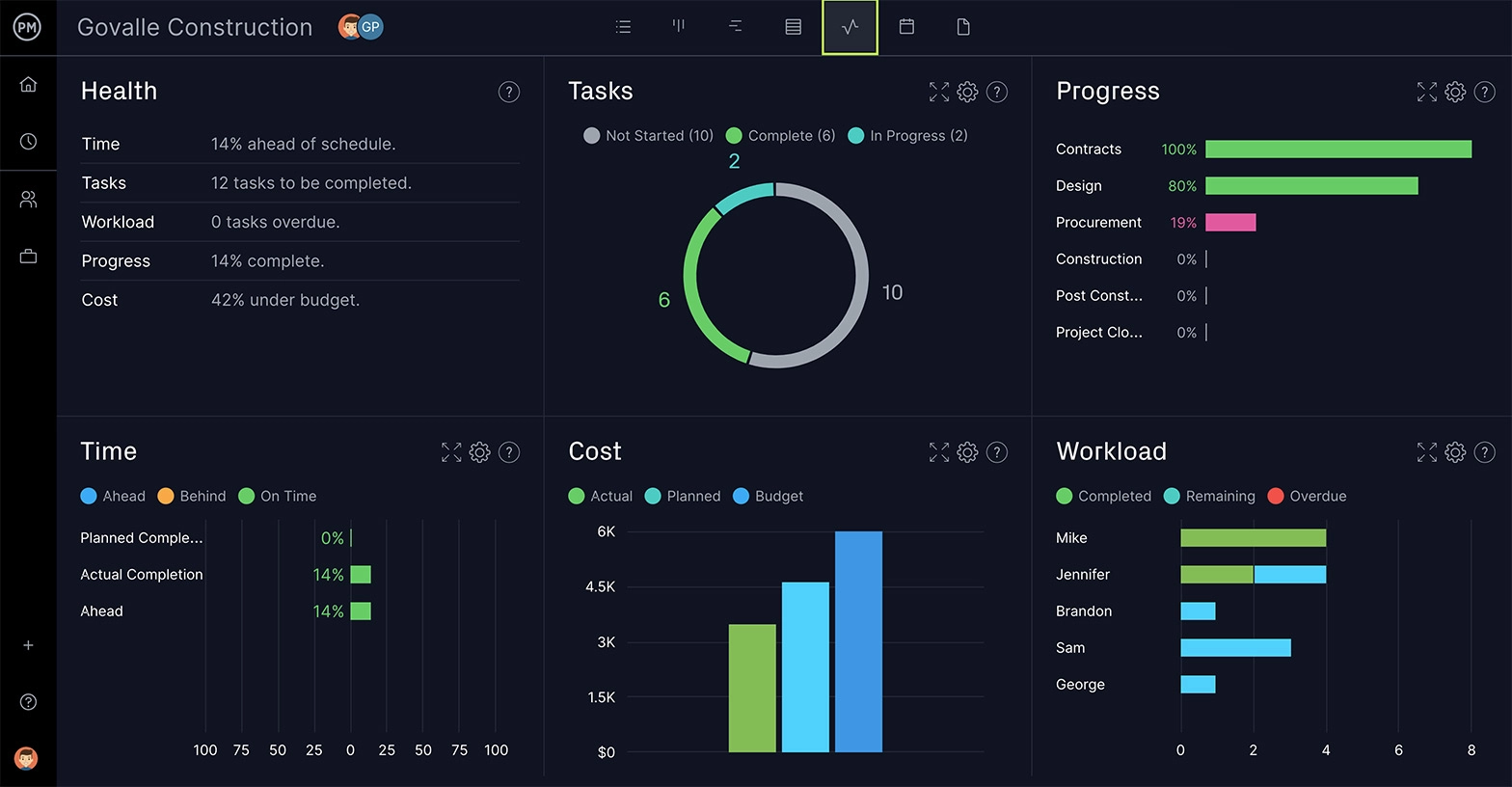 ProjectManager is the best Microsoft Planner alternative for the simple fact that it has every aspect of project management covered including task approval settings, risks, resource management, timesheets, automated workflows and more. On top of that, this tops our list as it's incredibly easy to use. Its intuitive user interface requires no time-consuming training. Get started with ProjectManager today for free.
Pricing
Team: $13 user/month
Business: $24 user/month
Q&A
Does ProjectManager offer a free trial? Yes, ProjectManager has a 30-day free trial
Does ProjectManager have a mobile project management app? Yes, it's available for Android and iOS
2. Trello
Trello is a Microsoft Planner alternative that shares Microsoft's all-in attitude about kanban boards. In fact, they do kanban better than Microsoft, which is why it's high on our list. It's a great collaborative tool and you can customize workflows to streamline work. If you're working in an agile environment, this will appeal to you. It's far more flexible than Microsoft Planner. The fact that it syncs data across devices is also a plus for remote workers.
It's not much of a Microsoft Planner alternative if it only has kanban boards. While it might be a useful tool, those managing projects in a more traditional fashion are going to look elsewhere the moment they don't see Gantt charts. There's a timeline view, but that's a lite version of the Gantt at best. Even kanban enthusiasts will be surprised that there are no swimlanes and work-in-progress (WIP) limits.
Pricing
Standard: $5 user/month
Premium: $10 user/month
Enterprise: $17.50 user/month
Q&A
Does Trello offer a free trial? Yes, Trello has a 14-day free trial
Does Trello have a mobile project management app? Yes, it's available for Android and iOS
3. Microsoft Project
Microsoft Project isn't exactly a Microsoft Planner alternative, it's more like the older brother. They're family and tools that work well together. What Microsoft Planner lacks, Microsoft Project fills in that hole. It doesn't hurt that nearly everyone who has managed projects professionally has experience with this tool. The tool does what project managers need in terms of planning and other features related to delivering a project.
However, those features are a bit general. There are no specific industry functions for construction or software teams, which is definitely a negative of this Microsoft Planner alternative. But there are more than mere dings associated with this expensive, complicated software. There are limited integrations outside of the Microsoft family and nothing works with Apple products. If your team uses Macs, they're out of luck.
Related: Best Microsoft Project Alternatives
Pricing
Project Plan 1: $10 user/month
Project Plan 3: $30 user/month
Project Plan 5: $55 user/month
Q&A
Does Microsoft Project offer a free trial? Yes, it has a 1-month free trial
Does it offer a mobile app? Yes, Microsoft Project offers a mobile app
4. Monday.com
Monday.com is a task management software, which makes it an ideal Microsoft Planner alternative. It's less expensive than signing up for the full suite of Microsoft products and a lot easier to use. The user-friendly interface isn't only simple to get around but will please non-professional project managers who don't need deep dives into data. It's a great way to organize your task on kanban boards, task lists and timelines.
It's not the best Microsoft Planner alternative, especially because it really is just task management software. It might have some other features but not the ones that are essential to managing projects. A case in point is the Gantt chart. Again, a timeline isn't a Gantt chart, although it's a great visual tool and targets newbies. If you're a project manager on a more serious level, though, you'll want to look elsewhere.
Pricing
Basic: $8 user/month
Standard: $10 user/month
Pro: $16 user/month
Q&A
Does Monday offer a free trial? Yes, Monday has a 14-day free trial
Does Monday have a mobile project management app? Yes, it's available for Android and iOS
5. Asana
Asana is one of the more popular Microsoft Planner alternatives. It features everything from timelines to kanban boards. There's also a calendar view. All are shared with the project team to keep them working from one source of knowledge. It makes our list especially because of its real-time task management reporting features that help keep projects on track and set strategic goals. There are collaborative tools and a bug tracker, which is great for software development.
However, there's a problem with this Microsoft Planner alternative: the lack of risk management tools. Risks can quickly sidetrack a project and without features to identify and track their projects can quickly go off track or worse. That would be bad enough, but another shortcoming is that you can only assign one person to a task. That might work for some projects, but most will have a small team working together to execute a task. Needless to add, these people won't be using Asana.
Pricing
Premium: $13.49 user/month
Business: $30.49 user/month
Enterprise: Custom pricing
Q&A
Does Asana offer a free trial? Yes, Asana has a free 30-day trial
Does Asana have a mobile project management app? Yes, it's available for Android and iOS
6. ClickUp
ClickUp is a cloud-based Microsoft Planner alternative that's flexible enough to work with a variety of teams. Like most of the software listed, there are task management features to help with productivity. But there are also process management, time management and collaborative tools. Add to that reporting features and you have an idea why this product made our list. You even get a dashboard for a high-level view of the project and an easy-to-use tool that's very attractive to users.
If there's a downside to this Microsoft Planner alternative it's the customization necessary to use the tool. There's so much time and effort necessary to squeeze the benefits out of the software that it's likely halfway through the setup you'll be looking for another tool on this list. Of course, the reason it's on the list is that there are many benefits, but the work necessary to maximize the benefits is a lot. There are still detrimental aspects of the software, such as new projects showing up at the bottom of your list, but these would be acceptable if customization wasn't so much trouble.
Pricing
Unlimited: $5 user/month
Business: $9 user/month
Business Pro: $19 user/month
Q&A
Does ClickUp offer a free trial? No, ClickUp doesn't have a free trial
Does ClickUp have a mobile project planning app? Yes, it's available for Android and iOS
7. Smartsheet
Smartsheet is a Microsoft Planner alternative that gets inspiration from another Microsoft product, Excel. The software tries to be a super spreadsheet or a smarter version of Excel. For the most part, it succeeds. It's amazing how many companies are still running their business with Excel, which is maybe why Smartsheet uses the spreadsheet as a model. It's familiar but far more customizable and powerful. Benefits include automation, proofing and approvals, to name a few.
But, remember, most people searching for a Microsoft Planner alternative are looking for something other than a spreadsheet, even a smart one. But be wary of any product that touts its intelligence. There's a lot missing from this product. For instance, there's no time tracking, budgeting or resource management. Sure, you can use other tools, but then you're jumping around and your work is spread across many different platforms. That adds inefficiencies and costs.
Pricing
Pro plan: $7 user/month
Business plan: $25 user/month
Q&A
Does Smartsheet offer a free trial? Yes, Smartsheet has a 30-day free trial
Does Smartsheet have a mobile project management app? Yes, it's available for Android and iOS
8. Wrike
Wrike is probably already familiar to you. This Microsoft Planner alternative likes to advertise. If you've been searching for a project management tool, then you'll be seeing their ads. That should tell you something. This is a product for consumers but not professional project managers. Wrike does, however, have kanban boards, reporting tools and Gantt charts, so it's a pretty good tool for project management. The integration is decent and the dashboard is important for getting a high-level view of the project.
Oddly enough, considering that the Microsoft Planner alternative is being pitched to anyone managing a project, it has a steep learning curve. Even weirder, you have to manually onboard your project team. Isn't software supposed to streamline processes like this? There's a lot of data captured by the software, but without a filter to sift through the noise, it can be difficult to find the signal. Even changing a test's status is a hurdle to clear. Who wants to struggle with the very tool that is being sold to help them better manage their work?
Pricing
Professional plan: $9.80 user/month
Business plan: $24.80 user/month
Q&A
Does Wrike offer a free trial? Yes, Wrike has a 14-day free trial
Does Wrike have a mobile project management app? Yes, it's available for Android and iOS
9. Basecamp
Basecamp is the Microsoft Planner alternative that sells itself as a collaborative tool. Collaboration is important, but it's not unique to project management software. Well, all except Microsoft, which seems to have a blind spot about collaboration. Even their Teams are not ideal. Back to Basecamp, it does collaboration really well. While it doesn't have a lot of other features, it offers many integrations.
Of course, integration is great for pulling in other apps you use outside of project management. The fact that this Microsoft Planner alternative has no Gantt chart is detrimental. There's also no scheduling, resource management or risk management, but then this is primarily a communication tool. However, it even falls short there. It feels as if conversations are siloed and that's not how you collaborate.
Pricing
Personal: Free for three projects and up to 20 users
Business: $99 flat fee
Q&A
Does Basecamp offer a free trial? Yes, Basecamp offers a 30-day free trial
Does Basecamp have a mobile project management app? Yes, it's available for Android and iOS
10. Zoho Projects
Zoho Projects is another Microsoft Planner alternative that offers a kanban board for task management. What makes it unique is the social feed shows task updates. That's pretty cool and a unique way to foster collaboration. There's also a forum for longer-from discussions. There are timesheets, issue tracking and even a Gantt project view. That's a lot of what any project manager and the team will want to run a more productive project.
Managers will quickly hit a wall when they try to manage resources. There are no resource management features. There's no reporting either. Now, the Microsoft Planner alternative doesn't look as hot, huh? That's why it's at the bottom of our list. There are definitely some worthwhile features but without resource management and reporting, you'll be managing as if one hand was tied behind your back.
Pricing
Premium: $5 user/month
Enterprise: $10 user/month
Q&A
Does it offer a free trial? Yes, Zoho Projects has a 15-day free trial
Does it offer a mobile app? Yes, Zoho Projects has a mobile app
ProjectManager Is the Best Microsoft Planner Alternative
While there are many strong contenders, there can only be one best and that's ProjectManager. All the Microsoft Planner alternatives have something to benefit your project, but ProjectManager has them all. From task management to risk management, resource management to multiple project views, timesheets to collaboration, and budget to real-time data, the list goes on. The fact that it's also easy to onboard your team is only icing on the cake.
ProjectManager is award-winning project management software that helps you plan, schedule and track progress in real time. Our collaborative platform allows teams to share files, comment and tag anyone on the project team. Join those delivering successful projects at NASA, Siemens and Nestle using our software. Get started with ProjectManager today for free.