Just as a body works best when healthy, such is also the case with a project. To understand what project health is, let's define it and the areas that should be monitored to ensure your project is healthy.
What Is Project Health?
Project health refers to the status of one's project in terms of its overall functionality and whether it's progressing as planned towards a successful delivery. As we'll see in a moment, this requires close monitoring of various elements of the project. Just as a doctor takes a person's temperature or blood pressure, project managers need to check on their project's health.
Project management software acts as the thermometer for the project. ProjectManager is online project management software that collects real-time data to help monitor the actual health of a project. Use our live dashboard to track metrics such as time, cost and more. Unlike lightweight tools, there's no lengthy setup for our dashboard. It's ready to provide you with insightful data whenever you need it. Get started with ProjectManager today for free.
What Areas of Your Project Should You Monitor?
To keep track of your project's health, you have to monitor various aspects of the project. This allows project managers to catch issues and apply controls to resolve them quickly and keep their projects in check. Here are some of the project areas that should be monitored for project health.
Project Schedule
The project schedule is the start date and end date of the project, but also the duration of all the tasks that must be completed and milestones that mark major points in the project. Capturing the schedule baseline helps compare the plan to the actual schedule. This difference between planned and actual progress is called schedule variance.
Project Scope
Project scope is all the activities that must take place in the project to deliver it successfully. Having a scope baseline helps track your project scope and avoid scope creep, which is adding more activities without adjusting the schedule or budget to compensate.
Project Budget
The project budget is the estimated costs of the project. The budget is approved by the client or stakeholders and then defines what the project can cost. To avoid overspending you want to keep track of the cost variance so you can adjust the scope or the schedule to make up for the expenditure.
Get your free
Project Budget Template
Use this free Project Budget Template for Excel to manage your projects better.
Project Workload
The workload is how many tasks you've assigned to your project team. The idea is to keep the workload balanced and team members working at capacity. Use resource utilization rate, the percentage of a team member's available time, to show how much of the team's time is being spent on tasks.
Project Risks
Risks can be positive or negative, the former can help the project and the latter hurt it. A risk management plan will help you identify risks and then have a plan of action to mitigate those issues that arise in the project, either to take advantage of the positive ones or resolve the negative ones.
Profit Margin
The profit margin is the amount of money an organization is making and is calculated by subtracting expenses from total revenue. All projects should add to an organization's profit margin and tracking these expenses is important to the project's health.
Video: How to Check Your Project's Health
There are many ways to check the overall health of your project, but how do you make sure that you're actually being effective? In this video, Jennifer Bridges, PMP, explores three vital ways to keep your project healthy.
In this video, Jennifer talked about the checks that you can apply on a day-to-day basis to ensure that your projects are progressing well.
Have data-driven meetings: Accurate, reliable and real-time information helps with collaboration and establishing where you on the project;
Use visual dashboards with customized views to show current status and to generate group feedback, and using a tablet in meetings can help with this; and
Ask relevant questions to uncover roadblocks and assist your team.
Remember, as Jennifer said, in order to gain client confidence, retain team loyalty, reduce project variances and actually get things done, you want to keep a healthy project. These three effective ways will help you do that, and we hope you've enjoyed learning more about them.
Pro Tip: Project dashboards allow you to identify areas that need more project management oversight a glance. Set up your dashboards to show the key metrics that you want to measure in relation to project health.
Thanks for watching!
How ProjectManager Helps You Track the Health of Your Project
ProjectManager is award-winning project management software with the features project managers need to track project health. Our online software delivers real-time data so you're seeing the actual health of your project and not a dated snapshot of where the project was hours or days before.
Keep Resources Balanced
Managing project resources will help keep your project healthy. Our software allows you to set your team's availability, which makes it easier to make assignments. Then use our color-coded workload chart to quickly see who is overallocated. You can then reallocate your resources right from the chart to balance their workload and keep teams working at capacity for a healthier project.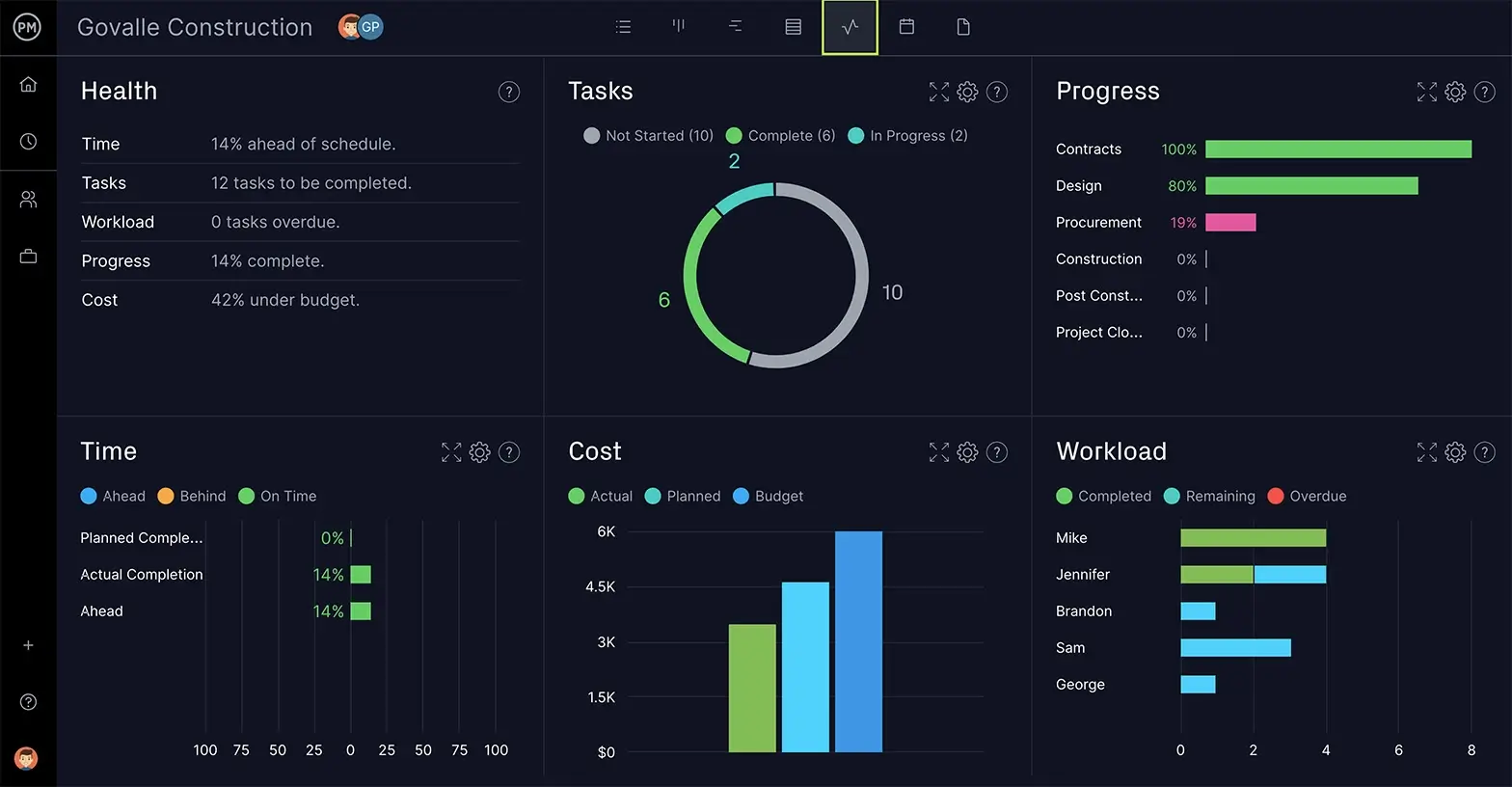 Track Progress and Performance With Project Reports
Our real-time dashboards give you a high-level view of project health, but when you need more detailed information then toggle over to our reports. It's easy to generate status reports or portfolio reports if you're monitoring more than one project at a time. You can also create reports on variance, workload and more. All reports can be filtered to show only the information you want to see and then they can be shared with stakeholders to keep them updated.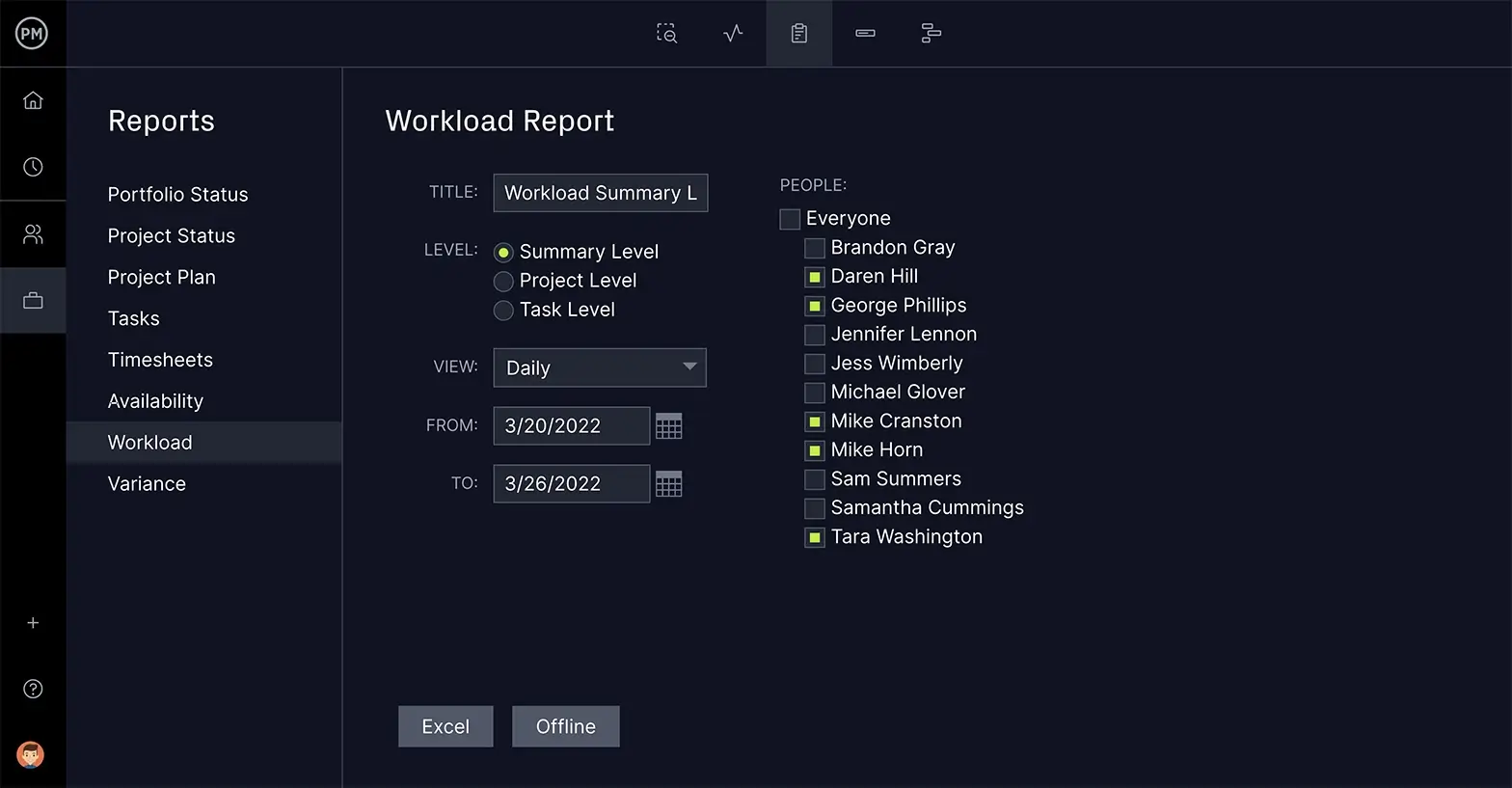 To keep your project healthy we also have task management features to stay productive and risk management features to identify and track issues until they're resolved. Get all the tools you need to monitor and control your project and keep it healthy.
ProjectManager is online project management software that delivers real-time data for more insightful decision-making. Teams can share files, comment at the task level and managers can monitor project health in real time. Join teams at Avis, Nestle and Siemens who use our software to deliver successful projects. Get started with ProjectManager today for free.