There are a lot of project management software tools to choose from, and there are a few that truly seem to dominate the space, like Oracle's Primavera P6. How can you find the project management solution that fits your organization, project and how your team works? You must first understand what these tools are and the feature set they offer.
Primavera P6 is the product of the multinational computer technology corporation Oracle. For such a well-known brand, it's a product that doesn't have great name recognition, even among those in the industry.
It's time to change that. Let's take a closer look at Oracle Primavera P6 to see what it can do and if it's right the right choice for your project management needs.
What Is Primavera P6?
Oracle Primavera P6 is a project, program and portfolio management tool that's used for planning, managing and executing your project work. It's designed to handle large and small projects in many diverse industries, such as construction, manufacturing, energy, and IT. It's been doing so for more than 30 years in projects across the globe.
Primavera P6 can trace its origins to 1983 when it was first established under the name Primavera Systems. In the next 15 years, it rapidly gained popularity. By the late 90s, advancements in server technology drove the company to split Primavera systems into two versions of the software: a desktop application (which is preferred by contractors, suppliers and manufacturing companies) and a web-based enterprise option.
In 2008, Primavera Systems was bought out by Oracle, which then developed the tool into the Primavera software that's used today.
The modern incarnation, Oracle Primavera P6, sells itself as a project portfolio management tool to increase your efficiency when planning, which reduces the risk of schedule overruns. One way it does this is by providing visibility into the work, so potential bottlenecks can be identified and resolved before they cause delays. It claims to work on projects of all sizes.
Primavera P6 Features
Let's zoom in closer on Primavera P6. First, it's a tool that works on an enterprise structure. That means it goes from the highest level of management down the line of project members. In terms of the key features, they are as follows.
Project timelines: A traditional Gantt chart to schedule tasks on a bar graph
Risk management: Identify, track and resolve risks before they become issues
Information dashboard: A dashboard to track key project metrics
Reporting & analytics: Ability to generate status reports for stakeholders
Calendar & activity views: View project tasks set over a calendar view
Scheduling alerts: Keep the project on track by always knowing what's due when
Project network view: Project network diagrams allow users to visualize their project schedules by sequencing project activities.
Work breakdown structure: P6 allows users to create a work breakdown structure that lets them group related tasks together and establish a hierarchy.
Critical path method (CPM): Oracle Primavera lets users find the critical path of their projects. The critical path method is an important project scheduling technique that allows project managers to estimate the total duration of a project and determine which project tasks must be completed on time for the project to be delivered on schedule.
What Is Primavera P6 Used for?
Primavera P6 is used for project, program and portfolio management, thanks to its robust project management features. Here's an overview of how Oracle Primavera works.
Project planning & scheduling: Primavera P6 offers Gantt charts, project tables and network diagrams as its main project planning and scheduling tools. These tools allow users to create scope, schedule and resource baselines.
Project portfolio management: It can manage multiple projects in a program or portfolio at once with the enterprise project structure (EPS) tool.
Resource management: Keep track and reallocate resources as needed by using customizable resource leveling forms.
Risk management: Risk analysis features allow project managers to identify, track and resolve risks before they become issues.
Contract management: Manage multiple projects, and get info from the database fast.
Project Reporting: Report on timelines, resources and costs.
Who Uses Primavera P6?
Oracle Primavera P6 is used by project managers who are in charge of delivering a project, program or portfolio of projects. Primavera P6 is mostly used for large-scale construction projects, but it can also be used in other fields such as business and manufacturing.
Any project professional can benefit from P6, such as engineers, schedulers and others who are instrumental in planning, management and reporting on the project. It's usually recommended that whoever uses the Primavera software takes a training course. The tool is built to help manage complex projects and therefore using it can be complicated as well.
Primavera P6 Plans and Pricing
There are two main versions of Primavera P6. There's Primavera P6 Professional and Primavera P6 Enterprise Project Portfolio Management (EPPM). In addition, Oracle developed Oracle Primavera Cloud, which is a new cloud-based PPM platform. Here's a quick overview of their pricing plans.
Oracle Primavera P6 Professional
The P6 Professional version of Primavera is a desktop-based software that can be purchased directly from Oracle, or through an authorized Oracle reseller. You'll need to install the software on all your workstations. Oracle Primavera P6 Professional will cost $2,570 for an annual subscription. That price includes $2,020 plus an annual maintenance fee of $550 for upgrades, fixes, patches, etc. The renewal of the maintenance cost isn't required, but it's suggested.
Oracle Primavera P6 EPPM
There's also the enterprise option, Primavera P6 Enterprise Professional Project Management (EPPM). This version of Primavera P6 is accessed via the web rather than being a desktop software application which makes it easier to implement in large organizations. It also has a slightly different feature set from the P6 Professional option. This option will run you $2,750 for a perpetual license, which includes an annual maintenance fee of $605.
Oracle Primavera Cloud (OPC)
Like Primavera P6 Professional and Primavera P6 EPPM, Oracle Primavera Cloud focuses on project, program and portfolio management, but has a different feature set. OPC has the added benefits of faster delivery and fosters collaboration to improve efficiency and quality.
However, the features that you'll get with Oracle Primavera Cloud depend on the license plan you choose, which is even more expensive than the desktop version of Primavera P6. OPC has the following license plans:
Oracle Primavera scheduling cloud service: $1,320 user/year
Oracle Primavera task management cloud service: $660 user/year
Oracle Primavera progress cloud service: $144 user/year
Oracle Primavera portfolio planning cloud service: $2,640 user/year
Get your free
Project Dashboard Template
Use this free Project Dashboard Template for Excel to manage your projects better.
Pros and Cons of Primavera P6
There are some things that Primavera P6 does well, along with some features that have some drawbacks. If you're still on the fence, here's a look at its pros and cons.
Pros of Using Primavera P6
Primavera software is flexible when it comes to managing tasks, with one platform that allows users to prioritize, execute and monitor their work
A multiuser system lets teams work at the same time on the same project across the organization.
Real-time reporting provides meaningful data delivered fast, either on-demand or scheduled.
The dashboard allows users to manage a single project or even a portfolio, with great flexibility.
Primavera P6 integrates with Oracle and other third-party products.
P6 can be used on multiple devices, such as tablets and mobile devices for access anywhere and at any time.
P6 works on Windows as a desktop (or web app with the Enterprise option).
Cons of Using Primavera P6
Primavera software is very expensive; you're going to spend close to three grand a year for something you can get elsewhere for less financial investment.
The complicated interface of Oracle's Primavera P6 also looks outdated and not up to the design and ease of use of its competition.
There's a steep learning curve; unlike other tools, it can take up to 40 hours to get comfortable on the device and that's with the use of specialized trainers.
Primavera P6 is for Windows only, which puts Mac users out in the cold, making the tool immediately limited and denying whole industries that run on Apple products.
P6 is cumbersome for smaller and simpler projects, seemingly interested only in the larger project sector.
The Primavera software customer service could be better, at least there's a lot of chatter online from customers who feel the support needs to improve.
Primavera P6 lacks a portfolio roadmap, which is a problem for managing portfolios, even though the product does have some features directly targeting this market.
ProjectManager Is the Best Primavera P6 Alternative
If Primavera P6 doesn't seem like the right project management software for you, then you may be interested in an alternative. ProjectManager is a cloud-based project management tool that's less expensive and easier to use than Oracle Primavera P6, with all the same features you need to manage your project, program or portfolio. Instead of an expensive licensing fee, you can pick the subscription tier that fits your team and budget.
Robust Gantt Charts for Project, Program and Portfolio Management
ProjectManager's Gantt charts let you plan, schedule and track projects, programs and portfolios. Create schedule baselines and automatically generate a work breakdown structure (WBS) and find the critical path of your projects as you add tasks to the Gantt chart. You can also track costs for each task and use resource management tools such as timesheets and workload charts for better resource allocation and resource-leveling.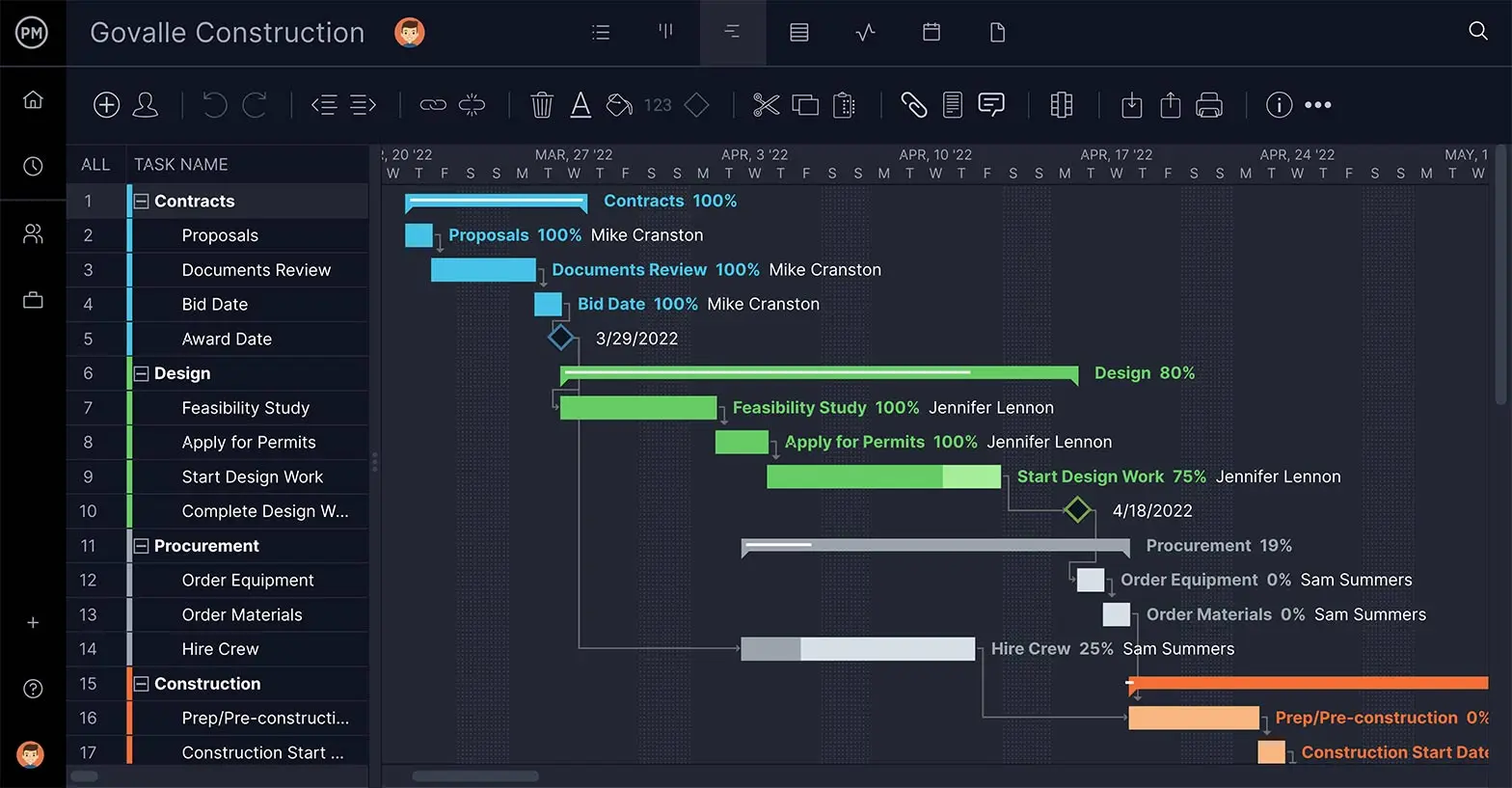 Powerful PPM Roadmaps, Dashboards & Reports
Like Primavera P6, we have portfolio project management features. Unlike Primavera software, we offer a portfolio roadmap to see all your projects on one timeline. This allows you to make strategic decisions on sharing resources to keep costs down and schedules tight. There's also a portfolio dashboard and you can see all your projects with metrics on the overview projects page. You can also generate project, program and portfolio management reports in minutes.
ProjectManager Works on Mac
Unfortunately, Primavera P6 only works on Windows. If your team uses Macs, then they won't be able to use the tool. Luckily, ProjectManager can work with any operating system and on any browser. Like Primavera P6, we have portfolio project management features. Unlike Primavera P6, we offer a portfolio roadmap to see all your projects on one timeline, allowing you to make strategic decisions on sharing resources to keep costs down and schedules tight. There's also a portfolio dashboard and you can see all your projects with metrics on the overview projects page.
If you want to learn more about our award-winning software, visit our homepage to check out the rest of our features and see why we're trusted by brands like Volvo, NASA and more.
ProjectManager is online project management software that organizes your projects and teams to work more productively. It can handle big to small projects, whether you're working in a traditional methodology or within an agile framework. See how we can help you plan, monitor and report on your project more effectively by taking advantage of our free 30-day trial offer.