Get
strategic insights

for each role

Manage your program strategically and boost performance across all your projects with online program management tools.
Integrated
resource

management

Track progress, costs and time on dashboards, then reallocate resources instantly to drive your program forward.
Powerful
portfolio roadmap

tool

Use ProjectManager's roadmap tool to see all the projects in your program in one place and align your vision, goals and objectives.
Plan & execute with ease
ProjectManager is program management software that helps you manage and track every task across all the projects in your program—including task dependencies, milestones and critical paths.
Plan, schedule and assign work
Import, export and share projects
Create workflows to ensure project quality
Keep your program balanced
Know what everyone on your team is working on, across your entire program with just one program management software. Color-coded charts on the workload page show who's over-or-under burdened.
Allocate resources quickly and track their costs
View staff availability and manage workload
Quickly see if your program is lagging behind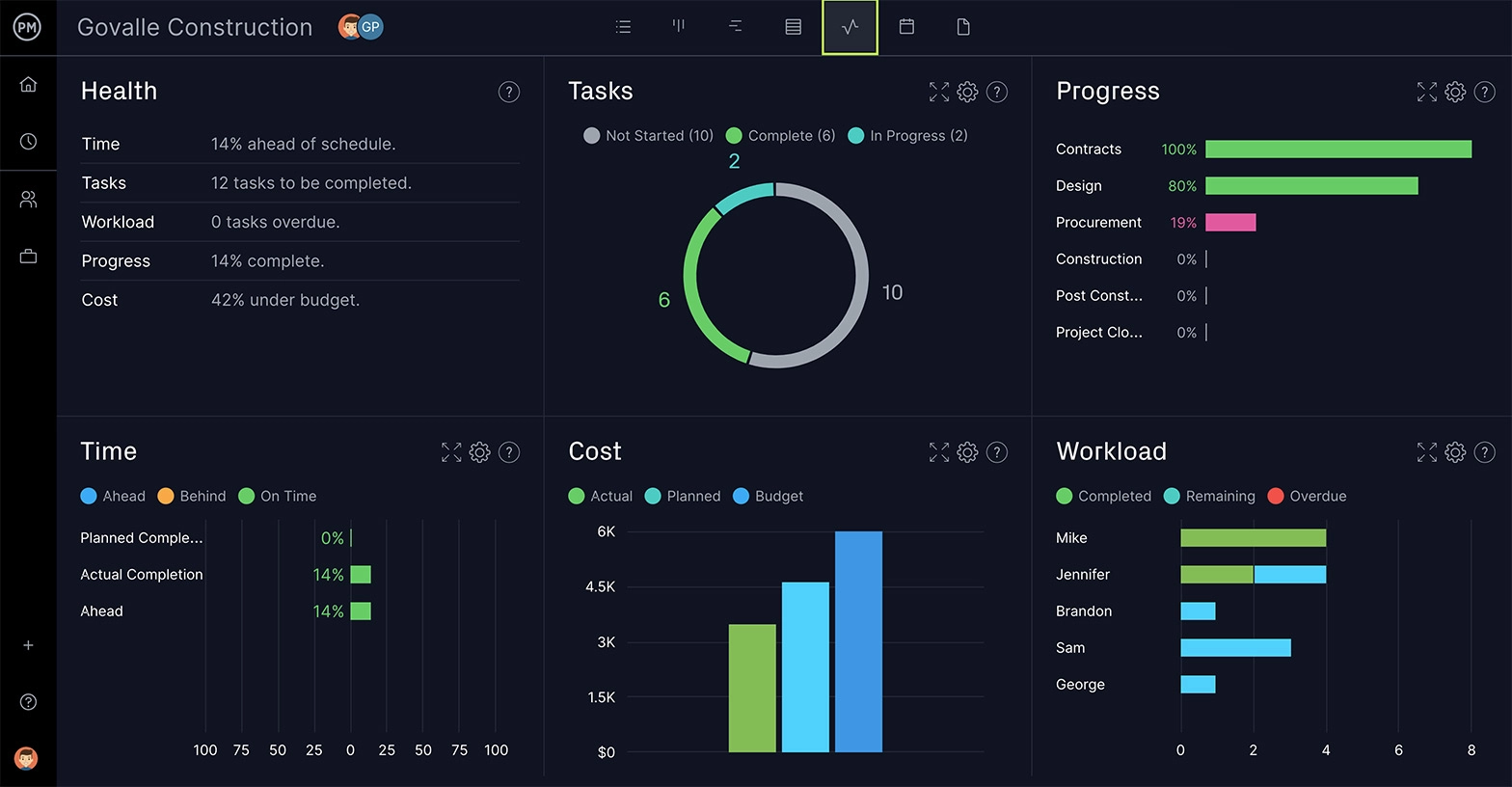 Make data-driven decisions
Use dashboards and generate detail-rich reports to better manage your program. Reports give a high-level look at your program's status, tasks, timelines and more.
Turn complex program data into useful reports
Drill down into specific projects and get insights
Customize with filters for specifics on customers, priority and more
ProjectManager's
program management tools

at a glance

ProjectManager is a program management software that's fully equipped with project portfolio management tools to plan, schedule and track programs. Here are some of its key features.
Key program management features
Keep your projects safe
Control user roles to make your work more secure. Limit those who can export projects, edit project settings, tags, teams and skills. Set who has the authority to manage, edit, collaborate and approve timesheets. Add as many customized roles as you want, such as contractors, clients, executives and more.
Stay updated anywhere, anytime
Get in-app notifications and email alerts as the status changes on any task you're working on. Emails are automatically generated as deadlines move, files are attached or comments are added to tasks, facilitating team collaboration.
Get data and easily share projects
Use your Microsoft Project files in our program management software to edit and share without the hassle. We save all the data from your MPP files and any changes you make stay when you export it back. Exporting plans is as simple as a click. Bring your team and stakeholders into the project and keep everyone informed on your progress.
Take control of your assignments
Use the workstream to see exactly what's relevant to your role. Update your tasks, progress and even assign tasks to yourself and others. Manage your work how you want. Use the task list to collect all your work or organize your tasks on a kanban board, and use the calendar view to highlight important dates. Never miss a deadline again!
See all projects & manage them in one place
View your program of projects all together on the same page. Update projects without having to navigate to their individual pages. Manage high-level data for your program. Organize and group your projects into folders, which you can customize by name. Filter by group and view the portfolio status report.
View high-level metrics for projects
Filter by the groups you made in Portfolio Projects and get live updates on the Portfolio Dashboard. Our program management software automatically calculates the data, then displays the results in easy-to-read graphs and charts. See how many tasks you've completed, if your projects are on time and your team's workload to keep it balanced and the team productive.
Integrate

with over
1,000 business apps
Office 365
Seamless importing and round-tripping of Microsoft Project plans, Excel files & CSV files.
Google
Manage tasks right in your Gmail app! Plus, sync to Google Drive & your Google Calendars.
Jira
View and update all your ProjectManager tasks in Jira for maximum efficiency.
Slack
Share all your project conversations in your favorite Slack channels.
Zapier
Keep the data flowing when you connect with Salesforce via our Zapier integration.
Trusted by 35,000+ users worldwide
Start your free 30-day trial
Deliver faster, collaborate better, innovate more effectively — without the high prices and months-long implementation and extensive training required by other products.