A work plan can be sparse or thorough, but either way, they are essential to staying organized. Thorough work planning helps organizations set the goals and processes that help teams do their job as well as dive into greater detail, such as outlining tasks, schedules, resources and budgets. Download our free work plan template for Word and give your project team the framework they need to succeed.
But, if you open the work plan template in ProjectManager instead, you'll be able to manage your work plan with more than a Word doc, you'll be able to use five different project planning views: Gantt, kanban board, task list, calendar and sheet. Plus, you can collaborate with your team in real time, and track progress in the software with live dashboards, timesheets and instant status reports. Get started for free with ProjectManager and build a better work plan.
What Is a Work Plan?
A work plan is used to organize, visualize and provide a context for the project they're about to embark on. It lays out why the project exists and what it hopes to accomplish. It also details tasks that lead to the final deliverable and defines the roles and responsibilities of the team.
What Is a Work Plan Template?
A work plan template is simply a format that helps you save time as you plan how your team will execute work. The structure of a work plan template can vary as well as the tools you can use to make one. You can set one up on a Gantt chart or project calendar if you're looking for a visual representation. But our work plan template for Word opts for the narrative variety, with expandable cells to capture the project and articulate its finer points.
Why You Need This Work Plan Template
This work plan template helps everyone on the team do their job more efficiently. The team knows their role in the larger project and what they need to do in order for the project to achieve those goals and objectives.
It also gives the project manager a work planning document that they only need to fill in the blanks to complete. Of course, those blanks differ from project to project, but just having a sample work plan puts you ahead of the game. Once a project is complete, the work planning template can be used as historical data.
Our work plan template saves time by showing the tasks that are needed, the resources to support those tasks and the timeline to follow, among other things in the project plan. Going through these details before you start the project allows you to understand what success looks like and how to attain it.
Once the project starts, however, project management software gives you more control over all those moving parts. ProjectManager takes your work plan and puts it into action. Our online Gantt chart adds milestones, links dependencies and filters the critical path and gives you real-time data to monitor progress and performance to keep your project on schedule. Once your plan is built, track everything with our real-time dashboard. Try it free today.
When to Use a Work Plan Template
Use a work plan template during the planning phase to organize your project. This is a process that occurs at the beginning of your work. It's at this point that the project manager uses a work breakdown structure to list every task in the project. They're also starting to get the team together, work on the budget and determine resources that will be needed to make everything run smoothly.
Our work plan template is another tool to employ at this point in the project. Unlike other techniques that help with estimating budget, resources, etc., the work plan template is where you collect this information. It's a way to sort all the disparate elements involved in your project.
What Is Included In This Work Plan Template?
Our work plan template for Word is a thorough overview of your project. It gives everyone a frame in which to picture their work. The template can be customized if you want to remove some fields or add something unique to your project.
General information: The top of the work plan template is where you can add general project information. Add the project name, project manager and date, which is helpful to ensure you're using the most up-to-date document.
Introduction: The introduction offers a broad-strokes picture of the project where you identify the problem you're going to solve or a business opportunity to exploit. Then you explain how the project is going to respond to that problem or opportunity.
Goals and objectives: Goals and objectives for the project follow. Begin by defining these by using the SMART technique. This is a way to define your goals and objectives in such a way that they're specific, measurable, achievable, realistic and timely.
Schedule: Now you want to show the schedule. The timeline portion of the work plan template is used to map the start and end dates. You should also note any milestones between those two points, such as the start of a new project phase and other important dates.
Budget: The budget comes next. This is the part where you're going to use whatever tools and techniques you prefer to come up with an estimate of the project's total costs. Take your time here to make sure the figure you come up with is as accurate as possible.
Resources: Next, you want to define the resources needed for the project. This includes your team, though there will be a place to go into detail about them, as well as any materials, equipment and so forth needed to execute the tasks.
Team: Now you can dive into the team, defining everyone's role and responsibilities. Be thorough as this is how everyone on the project team will know what they need to do, what they have authority over and what their accountability is in the project.
Risk tracking: Every project has risks, and having a plan in place keeps the project on track. Here you'll identify potential issues and assign team members to be responsible for taking ownership of any that do arise and resolving them.
Strategy: The strategy section of the work plan template is where you can add subtasks that you need to complete in order to achieve the goals and objectives you've already defined above.
Deliverables: Getting your deliverables done on time and within budget is part of what makes a project successful. There are also quality expectations. Here you choose the metric to measure success and make sure you're meeting your stakeholders' expectations.
Key performance indicators: Finally, it's important to have an objective system in place by which you can make an overall assessment of the project. This will help you right any wrongs and repeat those things that proved successful when you embark on your next project.
Advantages of Using a Work Plan Template
Our work plan template saves time by showing the tasks that are needed, the resources to support those tasks and the timeline to follow, among other things in the project plan. Going through these details before you start the project allows you to understand what success looks like and how to attain it.
Another advantage of this work plan template is that it allows you to standardize how your organization executes work, which helps you measure performance and improve your team's productivity.
Disadvantages of Using a Work Plan Template 
While our Word work plan template is a good place to get started with work planning, it's important to understand that Excel templates have drawbacks when it comes to creating and monitoring work plans. First, Word work plan templates are time-consuming because they must be manually edited, they're hard to print and you must share a copy with everyone on the team every time changes are made.
More importantly, Word isn't a work planning tool that can keep up with the daily operations of a team. Instead, you should use a work management tool like ProjectManager.
How to Create a Work Plan With ProjectManager
ProjectManager lets you use a variety of project planning, task management and resource management features so you can create a detailed work plan. Here's how you can use ProjectManager's Gantt chart to create a fully-fledged work plan.
Before we start, it's important to note that the Gantt chart template is divided into two main sections, a spreadsheet that you'll fill out with work planning information, and a timeline that will be automatically generated by the work planning software.
1. Add Task Names & Due Dates
The first step to creating a work plan with ProjectManager's online Gantt chart is to simply list your work plan tasks and enter due dates for them. This is the base for your work plan timeline.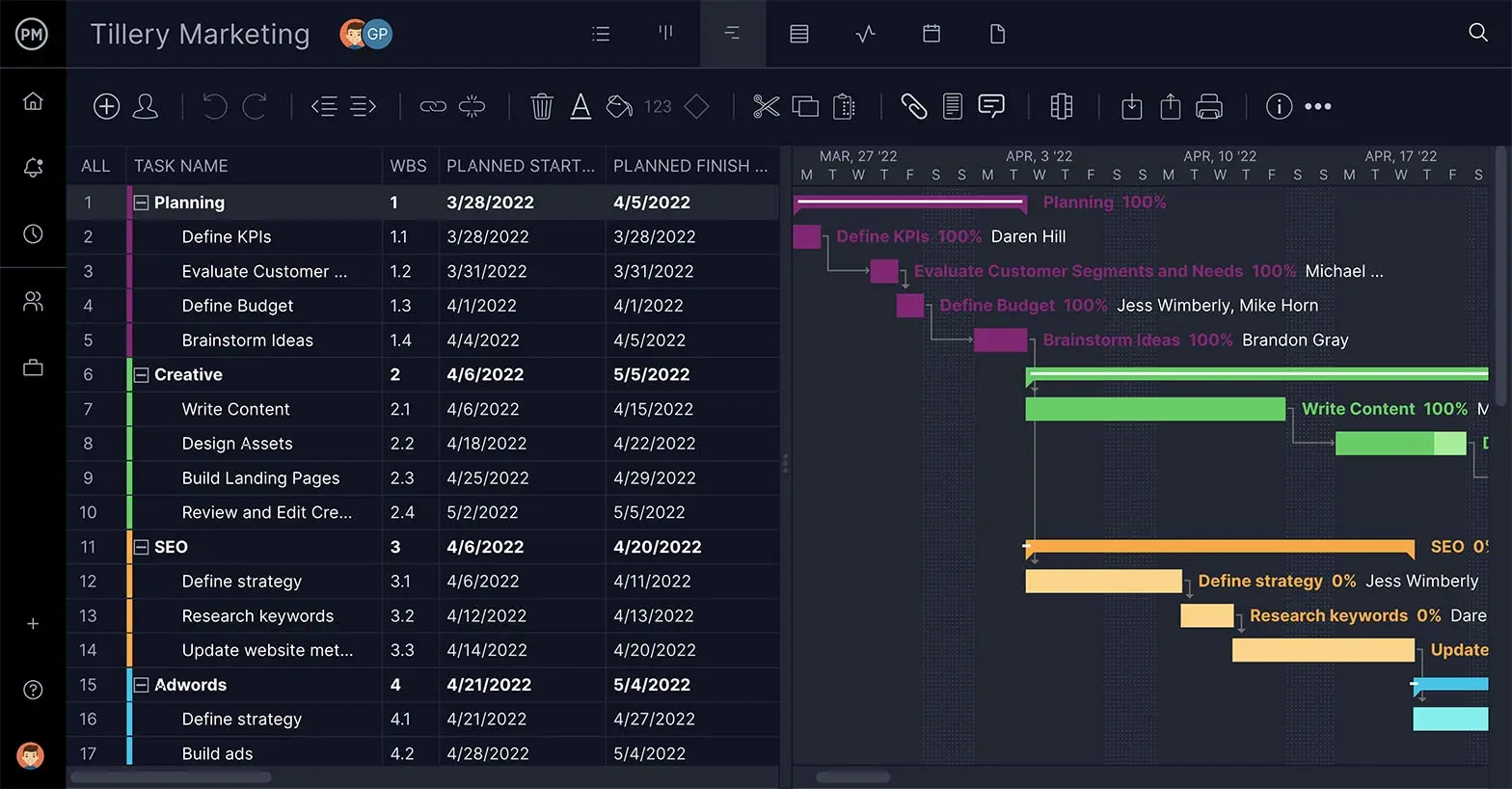 2. Assign Tasks to Team Members
Now, it's time to assign those tasks to a team member. They'll be notified every time any changes are made to their tasks, such as new comments, files or date adjustments.
3. Link Task Dependencies
ProjectManager's Gantt chart lets you link four types of task dependencies, which is essential when creating a work plan. If you don't consider task dependencies, your work plan could fail.
4. Estimate Task Costs
Your labor costs will be automatically added to timesheets as you enter information on the Gantt chart, kanban board, or project calendar. There's also a field where you can add costs to each task.
Who Manages the Work Plan Template?
The project manager is typically the person who both creates and keeps the work plan template updated. Their job touches on all the aspects related to the work plan, so it only makes sense.
However, depending on the size of the project and the organization of the company running it, there can be others who manage the day-to-day on a work plan template. Some larger projects have several project managers and under them assistants who deal with most of the administrative duties.
Whoever is tasked with managing the work plan template on a project is almost always the project manager with whom the ultimate responsibility lies. Even so, it's a shared document that keeps everyone on the project team aware of their place in the larger project.
How ProjectManager Helps With Work Planning
To take your work plan to the next level, use ProjectManager. Our award-winning project planning software organizes all your tasks, teams and even multiple projects to help you work more productively. The work plan template gathers all the various parts of your project and our work management software puts them into action.
Our cloud-based software lets you monitor progress in real time but also gives teams the collaborative tools they need to work better together. They can comment on the task, get emails and in-app notifications when tasks are updated and attach files and images to the task.
Multiple Work Planning Views
As stated above, you can build a detailed work plan on our online Gantt chart. But that's not the only work planning view you can use. You can also use kanban boards, task lists, project calendars, dashboards and many other features to plan, schedule and track your work plans.
Track Labor Costs With Timeets & Workload Charts
ProjectManager's timesheets help you calculate labor costs automatically as you assign tasks to your team members on any project planning. In addition, you can keep close track of labor costs and your team's workload with interactive workload charts that tell you who's over or under-allocated.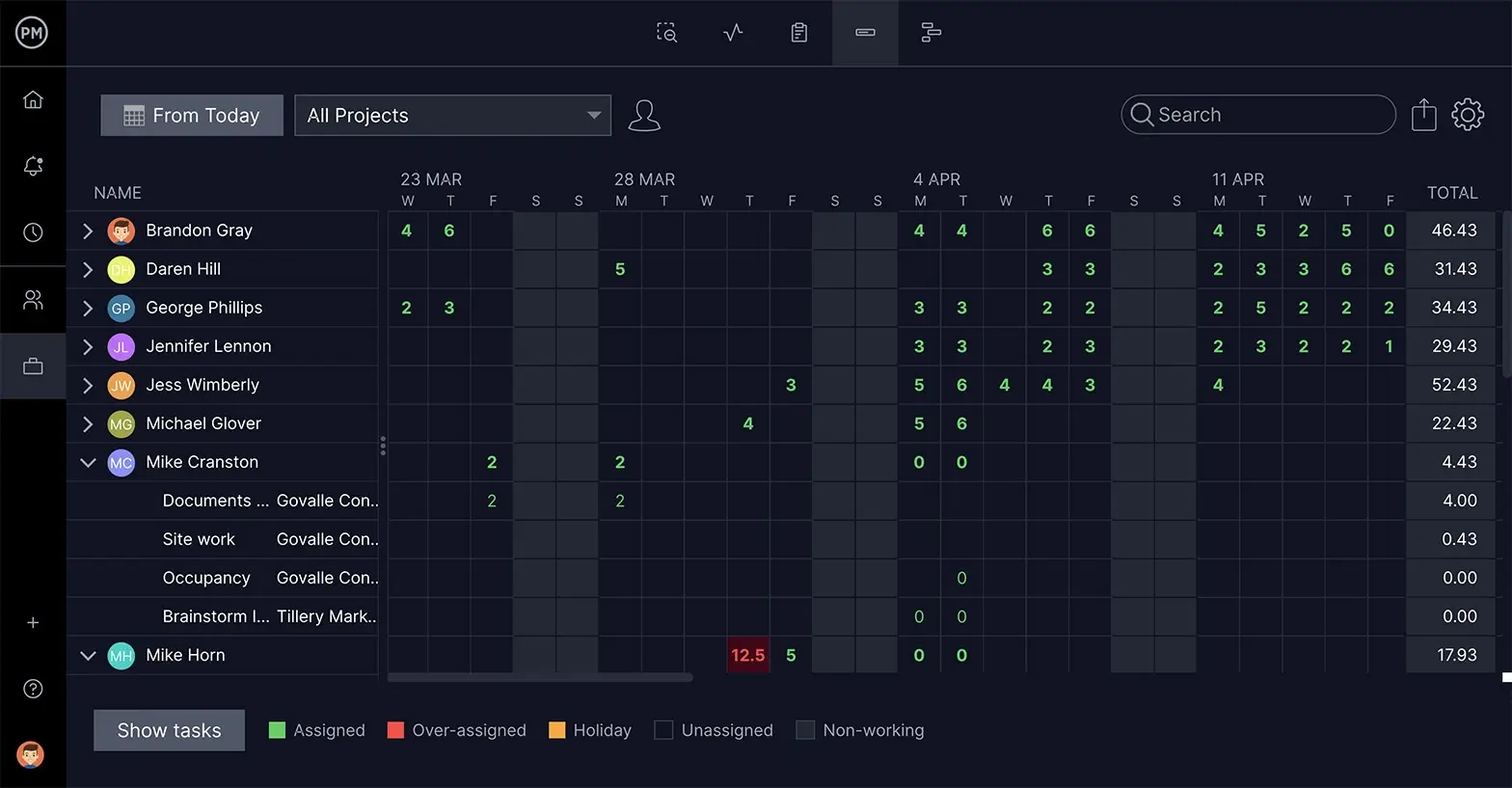 Create Work Tracking Reports in Minutes
Your team isn't the only people in the project who need the work plan. Stakeholders want to know how the project is performing. Keeping them updated is made easy with one-click reports. Get deep data, filter it to show only what the stakeholders want to see, then share it as a PDF or give them view-only access to the tool. We turn your work plan into a project management super-tool.

What Other Work Management Templates Can Help With Work Planning?
If you're not ready to upgrade to project management software, we offer more templates to help you put together a more complete work plan template. We have dozens of free project management templates to choose from. Here are a few.
A work order is similar to a work plan, but its scope it's much narrower, as it only focuses on tasks. It describes the labor, materials and equipment required to complete an activity.
You don't want to forget any tasks as you collect them for your work plan. Using our free work breakdown structure template keeps you from neglecting any crucial steps. The tree diagram puts your final deliverable on top and all the tasks leading to it as captured in branches.
The schedule is another key component of the work plan template. This template helps you get a visual representation of your whole work plan in one place.
When you're ready to get your team to work, use our free work schedule template to know when your team is working on a project or a task. You can also use this template to note the pay rates and hours spent completing their tasks. Use the work schedule template to organize your team.
Related Work Planning Content
There are more than free templates on our website. We publish several blog posts a week and have tutorial videos, guidebooks and more resources. If you're looking to learn more about anything related to project management, we're your online destination. Here are some articles that relate to the work plan template.
ProjectManager is more than your online resource for all things project management. We're the only tool you need to take your project from conception to completion. You get live data to make better decisions and features that manage your budget, schedule and keep your stakeholders updated. Join organizations as varied as NASA, the Bank of America and Ralph Lauren and the tens of thousands of teams using our tool to work more efficiently. Sign up for our software for free today.