The purpose of an event proposal is to win the job. The best way to accomplish this is by using an event proposal template. This helps ensure that you have everything you need to convince your potential client that your organization is best suited to execute a successful event.
Download our free event proposal template for Word, and you're on your way to swaying the stakeholders. This template has customizable fields for the goals and objectives of the event, the key performance indicators (KPIs) you'll use to prove it, who the target audience is and how you'll reel them in.
What Is an Event Proposal Template?
An event proposal template is what event planners use when they are bidding for a job. It is common to create an event proposal in response to a request for proposal (RFP). It is a detailed document that looks at the coming event and defines various aspects, such as goals and objectives, timeline and more. The event proposal template needs to be comprehensive to win the bid. It's one of the first steps in event planning.
The event proposal template is used to show your potential client that you've thought through the event and mapped out the details that'll lead to its success. It also acts as a resume in that you'll have opportunities to illustrate your skills, experience and show examples of previous events you planned.
The effectiveness of an event proposal depends on it being thorough, but also clear and concise. While comprehensive, you don't want to waste time on preambles or superlatives. Just cut to the chase, like an elevator pitch, which is used to capture the attention of your stakeholders or client, keep them engaged and finally win them over.
If your event proposal is successful, you'll have to turn it into an event plan. Project management software helps take your timeline and convert it into a working schedule. ProjectManager is online project management software with robust Gantt charts that help you organize your work, link dependencies that can cause delays, assign tasks, set milestones and more. You can even set a baseline, which means you'll be able to monitor your planned progress against your planned progress in real time to help deliver a successful event. Get started with ProjectManager today for free.
When to Use This Event Proposal Template
As noted, the time to use an event proposal template is in response to an RFP from potential clients who are looking for someone to produce their event. It's the first part of event planning and gives you an advantage if the client accepts your proposal.
Using our free event proposal template is a valuable tool in that everything is laid out for you and you simply fill in the blanks. It also creates consistency in your proposals. Since so much of an event proposal is proving you've done the work before, it's easy to archive and retrieve past proposals attached to completed events.
While it's not guaranteed that you'll win the job, using our free event proposal template for Word gives you the opportunity to show what you can do. Use it whether you're responding to an RFP or wooing stakeholders to show them your organization is the right fit for producing their event.
Related: Free Event Plan Template
How to Use This Free Event Proposal Template for Word
Once you download the free event proposal template, you'll find a customizable Word document. You can add your company branding and contact info and add more fields. If there are specific requirements for the client that aren't addressed, feel free to add those as well.
At the top of the event proposal template is a section in which you can identify the name of the event, the date on which it begins, its duration and the number of attendees you're expecting. Underneath that introduction is the main part of the proposal, which is made up of these nine sections.
Purpose
If the event proposal is an elevator pitch, albeit a lengthy version, then the first section is putting that pitch in context. Think of this as the mission statement or vision statement in that it provides a lodestar for the reader to follow as they work through the rest of the event proposal. It might not seem as consequential as the rest of the event proposal, but this is where you can convince the client you understand what they want and know how to deliver it.
Goals & Objectives
You'll want to follow that opening with a detailed description of the goals and objectives of the event. This further cements to the client that you fully understand what they want to achieve from the event. This means fully comprehending the client, their vision of success, the measurable outcomes they hope to achieve, the business needs that the event is addressing and how you'll provide a return on their investment.
Target Audience
The target audience is the ideal attendees that the client wants to see at their event, so you need to know the target audience inside and out. You have to be an expert in the client's audience, understanding their key characteristics, what expectations they have and the value for them in attending the event. More than that, you must know how to attract and retain them. This involves knowing your client, doing demographic research and more.
Event Stakeholders
To win over your client or stakeholders in the event, you have to understand them. You need to know what they want and explain why you're the team that can give it to them. This is where you'll tell them about your skills and experience. If you've produced similar events in the past, highlight these to show your expertise. You want to impress them and let the client know you're the best fit for the job.
Event Schedule 
You'll also want to have a schedule for the event, whether it's one day or multiple days in duration. There will likely be speakers, panel discussions, networking parties, etc. All of these must be scheduled for the event to run smoothly. Therefore, think about every detail and how to orchestrate it so the client can see you understand the importance of planning.
Event Marketing & Promotion
At this point, you want to show how you'll be able to market and promote the event so that the target audience will find out about it and be compelled to attend. Not only should you have a marketing plan, but samples of previous promotions that delivered results, whether that's in terms of web traffic, email click-through rates, coverage in the press, return on ad spend, the cost for attendee acquisition as well as lifetime value and retention of those attendees.
Value Proposition
Not only must you market to the attendees, but imagine the event from their eyes. The event should be designed with them in mind, speaking to what they want and addressing their interests and needs. Having a clear value proposition is how you deliver a successful event for your client. You can't disregard the goals and objectives of the client, of course, but understand attendee profiles, including their expectations and motivations.
KPIs
You need to have KPIs in order to measure the success of the event. The client will need to see the numbers. List the KPIs that you can track to show how successful the event was. Some of these KPIs can be the ticket sales leading up to the event, the number of attendees on registration day, how many sales leads were generated, whether they even made money, etc.
Cost Estimation
Naturally, all of this costs money and requires an event budget. The more accurately you can forecast the costs, the better for everyone. You don't want to underbid and pay for the extra expenses, nor do you want to overbid and put yourself out of the running. Map your individual line items, such as venue, food and beverage, marketing, etc. Go into detail for each of these categories and try to lock in vendors if possible or at least get quotes.
Why Should You Use an Event Proposal Template for Word?
An event proposal template is a great tool to help you get started on the real work of building a persuasive bid for a client. The free template is like a headstart. People have been making event proposals for many years and the basics remain. However, the template isn't perfect. Here are some of the pros and cons of using an event proposal template.
Benefits of Using an Event Proposal Template for Word
Having a thorough event proposal template makes planning for the event, if you get it, that much easier. It also sets boundaries so the client knows exactly what you'll do and won't do, which can help avoid misunderstandings later on. The template is easy to share and is laid out to clearly communicate your proposal simply and in an easily digestible way.
Disadvantages of Using an Event Proposal Template for Word
That doesn't mean a template is perfect. It's time-consuming to fill out. Worse, after all that work, your proposal is isolated on a template. If you win the bid, you're going to have to input that information into a planning tool. Also, they're not made for collaboration, which is essential as you plan and execute the event. Microsoft Word is processing software and it wasn't intended to make proposals. Plus, you don't want to manage an event in Word. For example, if anyone updates the event proposal template, you better not have multiple copies floating around or you'll never know where to find the most current version. What you want is a more collaborative, dynamic and real-time tool that can connect everyone, from your team to the client.
Other Free Templates to Manage Your Event
If you're not ready to upgrade to software, we understand. In fact, we can help. Besides being a great project management tool, we have dozens of free templates for Word and Excel available for you to download right now. There are some for every phase of a project. Here are a few that can help if you win that event proposal.
The event proposal template is really the start of your event plan. Once you win the bid, you'll need to turn that proposal into a plan. Our free event plan template for Excel breaks down your event into manageable phases and helps you ensure that the event goes out without any problems.
Events cost money and as we noted earlier, the more accurately you can estimate the cost, the better for everyone involved. Using our free project budget template for Excel helps you determine the labor and materials you'll need to deliver your event and even has columns for the budget and actual spend to keep you on track.
Marketing is a key part of any event management. Our free marketing campaign template can help you with promoting the event by organizing the steps necessary to market the event, whether it's advertising in print, online or building a website.
Related Content
If you're interested in reading more about event management, we have a lot of free information on our site. Besides templates, there are blogs that are published weekly, guides, white papers, tutorial videos and more. Here are a few related links for you to follow.
ProjectManager Helps With Event Planning
Once you've used the template and have experienced the speed bumps inherent in such documents, you'll be ready to take the next step. ProjectManager is online project management software that empowers your team to work better together on a collaborative platform. That means you connect everyone across departments, vendors and the client. Plus, you can plan, manage and track the work in real time.
Track Progress in Real Time
It's one thing to plan an event, but if you're not able to track your progress and miss deadlines then you're going to have a very unhappy client. Our real-time dashboard gives you a high-level view of the work across six metrics including time, cost and workload. Unlike inferior software, there's no configuration and it's ready when you are. It's like an instant status report that updates in real time. See an issue? Fix it before it becomes a problem.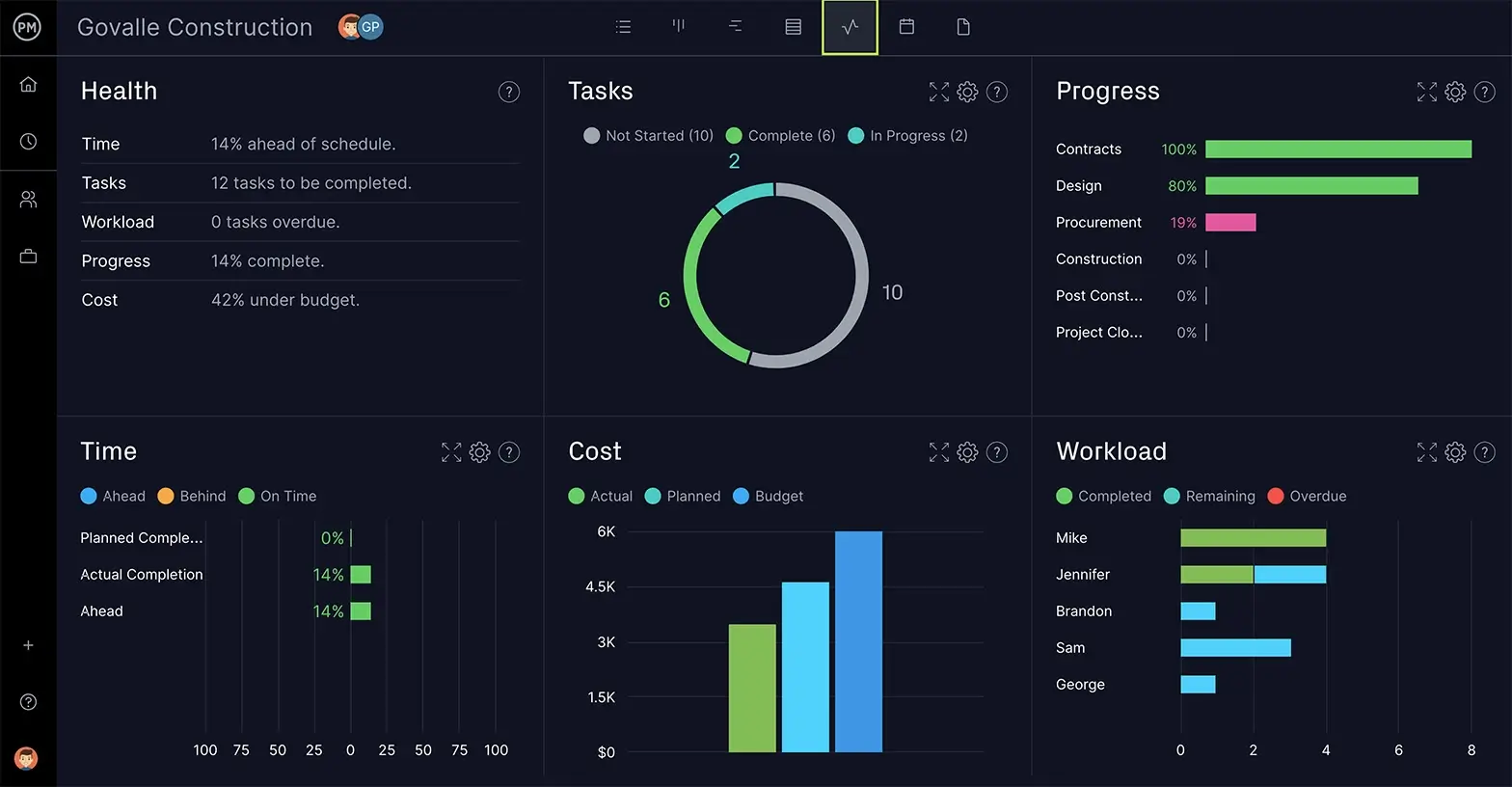 Use Resource Management Tools and Stay Productive
Another way to stay on schedule is to know what your team is doing and keep them productive. You'll need to allocate resources, both in-house and vendors. With our color-coded workload chart, you can quickly see if your team is over-allocated and reallocate tasks right from the chart to balance the workload. Timesheets also show you the percentage complete of their tasks to help you stay on schedule.
As noted, you're connected to the project in real time. That lets you make more insightful decisions, but it also facilitates collaboration. Everyone can comment at the task level, share files and tag anyone on the team to bring them in if necessary. Email notifications keep you updated, but so do alerts in the tool so you don't have to stop what you're doing to stay informed. Now, have a great event!
ProjectManager is award-winning software that helps you plan, manage and track events in real time. It helps you organize your work, resources and costs to make sure everything in your event goes off like clockwork. Join teams at Avis, Nestles and Siemens who use our tool to deliver successful events. Get started with ProjectManager today for free.