What Is a Creative Brief?
A creative brief is a short, one-or-two-page document that summarizes marketing and advertising projects. Creative briefs are used by marketers and creative professionals to define the goals, scope and timeline for a project and set guidelines for their teams. For this reason, a creative brief can be described as a project management document for creative teams.
Who Should Create a Creative Brief?
A creative brief may be written by an in-house marketing team, an advertising agency or a marketing consultant for internal purposes. It's a document that should capture the requirements of a client who needs their services.
The creative brief is like a blueprint for a project that's made to help graphic designers, writers, videographers and other members of a creative team know what they're responsible for and how their work and deliverables fit into the larger project.
After you write a creative brief for your team, you'll need to plan, schedule and track your creative project. To do so, you'll need project management software like ProjectManager. ProjectManager is equipped with tools such as Gantt charts, kanban boards, project dashboards and timesheets to help you manage any creative project. Assign work to your team members, create schedules, track costs and much more. Get started for free today.
Why Are Creative Briefs Important?
The value of having a creative brief is that it sets out to ensure that the deliverables from the creative project meet the client's expectations and business needs. Because of their clear value in managing marketing and advertising projects, creative project managers typically employ them for each project.
Yes, a creative brief is just a document, but it's an essential one. If you have a well-made-up creative brief at the front of your project, you're less likely to have problems as you progress through the life cycle of the work.
When Should You Use a Creative Brief?
A creative brief might be used for a variety of marketing and advertising projects such as:
Launching a marketing campaign for a new product or brand
Revamping your existing marketing strategy
Rebranding an existing business
Creating a website for your brand
Creating a promotional video
Starting a social media campaign
Guiding your marketing team when working for an external client
Creative Brief Outline
A creative brief can be made in many ways, from a Word document to a PowerPoint presentation or PDF. While there's no single way to write a creative brief, as the structure of a creative brief depends on who's requesting the creative brief and who's drafting it.
For example, a marketing agency working for an external client will need to gather as much information about their client as an in-house marketing team working on a project. Having said that, here's a quick overview of the main elements most creative briefs should include.
Company background: Include important information about your client such as its company's core values, mission and vision as well as the name of the project, what it is and why it's being done.
Brand voice: The brand voice is critical to success and must be tied to the target audience and their values, so decide if it's serious, light, humorous, etc.
Message: Have a clear, simple and single message to tell the target audience. How will they believe that message to be true?
Target audience: Who's the target audience? What do they think about the product or service you're developing, and is there anything that the creative team should avoid? Also, note the competition.
Market insights: What are the key insights that have been learned about the market, and how does that relate to the company, brand or product?
Project goals & objectives: Outline what needs to be accomplished, how it'll be measured and what success will look like.
Project scope: The scope of a project simply refers to all the tasks that will be executed.
Project deliverables: List how to deliver the message to the audience and what the best way to do that is.
Project timeline: Have a schedule to note when something is needed, when it must be done, how many revisions can be fit into that timeframe, etc.
Project budget: What's the financial commitment to developing this project?
Approval: Who's responsible for making approvals and decisions related to approval?
How to Write a Creative Brief
Now, let's go over five simple steps you should follow when writing a creative brief.
1. Start by Understanding Your Client's Requirements
Understanding the expectations and requirements of your client is key to success when writing a creative brief. This will be easier if you're leading an in-house marketing team, as your team members will already have a good understanding of your company's strategy, target audience and goals. If you're working for an external client, make sure you get as much information from them as possible and make sure they approve your creative brief.
2. Conduct Market Research
Don't neglect the work and marketing research before the creative brief is written. Some parts will be easier to develop than others. Defining the target audience and the best strategies to reach potential customers will require your team to do market research. Be sure to give those parts of the creative brief their share of time to get it done right.
3. Set the Goals for Your Creative Brief
Once you've understood the project requirements, it's time to translate them into measurable and realistic goals for your team. For example, the main goal of your creative brief might be to simply increase the brand awareness of your company. Meet with your client and agree on an attainable goal, such as 30% more visitors to their website.
4. Define Your Project Scope & Deliverables
To accomplish the goals set forth in your creative brief, your marketing team will take a series of actions such as launching a social media campaign. Some deliverables will be images and promotional text created by your creative team. Once this social media campaign is live, you will track its success using digital analytics tools. Brainstorm with your team so that you don't miss any detail.
5. Create a Budget for Your Creative Brief
Now that you've defined what your team should accomplish and how it'll be accomplished, you'll need to estimate the costs of each activity on your project scope. Once you know the costs for each task, you will be able to create a budget for the creative brief.
Creative Brief Template
Our free creative brief template is a great tool to get started with creative briefs. It'll facilitate the process and help you make sure you don't miss anything.
Creative Brief Example
The ad agency, Wieden & Kennedy, came up with the Happiness Factory campaign for Coke, with the tagline, "the Coke Side of Life" in 2005. It was driven by an issue that its client had, specifically that "Coke had become a forgotten friend."
Its challenge to the creative team was to remind people what makes Coke special. The brand idea they wanted to deliver to their target audience was that Coke is the genuine taste of happiness. To support that, they listed that Coke is delicious and refreshing, but it won't resolve world peace or restore the ozone layer.
Therefore, the tone was honest, intimate and personal, being friendly, joyful and uplifting. With these signposts to lead the creative team, they developed this eye-catching video. It's remarkable to see how an outline can be filled in so dynamically with the right creative team and the proper direction.
Creative Brief vs. Client Brief
As stated above, a creative brief is created by marketers and creative professionals to guide the efforts of their teams. A client brief on the other hand is a similar document that's created by a client, who uses this document to communicate his expectations to the leaders of a creative team who will then turn that client brief into a creative brief.
Creative Brief vs. Content Brief
A content brief is simply a document that's created to guide the efforts of writers who are working on websites, social media management or other forms of copywriting. It may include guidelines such as brand voice, word count and SEO keywords.
Tips for Writing a Creative Brief
Just because they are highly effective, doesn't mean that creative briefs are present in every instance of project planning. Surveys of ad agency executives have shown that many of the creative briefs used are not clear, and can be incomplete or inconsistent.
To avoid these shortfalls, the creative brief should be written after a client explains their expectations. Then the creative team can compile a list of questions that are answered by the requestor, usually a marketing team leader.
The answers to these questions will become the template for the creative brief and the whole creative execution of the project. As the project moves forward, the creative brief is always referred to, and any deviation can be identified and addressed.
Avoid Adding Too Many Details to Your Creative Brief
Adding too much information to a creative brief is a common mistake. While the creative team should know all there is about the product or service being developed, this is a creative brief—emphasis on the brief. The brief must be short and to the point; there are supporting documents for the details.
Know the Client Before Drafting Your Creative Brief
The client interview is critical to a successful creative brief. They are, after all, the ones who know what they want from the project. The creative team needs to have clear communications with the client, and before any creative brief is executed, it must be approved by the client.
Don't Rush the Process of Writing the Creative Brief
While a creative brief is a short document you should take your time when researching and writing one. Also, once it's completed, don't just let it sit with the creative team. Yes, they can come to you with questions, but it's best to be proactive and keep the human interaction present. Be available for the creative team to ask questions through the project life cycle.
How ProjectManager Helps You Manage Creative Briefs
While a creative brief sets guidelines for your creative team it's just the first step when planning a creative project. Once you've written a creative brief, you'll need the right project management software to plan how your team will execute the work. ProjectManager is robust project management software that offers tools that are ideal to plan, schedule and track creative projects. Here are some of its key features.
Plan With Multiple Project Planning Tools
ProjectManager's project planning tools are perfect to plan and schedule the work that's needed for your creative brief. You can use Gantt charts, kanban boards, task lists and project calendars to create a project schedule, assign tasks to your team members, set due dates and collaborate with them in real time.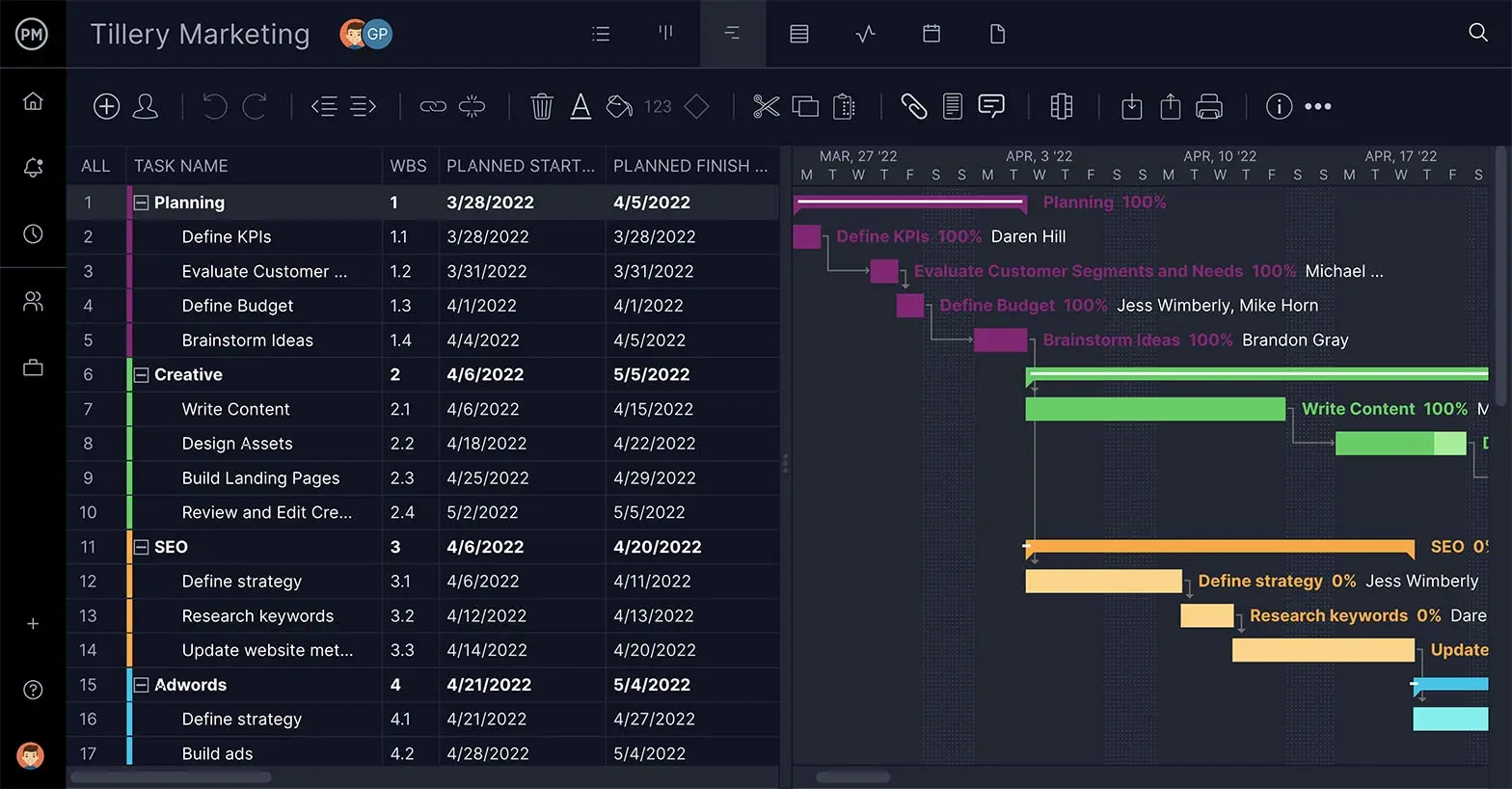 Real-Time Project Dashboards & Reports
ProjectManager's real-time dashboards are ideal for tracking costs, timelines, progress and workload at a glance. In addition, ProjectManager lets you create project reports in minutes so you can keep stakeholders informed.
Track Labor Costs With Timesheets
Creative briefs are executed by a diverse team of professionals, which means different rates of labor costs. ProjectManager's timesheets and planning tools let you track the work hours of each member of your creative team so you don't miss anything.
The creative brief is one of many essential documents that help with the planning of a winning project. ProjectManager is online project management software that helps you plan, track and report on every stage of the project's progress. It offers kanban boards and a collaborative platform for teams to work together more productively and provides managers with real-time data, so they know exactly where the project is at any time. See how it can empower all your teams by taking this free 30-day trial.