Planning a marketing campaign involves a lot of work. There are numerous activities to complete, deadlines to meet and teams to coordinate in order to effectively launch a marketing campaign. Whether you're working on email marketing, content creation or any other medium, you need to see the whole campaign on one page with deadlines, duration and more. Our free marketing calendar template for Excel helps you capture all the important information for your marketing calendar whether for the month, quarter or full year.
Better still, you can open the marketing calendar in ProjectManager and no longer work on a static document that must be manually updated. Our software helps you plan, schedule and track your marketing campaign in real time. Plan with calendars, execute with task lists and collaborate on kanban boards. You can even track progress with live dashboards along the way. Get started with ProjectManager for free.
What Is a Marketing Calendar?
A marketing calendar is a marketing management tool that shows you monthly, quarterly or yearly marketing campaigns and activities, who on the marketing team is responsible for what, due dates and more. Think of a marketing calendar as the visual representation of a marketing plan. Project managers can use it to keep track of the marketing push and make sure it's aligned with the planned effort.
A marketing calendar can be as simple as a grid on a piece of paper to something as robust as marketing project management software. Naturally, a hand-drawn paper calendar isn't ideal for complex projects, but depending on the size of the marketing plan, paper isn't out of the question.
Having a marketing calendar as part of a larger project management software will make work more efficient and effective. You'll be connected to other features that can manage tasks and resources. There's better collaboration with the marketing team and tools to update clients on progress. Plus, distributed teams can work anywhere and at any time.
Whatever medium you use, the marketing calendar is designed to help guide project managers and their marketing team from the initiation to the close of the marketing push. It provides a strategic overview and should be reviewed and updated regularly as projects often change frequently.
Why Should You Use a Marketing Calendar Template?
A marketing calendar template is an ideal tool as it saves time. Because the calendar is already formatted, simply fill in the blanks. A marketing calendar template is a static document and has to be manually updated, but you can print as many as needed and note the version so the marketing team and your clients are always certain they're viewing the most current version.
In general, a marketing calendar template is a great way to keep the marketing team aligned. All work is visible so tasks can be delegated and everyone can get things done more efficiently. You can use the marketing calendar template to plan campaigns around holidays or other seasonal sales and coordinate promotions and PR around these marketing pushes.
Of course, one of the most important reasons to use a marketing calendar template is that it makes your deadlines clear. This keeps the marketing team aware of what they have to do and when. But it's also helpful for the project manager; they can see if the marketing campaign is on schedule. If it's not, they have an opportunity to get it back on track by reallocating resources.
A static marketing calendar template can only go so far in tracking your campaign. You can track milestones, but not workload, costs and so much more. ProjectManager is online project management software that tracks projects in real time. You can track projects across our multiple project views, but the real-time dashboard gives you a high-level look at the whole campaign. Our tool automatically tracks six metrics in real time. You don't have to do a thing but toggle to the dashboard and see how you're progressing and performing. Best of all, unlike inferior software products, there's no setup. It's plug-and-play. Get started with ProjectManager today for free.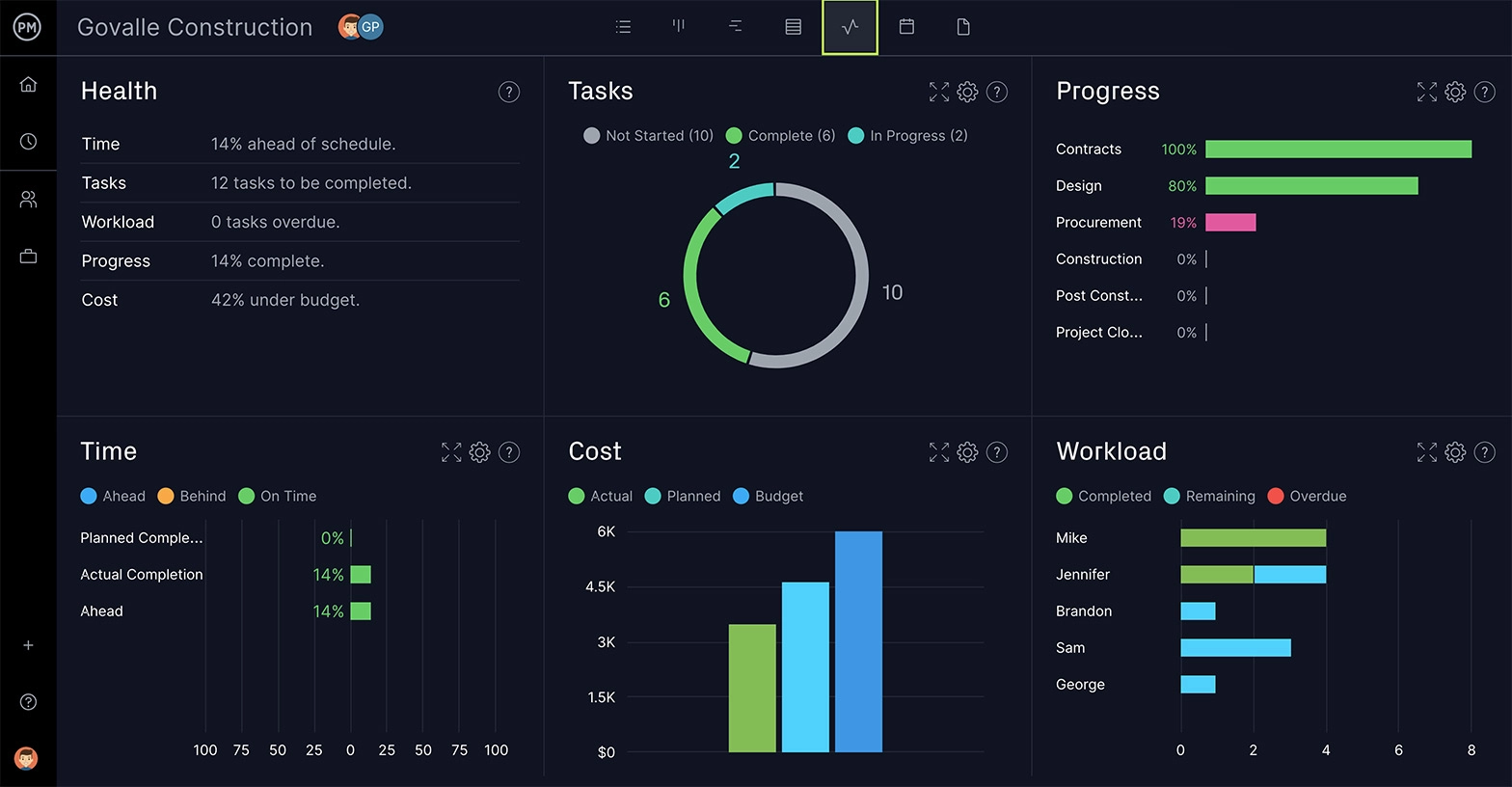 Who Uses & Updates the Marketing Calendar?
The marketing calendar is a direct offshoot of the marketing plan, which is developed by the chief marketing officer (CMO) at an organization. They come up with the strategy at a high level. Often a marketing director or manager will then be tasked with turning that marketing plan into a marketing calendar.
The marketing director or manager does the more practical scheduling and resource allocation as dedicated by the budget, which is often submitted by the CMO but approved by the client and C-level executives at the organization. The manager or project manager for the marketing campaign is involved in the day-to-day operations of the campaign and reports regularly to the CMO who updates the client on progress.
In terms of updating the marketing calendar, that's often the responsibility of the manager. They're on the ground and managing the marketing team, responding to issues as they arise and reallocating resources to keep the project on schedule and within budget. However, the CMO is likely consulted for any major decision-making.
How to Use Our Marketing Calendar Template
Once you download our free marketing calendar for Excel, you'll have everything you need to visualize your marketing plan across a month, quarter or year. Our free marketing calendar is fully customizable and you can add your logo and more columns as needed. Each month is laid out as a tab to help you organize your marketing campaign.
Each tab has everything you need to schedule your marketing campaign. Down the left-side column is the date. The next column lists the campaign name. In our example, that's a follow-up to an ebook. Next, there's the name of the task. Again, in our example, we have three tasks with a duration of 10 days. This starts with creating the content, the art, and, finally, sending the email.
The next column describes the tasks. For example, under content, it reads, writes and edits copy. Under art, it says design email. Following the task description is the due date for each task and a column that lists the people on the marketing team assigned to that task. The next column is a line item from the budget for the cost of that task.
The last few columns are devoted to goals, which in our example is for a 10 percent increase in the open rate for the email, a 20 percent increase in CTR and a 10 percent increase in signups. The penultimate column shows the duration in days for the entire campaign. Finally, there's a column to add any notes that don't fit into the previous columns.
Using the Marketing Calendar Template With ProjectManager
You can download the free marketing calendar for Excel, but if you've used Excel, you know it has limitations. It's easy to look at an out-of-date spreadsheet which causes a world of problems. But if you use the marketing calendar template in ProjectManager, you'll have none of those issues. Plus, you'll be able to track live data and use multiple project views that all update at the same time. There's never any worry that you're working off of old data.
Make Your Marketing Plan on Gantt Charts
A marketing plan is more detailed than a marketing calendar. You have to allocate resources, deal with costs, link dependent tasks and much more. Our Gantt chart does all of this, plus you can filter it for the critical path to see which tasks are essential and which can be skipped. Then set a baseline and you can track the variance between your plan and actual progress. Best of all, you can toggle to the calendar view and your marketing calendar is there for you to use.
Track Your Progress in Real Time
Once you set a baseline on the Gantt chart, it feeds live data to the real-time dashboard. Now you can get a high-level view of your marketing campaign. You don't have to do anything but switch to the dashboard view, unlike inferior products that make you set up the dashboard. The live dashboard captures six metrics, from your costs to your workload and more. They're all easy to read in colorful graphs and charts so you can get an instant status report whenever you need it.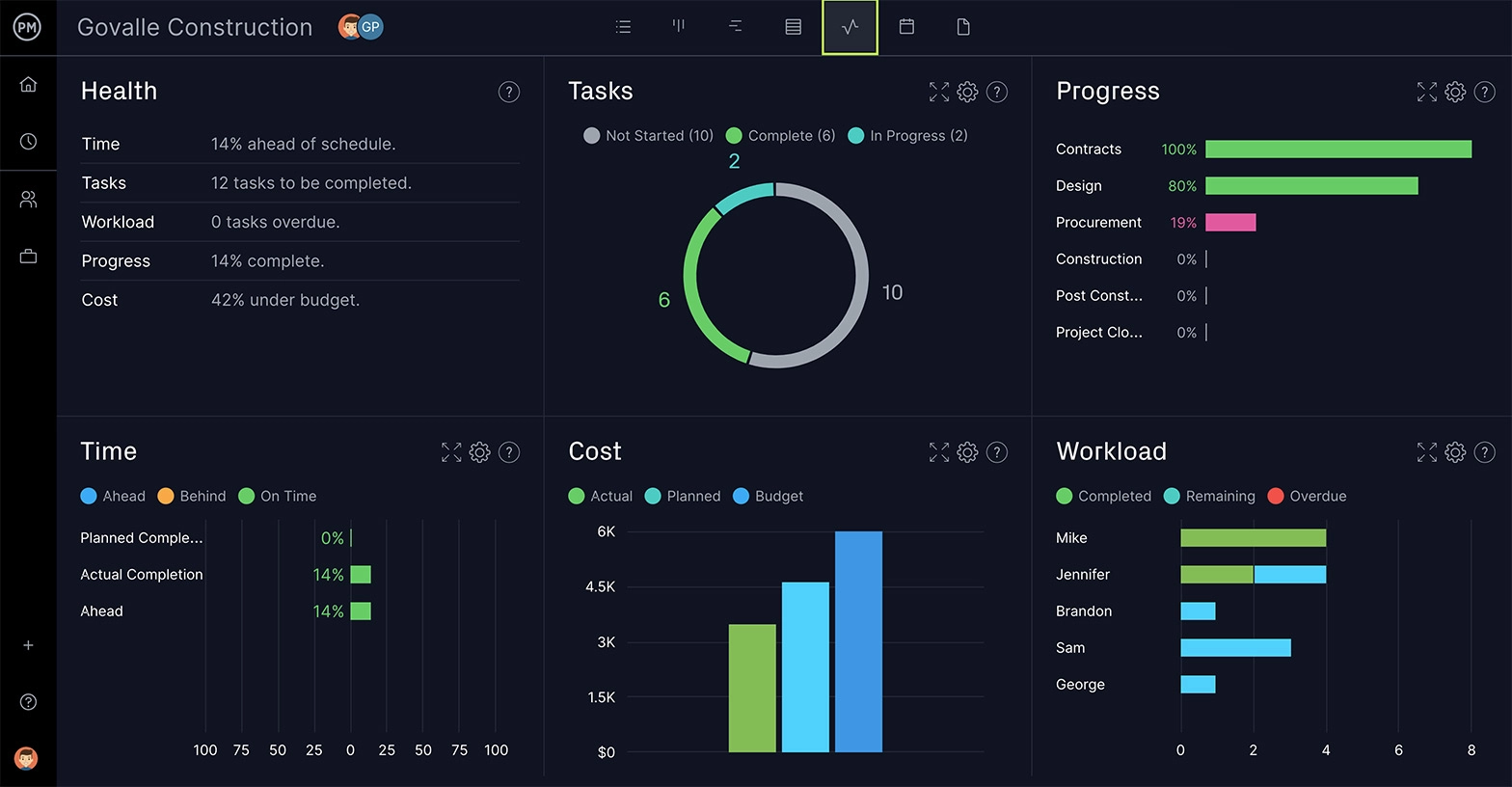 Of course, there are many more features to help you manage your marketing push. From resource management tools to balance your team's workload to automation to streamline workflows and customizable reports to keep your client updated on progress. Get more control over your marketing campaign with ProjectManager.
More Free Marketing Templates
If you're not ready to make the leap to software, we understand. If that's the case, browse our template page to find dozens of free project management templates for Excel and Word to help you through every phase of your marketing campaign. Here are just a few examples.
Getting your product or service to customers involves a detailed marketing campaign. Our free marketing campaign template is where you should be placing your focus to hit that coveted target audience. Chart each step of your marketing campaign, from goals to planning and execution with our free marketing campaign template.
Of course, to execute your marketing campaign, you'll need a budget. Our free marketing budget template for Excel outlines your marketing campaign costs to make sure you're keeping to the budget. Our free template breaks down these costs yearly or quarterly and the template is completely customizable to fit your marketing plan.
Speaking of a marketing plan, you'll also need one of those. Our free marketing plan template for Word helps you define marketing and advertising goals and determine your current marketing position. Use it to schedule tasks over a timeline with duration, key performance indicators (KPIs) and your target audience and market.
Related Content
If you want to read more about marketing, you've come to the right place. Besides being the premier project management software tool, we're also a popular project management hub with white papers, tutorial videos, blogs, guides and more—everything you'd want to know about project management from start to finish. Here are some of our marketing-related content.
ProjectManager Is Marketing Management Software
Whether you're making a marketing plan, budget or calendar, our online software helps you plan, schedule and track your marketing campaign in real time. That means you can make more insightful decisions and your marketing team are connected across departments, even if they work remotely. Get software that teams at NASA, Siemens and Nestle use to deliver success. Get started with ProjectManager today for free.