Making decisions is one of the main responsibilities of a manager. They can create a plan, schedule tasks and resources, create a budget and assemble a team, but once the project is executed, they're inundated with choices. Our free decision matrix template can help them evaluate and prioritize their options.
Use our free decision matrix template for Excel and have a tool to help you make better decisions when managing your project. Download the free template now and get started appraising your options and knowing what to do first.
What Is a Decision Matrix?
A decision matrix is a tool to evaluate and prioritize a list of options that are used by project managers and project teams to systematically identify, analyze and rate sets of information. It's especially helpful when looking at a large number of factors and assessing each in relative importance.
The tool works by placing a series of values in columns and rows that allow users to compare each possible solution, weighing variables by importance. This allows the project manager and their team to pick the best course of action, prioritize tasks and solve problems. A decision matrix provides a logical viewpoint for selecting the best alternatives.
In a sense, you can look at our decision matrix template as a tool to remove emotion from your decision-making process and make more logical, less impulsive decisions. We'll get into how to use the decision matrix template shortly, but suffice it to know that it works by determining a list of criteria that influence a situation and then assigning a weight value to each to visualize the importance of each criterion in relation to the situation or problem.
Why Use a Decision Matrix Template?
One uses a decision matrix template to make a decision. It can often be hard to discern what is the right course of action. There are usually many paths forward and in the heat of managing a project it can be difficult to look at the problem with dispassionate eyes. Removing the emotional component of making a decision often reveals the best option.
It's easy in a project to just forge ahead, but just because it's easy doesn't make it right. Using our free decision matrix template gives project managers and their teams a chance to self-reflect and analyze the various options without as much bias as they would normally view the situations.
Of course, a decision matrix only helps you choose what to do. It doesn't help you do it. For that, you're going to need project management software. ProjectManager is award-winning project management software that helps you plan, manage and track in real time. Once you have made a decision, our powerful Gantt charts help you organize your tasks, resources and costs into a visual schedule on a timeline to help you see the whole picture. Get started with ProjectManager today for free.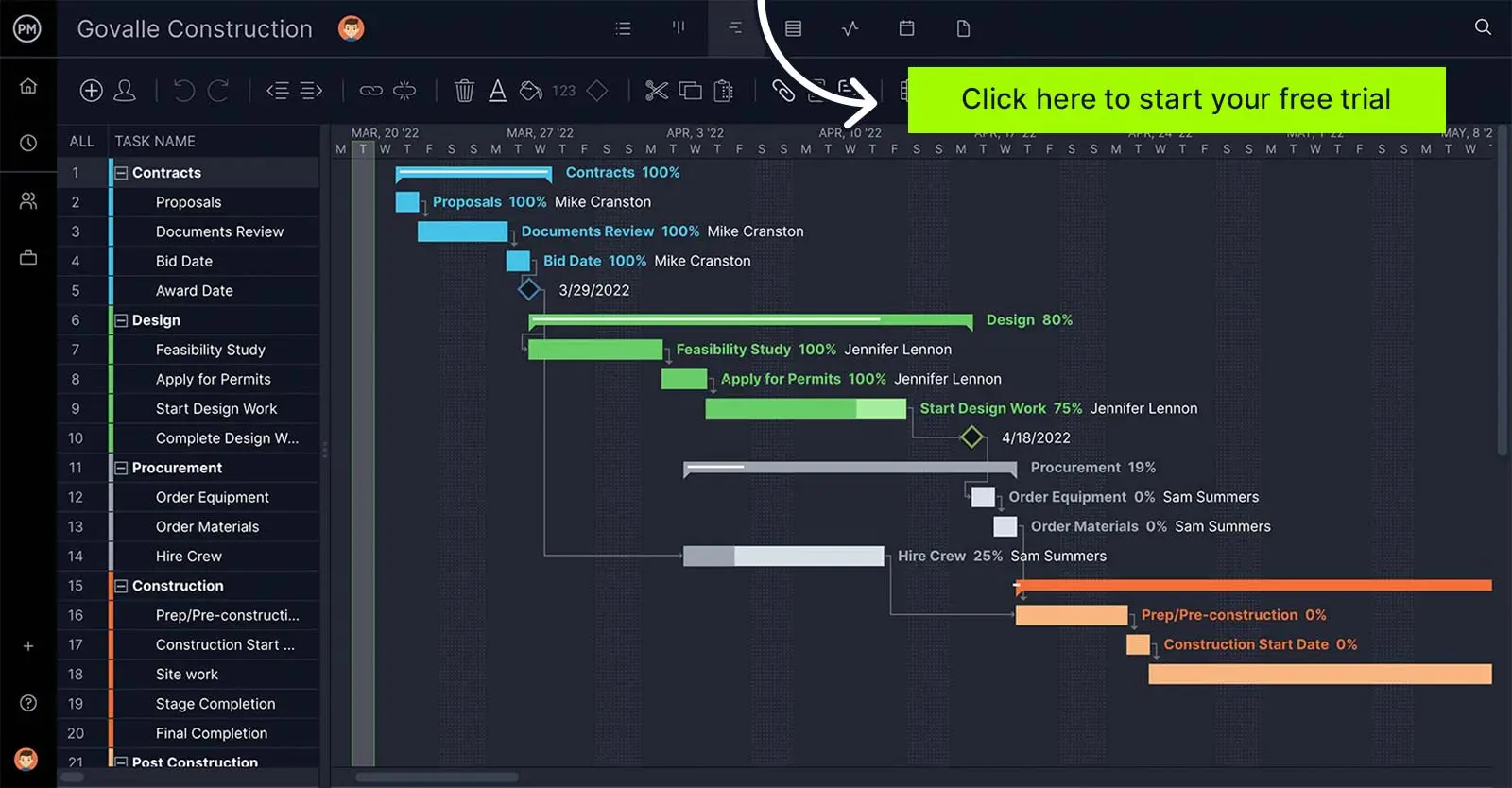 Who Should Use This Decision Matrix Template?
Whoever has to make a decision is going to benefit from the use of our decision matrix template. The more choices, the better the decision matrix works to whittle them down to make the choice less overwhelming.
However, in project management, the decision matrix is a great tool for project managers and their project teams. Project managers can identify, analyze and rate the various choices they can make to determine which one is the best for the project and won't negatively impact the scope, time or cost of the project.
The project team can also find value in using a decision matrix. They can use it to determine which tasks have priority and should be done first. Sprint teams use a decision matrix to manage their backlog. In fact, any decision can be put through this matrix to help make a more logical choice.
When Should You Use This Decision Matrix Template?
It should be clear that a decision matrix template should be used whenever there's a problem or multiple choices from which you have to make a decision. It's ideal when you have a large list of options that must be narrowed down to only one choice.
But the decision matrix template is also a great tool when having to make a decision on the basis of several criteria. Because of the way the decision matrix is designed, you can list as many criteria as you need to help you make better decisions.
The decision matrix template can also help once you have taken a large list of options and reduced it to a manageable number, but still need to get it down even further to one choice. The decision matrix can help you do this and remove any unconscious bias you might have.
How to Use This Decision Matrix Template for Excel
When you download our free decision matrix template for Excel, it'll already be filled in. Just delete the boxes you want to be empty. You can also change the criteria listed on the left-hand side of the matrix and the top horizontal line is where you can list your ideas, problems or alternatives. That row can go on as long as you like as the template is fully customizable.
The following are the steps you should take to use this decision matrix. Each step is explained to help you get the most out of the decision matrix template.
1. Identify Your Alternatives
Since a decision matrix template helps you make a choice among similar alternatives, the first step is identifying what those alternatives are. This can be choosing among many vendors or services and determining which is best for you by listing the pros and cons. These alternatives will be listed across the top row of the matrix.
2. Define Your Decision-Making Criteria
Now that you have your options, it's important to decide what criteria you'll be using to make a decision. The criteria are listed vertically on the first column of the decision matrix template. These criteria can be anything from cost to quality. Whatever it is, this is when you decide on how you'll thin the herd.
3. Add a Score for Your Alternatives
Under each alternative, you'll list a score. We've already created one for the decision matrix template, which goes from one to five, one being doesn't meet the criteria and five being significantly exceeds the criteria. But you can determine what that number rating is for yourself if our definitions don't meet your needs.
4. Add a Weight to Your Decision-Making Criteria Items
Adding weight means signifying that some of the ratings are more important than others. You can also use the rating scale of one to five, one being least important and five being most important. This will help you weigh the decision to meet your most important criteria.
5. See the Totals for Each Alternative
Each alternative will have a total when you add up the ratings for each criterion. The weighted and the regular columns will each have their own total. Then the weighted total and the regular total for that alternative will be multiplied. The highest number is the choice you want to pick.
6. Share the Decision Matrix Template With Your Team
If you're a project manager using our free decision matrix template, the last step is sharing the decision with the team. A decision must be communicated to the entire team in order for it to be followed.
Related Decision-Making Templates
The decision matrix template for Excel is only one of dozens of free templates available on our site for immediate download. There are project management templates for Excel and Word that cover every aspect of a project from initiation to closure. Here are just a few that relate to decision-making and its aftermath.
Another decision-making tool is our free project prioritization matrix. It can be used when managing a portfolio and deciding how to allocate resources or you can just just use it to decide what to do now or later. It's a simple but effective Eisenhower matrix.
Use our free cost-benefit analysis template for Excel to determine if the project or decision you're about to make is worth the investment. Save yourself a lot of wasted time and money by looking at the quantitative costs, quantitative benefits and more.
SMART goals are specific, measurable, attainable, relevant and time-bound. Our free SMART goals template for Excel helps you figure out if the goals you want to set are good ones, that is they can be done without creating a sinkhole of waste.
How ProjectManager Helps You Keep Track of Your Projects
All of those templates are going to help you steer the course of your project, but project management software is the steering wheel. ProjectManager is award-winning project management software that comes in when you've made the decision and now you have to plan, manage and track your work to make sure you reach the goals you've set for yourself or your project. We've already shown how our Gantt chart makes the plan, but we didn't mention that there are four other project views—kanban boards, task lists, sheet and calendar views—that let the team execute those tasks with tools that they're most comfortable with.
Track Progress and Performance With Real-Time Dashboards
Executing those tasks is only the start. You have to meet those goals on time and within budget. To ensure that the project is moving forward as scheduled, use our real-time dashboards that capture live project data and display them on easy-to-read graphs and charts. You can quickly see costs, time, workload and much more. Unlike lightweight alternative tools, there's no lengthy setup required for our dashboard. Just toggle over and get a high-level view of the project whenever you want one.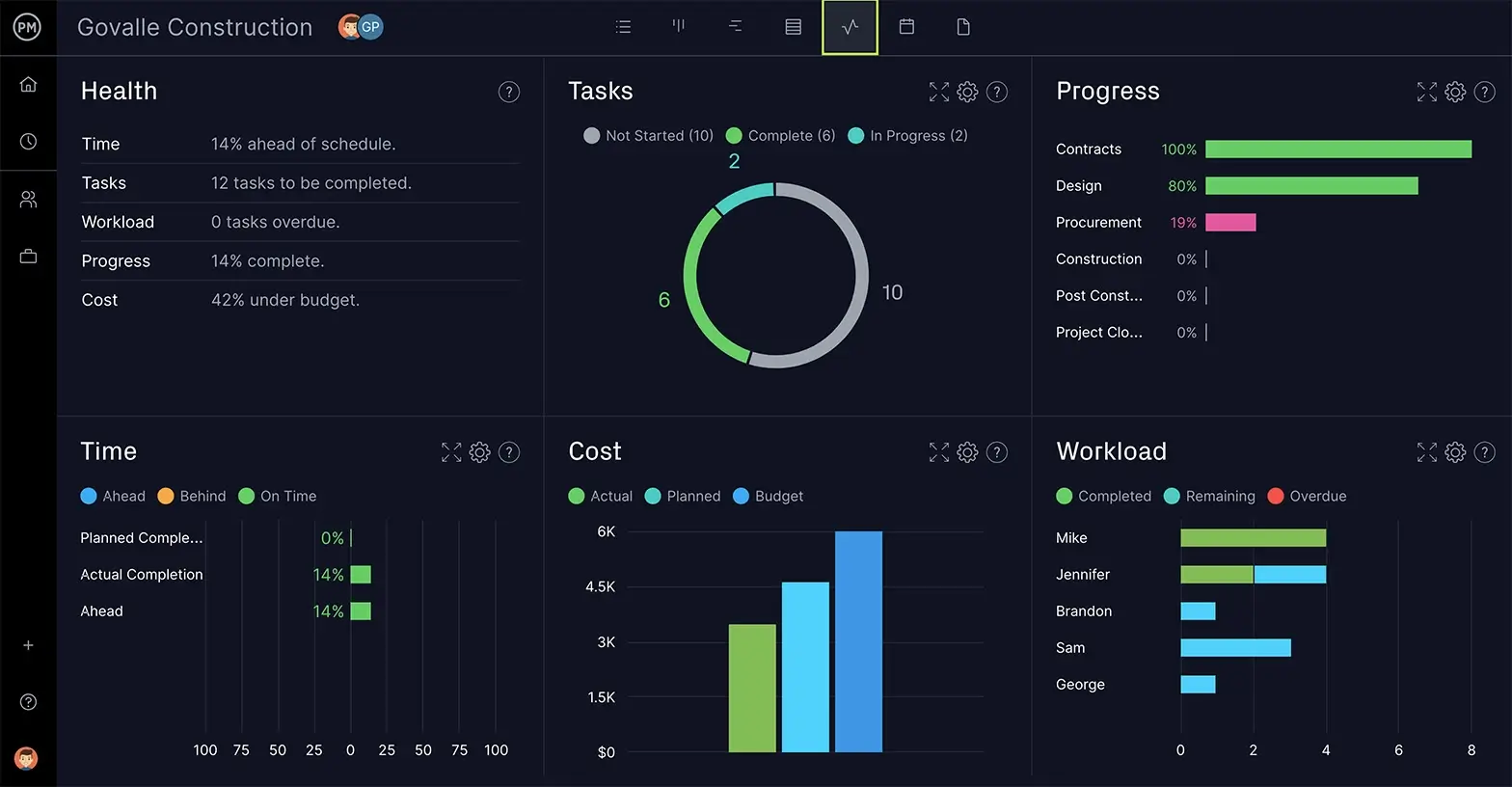 Stay Productive With Resource Management Features
Our software also helps you with your resources. You can add resources to tasks on the Gantt chart and set the availability of your team, including PTO, global holidays, vacations and more, to make assignments easier. There's also a color-coded workload chart where you can see at a glance whether team members are overallocated. If they are, balance the team's workload right from the chart. Keep them working at capacity and staying productive to meet your goals.
Related Content
ProjectManager is more than a flexible, powerful project management software, it's also the online hub for all things project management. We publish original blogs weekly, have tutorial videos, guides and, of course, lots of free project management templates. Here's a sampling of some of that content that's related to the topic of decision-making.
ProjectManager Helps You Turn Decisions into Project Wins
ProjectManager is online project management software that connects teams whether they're in the office, the job site or anywhere in the world. You can share files, comment at the task level and much more. More than just a collaboration tool, our software has task management features that make teams more productive, risk management tools to help you manage issues, automated workflows and task approval settings and so much more. Get started with ProjectManager today for free.