Projects are vehicles that deliver goals for businesses, but those goals must have a basis in reality or the project is doomed to fail before it begins. To determine if your goals are viable, use our free SMART goals template for Word. This SMART goals worksheet gives you the criteria to test your goals to ensure that you can meet them. Download our free SMART goals template for Word today.
What Are SMART Goals?
SMART is an acronym for specific, measurable, attainable, relevant and time-bound. This framework helps you write goals that are more impactful, but they also help in tracking goals from where you started to where you want to go. We'll explain each of the initials for SMART below when we discuss how to use the free SMART goals template for Word.
Why Use a SMART Goals Template?
The free SMART goals template is helpful because it lays out everything for you so you can concentrate on defining your goals. It's a document that can be archived and retrieved when researching historical data for future projects that are similar in scope.
Having SMART goals also provides direction for the project team and helps them create objectives that'll achieve their goals. It evaluates the strengths and weaknesses of the goal, but most importantly, motivates the team and gets them out of their comfort zone, pushing them to take action.
The SMART goals worksheet is very useful in achieving your goals as it ensures they're the goals you want. Plus, it ensures that your goals are in fact achievable and places them within the context of a deadline so they don't go on forever. This creates a powerful focus that drives the team to achieve its goals. It can enhance performance while identifying areas that need improvement.
There's a great sense of satisfaction in achieving goals and saving time on goals that aren't achievable. But, of course, all a SMART goals template can do is better define the goals. Once that's done, you'll need project management software to get the actual work done.
ProjectManager is award-winning software that has multiple project views so each team can use the tools that are right for them. Managers can plan and schedule tasks on powerful Gantt charts that link dependencies and set milestones. Teams can then work on kanban boards to visualize their workflow or robust task lists. The calendar view is great for keeping stakeholders updated on progress and achieving milestones. Get started with ProjectManager today for free.
Who Should Use a SMART Goals Template?
Anyone or any organization needs a SMART goals template. It's part of business management, but also important in project management. Managers of all types, including project managers, use a SMART goals template to create, organize and identify the resources needed to reach these goals.
When Should You Use a SMART Goals Template?
There are many times that SMART goals are ideal. As mentioned, corporations use a SMART goals template to identify their strategic goals and project managers can use them to define the project or even to help them break down a large project into smaller, achievable goals.
But really anyone in almost any situation can use a SMART goals template, from individuals trying to get a job or just cleaning the house to managers looking for a useful framework to improve the performance of their employees.
Whoever is using a SMART goals template for whatever end, they'll want to use it in the planning process. SMART goals will inform your plan, whether for a project or setting the strategic goals of a large company.
How to Use This Free SMART Goals Worksheet
Once you've downloaded the free SMART goals template for Word, you'll find a grid of three columns and six rows. The top row indicates the title of each column. There's a column for each letter of the acronym, a brief explanation of what that means and a column in which you can write out your answers.
As we mentioned, we'll get into what each category means in greater depth. Below are the five categories that make up a SMART goal with a set of questions for you to ask to answer them fully.
What Characteristics Make Your Goal Specific?
Here's where you'll literally get specific, the first letter of our acronym. You'll want to be clear and answer the classic who, what, why, where and which of the goals. The following are some of the questions you'll want to answer.
What is the goal?
How will this goal be achieved?
Who is responsible for achieving this goal?
What are the success criteria for this goal?
Can This Goal Be Measured?
Your goals should be measurable for you to track them throughout the project or process and ensure that they're being met. This will also help motivate you or the team, whoever is tasked with achieving the goal. You should ask yourself questions like how much and how many and have success criteria to know when the goal has been accomplished. Also, think about these questions.
Is it possible to measure this goal quantitatively?
What tools or methods will be used to measure the success or failure of the goal?
Why Is This Goal Attainable?
If you can't achieve the goal, then you shouldn't be trying. It's a waste of time and money. That's why you want to keep the goal realistic. Asking yourself these questions will help define whether the goal is attainable and help establish how you can accomplish it.
Is there any historical data to support the feasibility of this goal?
What resources are needed?
Why Is This Goal Relevant?
Now, you want to ask if the goal is helpful for you or your organization and if it aligns with broader strategic goals and objectives as defined by the executive team. Basically, is it worthwhile, is the time right, etc.?
Why is this goal beneficial for your organization?
What is the priority level of this goal?
Why Is This Goal Time-Bound?
A goal can't be open-ended or it'll suck your money and resources dry. This is where you'll figure out if this is a six-week or six-month task. The duration will play into your final decision.
What is the deadline for the completion of the goal?
Free Templates to Deliver SMART Goals
Once you've gone through the process of determining if your goals are SMART, then you have to start the process of actually achieving them. ProjectManager has dozens of free templates for Excel and Word that can help you throughout the entire project life cycle, including reaching your goals. Here are three free project management templates that turn goals into plans.
Use our free action plan template for Excel to figure out the steps you need to take in order to reach your goals and hit your deadline. You can break up the project into phases and tasks, add start and finish dates and even the resources needed to complete the work.
A to-do list is a simple but effective task management tool that helps you organize your time so you can reach your goals. Our free to-do list template for Excel lists all your tasks, adds start and finish dates and even tracks your progress to make sure you're on track.
A project timeline is a planning tool that has tasks and start and finish dates on one side with the same information on the other side but laid out visually so you can see the entire project in one place. Our free project timeline template for Excel does this automatically.
Turn SMART Goals Into Action Plans With ProjectManager
All those free templates are helpful but involve a lot more work than using project management software. They're static documents and need you to manually input everything and, if there's a change, you'll have to go back and revise it. That takes time. ProjectManager is award-winning project management software that allows you to plan, manage and track projects in real time. Our software has the features project managers need to manage tasks, risks and resources to deliver projects on time and within budget.
Manage Resources to Stay on Track
To achieve your goals, projects require resources. Sourcing and scheduling resources are critical to delivering the project and reaching your goals. Our software makes it easy to assign team members to tasks by capturing their availability, including PTO and global holidays for distributed teams. Resources and costs can be planned on the Gantt chart to ensure you have what you need when you need it. Plus, there's a workload chart that's color-coded to make it easy to see at a glance who's overallocated. You can then balance the team's workload right from that chart to keep them working at capacity and productive.
Monitor Goals With Real-Time Dashboards
It's important to have a window on the progress and performance of your project to ensure it's meeting the milestones you set when planning. Our real-time dashboard gives you a high-level view of metrics such as time, cost and more with easy-to-read charts and graphs. Unlike lightweight software tools, our dashboard doesn't make you spend unnecessary time setting it up. Simply toggle over to the dashboard and it's ready to go. If you're looking for more detailed data, our reporting features have status and portfolio reports and many more, all of which can be filtered to show only the information you want. They're also easy to share to keep stakeholders informed.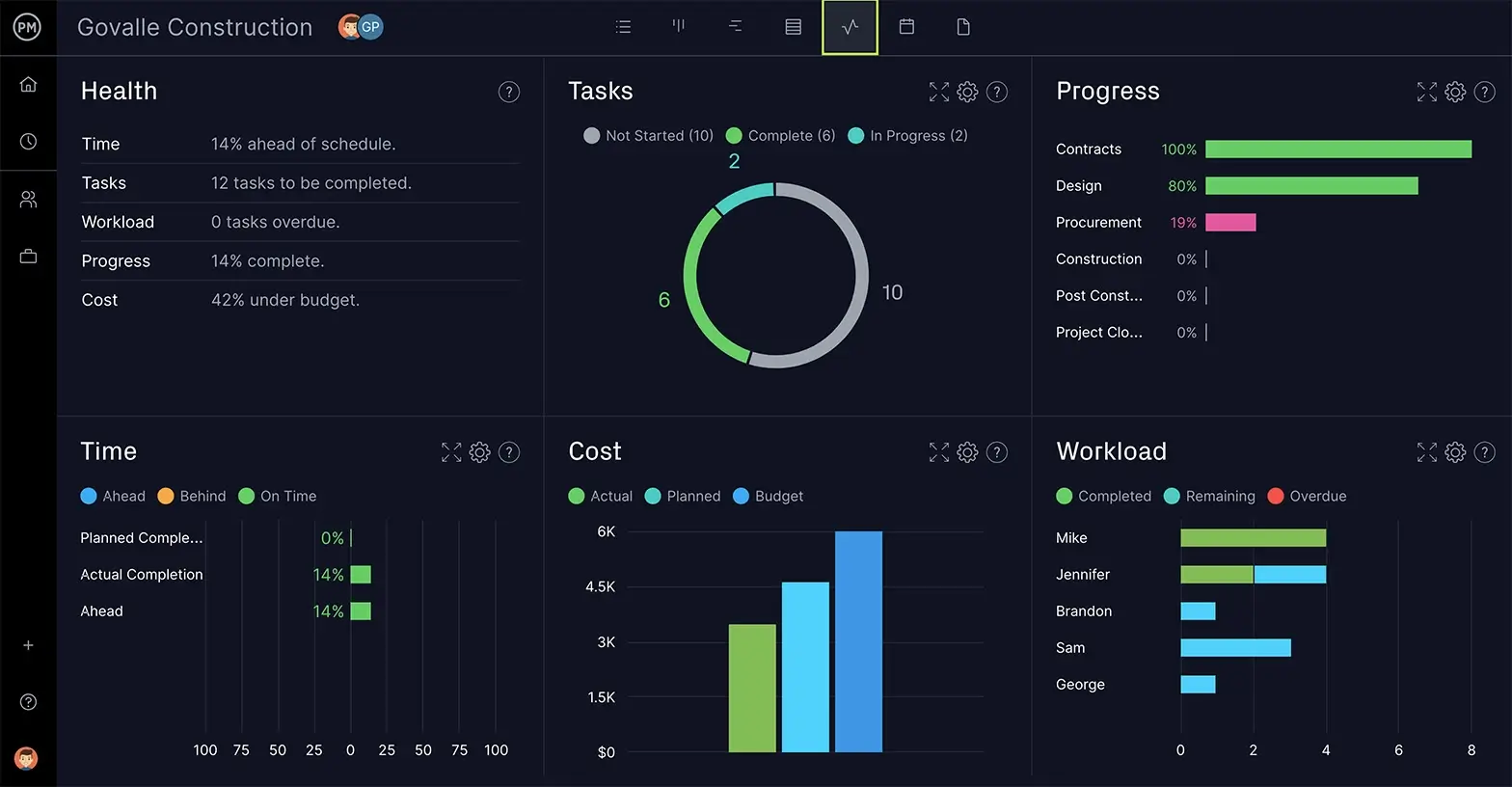 Related Content
If you're still interested in reading more about SMART goals and related topics, we've posted a few links to some of the blogs and videos we've published on the subject. ProjectManager is software but our website is an online hub for all things project management, with weekly blogs, tutorial videos, guides and, of course, free templates. Explore the site for a wealth of information.
ProjectManager Helps You Achieve Your SMART Goals
After you've established your SMART goals, ProjectManager is the tool you can use to achieve them. Our online software connects teams who work in the office, at the job site or anywhere in the world. You can share files, comment on tasks and much more. We have automated workflows to create efficiencies with task approvals to ensure quality. You can set recurring tasks to never miss another meeting and unlimited file storage with global search means all project documentation is at your fingertips. Get started with ProjectManager today for free.