Making assumptions is usually frowned upon. However, in project management, project assumptions are essential for planning a project. But how do project assumptions differ from the assumptions that often mislead us in our daily lives?
Let's take a look at how project assumptions are defined in project management and why they're so important. Then we'll learn about a project assumption log and how assumptions differ from constraints and risk. We'll even throw in a project assumption example for further clarity.
What Are Project Assumptions?
A project assumption is used in project planning to define a factor that's true, real or certain, even if there isn't proof. You have to presume that there are certain truths to proceed with planning your project.
That doesn't mean that all project assumptions are true; sometimes they are and other times they aren't. That's why when you make a project assumption, you have to be very careful and analyze it well.
An assumption in project management can be an event or circumstance that one expects to happen over the life cycle of the project. You can think of it as an educated guess. Project managers usually have years of experience and have learned lessons from previous projects. That gives their assumptions more credibility than some novices.
Planning a project is based on many assumptions. The more reasonable those assumptions, the better the project. ProjectManager is online project management software that helps you turn assumptions into a viable project plan. Our interactive Gantt charts organize your tasks, link dependencies to avoid delays and even filter for the critical path. Then you can set a baseline to monitor project variance in real time to stay on track. Get started with ProjectManager today for free.
Why Are Project Assumptions Important?
Project assumptions are important because you can move forward without them. There's simply no way to prove everything in a project plan. You're estimating costs, duration and more. Assumptions open the door to the project and its planning.
By identifying project assumptions you're able to better understand whether the project's goals and activities are realistic and achievable given the timeframe you have. Analyzing assumptions is part of project risk management.
If you analyze your project assumptions and they're proven wrong, you're going to have to revise your project plan. That's why project assumptions must be identified, tracked and managed throughout the life cycle of the project.
Creating a Project Assumptions Log
In order to identify, track and manage assumptions, you have to create a project assumptions log. This is a key piece of data for creating your project plan and reviewing it throughout the course of the project.
It's during the initiation phase of a project that a project manager will make the assumption log. It informs the writing of the project charter. Here you'll make high-level assumptions. Assumptions based on tasks, which are considered a lower level, are made during the execution of the project.
Though you create the project assumption log during an early stage of the project, it should be regularly reviewed and revised. Then you can close false assumptions and continue to track active ones.
When making an assumption log be sure to include the following for each assumption.
The date assumption is logged
What category it is, such as budget, scheduling, etc.
Name and describe the assumption
Impact of assumption, such as high, medium or low
Rate uncertainty of assumption from high, medium to low
Assign an owner who is responsible for the assumption
Define a plan of action to mitigate the impact if the assumption is true
Set date for next assumption review
Note the status of the assumption, such as closed or open
Project Assumptions vs. Project Constraints
Project assumptions are one of many things that a project manager must consider as they work on building the project plan. Let's discuss some other things that a project manager must identify at the beginning of the project in order to deliver it successfully.
As we've discussed, a project assumption is what's believed true in a project. This can be an event or circumstances that are likely to occur over the course of the project's life cycle. The project manager is able to make such assumptions about the project because they have experience, can research historical data and seek the advice of experts.
A project constraint is a limitation to the project. This can be anything from the budget to the schedule and resources that'll be needed to execute the project. According to the Project Management Institute's Project Management Book of Knowledge, (PMBOK), there are six constraints in projects: scope, quality, schedule, budget, resources and risk.
As with project assumptions, these constraints are identified at the beginning of the project and create boundaries in which the project will be executed. Typically, there are two types of constraints. Business constraints are high-level issues that depend on your organization. It's rare for these constraints to change. Technical constraints are those that limit design choices. They're fixed and changes to them will impact the project plan.
The differences are that assumptions are thought to be true but constraints are true. Assumptions tend to be good for the project while constraints aren't. If an assumption is proven false it can be bad for the project, while false constraints are good.
Project Assumptions vs. Project Risks
It's clear that project assumptions mean something that is going to happen. You can look at project risk in a similar way. Risks can be good or bad, but they are also assumptions. If a risk in fact appears in the project, it's no longer a risk but an issue and a problem that must be either resolved or leveraged.
But project assumptions and project risk, though similar, aren't the same. They differ in their point of view. If a risk happens, the project is affected either positively or negatively. However, if an assumption doesn't happen over the life cycle of the project, the project is affected.
Examples of Project Assumptions
We've discussed assumptions and how important they are for project planning. They're such a critical part of planning that you need to maintain a project assumptions log. We've also discussed how project assumptions share commonalities with project constraints and risks and how they differ.
Before we wrap up, let's explore a few examples. Project assumption examples help put abstract definitions into the real world, which is where they exist in your project. Let's take a quick look at some of the assumptions that can occur over the course of managing a project.
One of the assumptions you make is that you'll have all the resources you need to complete the project within the timeframe allowed. That means, skilled team members, equipment, materials, etc. Maybe you're assuming that those team members will be available and not on vacation. You're assuming that the timeframe of the project won't occur over a major holiday that could disrupt production.
It could be something as seemingly trivial as assuming all stakeholders will be present at your meetings. This might not appear to be a big deal, but if you know your stakeholders' expectations then you're not going to have all the information you require to plan accordingly.
Another assumption is that the equipment you have is in good working order. It should be maintained and at the ready so you can, say, manufacture those widgets that the marketplace desperately needs. But if machinery needs repair or replacement, you can't feed that demand before your competitors.
There there are your suppliers. If you're in construction, you need to have the materials on site when scheduled. Likely, you have good relationships with your vendors and suppliers. They will deliver as expected. But if they don't, then the project will probably not meet the deadline, which could have a domino effect that you definitely don't want.
ProjectManager Helps Track Project Assumptions
To avoid those false assumptions, you need project management software that can track live data. ProjectManager is online project management software that can keep track of your project assumptions in real time. That allows project managers to make more insightful decisions. Plus, our risk management tools help you identify, track and mitigate risk in your projects.
Monitor in Real Time With Live Dashboards
Project managers need to check their progress and performance throughout the project's life cycle. Our real-time dashboards give them a high-level view whenever they want. There's no setup required and our tool automatically collects and calculates six project metrics that are displayed in easy-to-read graphs and charts.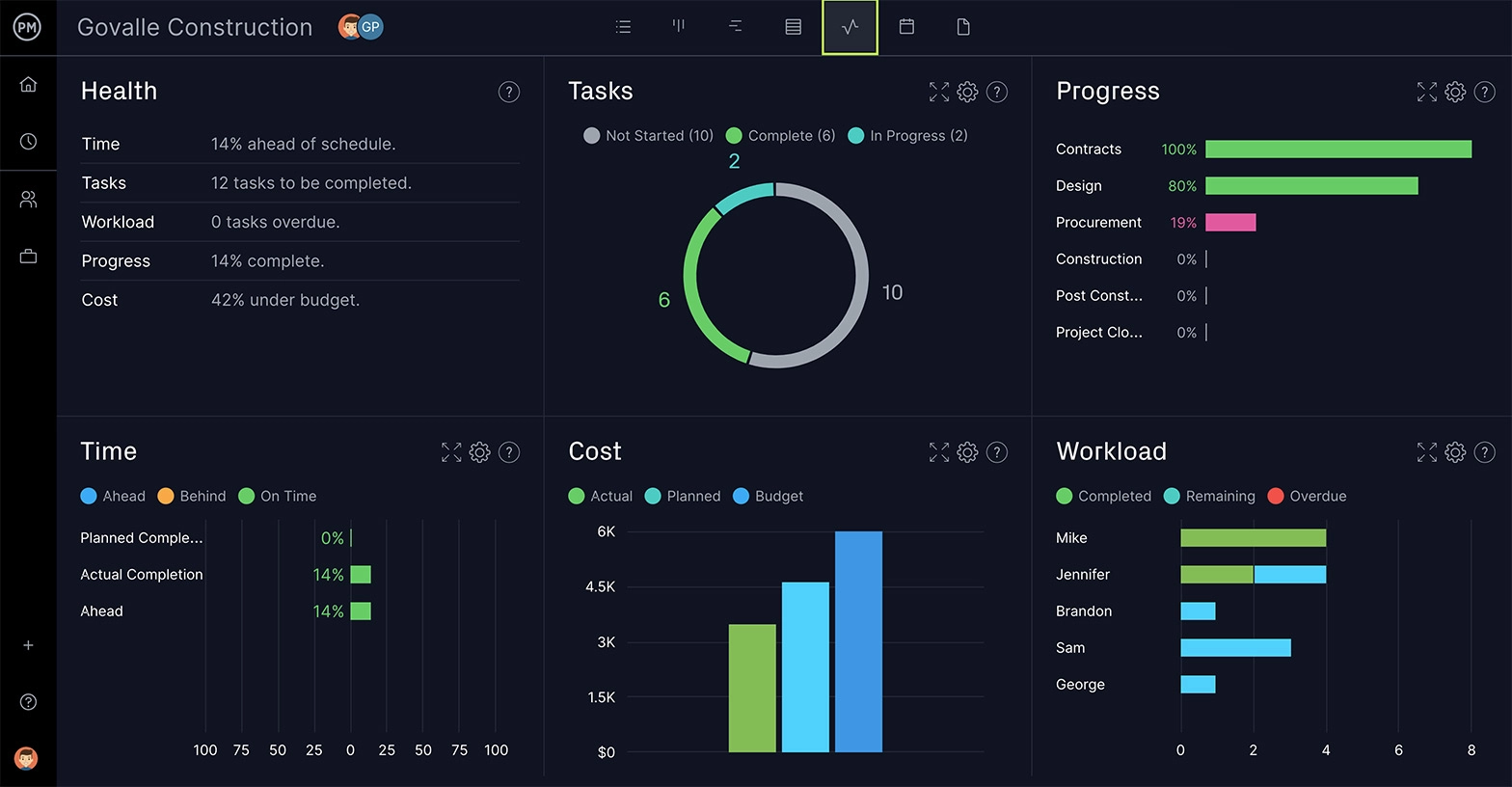 Manage Resources to Keep on Schedule
You make an assumption that your resources will perform as expected. If you note a workload issue on the real-time dashboard, just toggle over to the workload chart. It's color-coded, which makes it easy to see who is overallocated and who needs more work. Then balance the team's workload from the chart. It's as simple as that.
Our tool also makes it easy to see your team's availability when scheduling tasks, track the time they spend on those tasks with secure timesheets and give them a collaborative platform to share files, comment and work better together. The one assumption you can be sure is true is that ProjectManager will help you deliver a successful project.
ProjectManager is award-winning software that helps you plan, schedule and track projects. Our risk, task and resource management features help you better manage projects. Join the teams at NASA, Siemens and Nestle who already use our software to deliver success. Get started with ProjectManager today for free.