If there's one thing you can be certain of when managing a project, it's change. If only you knew ahead of time what those issues would be, you could better address them. Although it's impossible to predict the future, with these free risk management templates, you can better prepare for the unexpected and be more apt to keep your project on track.
There are many project management templates that are designed to help you identify, respond to and track those risks. This helps you avoid an issue that becomes a problem that negatively impacts the project's time, cost and scope. Download these free risk management templates and gain more control over your project.
1. Risk Management Plan
A risk management plan is a document that describes how a project management team will manage risk over a project. Risk management plans consist of several sections that describe the potential risks of a project and the various risk mitigation strategies that will be executed to manage said risks. To provide a clear view of project risks, a risk management plan typically contains a risk register, risk breakdown structure, risk matrix and a risk mitigation plan. Our risk management plan template helps you organize these different risk management documents.
2. Risk Register Template
Planning for risk is how you manage risk. While it's impossible to know what'll happen, an experienced project manager will have the resources to predict what might happen. In order to define the potential of the risk from showing up in your project and what the impact could be, you'll want to use our free risk register template for Excel.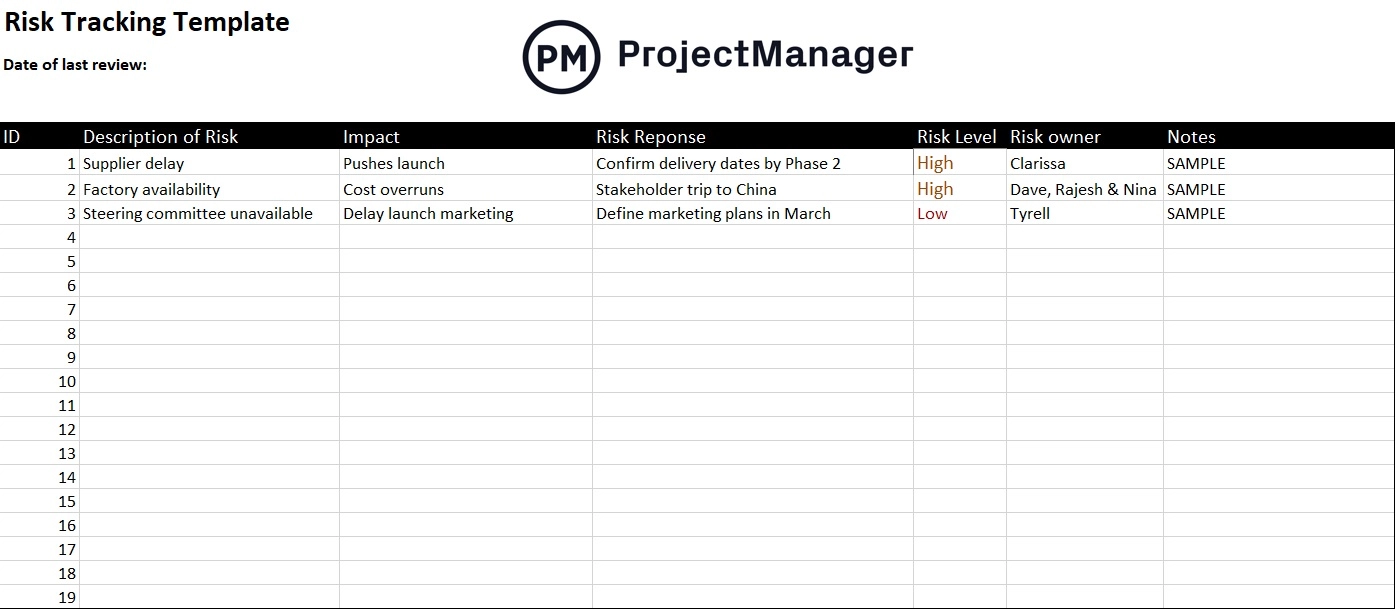 The free risk register gives you space to describe the risk, its impact and what your response will be if it appears in the project. There's also a column to note if the risk is high, medium or low. Plus, you can assign a team member to that risk so they know to keep an eye out for it. If that risk becomes an issue, then the team member will be responsible for tracking it until the issue has been resolved.
3. Project Dashboard Template
Preparing for risk is essential to risk management, but that's just the start. Once the project begins, you have to be diligent in monitoring the work to catch issues when they arise. The faster you capture issues, the less impact they'll have and the quicker you'll be able to resolve them. Using our free project dashboard template for Excel creates graphs that track your tasks, workload, costs and more.
However, templates can only do so much. They are, after all, static documents that must be manually updated. ProjectManager is online project management software that has real-time dashboards that automatically gather real-time data and display them in colorful graphs and charts that give you a high-level view of your tasks, workload, costs and more.
Unlike the template, there's no setup required. It's immediately ready to deliver live data to help you make more insightful decisions. Get started with ProjectManager today for free.
4. Risk Matrix Template
There's more than one way to manage risk, but regardless of how you choose to do so, you'll always want to identify, prioritize and assign an owner to be on the lookout for it. Risk isn't always negative, of course, but if you're not prepared for risk then you can't mitigate or take advantage of it. Our free risk matrix template for Excel provides a visual tool to manage risk easily.
A risk matrix is a type of chart that's used by project managers to map risks. It helps categorize the risk in terms of its likelihood of occurring and how it'll impact the project. It does this on a colorful grid, which provides you with a visual tool that helps communicate risk to the project team.
5. Issue Tracking Template
Risk is potential, but project issues are real. They could be the manifestation of a risk that you've identified and have been monitoring or they could be unique. Whatever they are, you need to address them and our free issue-tracking template for Excel is just the tool you need to make sure issues don't sidetrack your project.
The issue tracking collects all the data you need to keep an eye on the issue as it moves through its life cycle. You have a column to describe it and its potential impact. Then you can give each issue a priority to know which to deal with first as well as the date it was first identified and who's responsible for resolving the issue. There's space to note the department responsible and whether the status is open or closed.
6. Cost-Benefit Analysis Template
Not all risks are created equal. Project managers can get sidetracked trying to resolve a risk that's trivial when put in the context of the larger project. But how can you tell whether the risk in the project is worth the effort? Simply download our free cost-benefit analysis template for Excel to help you decide if the effort is worth the cost.
The free template helps you collect the quantitative costs (indirect, intangible and opportunity) and compare them to the quantitative benefits (direct, indirect, intangible and competitive). With this data, you can make a cost-benefit analysis to see if the investment is worth the return.
7. Project Status Report Template
We've talked about project dashboards as a means to monitor for risk. Reports are another tool that provides a more detailed look at the project's progress and performance. Use our free project status report template for Excel to view a slice of time in the project to chart its health and progress.
Some of the data a status report captures include a summary of the project, such as key accomplishments, work that has been done, what work is still to come, milestones, deliverables and action items. There's also information on the budget, schedule, quality and scope of the project. Plus, you can see risks, issues and roadblocks.
8. IT Risk Assessment Template
IT projects have their own unique risks and, therefore, need their own unique risk assessment. There are risks to software and hardware from malware, viruses, scams and more. There are also human errors, security breaches and natural disasters that can take you offline, too. Our free IT risk assessment template for Excel is a great tool to avoid potential loss from downtime.
Everything you need to manage IT risk is included in the free template. You can list the risk by number to track it, note the area where the risk is likely to happen and define the risk. Then there's a place to set up processes to control the risk, assess it and determine what activities will be required to reduce the risk. You can even monitor the risk if it shows up to make sure it's properly resolved.
9. Change Log Template
Change is a risk; you don't know when it's coming, but you have to be able to deal with it. Whether it's a request from stakeholders or an issue with equipment or weather, change can impact your project. If you planned correctly, then you're ready for changes even if you're not sure what they'll be. When they come, though, you need our free change lot template for Excel to manage them.
The free template lets you date when the change first came, who owns it and who's responsible for taking care of the change. There's a place to note its priority to know what should be done and when. You can also note its status. This way, as changes come into your project (and they always do), you have a way to track them and make sure nothing crucial is overlooked.
More Project Management Templates
Everyone likes free templates. ProjectManager has dozens of free project management templates for Excel and Word that are ready to be downloaded on our site. You can find more than free templates that deal with risk. There are ones that cover every phase of your project and below is only a small sampling.
The Gantt chart is one of the most popular scheduling tools in project management. Use our free Gantt chart template for Excel to list all your tasks and see them on a visual timeline. It's a great way to organize your costs and resources.
Project plans allow project managers to scope their work and break it down into manageable parts. It's an essential document in project management. Using our free project plan template for Word will help you organize your tasks, phases, budget and much more.
All projects require money to deliver success, and budgets capture those financial details. The more accurate the budget estimates, the more likely you'll be able to complete the project. Using our free project budget template for Excel will help you accurately forecast costs.
ProjectManager Is a Risk Management Software
There's no doubt that free project management templates are great. But they're also status documents that must be manually updated. That's a lot of time and effort to extend on a limited tool. ProjectManager is online project management software that delivers real-time data to help you better manage project risk.
Track Risk in Real Time
None of the free templates can track risk in real time. Someone on your team has to manually update those templates and there's always a danger that copies are floating around so no one is aware of their actual status. Our risk management features make it easy to stay informed. You can create a risk just as you would a task and assign an owner, add dates, priorities, tags, attachments and more. Always know the status of your risk in real time.

Manage Risk on Robust Gantt Charts
Having a risk management plan is essential and templates can help but they might not be flexible enough. In some cases, you need something more dynamic. Our online Gantt charts help you schedule and assign as well as monitor the project on a timeline. You can also easily share the Gantt chart with the project team and stakeholders.
Of course, teams and stakeholders aren't going to need the details of a Gantt chart. That's why we have multiple project views. Teams can manage and prioritize risk on kanban boards, which visualize the workflow. Stakeholders can be updated by viewing the calendar view or using customized reports to share just the data in which they're interested.
Related Content
If you're still hungry to learn more about risk and how to manage it, you're in luck. ProjectManager isn't only great software but our site is the premier online destination for all things project management. There are more than templates. We publish weekly blogs and have guides, videos and much more. Here's some more risk-related reading.
ProjectManager is award-winning software that helps you plan, manage and track risk in real time. We also empower teams on a collaborative platform with task and resource management features to keep everyone working together more productively. Get onboard with teams from companies as varied as Avis, Nestle and Siemens who use our software to deliver success. Get started with ProjectManager today for free.