Risks might be an unexpected event, but you can be almost certain that they'll show up in your project. That's why a risk management plan is an essential part of any thorough planning process. Download our free risk management plan template for work to identify and mitigate bad risks and take advantage of good ones.
What Is a Risk Management Plan?
Risk management is the process of identifying, assessing and controlling threats to a project. Risks are unexpected and can impact a project negatively, such as equipment failure, or positively, such as a sudden reduction in raw material pricing.  A risk management plan is the process by which a project manager implements the identification, analysis and mitigation of risks in a project. Therefore, the risk management plan begins with identifying risks.
While risks are unexpected occurrences, they don't always come out of the blue. Researching historic data and speaking with experts and the project team can help figure out what might happen. These potential events are listed. Once these risks are identified, then you need to assess them. What is the impact on the project? This will help you prioritize the risks so if they show up in the project you'll know if they must be dealt with immediately or can be put on the back burner or even ignored.
The next step in your risk management plan is to devise an action plan to respond to the risk. When a risk is now present in a project it is no longer a potential event, but an issue and a problem that must be solved. You need to assign the task to a team member and monitor the task until it is completed.
Project management software can help with this process. ProjectManager is award-winning project management software that has risk management features to help you plan, manage and track risk in real time. Create risk tasks with priority, likelihood of occurrence, impact, response and more. Then monitor the progress in real time to ensure that the risk is resolved. Get started with ProjectManager today for free.
Why Should You Use a Risk Management Plan Template?
Our free risk management plan template makes it easy to gather all the information you'll need to identify and respond to risks in your projects. It ensures that nothing falls through the cracks. You don't want to give risk an opening to impact your project and threaten its success.
Having a risk management plan is crucial to making sure that risks are managed properly to reduce their impact on the project. Of course, a positive risk is an opportunity and you want to have a plan in place to increase their positive impact on the project.
Managing risk helps you run more efficient, consistent projects. It's a way to proactively address problems that help deliver a better product or service to your clients, customers and stakeholders.
What Is Included in this Risk Management Plan Template?
We've already talked briefly about what a risk management plan is, but now let's go into greater detail as we show how it is outlined in our free risk management plan template for Word.
Risk Management Methodology
Before you can create a risk management plan you need to know the risk management tools that you'll be using, such as project management software, and how you'll approach managing the activities, such as risk assessment, risk analysis and risk mitigation strategies. Some of this is expanded upon below.
Risk Register
One tool you'll want to employ with this risk management plan template is a risk register, which is a simple chart that lists all the risks you've identified, notes the impact each has on the project and what your response will be if the risk appears as an issue in the execution of the project. The risk register also notes the risk level and who is responsible for resolving it.
Risk Breakdown Structure
A risk breakdown structure is a tool that can help you identify many risks in your project. It's a hierarchical tree diagram that breaks down risk from the highest level categories down to sub-levels of risk. This tool works like a work breakdown structure and helps to categorize and rank risk to better plan for them and mitigate their impact on the project.
Risk Matrix
The use of a risk matrix will allow project managers to determine the likelihood of a risk occurring in their project and the severity of it if it does happen. The risk matrix is a chart, often color-coded to make it easier to read, where the vertical axis represents the likelihood of the risk showing up, from rare to almost certain, while the horizontal axis represents the severity, from insignificant to severe. Depending on where you place the risk on the matrix you can prioritize it from low to very high.
Risk Response Plan
Identifying and rating risks is only the starting point, now you have to create a risk response plan, which is basically the action steps you'll need to take if the risk shows up as an issue in the project. This part of the risk management plan template is where you'll document the risk mitigation strategy to manage risks if they show up in the project.
Roles & Responsibilities
Just as the larger project team has defined roles and responsibilities, so must the risk management team. They are the risk owners, which means they are responsible for identifying and mitigating risks. Some of their duties include monitoring the project and supervising the management of the risk response.
Resources & Funding
Risk management is going to have an impact on the project budget. Here is where you'll estimate what those costs will be and what resources you'll need to implement your risk response.
Reporting
Reporting covers two bases in your risk management plan. One, it helps you monitor project data and helps you quickly identify risks as they appear as issues. Two, reports can be shared with stakeholders to keep them informed on the progress of mitigation efforts.
Related: 12 Must-Have Project Reports
Who Should Use this Risk Management Plan Template?
The risk management plan template is a tool that has many hands on it. The project manager, with help from the project team, stakeholders and experts, is responsible for creating the risk management plan and filling in the empty fields of the free risk management template.
While the project manager will create and use the risk management plan template, the audience is more widespread. The project team will need to use it since they are tasked in the risk response plan to help them identify and mitigate risks.
The risk management plan template will also pass through the organization's management team and project sponsors or stakeholders, all of whom have a stake in the project. They will want to be updated when a risk shows up as an issue and then on the progress of resolving its impact on the project.
When Should You Use this Risk Management Plan Template?
The project manager will start to use the risk management plan template early in the project's life cycle, during the planning stage of the project. But, as noted above, they will seek input from the project team, experts, stakeholders and even historic data to help them identify risks.
The risk management template is then used throughout the project. Risk owners will use it to monitor the project and respond to risks as they show up as issues. Even after the project, the risk management plan can find use when it's archived and reviewed when planning risk management for future projects.
Free Templates to Help with Risk Management Plans
When you download our free risk management plan template for Word you'll see that it links to other free risk management templates. ProjectManager is more than outstanding project management software, it's an online hub for all things project management, including dozens of  free project management templates for Excel and Word. Here are a few that relate to risk management.
Use our free risk tracker template for Excel to track risks as they show up as issues in your project. Download the free template and capture descriptions of the risks, their impact and what your risk response will be.
As noted above, the risk matrix is an essential risk management tool. Our free risk matrix template for Excel helps you figure out the likelihood of a risk occurring in your project and then the severity of it if it does.
To map out your risk response use our free action plan template for Excel. It helps you list and prioritize tasks in your risk response as well as add planned hours, resources and more to create a thorough mitigation plan.
How ProjectManager Helps With Risk Management
As valuable as free templates are, they can only take you so far. Project management software has advantages such as not being static documents that have to be manually updated all the time. ProjectManager is award-winning project management software that streamlines the risk management process to help your projects mitigate the negative effects of risks. Our risk management features, highlighted above, help you identify and mitigate risks, but they're only one weapon in our project management arsenal.
Identify Risks With Real-Time Dashboards
After creating a risk management plan, you need to closely monitor the project to identify any risks that show up in the project as issues. Unlike other software products, you don't have to waste time setting up our dashboard. It's ready when you are. Whenever you want to get a high-level view of the project, just toggle over. Easy-to-read graphs and charts show you the project's health at a glimpse. Also, see if you're overspending, on schedule and more to quickly catch issues and respond to them fast.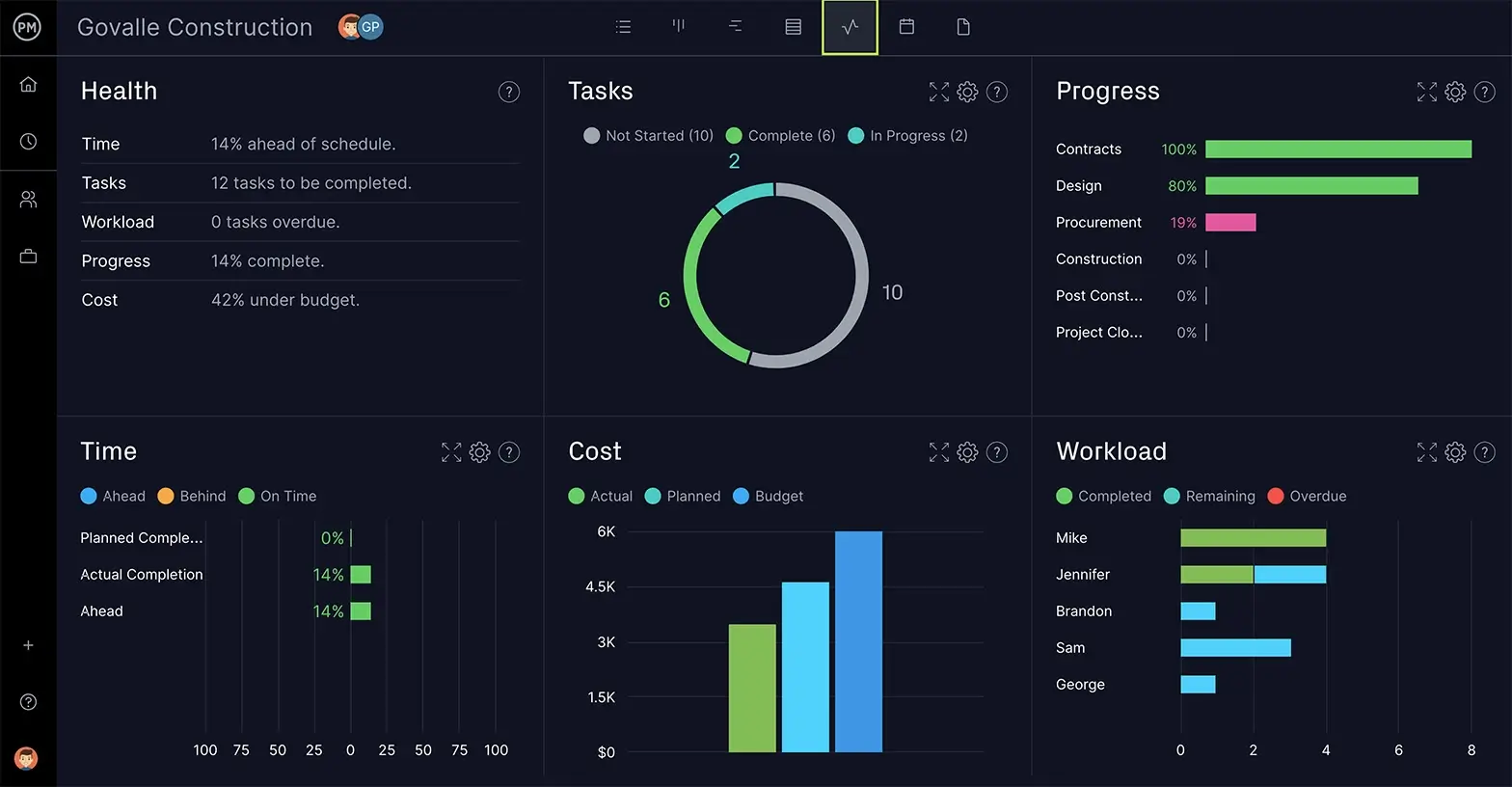 Get More Detail With Customizable Reports
If you catch an issue and want more details, use our reporting features. It's easy to generate status reports or portfolio reports, if you're managing more than one project at a time. There are also reports on project plan, task, variance and more. All of the reports can be filtered to show only the information you want to see. Then they can be shared in a variety of formats to keep your stakeholders updated.
Related Risk Management Content
If you're still hungry to learn more about risk management, then you're in the right place. ProjectManager publishes several blogs a week, has tutorial videos, guides and, of course, free templates that cover every aspect of project management. Here are a few pieces we've published on risk management.
ProjectManager Helps You Plan, Manage and Track Risk
ProjectManager is cloud-based project management software that connects teams in the office, at the job site and anywhere in between. Our tool facilitates collaboration, which is crucial for risk management. But we also have multiple project views so teams can work with the tools they're most comfortable with, automated workflows with task approvals to streamline processes without jeopardizing quality and much more. Get started with ProjectManager today for free.