All projects have risks and assumptions. The ability to track issues when they show up in the project is an essential part of project management and delivering a successful project. Our free RAID log template for Excel is a tool that helps you identify and track these issues to prevent them from negatively impacting the project. Download your free RAID log template for Excel today.
What Is a RAID Log?
RAID is an acronym for risks, assumptions, issues and decisions. It's used during the planning and execution phases of a project to identify and track risks, assumptions and decisions. We'll define each of those terms a bit later but know this is a simple but effective tool for project management.
While we've defined a RAID log in the traditional sense, if you look around, you'll find some RAID logs that replace actions for assumptions and decisions for dependencies. For our purposes, decisions capture whatever action a project manager will take and assumptions can include dependencies.
Why Use a RAID Log Template?
A RAID log template helps to manage risk, assumptions, issues and decisions as they arise in your project. During the decision-making process, a RAID log template helps to mitigate or resolve them. Project managers know they can't avoid these impacts on the project, so the RAID log is a tool to identify and manage them to lessen the negative impact.
Even if a project manager chooses to ignore these threats, they'll still occur in the project. Without planning against them, the project manager risks costly delays, missing deadlines and overspending, which impacts the project budget. The RAID log collects a lot of information that project managers need to run the project all in one place.
Not only does the template track risk, assumptions, issues and decisions, but it can also be used for determining how changes will impact the project. Change is another thing that can't be avoided so it must be planned and managed. The RAID log optimizes that effort and the associated resource allocation while getting buy-in from management and stakeholders.
RAID logs help plan more efficiently while capturing data that can help the project and future projects alike. ProjectManager is award-winning project management software that takes the data from a RAID log and uses it when planning on robust Gantt charts. Our Gantt charts link all four task dependencies to avoid costly delays. You can track issues with kanban boards, which visualize workload and allow teams to collaboratively plan while project managers see the big picture and can reallocate resources as needed to avoid bottlenecks. Get started with ProjectManager today for free.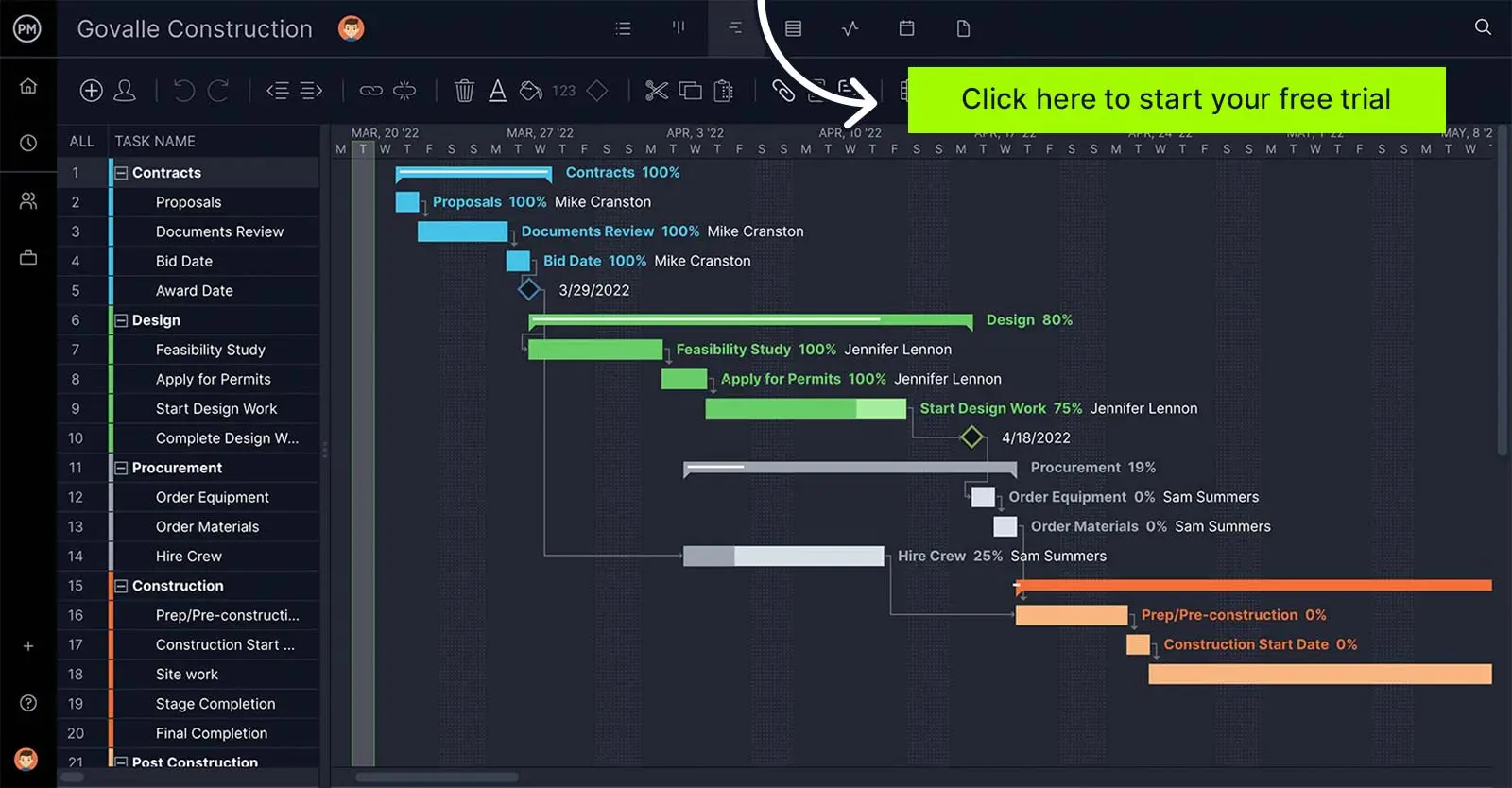 When Should You Use a RAID Log Template?
As mentioned earlier, the RAID log should be used when planning for a project and into the execution phase. It can help you figure out your progress and record how the project team is responding to these issues as they arise in the project.
The RAID log should be archived at the end of the project. It then becomes a valuable tool for future projects that are similar and can provide valuable information in terms of historic data that informs the planning of that future project.
In fact, the RAID log is a great reference and can be used throughout the life cycle of a project. It's even an effective tool in other methodologies. For example, a RAID log won't replace any of the agile or lean tools, but it can work with them for a more thorough analysis of the risks, assumptions, etc.
Who Should Use a RAID Log Template?
The RAID log template is usually filled out by the project manager. This is done before starting the project and is then used throughout the life cycle of the project for reference. This is true across industries as diverse as engineering, construction and information technology (IT), all of which use RAID logs.
As a RAID log is written in the planning phase, it's used consistently as the project moves forward. The project manager will document important action items, decisions that need to be made, issues and so forth. Therefore, the whole project team can be involved in the process even if the work is tasked to the project manager who oversees it.
How to Use This RAID Log Template
Once you download the free RAID log template for Excel, you can customize it with your company logo and add more columns or delete any that you don't need. We've already made a mockup to show how to use it, but before we go into that, let's define what risks, assumptions, issues and decisions mean as promised earlier.
Risks
A risk is something unexpected that can impact your project. Risks aren't necessarily bad, though that's often their association. There can be positive risks, that is, something unexpected that one can take advantage of and benefit the project. A risk that shows up in a project is no longer called a risk but an issue, as issues are known, either beforehand or at the time they appear in the project.
Assumptions
When talking about assumptions, we must factor in constraints as they go together. An assumption is something that's assumed true, while a constraint is something that's proven true. Therefore, the goal is to identify the assumptions to prepare for them if they show up in the project. If the assumption is false, then there's no impact, and if it's true, the project manager is prepared to mitigate any negative consequences to the project's scope, time or cost.
Issues
As defined above, an issue is a problem that's evident at the start of the project or one that shows up at some point during the execution of that project. Issues must be identified and resolved or else they have the potential to cause costly delays and can even cause the project to fail.
Decisions
This is where all project decisions are recorded. These logged decisions are accessible for project members in future projects so they can have some guidance in similar situations. These recorded decisions should be detailed including who made the decision, when it was implemented and why.
Now that we understand the terms, let's look at the format of the RAID log template. On the far left-hand side of the spreadsheet is a column for each line's ID to better organize and find information. After that comes a column with a pulldown menu in which you can choose whether you're referring to a risk, assumption, issue or decision.
The next column is where you can describe what you're logging, and after that is a column to define the impact on the project. The following column will address what your response will be to mitigate or take advantage of the RAID category. The last few columns let you set the priority and note who the owner is. Finally, there's a place to collect any notes that are significant but not covered in the previous columns.
Related Project Management Templates
The RAID log template is only one of dozens of free project management templates for Excel and Word you can download from our site. We have free templates for every phase of a project, from initiation to close. Here are a few of the free templates related to the RAID log.
The free risk log template for Excel is like the RAID log, only it is dedicated solely to identifying and tracking risk. It also has a place for ID, description, impact, response and adds a risk level to determine how to respond.
One thing the RAID log doesn't track is change, which is sure to occur over the course of a project. Our free change log template for Excel allows project managers to manage change so that it doesn't negatively impact the project.
RACI is another acronym that stands for responsible, accountable, consulted and informed. Our free RACI matrix template for Excel is used to identify and define the roles and responsibilities of the project team by assigning each an R, A, C or I depending on their relationship to the project.
ProjectManager Helps Keep Track of Projects
Project management templates are a good starting point, but most project managers are going to hit the limitations of these static documents quickly. That's when they'll upgrade to project management software. ProjectManager is award-winning project management software that helps project managers track projects in real time. Everyone can use the project view they want to plan, manage and track projects, whether that's Gantt charts, kanban boards, task lists, calendars and more.
Manage Risk, Issues and Changes
Use the RAID log template to inform your risk management planning. Our software lets you create, edit, delete and add tags to tasks on the task card to identify and track risks, issues and changes in the project. By including tags when generating status reports, you can get data on risks, issues and changes. You can also track risks, issues and changes in one centralized hub, note the impact and likelihood of the risk occurring, choose a response and more. All of this is easily accessible with our global search so you can find what you're looking for.
Track Projects With Real-Time Dashboards
Our reporting features give you details on risk, issues and changes, among other things, but sometimes you need a high-level overview of the project's progress and performance. Just toggle over to the real-time dashboard, which is always updated with live data and displays it in easy-to-read graphs and charts that show health, time, cost and more. Unlike lightweight tools that make you configure the dashboard, ours is ready when you are. There's no reason to pull yourself away from more important work to set up our dashboard.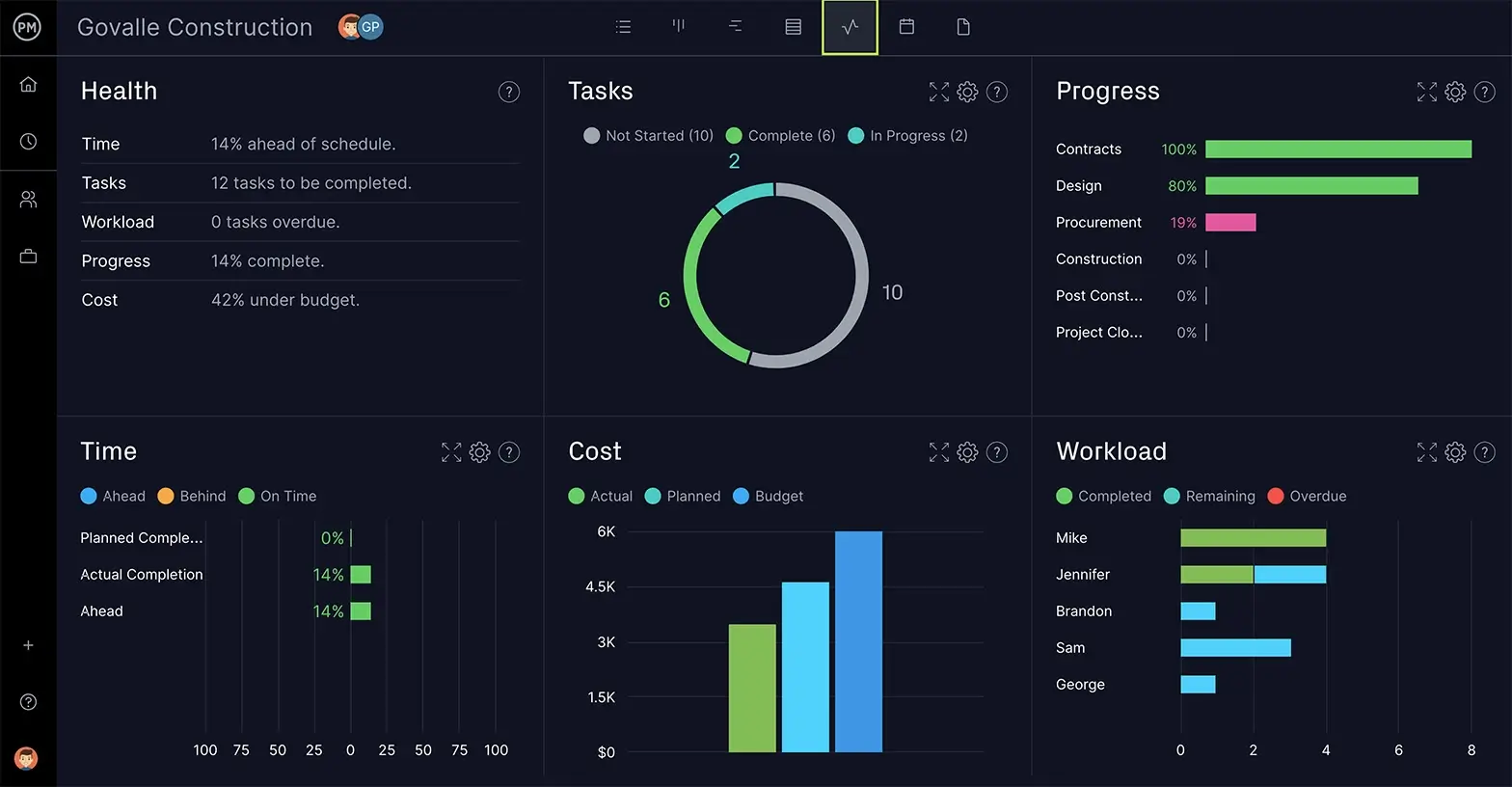 Related Risk and Issue Content
If you want to dive deeper into the subject, visit our site. We're an online hub for everything related to project management, with new blogs posted weekly, tutorial videos, guides and, of course, free templates. Here are a few pieces we've published that touch on similar subject matter to the RAID log template.
Get Started With ProjectManager for Free
ProjectManager is online project management software that connects teams across departments or continents, letting them share files, comment at the task level and much more. Our risk management, task management and resource management features give project managers control over their projects, plus, monitoring and tracking tools help keep the project on track and stakeholders updated. Join teams at Avis, Nestle and Siemens who use our software to succeed. Get started with ProjectManager today for free.