A project summary is part of the larger project proposal, the pitch to convince stakeholders or clients that a project is worth undertaking and that your organization is a perfect fit to execute it. In fact, the project summary may be the most important part of the project proposal: it's the elevator pitch to hook them.
Our free project summary template for Word helps you organize the information you need to sell the project in a concise and effective way. Download the free project management template now.
What Is a Project Summary Template?
A project summary template is a standalone project management document or part of a project proposal. It's a comprehensive overview of the project that's brief, not detailed, but still includes key details such as the project objective, background, requirements, problems, analysis, etc.
Whether it's a project summary or the first section of a project proposal, the aim is the same. It's designed to capture the attention of the intended reader and make it clear that the project is viable and will return whatever investment will fund it.
When part of a project proposal, the project summary acts as a guide through the information that follows. In fact, many people save the project summary for last. After they've gathered the data necessary for the project proposal, they boil it down to its essential elements in the project proposal.
When Should You Use a Project Summary Template?
The project summary template is a great tool when you're proposing a project. It captures all the pertinent information and lets you concisely state it in a one-page document that can help win over stakeholders and clients.
Templates are useful as you don't have to reinvent the wheel every time you're pitching a project. They also create consistency in your documentation, which makes it easier for you to look through archives for historical data when you're proposing another project similar to the one that you won.
As you're gathering this data, you'll want to have it in project management software. That way, if you get the job, you can easily transition into the project plan. ProjectManager is online project management software that turns your project summary into an actionable project plan. Our multiple project views make it easy to collect data in a task list and, when you get the project, toggle over to the Gantt chart. All information is there, you can now start adding task dependencies, filtering for the critical path and even setting a baseline to track progress in real time. Get started with ProjectManager today for free.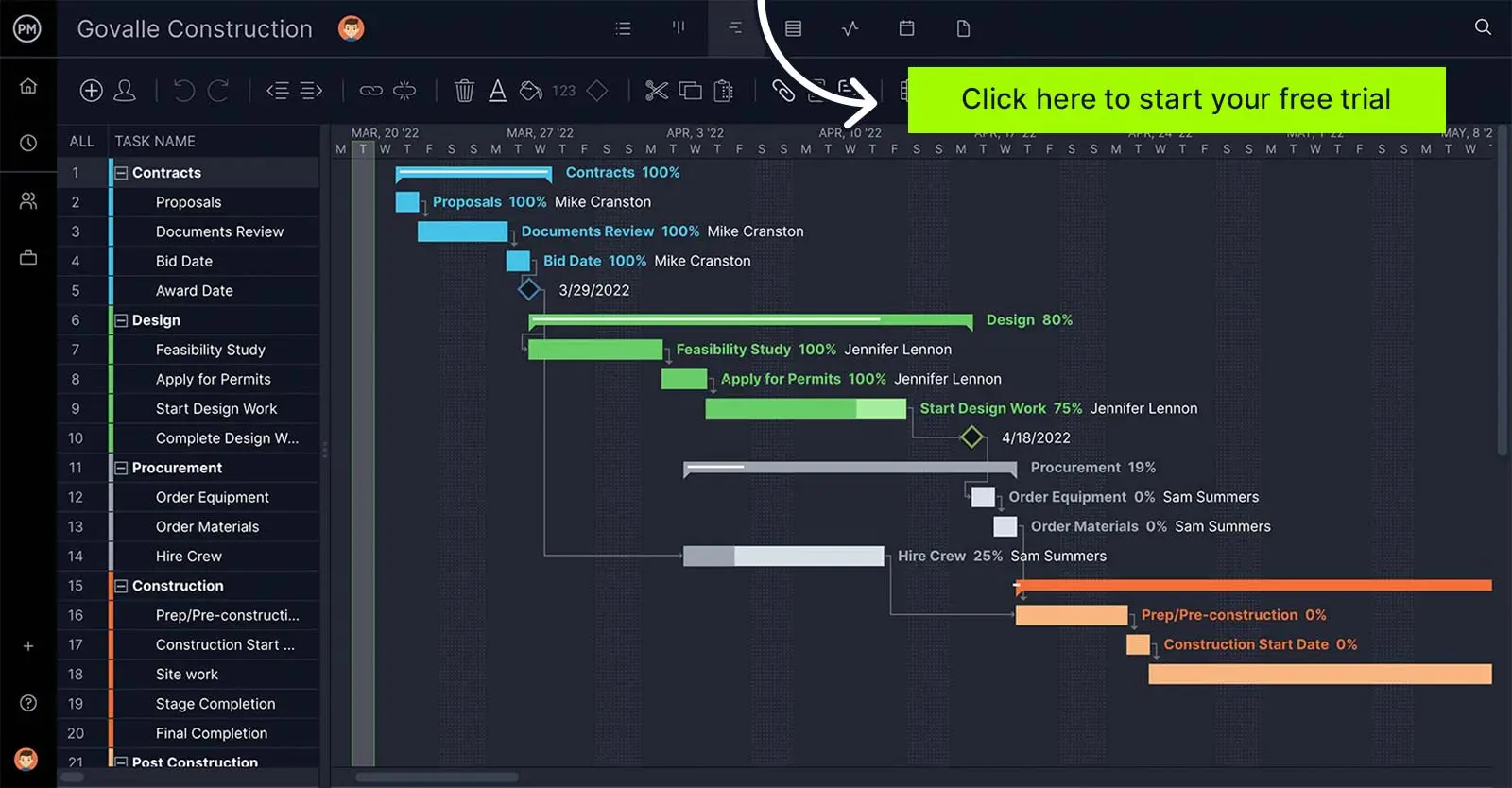 How to Use This Free Project Summary Template
Once you've downloaded our free project summary template for Word, you'll get a customizable document that has a space for your company logo and allows you to add or remove any fields that aren't included or unnecessary to your project summary. The fields we included in the project summary template are explained below.
Project Information
The top of the template provides general information. It defines who you are and for what project you're submitting your proposal. This is simply an introduction to differentiate your project summary from the others that are bidding for the same project. It should include the following, though you might want to add a contact number if that's not already part of your logo.
Project name
Project manager
Project sponsor
Date
Project Schedule
The project schedule is a timeline for the project, including the start date and finish date, which estimates the project duration. You'll want to sketch out the project, including milestones and deliverables, to give the client a sense of how long it'll take to complete.
Project Budget
Equally as important as the schedule, is the project budget, which is an estimate of how much the project will cost to execute. Therefore, you need to make financial projections not only on how much the project will cost but on the return on investment for stakeholders.
Resource Plan
Projects can't be executed without resources. This includes everything from your team to the equipment and materials they'll use. Anything that's required to complete the project is a resource. These resources need to be listed here as they'll have to be scheduled and budgeted.
Risk Management Overview
Every project is subject to change. These risks can be positive or negative, but they'll impact the work and should be identified as best as possible. In this section, you'll show how you'll manage those risks if they occur in the project. This includes any roadblocks and challenges you might expect that will impact the scope, time and cost of the project.
What Other Project Management Templates Can Help You Create a Project Summary?
The project summary template collects the data that's often used in a project proposal. Much of what you cover briefly in the project summary will be expanded if the project is approved. But even at the point of summarizing the project, you'll need to explore these various aspects, though not as in-depth as you will during the project planning phase.
The free project summary template for Word is only one of many templates that you can download from our site. We offer free Excel and Word templates for every phase of your project and many industry-specific ones as well (such as construction, IT, marketing, etc.). The following are only a few of those free templates to help you create your project summary.
When estimating your schedule for the project you can use our free project timeline template for Excel. It allows you to list the tasks associated with the project, including start and end dates, plus other data. This then populates a visual timeline to the right in which the entire duration of the project can be viewed in one place.
Forecasting an accurate budget is critical to your project summary. If you miss the mark either you're going to cut into your profits or your stakeholders. Either is acceptable. Using our free budget proposal template for Excel helps you estimate salaries, materials, equipment and even travel, communications and direct and indirect costs.
Another aspect of your project summary that our templates can help with is the resource plan. Our free resource plan template for Excel integrates with the timeline and budget when you're executing the project, so you don't overspend. When you're creating a project summary, it will help you more accurately figure out what your resources will cost.
ProjectManager Is Powerful Project Management Software
All of the free project management templates we offer on our site are great tools for managing projects, but they can only take you so far. They're static documents and require you to manually input data. Project management software automatically updates and connects your teams to help them work better together. ProjectManager goes even further. Our cloud-based software is designed to deliver real-time data that helps you make more insightful decisions and facilitates collaboration among your team. When you get a project approved, you'll already be ahead of the game with our software.
Track Progress and Performance in Real Time
To keep to the schedule and budget outlined in your project summary you need to have live data to tell you where you are in relation to your plan at that moment. Old data isn't going to do the trick. Once you set a baseline in the Gantt chart you can track your progress and performance in real time. See if your planned effort is aligned with your actual effort on our real-time dashboard. There's no setup required as in lightweight tools. It's ready when you are. If you need more than a high-level view of the project, use our customizable reports. They're easy to generate and share with stakeholders to keep them updated.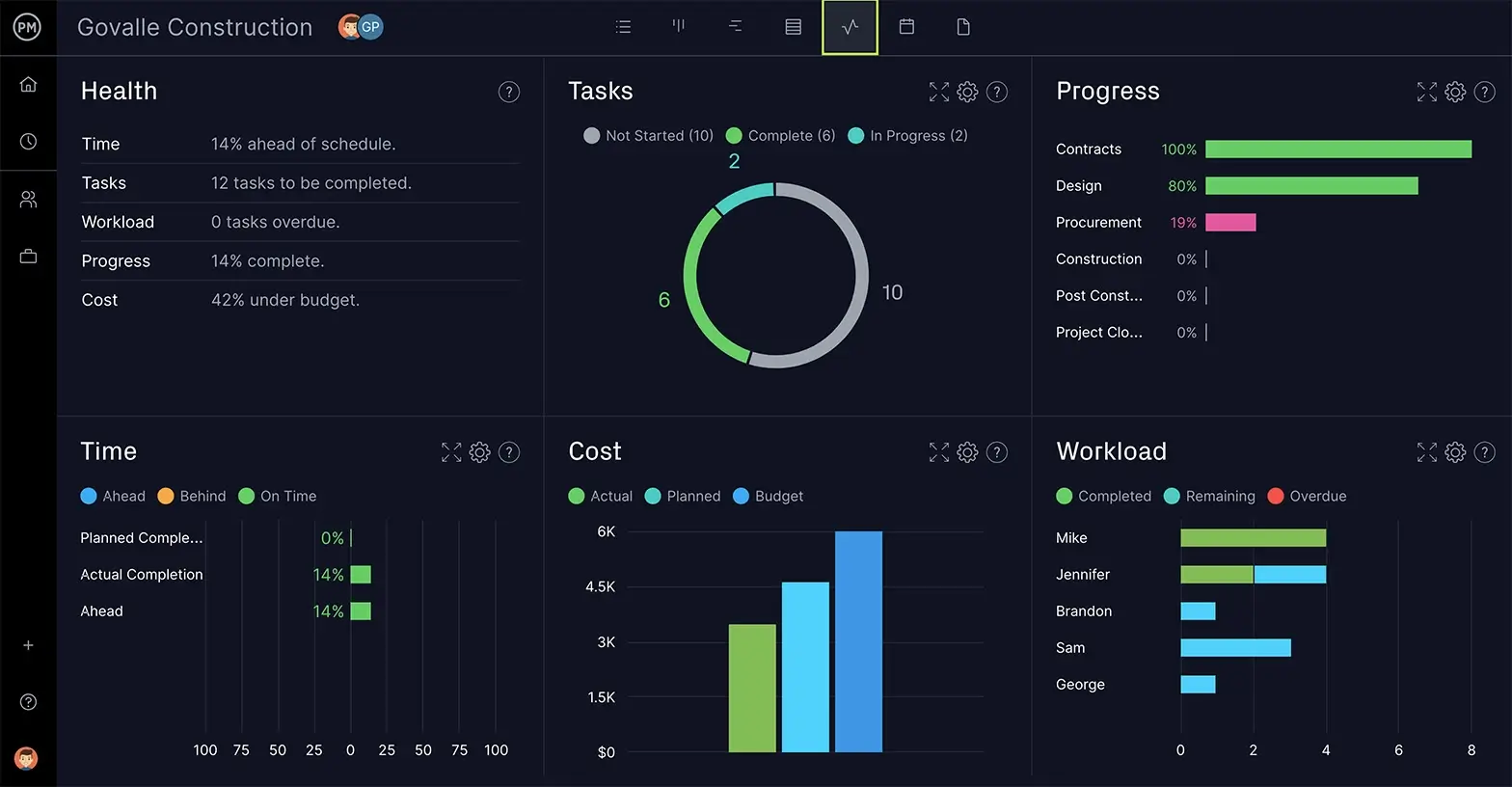 Manage Resources and Stay Productive
Resources are tied to your schedule and budget. You must have the right resources delivered at the right time to meet deadlines and avoid spending more than you've budgeted for. Our software has resource management tools that make it easy to assign team members because their availability is in the system and at your fingertips when you need it. The color-coded workload chart makes it easy to see at a glance who is overallocated and who has too few assignments. Then you can quickly balance the team's workload right from the workload chart. A balanced workload leads to happy workers and happy workers are more productive.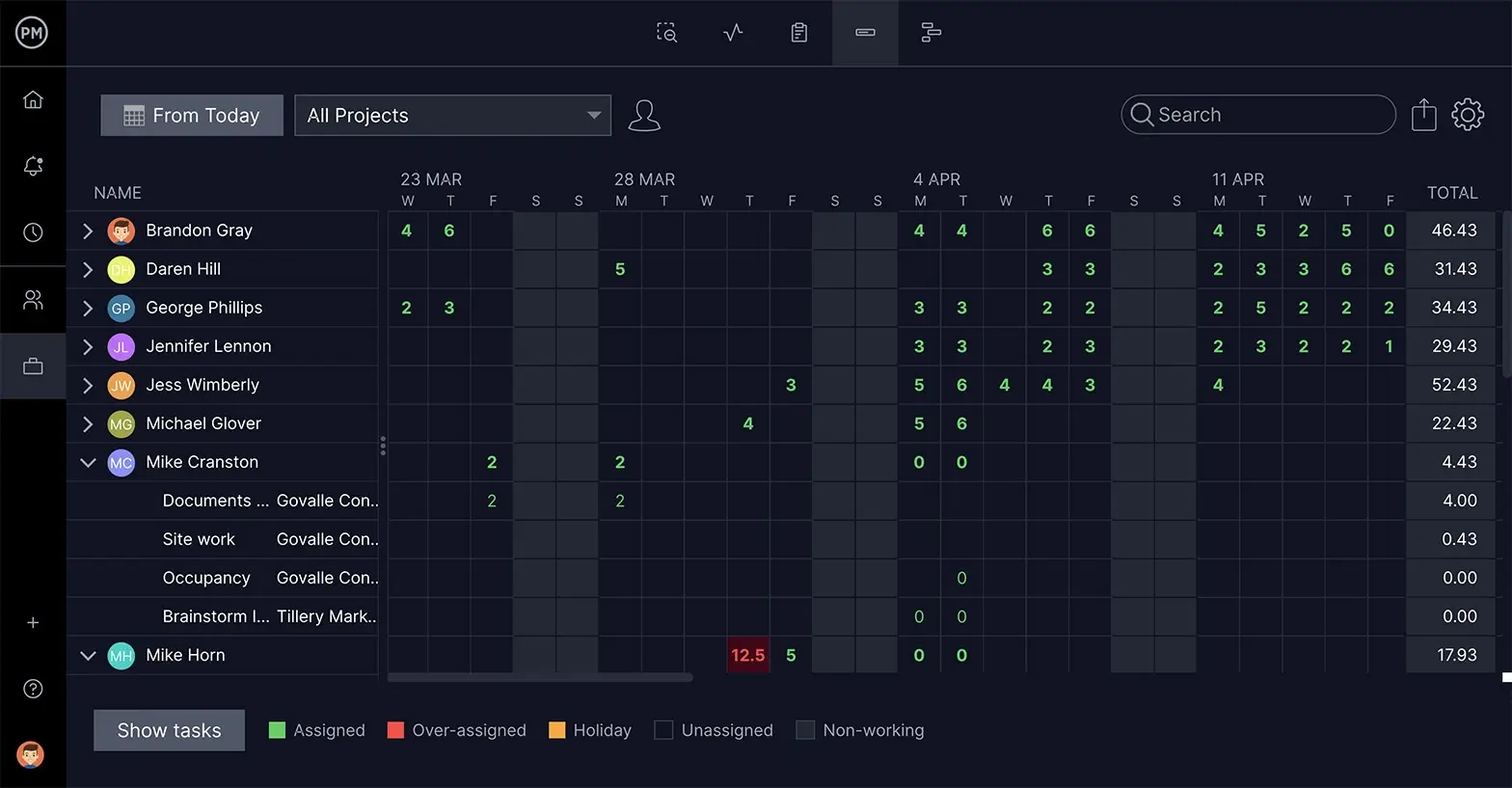 There's so much more to our software, from risk management and task management features to automation and, of course, collaborative tools that connect everyone no matter where or when they work. Once you have that project summary approved and you're managing the project for real, then you'll be happy you have ProjectManager at your side to keep you on time, within budget and producing the quality deliverables your stakeholders expect.
Related Project Summary Content
If you're still looking to read more about project summaries and related content, then we have some links you'll find valuable. Our site features tons of free content. We publish blogs each week and have exhaustive guides to many project management topics, tutorial videos and, of course, free templates. Here are just a few of the pieces that relate to the project summary.
After reading, be sure to visit our software page and see how the award-winning ProjectManager can help you go from project proposal to successfully completed project. We make it easy to collaborate, comment and share files as well as work with your team, contractors and vendors, whether they're in the next office or another country. Get started with ProjectManager today for free.