The budget proposal is the sales pitch that either gets a project initiated or rejected. It shows what investment is needed to execute and deliver a successful project in addition to the potential return on investment. Download our free budget proposal template for Excel to capture the financial dimensions of a possible project and determine if it's worthwhile.
What Is a Budget Proposal?
A budget proposal is a document that estimates all the costs associated with an upcoming project. It is shown to potential stakeholders of that project in order to secure funding, and then it becomes an approved project budget. However, a budget proposal can also be used for a company, campaign or any endeavor in which to show that the benefits outweigh the costs.
Regardless of what the budget proposal is for, they all share a detailed breakdown of the financial support that is being pursued, either from stakeholders, sponsors or clients. The more detail you add to the budget proposal, the more accurate it will be and the less problems you'll encounter if you get the okay to execute the project.
The budget proposal outlines direct costs and indirect costs. Indirect costs are the ones that are not directly related to the project but help runs them. These include utilities, insurance, IT services, server fees, etc. Direct costs are those that are directly related to the project. These are such costs as labor, software, equipment and materials.
Why Should You Use a Budget Proposal Template?
Projects are expensive but ideally, they'll pay for themselves and then some. To make sure that you have the funds necessary to hire the right team, gather resources, etc., you need a budget proposal template. It's a way to test the waters before diving into the deep end.
By forecasting the cost of each work element in the proposed project, a project manager can get an accurate estimate of how much money the project will cost. This includes direct costs, indirect costs and whatever sales or assets the project will deliver upon completion. By subtracting the benefits from the costs, you can quickly see if the venture will be profitable or not.
Having the means to test the viability of the project is key to staying in business. If you didn't have a budget proposal, you could be sinking a lot of funds into a lost cause. It's also a tool when bidding for projects. You can show clients how much the project will cost and what their return will be if they use your company as opposed to the competition.
Being able to collect costs and track them if the project is approved requires project management software. ProjectManager is online software that helps you plan, manage and track resources and costs in real time. Use our online Gantt charts to list all your tasks and attach resources to complete them, including costs, to help you schedule and monitor your progress. Then when you get that project, you complete it without going over budget.
When Should You Use this Budget Proposal Template?
There are many reasons why you want to use a budget proposal template. Number one, it helps you determine the profitability of a proposed project or one that lacks profitability. You can decide how to deploy your resources wisely and not waste any money.
The free budget proposal template for Excel is also beneficial when you're bidding on a project. It allows you to present your bid in a professional manner that outlines all the costs and potential profit associated with the project if you're to manage it.
It's also a great tool for managing stakeholders. You can provide them with an estimate for the project budget and get buy-in from them when they see the project will be profitable. Project managers also benefit by knowing how to allocate their resources and, if the project is approved, can track the actual costs against the budget proposal to make sure they're not overspending.
How to Use this Budget Proposal Template
When you download your free budget proposal template for Excel, you'll find a fully customizable document that we've formatted to make it easier for you to estimate costs to see if the project is worth the investment. If you want, add more columns and categories to conform to your project's needs. You can also add your company logo.
The top of our free budget proposal template is simply to define who makes it and for which project. There are fields to fill in the project name, date of the proposal, who the project manager is and any contact information. You can add fields for other general information if needed.
Next is the direct costs section of the free template. Direct costs are broken up into categories, such as salaries for your project team, materials needed for the project, equipment that'll be used, any travel, communication tools and miscellaneous items. Again, you can add as many categories as needed. The more you add, the more accurate the estimate. At the bottom are the total direct costs, which are automatically added together on the template.
Now you want to collect your indirect costs. Again, you can format these to include all indirect costs that are appropriate for your project. We listed the most common ones, such as utility bills, insurance, IT services, server fees, rent and a section for miscellaneous items. These costs are then added to give you the total indirect costs.
Then there's the section devoted to the anticipated revenue or benefits. This can be product sales, services or any assets that come from the project. The value of each is noted and added at the bottom. Following that is a line for the profit, which subtracts the anticipated revenue or benefits from the total costs. If that number is positive, you're making a profit, if not, you'll lose money.
More Free Templates to Help with Project Budgeting
Our free budget proposal template for Excel is one of the dozens of free project management templates you can download from our site. There are free templates that apply to every phase of your project. The following are only a few that relate to budgets.
Work Breakdown Structure Template
A work breakdown structure (WBS) is a hierarchical tree diagram that shows the deliverables in your project. Using our free WBS template helps you better estimate costs by knowing exactly what you'll have to deliver in the proposed project.
Accuracy counts when proposing a project budget. Our free estimate template for Excel helps you to identify all the project costs for labor, materials and more. This estimate template especially comes in handy if you win the bid as you can easily turn it into a project schedule.
A project budget differs from the proposed budget in that it can be used to track your costs if you end up managing the project. The project budget template is also useful to help you estimate labor costs, consultant fees, materials, software licenses, travel, etc., which inform the proposal.
Cost Management Video
Once you get the project, you must manage the budget, cost and resources. ProjectManager has tools to help you do that in real time, which means you can make more insightful decisions. Learn all about our tool's cost management features by watching the short video below.
Related Content
ProjectManager has tons of free templates but also serves as a hub for everything project management online. We have weekly new blog posts, tutorial videos, guides, white papers and, of course, our award-winning software. Here is a sampling of budget-related content free on our site.
ProjectManager Helps with Project Budget Tracking
ProjectManager is online software that helps you manage budgets in real time. Our software makes it easy to track your planned resources and costs against your actual resources and costs to make sure you're keeping to your budget.
Use Real-Time Dashboards to Monitor Costs
The best way to stay on top of your budget is to have a tool that gives you a high-level view of your spending. Our real-time dashboard does just that, without the lengthy setup required by lightweight competitors. The dashboard automatically gathers live project data and displays it in easy-to-read graphs and charts. You can see what your costs are any time you want to toggle over to the dashboard.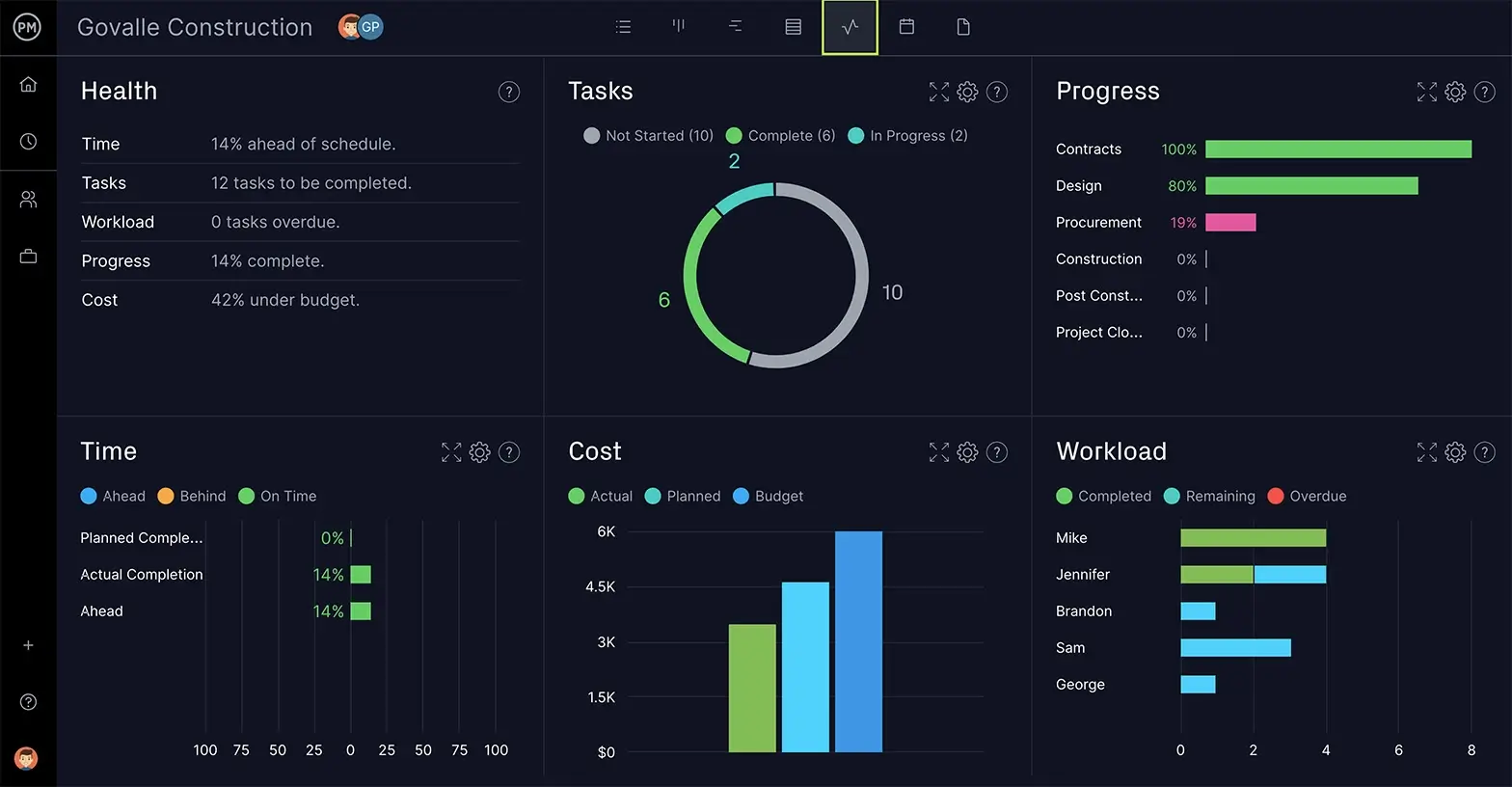 Get Detailed Reporting Features
When you want more information, we have you covered. Our customizable reports can be generated with a couple of keystrokes and filtered to show only what you want to see. They can also be shared with stakeholders to keep them updated on the progress and performance of the project, including costs.
ProjectManager is award-winning software that helps you plan, manage and track your projects in real time. Empower teams with a collaborative platform that helps them work better together and ensure project success with task, resource and risk management features. Join teams at Avis, Nestle and Siemans who use our software to deliver successful projects. Get started with ProjectManager today for free.