As small companies grow, it creates a more complex internal structure that can get in the way of doing business. To keep your company competitive and facilitate better collaboration and communication between departments, use our free organizational chart template for Excel. Download it now.
What Is an Organizational Chart Template?
An organizational chart template is a visual flowchart that shows the internal structure of an organization. It's a hierarchical document with the CEO, president or owner at the top. Underneath is a list of those next in power and who in the organization is under their command.
This breakdown of employees and their positions works itself down to the lowest person on the totem pole. Each person's name and position are captured in a rectangle. Depending on the design, there can also be a picture of the person as well as their contact information including phone number, email, etc.
When the template is complete, there's a full picture of everyone in the company and how they relate to one another. For example, the vice presidents of various departments are under the president or CEO, to whom they report. Under the vice presidents are their teams and a further breakdown of those teams is under each individual team captain, if applicable.
Why Use an Organizational Chart Template?
An organizational chart is important for any company as it clearly identifies the chain of command. This might not be a big issue in a start-up or very small organization, but larger ones or even small ones that start to scale up are going to find that hierarchy confusing.
Work isn't going to get done if you don't know who you report to or whom to ask for direction. Worse, the work that does get done might not be the work that was required, which makes any organization vulnerable and open to risk.
This free project management chart makes it simple to see who reports to whom, who the team leaders are and who is working for which team. That might sound obvious, but as noted, larger organizations often waste a lot of time and money because these relationships aren't clearly defined.
An organizational chart also helps analyze the needs of your workforce. It provides the big picture so executives can see if additional employees are needed or if there are areas that could be streamlined to create greater efficiency.
To take your organization to the next level, try software that collects the names, roles and responsibilities of everyone when assigning work. ProjectManager is online project management software that allows you to create profiles of everyone in the organization. This includes their availability, which makes it easy to know who can do what when creating assignments. You can also use a color-coded workload chart to quickly see who is overallocated and who has too few tasks while balancing workloads directly from the chart. Get started with ProjectManager today for free.
How to Use This Organizational Chart Template
Download our free organizational chart template for Excel and you'll find a tree diagram that works like a flowchart with the leader of the company on top. This project management template is customizable so you can add your company logo and as many branches and boxes as you need. You can also add images and contact information if you prefer. Then you simply have to fill it out.
1. Start with the Leaders
Start at the top and add the name of the company's CEO, president, owner, chairman—whatever the title. This is the individual who runs the company. The buck stops with them. Everyone in the organization eventually ends up reporting to this person, who is accountable for the success of the organization.
2. Identify Department Heads
The next tier has those who immediately report to the boss. This is usually department heads, so this is how we organized the chart. They are vice presidents of sales and marketing, product, human resources, operations and finance. These departments all have their own branches.
3. Fill Out the Team Members
The branches that grow beneath the department head list the team members of that group, usually from the team leader down. Sometimes these groups have subsets of groups that are under the umbrella of one department by having a different chain of command.
Organizational Chart Example
For example, in our template, there's a vice president of sales and marketing. That person oversees both the sales and marketing teams. These teams work together in that marketing delivers leads to sales that then convert them into clients. However, they're also separate entities with their own initiatives to reach shared goals and objectives.
Therefore, they're two separate branches beneath the one executive who oversees both teams. There are often situations like this in companies, and even more complicated ones, but the organizational chart template is designed to capture these complexities and make them easy to discern in a visual tree diagram.
Who Uses Organizational Chart Templates?
The organizational chart template is a high-level document that traces the command chain of a company from its leader down. This means it'll be composed by the leadership team. They define the chain of command and the roles and responsibilities of the people in the company. They're in the best position to map the internal organization of the company.
For Companies or Projects
An organizational chart template can be used for a company but also for a project. It's suitable for any unit with a hierarchy. For example, in project management, the top of the chain of command is the project manager. While they report to either an owner, client or some other stakeholder who initiated the project, the project manager is responsible for managing the project and leading the project team.
Whoever completes the organizational chart template, whether for a company or project, the finished product will be used by everyone in that company or project as a means to understand who's accountable for what and who reports to whom. The organizational chart is a living document that'll continue to be reviewed and revised through the life cycle of whatever is being mapped out, such as a company or project—though companies don't tend to make an organizational chart until they've become big enough to need one to facilitate the internal flow of command.
When to Use This Organizational Chart Template
This leads us to when to use the free organizational chart template for Excel. As we mentioned, it's an ideal tool to show the structure of a business, government or any other type of organization, especially when it becomes too large and unruly to maneuver easily without guidelines.
Planning
There are other occasions that are also appropriate for using an organizational chart template. For example, they can be used as a management tool, for planning purposes and even a personnel directory.
Budgeting
Using an organizational chart can help with budgeting. Executives who use an organization chart can see all the employees in the company and what they do, which can inform everything from healthcare costs to giving raises, business and promotions. All that will help determine the budget each department should receive.
Staffing
You can also use an organizational chart to help managers, human resources and others when trying to figure out staffing needs within the company. The organizational chart shows you who is working where in the company and what skills they have, which helps management figure out employment gaps.
Motivation
In fact, the organizational chart can prove a useful motivating tool. It allows everyone in the organization to know where they stand in that organization and what their role within the organization is. This also means they can see promotional opportunities for themselves in that organization. That alone can be enough motivation to boost morale in the organization.
Communication
It should also be clear that an organizational chart template is a great communication tool. The chart is a map that shows the lines of communication from the top down. If an employee has a question, they can quickly see who they need to speak with to answer that question. Having these clear pathways leads to greater efficiency and less time wasted trying to find who is responsible for what.
More Free Organizational Templates
The organizational chart template is only one of the free project management templates for Excel and Word that can be downloaded on our site. We have free templates for every phase of your project, from initiation to close. Here are only a few of the free templates that could help you create an organizational chart.
If you're starting a business, an organizational chart is a good way to understand the internal structure of the company you're launching. You'll want to use our free small business plan template for Word. It provides you with the space you need to outline the business, product or service, detail your goals and objectives and how you'll achieve them.
SWOT stands for strengths, weaknesses, opportunities and threats. Our free SWOT analysis template for Word helps you evaluate your organization, both in terms of external and internal impact. It's an essential tool for developing a strategic plan that can carry the organization forward to achieve its goals and objectives.
If you need help defining the roles and responsibilities of the people in your company for the organizational chart, you need our free RACI matrix template for Excel. The purpose of this free template is to categorize the people in your organization as responsible, accountable, consulted and informed. When done, everyone knows where they stand.
ProjectManager & Organizational Charts
Templates are great to get you started, but they're static documents that can eventually lead to frustration. If you have any changes, you have to start from scratch. They can map an organization's internal structure, but not task those employees and track their work. ProjectManager is online software that allows you to profile your organization and then set them to work, monitoring their progress and performance in real time.
Give Everyone the Tools They Want
Departments have to work together for the company to succeed but that doesn't mean each department works the same way. Our multiple project views allow everyone to use the tools they want, each of which is updated together so everyone is working on updated data. Managers can use Gantt charts to plan, teams can use list views or kanban boards to execute those plans and the calendar view provides an overview for stakeholders.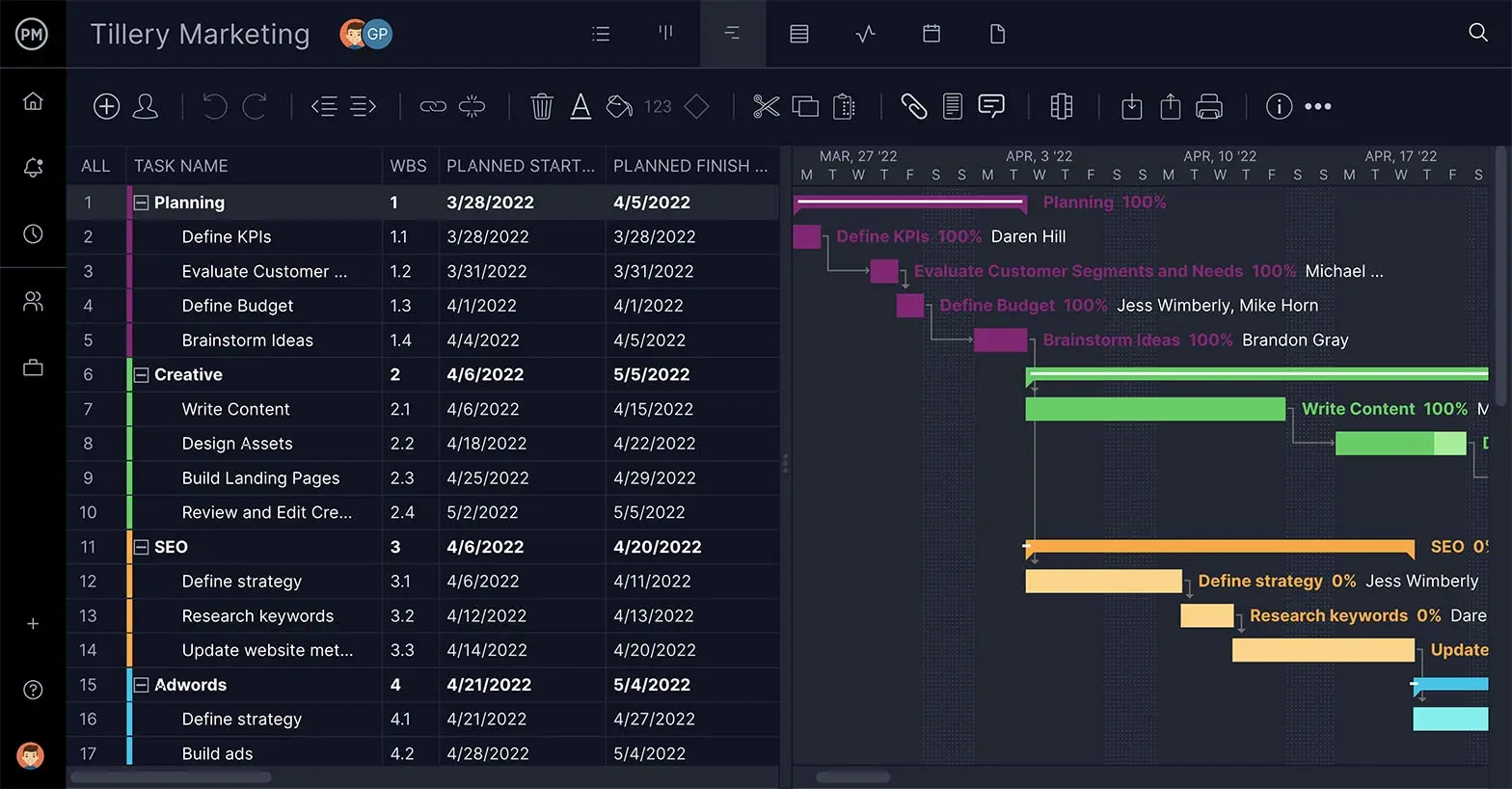 Keep Track of Everything in Real Time
An organizational chart shows the internal structure of the company and the roles and responsibilities of those working within it, but it can't track that work. Our real-time dashboard gives you a high-level view of the progress and performance of work being done by your employees. There's no setup required as with lightweight competitors, it's ready when you are to monitor time, cost, workload and much more—all in real time.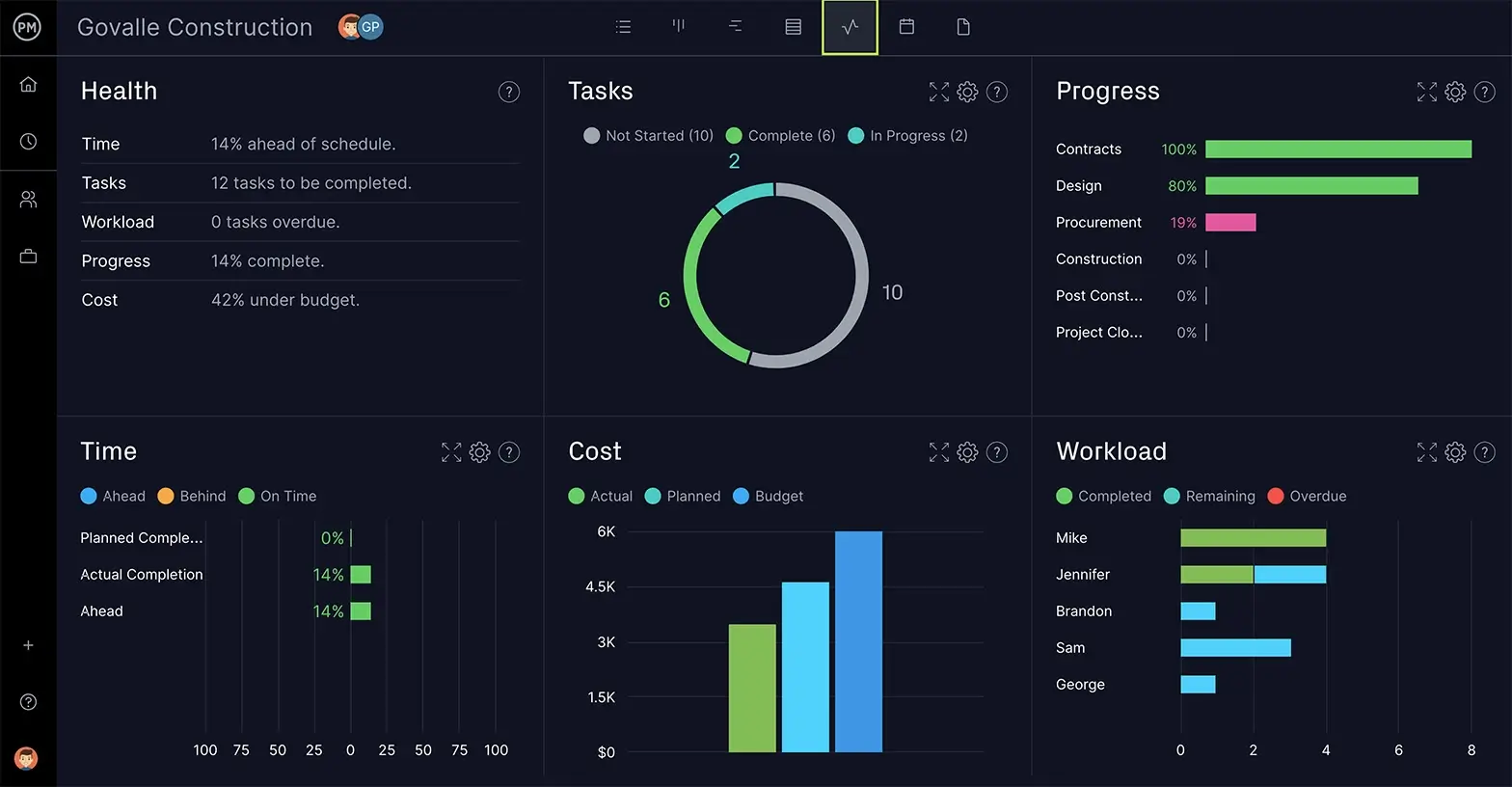 Related Content
Free templates are only a part of the free resources you can find on our site. ProjectManager is not only excellent software but also an online project management hub. Each week we publish a couple of original blogs, but also have free guides, white papers and tutorial videos. Here's a sampling of the free content available on our site.
ProjectManager is award-winning software that empowers teams to better plan, manage and track their work. Our collaborative platform connects everyone, whether they're in a different department or foreign country. Be more productive with our resources, task and risk management features. Join the teams at Avis, Nestle and Siemens who use our software to succeed. Get started with ProjectManager today for free.