Whether your event is big or small, it's going to cost money. To avoid overspending and forecast an accurate cost for the event, you'll need an event budget. Our free event budget template for Excel helps you estimate the cost for every aspect of your event, from the venue to the speakers. Don't go over budget: plan ahead with our free event budget template for Excel.
What Is an Event Budget?
An event budget is an estimate of the expenses involved in creating a function. It will provide a cost for every task based on the resources needed to complete that task. Having an event budget helps you figure out the cost of the event, and then allows you to track those costs as you prepare for the event.
It's helpful to use a work breakdown structure to determine all the deliverables in the event. This way you can attach the necessary resources to the tasks that are needed to create the deliverable. This is the start of an event budget, but also the event schedule. Both of those are instrumental for when you create your event plan.
The event budget is created before the event and can sometimes make an event organizer realize that the event is untenable. The event might prove too expensive. It's always best to figure that out before you start putting money into what will be a lost cause. But we'll get into more reasons why you need an event budget template in the next section.
Why You Need an Event Budget Template
First, we'll explain the benefit of using an event budget template, and then go into the more general reasons to use an event budget when planning an event. First, a template means that the work has already been started for you.  The Excel template has the formulas in place to add up your expenses and show you the budget and then compare that to your actual costs to keep you on that budget. You can archive the Excel template and use it for historic data when planning another similar event.
In general terms, creating an event budget does several things. Estimating the cost of the event will help you determine if the event should in fact happen. You can also use our free event budget template for Excel to track your costs as you execute the event. We'll explain that later, but it is a great tool to help you keep to your budget. Naturally, an event budget will forecast the cost of the event as well as give you an idea of the money it might generate, helping you get the event approved. It's easy to add the free template to the event proposal and create a convincing pitch.
Once you have the event budget in place, you'll want to add it to an event plan. Project management software helps you organize all those tasks and more. ProjectManager has powerful Gantt charts that organize tasks, link all four types of task dependencies and even filters for the critical path to help you identify essential tasks and non-essential tasks. Once you have your plan scheduled, set a baseline and you'll be able to track your planned budget and schedule against your actual costs and progress to help you stay on budget. Get started with ProjectManager today for free.
How to Use This Event Budget Template
Once you download our free event budget template for Excel, you'll see it's broken up into seven event cost categories. But the template is completely customizable. You can add or delete categories as you see fit; we just added what are generally the expenses associated with managing a project.
Event Cost Categories
The event cost categories range from the site costs to entertainment for the event guests. All of these categories are broken down into the various tasks that will be needed to set up that particular category, including the cost of labor and materials. There is a total for these estimated costs, which is the budget line item, and then a column in which you can add the actual costs to track your event costs to help you stay within the budget.
Venue Costs
This is likely going to be your biggest expense. The venue is also one of the most important categories of your event budget. You'll want to find a place that is big enough to hold the expected attendees and complements the event. Keep in mind that you don't want to spend too much on the venue.
Equipment Costs
There is almost certainly going to be equipment costs associated with the event. If you have speakers, then you're going to need an audio/visual system and possible streaming service if you plan to share the event online. You might partner with a ticketing service. There are many small and big items that you should thoroughly think through to avoid any unexpected costs.
Travel & Accommodation Costs
Transportation and acommodations can run the gamut from flying speakers into town to setting up hotels to having parking available for attendees. If you do have parking, you might want to consider valets to park the cars. If you don't have parking, then you might want to have shuttles to the event or rideshares. Again, all these costs must be thought through in advance in order to have a more accurate budget.
Marketing Costs
Equally as important as the site is the marketing. If you can't target your audience and communicate the importance of the event to them, no one shows up. This can be signage or email campaigns, the creation of a website, direct mail and so on. Before you can do that, of course, you have to have a target audience defined and then create the marketing content, such as the brand design, tone of voice and other stylistic elements. Then they have to be sized for the channel they'll be delivered on. There's a lot of work and costs related to this event category.
Staffing Costs
Events don't run themselves. You'll need a staff that will likely require the recruiting and hiring of temporary workers. Beyond the cost of these freelancers, there's the work of creating and posting job descriptions, going through submitted resumes and interviewing potential candidates. This takes a lot of time and effort. Be sure to note the costs in this event budget template for Excel.
Food & Catering
Almost all events will have some kind of food and beverage, whether a full meal or just coffee. That would be the first decision, what kind of food and then the quality of it. Depending on the event, you could cater it yourself with pastries and coffee or you might want something more elaborate, which will require the services of a professional caterer and their staff. That doesn't even include tables, chairs, napkins, etc. Having alcohol is another consideration and finding out if the venue is licensed for that sale. Whatever your choice, it will be a line item on your budget.
Speakers / Entertainment
Most events have a keynote speaker, panel discussions and even entertainment of some sort, like a networking cocktail party that might have a band or deejay. This opens up the need for a stage or dance floor, appearance fees, video production, graphics, travel, etc. Some of these costs will be earmarked on other categories, but you might want to pull them out for this specific category.
Event Management Templates
The event budget template for Excel is not the only free template you can download from our site's template page. There you'll find dozens of free project management templates for Excel and Word that address every phase of your project. Here are a couple of event-related templates that you can download for free now.
The event budget is only part of a larger event plan, which you can outline when you download our free event plan template for Excel. Here you can schedule all your tasks, estimate their duration and track if they're started or finished.
Before you can estimate your event budget you have to propose the idea. Using our free event proposal template for Word helps you sell the event by explaining its purpose, the goals and objectives as well as the target audience, schedule and more.
How ProjectManager Helps You Track Your Event Budget
Templates are great to propose the event and get it approved, then plan and budget the event, but then you'll want to use project management software. Templates are static documents, but ProjectManager delivers real-time data to help you make more insightful decisions. Our software has Gantt charts to plan and then four other project views—kanban boards, task lists, calendar and sheet views—that allow your team to work how they want. Then you can track their progress anywhere and even manage resources to ensure your event is a success.
Track of Progress With Real-TIme Dashboards
An event producer can be everywhere at once, unless they're using our software. By just toggling over to the live dashboard they can get a high-level overview of the work being done right then. The dashboard automatically captures real-time data and displays it in easy-to-read graphs and charts that show the overall health of the project, tasks, time, cost, workload and progress. Unlike lightweight planning tools, we don't make you get bogged down with a lengthy setup process. It's ready when you are.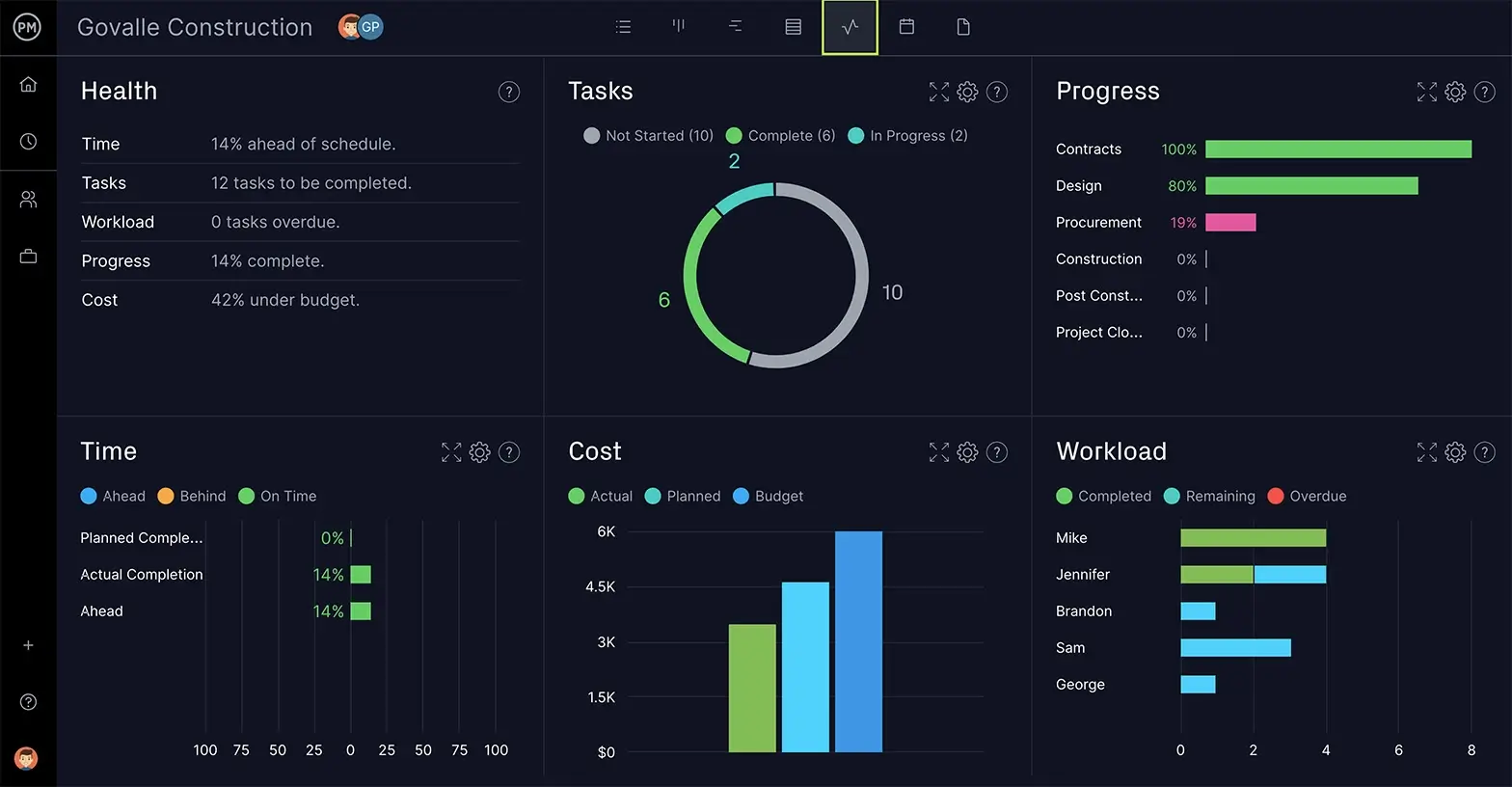 Keep Productive With Resource Management Tools
To ensure that the event goes off without a hitch, you need to track the work that is being done to set it up and run it over the course of the event. Our resource management tools help you list your team's availability, including holidays and PTO, their skills and then monitor their workload. Our workload chart is color-coded so it's easy to see if someone has been overallocated. Then you can reallocate their tasks right from the chart to balance workload and keep everyone working at capacity.
Related Event Management Content
If you're still curious about event budgets, planning and management, we have more content for you to read. Our site is an online hub for all things project management, across many different industries. We publish weekly blogs, in-depth guides, tutorial videos, eBooks and, of course, templates. Here are some of our event-related resources.
ProjectManager Is Superior Event Planning Software
Now that you've read about event management it should be clear that ProjectManager is one tool you need to get the job done right. Our cloud-based software connects you to teams on site and in the office, allowing you to share files and comment at the task level to foster better collaboration. We have task management and risk management tools to ensure your project is productive and not delayed, plus reports to keep stakeholders informed. Get started with ProjectManager today for free.