To manage a project well, you have to identify and organize the parts to meet your deadline and stick to your budget. A business requirements document (BRD) captures everything a project requires in one place to help lead the team and inform stakeholders. Use our free business requirements document template for Word and make sure you don't miss any essential details necessary to deliver success.
What Is a Business Requirements Document?
A business requirements document collects the necessary information to deliver a project successfully. That includes the objectives that the project is planning to achieve, the scope of the project, the project schedule and much more.
In a sense, you're creating a roadmap or guidelines for project stakeholders who'll be making business decisions in terms of the project's priorities, design, structure, etc. Throughout the phases of the project, a business requirements document ensures that the execution aligns with the project goals.
Beyond that, it can act as a contract between customers and vendors by outlining the expectations of the project and its deliverables. The standard by which the successful completion of the project can be concluded is set by the business requirements document.
Why You Need a Business Requirements Document Template
Using our free business requirements document template for Word is helpful as it maps out the requirements you need to define as you begin planning your project. In that way, it saves time and effort. It also provides consistency as you work on new projects and want to look back at historical data to inform your new project.
But there are benefits that go beyond its sections being templated. For example, with a BRD template, there's less of a chance that a project will fail because business requirements have been aligned and represented.
You can also connect the goals of the individual project to the larger, overall goals of the company. This keeps the project aligned with business-wide objectives and promotes the health of the company.
It's a great way to monitor the project health, create consensus among the stakeholders and the team members. Then there's collaboration, which comes from transparency and saves costs by reducing change requests.
The business requirements document template is part of the planning phase of a project. ProjectManager is online project management software that allows you to plan, manage and track your projects in real time. Organize your tasks, resources and costs on a timeline, filter for the critical path and set a baseline to track planned vs. actual effort in real time. Get started with ProjectManager today for free.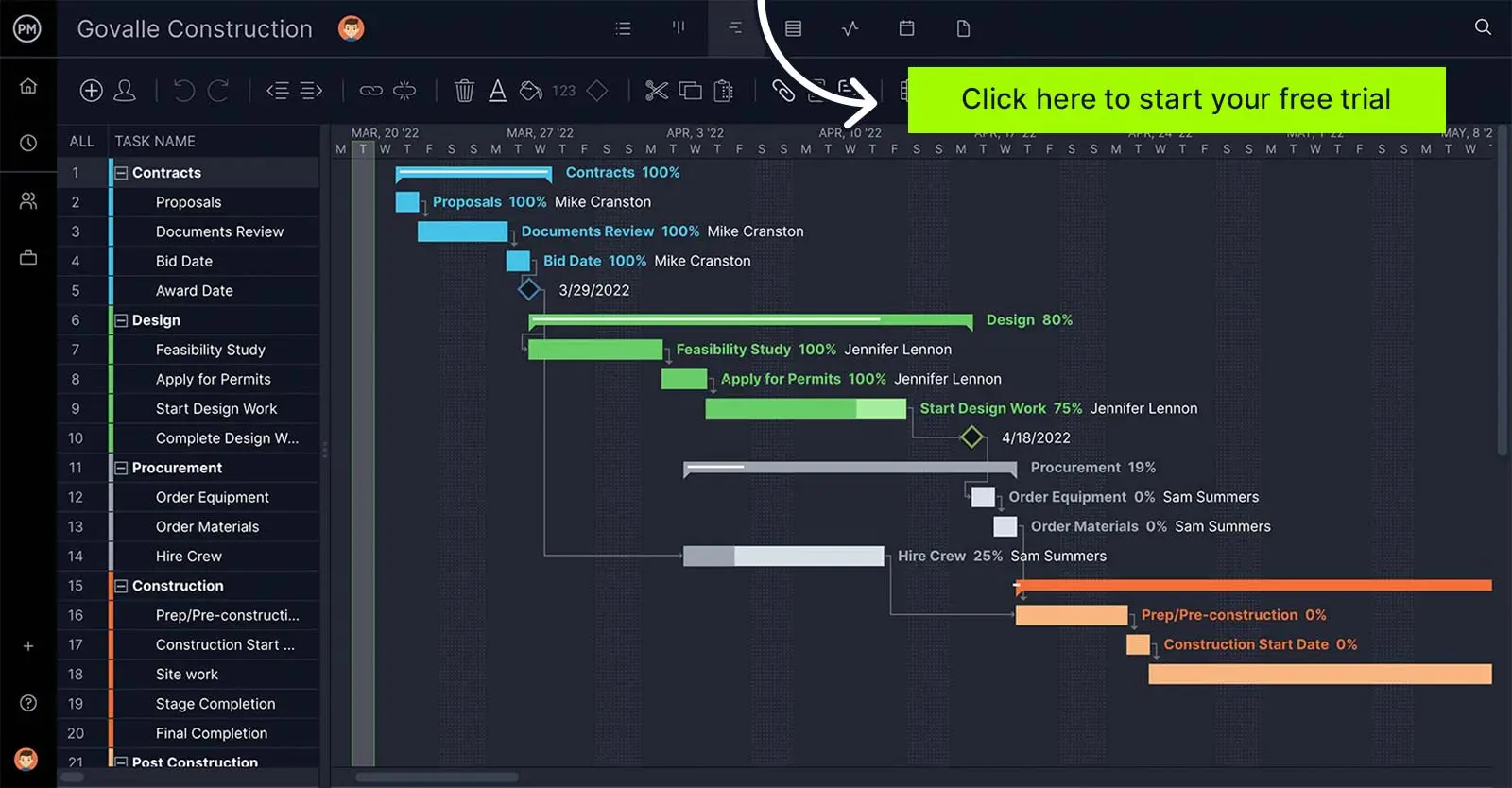 How to Use This Business Requirements Document Template
Once you download our free business requirements document template for Word, you can start to reap the reward of those benefits. Our fully customizable template can be changed to add or subtract sections to better mirror your project. It includes the following nine sections that are the foundation of any thorough business requirements document.
1. Executive Summary
To start your BRD template, you want to have a summary of what's to follow. The executive summary is a bit more than an index; it's more of an overview of the highlights. This is an ideal introduction to give stakeholders the big picture without delving into too much detail. There'll be plenty of time for that later.
2. Business Objectives
Use SMART (specific, measurable, achievable, relevant and time-specific) goals to define the project objective. This involves analysis, assessment and understanding clearly where you want the company to be in the future and how the project will help get you there.
3. Needs Statement
This is where you'll identify the need that the project intends to resolve or address. In this section of your BRD template, you'll flesh out that problem or need so it's clear that you're aware of it in the larger context and that the project is designed to take advantage of this opportunity.
4. Project Scope
At this point, you want to list all the project goals, deliverables, tasks, costs and deadlines. This is the basis of your project plan, which will organize those tasks, attach resources to them and create a schedule that delivers the project in a timely manner.
Related: Free Project Plan Template
5. Requirements
The requirements that you need to identify for this business requirements document template are threefold. They include business, solution and stakeholder requirements.
Business requirements define what the company wants to achieve by the end of the project. It describes how after the project is completed, capabilities will change.
Solution requirements describe the characteristics of the project solution that will meet the business and stakeholder requirements. It is for those who are executing the project.
Stakeholder requirements are for those people who will use the results of the project, such as certain stakeholders, end users, et al. It explains how the project will help them.
6. Stakeholders
List the important stakeholders in the project. This can include end-users, clients, team members and project sponsors or anyone who is impacted by the project. Interviewing them is critical in gathering requirements for the project.
7. Project Schedule
Include a detailed schedule of the project. That schedule should include deadlines and milestones to help monitor progress and make sure deliverables are on time. This helps team members know what they're accountable for and helps to keep stakeholders updated.
8. Cost-Benefit Analysis
Here, you'll capture the costs associated with the project and note the expected benefits. A cost-benefit analysis will help you determine if the financial gains of the project outweigh the financial investment.
9. Project Constraints
Write down all of the things that might restrict or limit the project including the budget, time, resources, team skill levels and so on. It's important that these constraints are carefully examined, accurate and justified within the BRD.
Who Should Use This Business Requirements Document Template?
When it comes to filling in the fields of your free business requirements document template, there are several people that should be involved. First and foremost, the customer. The customer will determine the requirements as they will use the project's deliverables.
While the customer isn't physically using the template, they're informing it at its core. A business analyst is responsible for figuring out the problem or niche that the project is going to address. That potentially involves interviewing customers but also market research and other demographic findings.
The project manager is the owner of the business requirements document template and is likely the person on the project team who will fill it out. They're tasked with delivering the solution to the problem or filling the niche that was discovered by the business analyst as they collected data from the customer.
If it's an IT project, a systems analyst is responsible for designing the business requirements. A marketing manager will lead the marketing strategy and a product manager will help to define the why, when and what of the product that the development team will build.
Other Templates to Help with Business Requirements
The free business requirements document template for Word is only one of the dozens of free project management templates we offer on the site. There are free templates that address every aspect of managing a project, from start to finish. Here are only a few of the ones that relate to the topic at hand.
Another document that can help is the free requirements gathering template. It's a more general one that includes the project plan, scope, timeline with milestones, goals, dependencies and more. There's a project description for stakeholders to share their expectations in terms of goals and objectives.
The free stakeholder analysis template will help you identify the stakeholders in the project and determine their level of participation, interest and power or influence over the project. This will help you not only know who your key stakeholders are, but how to manage them, such as the frequency of communications and more.
Doing a cost-benefit analysis is part of any thorough business requirements document. This free cost-benefit analysis template helps you calculate this important information to figure out if the money the project will cost is worth investing considering the return the project will provide. Don't move forward with your project until you've done a cost-benefit analysis.
ProjectManager Helps You Implement Your Business Requirements Document
ProjectManager is cloud-based project management software that helps you plan, manage and track projects in real time. Once you have created a business requirements document, you have to make a plan to coordinate all your resources, costs and schedule to deliver on time and within budget. Our real-time data helps you make better decisions with features that let you monitor how you're doing as you're doing it.
Track Progress and Performance in Real Time
To make sure you're keeping to your project plan, you need to monitor your progress and the performance of your team. This data is crucial. Having real-time dashboards means you're getting a high-level view of the project as it is happening, which means you can respond faster to keep your project on track. You don't have to configure our dashboard like you do with competitors' products. It's ready to go when you are.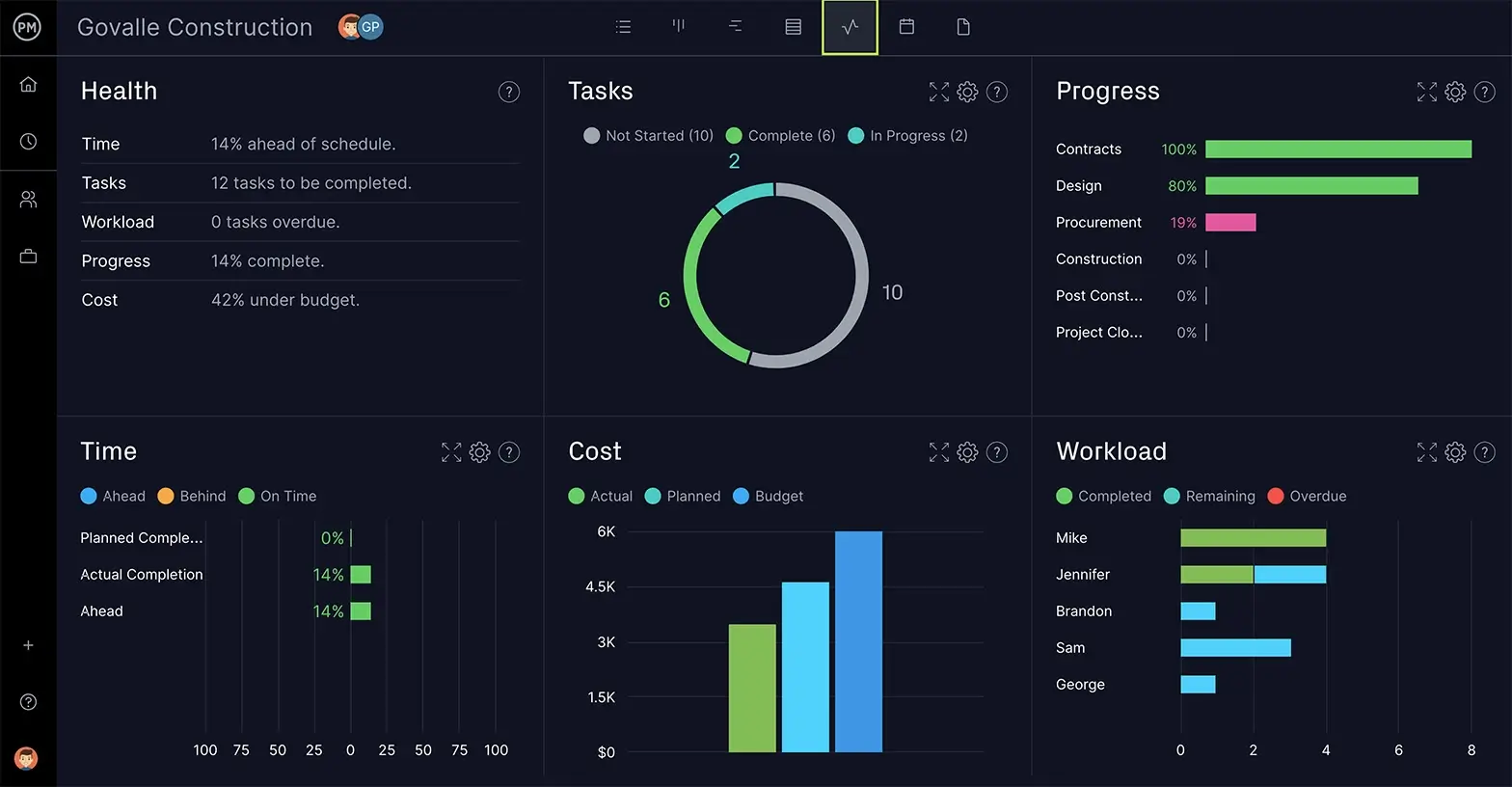 Give Teams the Tools They Want
Implementing a project involves the cooperation of many different departments, from IT to marketing and sales. But while managers love Gantt charts, the IT department probably wants a more agile tool. That's why we have multiple project views, such as kanban boards to visualize workflow, list, calendar and sheet views. Each project view is updated in real time and allows every department to collaborate on the tools they're most comfortable with.
Related Content
ProjectManager is more than just powerful software, it's an online hub for all things project management. Every week we publish new blogs, and there are tons of tutorial videos, guides, whitepapers, and, of course, free templates. Here are a few pieces that relate to a business requirements document.
ProjectManager is award-winning software that empowers teams to deliver success. With features that manage risk, tasks and resources to customizable reporting tools that delve into real-time data to inform managers and update stakeholders, our software is the ideal tool to deliver a successful project. Join the teams at NASA, Siemens and Nestle who use our software. Get started with ProjectManager today for free.