A business case template is a document that helps sell your project. It collects the main points of a project and delivers them in a clear and concise manner. Our free business case template for Word is a great tool to help you gather that important data during the project initiation phase and show the project stakeholders the value and validity of the project.
What Is a Business Case?
The business case is a document used in project management to show that the costs related to the project are worthwhile and there will be a strong return on investment. These documents summarize various aspects of the project including its objective in addition to the costs and benefits that the project will deliver to its stakeholders.
You can think of a business case as the pitch you make to win over the client, customer or stakeholder. It justifies the project by evaluating the benefits, costs and risks while showing why this project's path is the preferred solution to whatever problem the project is solving or the need it's addressing. This buy-in is essential for any project to meet its objectives.
A business case provides details that are only outlined in the project proposal of the project. Unlike a project charter, which is a high-level description of the project and its deliverables, the business case is more focused on return on investment and future opportunities. The project charter details the actual project more than the business case, which is about justifying a company's decision on taking on the project.
Why You Need a Business Case Template
The main reason why a business case template is so important is that it does the due diligence for stakeholders and proves that the expense is worth the return on their investment. There are many projects that might be in a company's pipeline with only so many resources to deliver them. It's crucial to know which project is going to be worthwhile from a financial viewpoint.
A business case acts as a number of different cases. For one, it's the strategic case, looking to see if the project aligns with the overall company strategy. The economic case explores if the project offers the best value. A commercial case looks at the project through the lens of the market. A financial case sees if the investment is affordable for the company. A management case looks at those who will be involved in the project and whether they can deliver it.
No matter the project, big or small, the business case is a must if only to define the business needs and objectives of the project. Whether you have a long document or capture it all in the span of a single page, the business case template is a great way to align the project team and stakeholders, one of the most important reasons why you need a business case.
How to Use Our Business Case Template for Word
In order to fill in the blanks in our free business case template for Word, you need to start with research. That research will include the market you intend to introduce your project or service to the competitors that are already in that space and any alternatives.
Next, you're going to compare business and project management approaches, looking for the best fit. The best approaches will be included in your business case template. Then you'll compile all the data you have and present those strategies, goals and options.
Don't forget to document everything. Your business case should be to the point but at the same time not skip important details that will sway your stakeholders. In order to do that, you'll want to have an outline and then fill in each section. That's where the free business case template for Word comes in—it does it for you.
Elements of Our Business Case Template
Our free business case template lays out all of the areas you'll need to paint a full picture of the project, its objective, benefits and risks. This picture should be realistic while simultaneously proving the feasibility of the project from the point of view of investment. Our free business case template for Word is broken up into the following categories.
Executive Summary
This is at the top of our template. It's the elevator pitch, in a sense, as it is a short roundup of all the sections that follow in the free business case template. This will provide your stakeholders with a way to get the gist of the whole document at a glance.
Mission Statement
It doesn't hurt to have a mission statement, which is different from the above summary. It is a place to define the project's objectives, purpose and goals. The mission statement is like the North Star in that it will help lead the team as well as help stakeholders understand the project more fully. If the project moves forward, there will be changes along the way and the mission statement will make sure that as you adjust your project plan you always keep the reason for the project in the crosshairs.
Product or Service
In this section, you'll describe the product or service that is the final deliverable of the project. More than just a description, however, it should explain how it will be competitive, what niche it's filling, the problem it's addressing or the need it's filling.
Project Definition
Here, you're going to discuss the project itself, such as what its business objectives are and how you'll achieve them with the project plan outline. This includes the project scope, such as the tasks and deliverables of the project that will allow you to reach your business objectives.
Project Organization
With this section, you'll get into the style of coordination, communication and management you'll use in the project. There are four basic project organizations: functional, which is a traditional structure with departments and managers who report to an executive; project, with divisions that focus on a specific project; organic, where the project follows a natural progression that is more flexible; and matrix, which is part function and part project-based.
Financial Appraisal
This is the dollar and cents part, so it's extra-important as most businesses focus on the bottom line. You'll need to show the costs of the project, which is the budget estimation, including how much all of the tasks and resources will be, and why that cost is less than the benefits that the project will deliver to the business. This comparison can be done with a sensitivity analysis and cost-benefit analysis.
Market Assessment
Whatever your product or service and however successful you say it will be, you must back up those claims with market research. This means looking at the market you plan to deliver your product or service, defining it, showing the competition and its percentage of that market, plus how you can reach an unserved segment of the market or answer a need that hasn't yet been served. Not only the opportunities that you see in the market, but you need to also outline any threats to your product or service.
Market Strategy
Once you have done your market research it's time to develop a strategy to take advantage of the opportunities you see there and avoid the threats. Describe what your distribution channel will be and what you think is a competitive price point for the product or service. Profile your target audience and how you'll reach these customers and other aspects of your marketing plan.
Risk Assessment
No project is without risk. The best way to prepare for this unknown inevitable is by making a risk assessment of the project. Where are the weak points? Identify potential issues that might arise over the life cycle of the project and develop plans to mitigate or take advantage of these risks, as there are both negative and positive risks in a project.
How ProjectManager Helps Turn a Business Case Into a Project
ProjectManager is project management software that helps you turn a business case into a project. We have the tools you need to plan better and monitor your execution so you deliver your project on time and within budget. A business case is what convinces your stakeholders that the project is worthwhile.
Create Detailed Plans on Robust Gantt
The project plan is how you're going to get from the idea to the reality. Now that you've outlined that path in your business case, use our interactive Gantt chart to stay organized. You can organize tasks, link dependencies to avoid bottlenecks and set milestones to track progress. Our tool goes even further by allowing you to filter for the critical path without time-consuming calculations. Once you set the baseline, you can then generate variance reports to see if your actual progress is aligned with your planned progress.
Monitor Progress and Performance With Real-Time Dashboards
In order to meet the expectations set by your business case and keep your stakeholders updated, you need to have an eye on your project to see things as they happen. Our real-time dashboard automatically collects and calculates six project metrics and displays them in colorful graphs that are easy to digest. Unlike lightweight tools, there's no setup required. We also have real-time reports that dive deeper into the data, which can be filtered to show only what you want to see and shared with stakeholders to manage their expectations.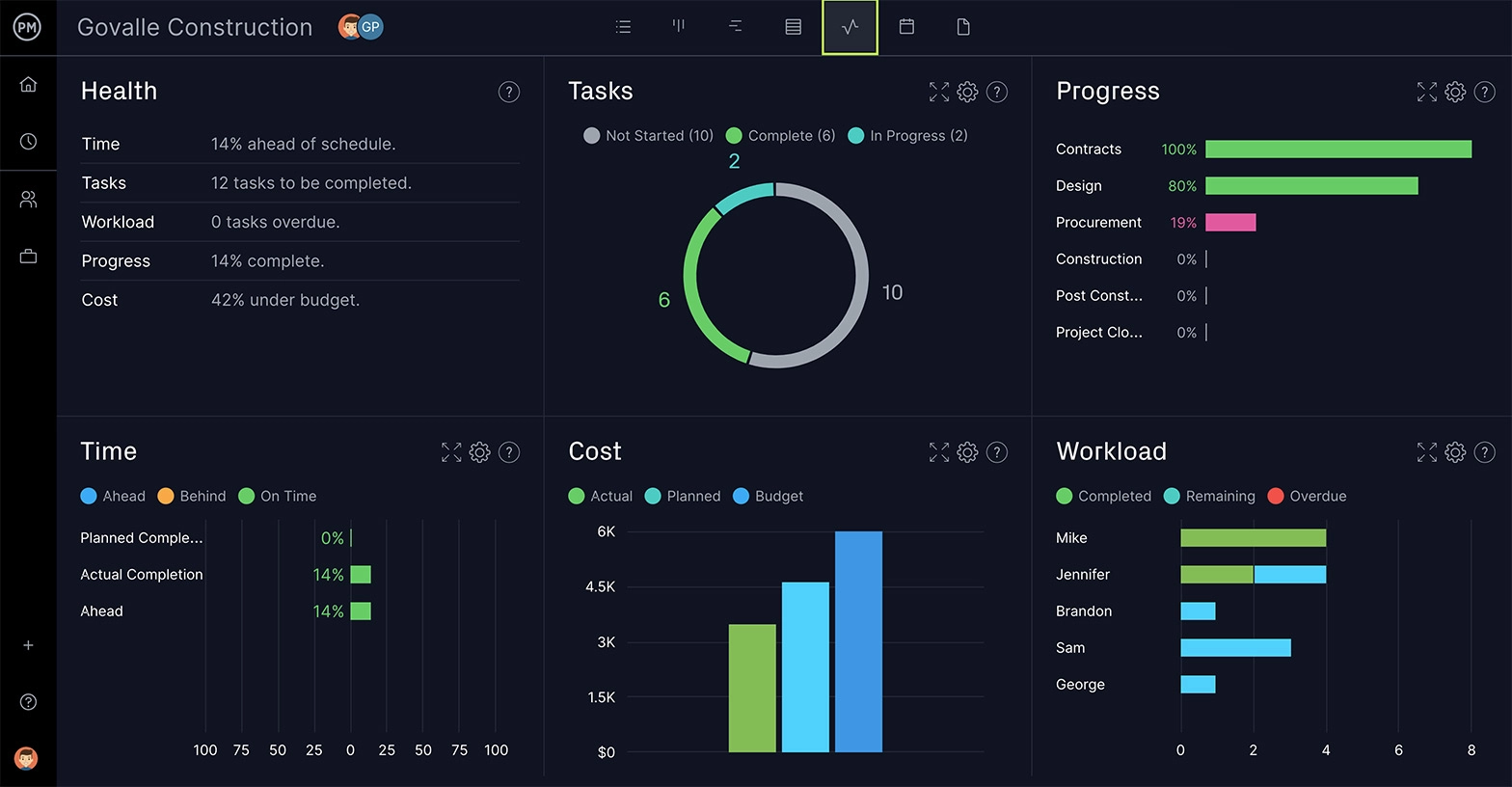 Other Templates to Help Build a Business Case
The business case template is a powerful tool to win over your stakeholders. ProjectManager is not the software that will make the business case a reality. But we're also an online hub for all things project management, including dozens of free project management templates you can download as you're building your business case. Here are a few.
Part of any business case is the executive summary. If you need help composing this overview, our free executive summary template for Word is what you should download. It's all here, everything you'll need to collect the main points and write a powerful and direct executive summary to sway your stakeholders.
When developing a strategic plan for your business case, our free SWOT analysis template for Word helps you map the internal and external factors of influence. SWOT stands for strengths, weaknesses, opportunities and threats. This free template download can help you see your project in a bigger context.
Another important part of a business case is the financial appraisal. What you need is to make an accurate forecast of your project's costs. Our free estimate template for Excel helps you identify all the project costs related to labor, materials and more to show your stakeholders why their investment is going to give them a greater return.
Related Content
ProjectManager is also a great place to read about project management. We publish multiple blogs a week and have hundreds of tutorial videos, guidebooks, white papers and much more. These assets cover every aspect of managing a project, from initiation to close. Here are some related to making a business case.
ProjectManager is award-winning software that organizes work, monitors progress and reports on performance to keep you productive. Whether you're managing one project or a program or a portfolio of projects, we have the tools that connect teams across departments or the country. Real-time data helps you make more insightful decisions. Join teams at NASA, Siemens and Nestle who use our tool to deliver success. Get started with ProjectManager today for free.