There are no guarantees that starting a project will ensure that it's delivered successfully. There are many ways a project can fail. To avoid failure, it's important to understand failure and know the signs that your project is in danger.
What Is Project Failure?
Project failure can be delivering a project after its deadline, over its budget or not meeting its quality expectations. It could also be not delivering the project for any number of reasons. But however, if the project fails, the client or stakeholder won't get a return on their investment.
There are many ways to avoid project failure, one of which is using project management software. ProjectManager is award-winning project management software that empowers teams to plan, manage and track projects in real time. Use Gantt charts to accurately plan, real-time dashboards to analyze live data and other features to manage tasks, risk, resources and more. Get started with ProjectManager today for free.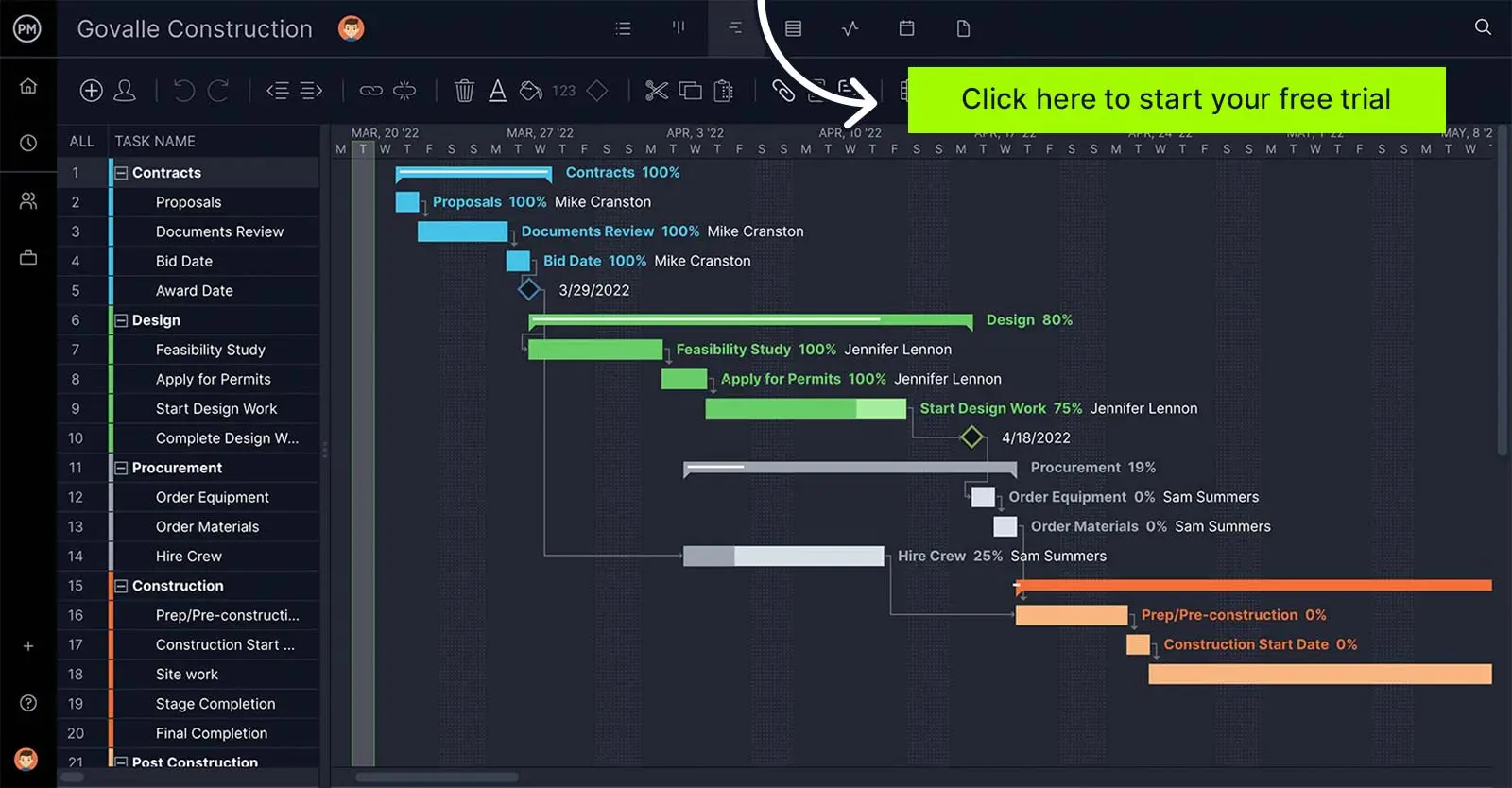 Top 10 Reasons for Project Failure
In this video, Jennifer covered 10 of the most common reasons why projects fail. Through her own research and experience, she revealed that the causes of project failure are:
We hope you've enjoyed hearing about these reasons and are now able to think about how you can stop them from derailing your own project.
Thanks for watching!
1. Unaligned Stakeholder Expectations
Number one, unaligned stakeholder expectations – unaligned expectations can still be unaligned even though expectations have been set and agreed upon. But I'm sure you've seen it yourself, where people leave the meetings and they go to their respective organizations and they talk about how they're unaligned. They don't agree.
Even though they've agreed on paper, organizations, groups or teams still don't have the same expectations, so they're unaligned. Unconsciously, people still start doing what they want to do and that comes into conflict.
2. Starting the Work Before the Project Is Properly Approved
Number two, implementing before the project is actually approved or baseline. You've seen it where in every organization or company, where companies are trying to get projects executed and implemented. Maybe they're trying to get first to market a new product or maybe there's a need in the organization or outside the organization.
Then, the team members may have experience in that organization so they know kind of what's supposed to be done. So, everybody starts running down the road before all the approvals, before the budgets, before everything has been approved. People start doing things that may end up not being on the approved or baseline plan. Maybe budgets that people thought were going to get approved, don't get approved, so resources don't get approved. Things get worked on that are out of scope, outside the budget, so that causes problems down the road.
3. Inexperienced or Untrained Project Team Members
Number three, inexperienced or untrained resources. We're all fighting for resources and today many organizations are trying to do more with less. It's not uncommon to have resources on your team that are inexperienced or untrained. But the idea is that when we do set that situation up, without estimating things appropriately and taking that into account, we get into trouble which can lead to project failure.
Maybe a certain resource or certain person provided a certain task or produced a certain deliverable in the past, so have estimates from a previous project. If you put a new resource in place, maybe one that doesn't have the same experience, or skill sets as the other one and you're going off the old estimates if you don't re-estimate based on the experience or the skill sets of that resource, then they're probably not going to be able to accomplish it in the same time. It sets that person up for failure and it sets the project up for failure too.
4. Inadequate Systems
Inadequate systems, meaning maybe this is a project where the resources are global or they're remote. Your team members are remote and maybe you need some access for people to be able to collaborate, and update things. Without having adequate systems where people can access things online, and update them in real-time, if they're inadequate things aren't going to be updated and people informed appropriately.
5. Inaccessible Systems
So, number five, inaccessible systems, again, that gets back to maybe software, spreadsheets, tools, templates are not online or critical resources on your projects can't get those updated. Maybe they can't even see them and view them. Or even know what task they're responsible for, what deliverables they're to be producing by what timeline. They don't know the milestones. So when these two aren't available, that might cause project failure.
6. Team Conflict
Number six, team conflict, so for sure, when projects start failing or things start going wrong, emotions start going high and teams start getting into conflict. Everyone is at their worst at that time. But it's common for teams to begin getting in conflict. That can actually be the cause of some projects derailing when teams get in conflict.
If you think of sports teams or maybe bands or I don't know if you're artistic or musically inclined, but typically, where you have people together on the same team, then generally they're working together. So if your team is in conflict and fighting against each other, then that can lead to the actual project failing and amplifying it if it's not the cause.
7. Lack of Cross-Functional Collaboration
Number seven is the "us" versus "them" mentality. You've seen it where maybe different organizations, maybe sales and marketing don't get along, or the marketing team doesn't like the IT team, because sales sell something and they say IT can't get it done for their customer. It doesn't matter what scenario, you've seen it all in your own organization. But the "us" versus "them" leads to projects failing because people stake their territory and they fight for their rights. They take their stand and so it leads to more problems.
8. Poor Resource Allocation
Number eight is misaligned resources. Maybe you've had to put someone in a role and they're not trained. Maybe they're not experienced and they can't do it. But if they're misaligned, if you don't set your resources, and your people up for success, then typically people don't do what they don't want to do. We do what we know how to do. But when we start putting people in misaligned roles, then things don't get done on time and that can lead to a big source of project failure.
9. Switching Priorities
Number nine, switching priorities, especially nowadays with things, companies are changing priorities on a regular basis, so if the priorities change within the organization and it's not communicated to your team or your organization. The project plan has gone back and re-baselined and people are still working off of those. Maybe some of the priorities change and some of your critical resources or critical people on the team get taken away.
Maybe some of the scope gets cut or the budget gets cut from your project and shifted to another. That leads to project failure if you don't go back and baseline your project plan. If you do go back and use good project management techniques, then it won't be considered a failed project.
10. Scope Creep
Number ten, uncontrolled project scope, that's where things change due to changing priorities or things changing, where the scope gets out of control. Maybe people are committing to things outside the change control board.
That's why it's critical to have a change control board, to bring those scope requests in. Things you run into during the project, give them to the change control board and let them handle those decisions. But if those decisions aren't brought to the change control board, so your stakeholders can analyze them and make decisions based on what the company needs are, then it leads to project failure.
How to Avoid Project Failure: 5 Key Tips
Projects fail for many reasons. However, there are just as many things you can do to help your project succeed. The following are a handful of ways to avoid project failure.
Create a Solid Project Plan & Project Documentation
The structure of a project plan might vary from one project to another, but there are certain project documents that should be part of your project plan to help you and your team avoid project failure.
Define the Project Goals & Key Deliverables
Project goals are the purpose of the project and deliverables are the steps that take one closer to achieving those goals. Projects often fail when the goals and key deliverables aren't clearly defined.
Promote Team Collaboration
Collaboration is when a team is working together effectively to deliver the project's goals. Fostering collaboration through project management tools, team-building exercises and other tools and techniques will drive productivity.
Manage Stakeholder Expectations
Stakeholders are anyone who has a vested interest in the project. They are, understandably, going to want to know how the project is going as they're the most affected by project failure. By regularly updating stakeholders, a project manager is able to keep them informed but also avoid them getting in the way of the team and the execution of the project.
Set Project Baselines
Setting a project baseline captures the project plan. This allows the project manager to look at the actual project's progress and compare it to the project plan and where they should be at that time. If there is a discrepancy between the two, then the project manager can reallocate resources to get back on track.
Project Management Templates
While project management software is preferred, if you're not ready to upgrade ProjectManager has dozens of free project management templates for Excel and Word that you can download right now for free. We have free templates for every phase of the project and these templates are sure to help you avoid project failure.
Planning is essential. Without a project plan, you're risking failure. Our free project plan template for Word helps you lay out the entire project from scope to milestones and much more. By laying out all the tasks, costs and more, you're giving your project better odds to succeed.
A project budget estimates all your costs. Our free project budget template for Excel helps you forecast your direct and indirect labor costs, material costs and more. There's even a column to track your actual costs against your budget.
Projects fail if they're not monitored. By the time you discover something is wrong, it can be too late. Our free project status report template for Excel helps you capture vital project information to stay on track and update your stakeholders.
How ProjectManager Helps Avoid Project Failure
Status reports can only do so much. They're static documents that take a lot of time and effort to update. ProjectManager is award-winning project management software that captures real-time data for more insightful analysis and automates workflows and more to streamline processes without sacrificing quality.
Our online planning tools, such as the aforementioned Gantt charts, but also kanban boards, task lists and calendars make it easy to plan, edit and keep track of your work in real time.
Monitor Work Real-Time Project Tracking Tools
Planning is only the start. To avoid failure, project managers need to monitor the progress and performance of their projects. Real-time dashboards help do this. Just toggle over to the live dashboard and you can track project metrics such as time, cost, workload and much more. This high-level view helps project managers catch issues and quickly resolve them. Unlike lightweight alternatives, our dashboard doesn't require any time-consuming setup. It's ready when you are.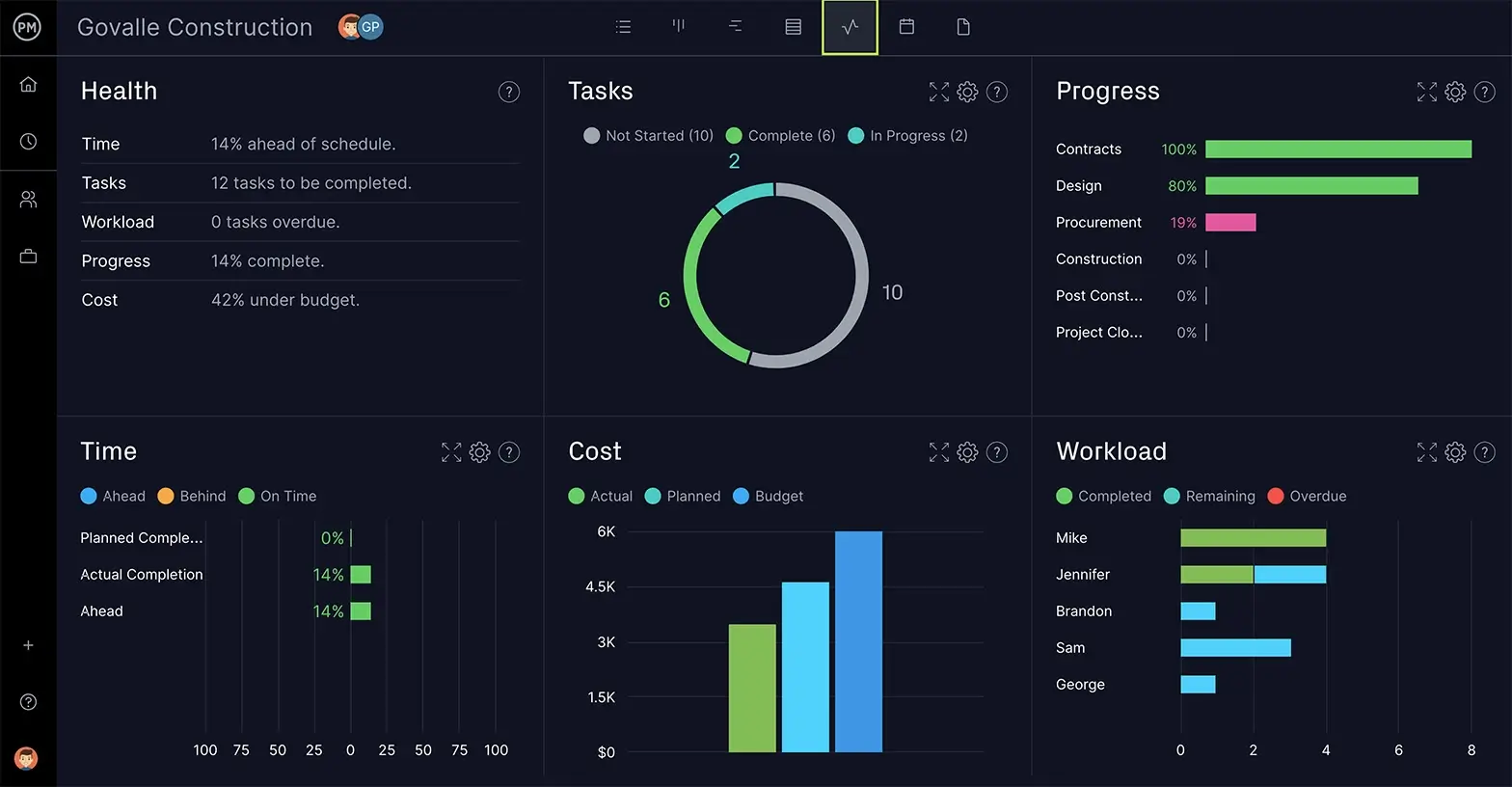 Go Deeper With Project Report Features
Dashboards are great for an overview, but our customizable reports give you more detail, which can make the difference between a project failing and succeeding. It's easy to generate status reports or portfolio reports if you're managing more than one project. There are also reports on variance, workload, timesheets and more. Each report can be filtered to show just the data you want to see. They can also be shared in a variety of formats to update stakeholders.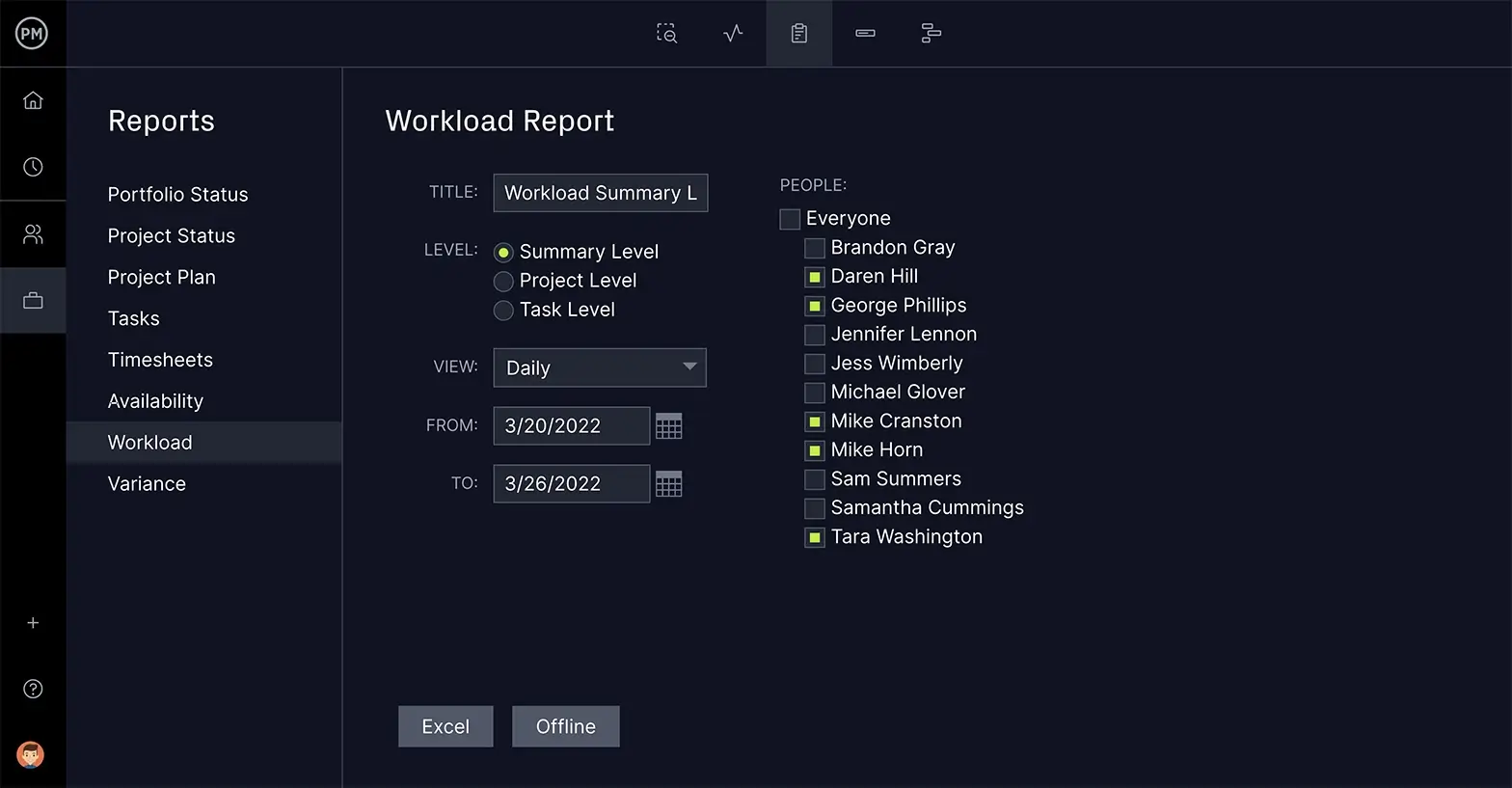 ProjectManager is made to give you more control over your project. From task management tools to boost productivity and resource management tools to balance workload and keep teams working at capacity to risk management tools to identify and mitigate issues, our software helps you deliver success.
ProjectManager is online project management software that connects teams in the office, out on the job site or anywhere in between. Teams can share files, comment at the task level and more. Join teams at companies as diverse as Avis, Nestle and Siemens who use our software to succeed. Get started with ProjectManager today for free.