Project complications occur when working on a larger project with many moving parts that must eventually align. Without proper alignment of these parts, the project can slow down, become less productive and possibly grind to a halt. That's why project managers use project integration management to improve project collaboration.
What Is Project Integration Management?
Project integration management is a way of making various processes work together. Meaning, it takes the numerous processes that are being used in a project and makes sure that they're coordinated.
Project integration management accomplishes this by making trade-offs. That means that you can't have everything if you want to get the project completed on time and within budget. This is the normal operational procedure for any project manager. If there are competing objectives, then alternatives are needed to meet stakeholder's expectations.
To achieve this means identifying, defining, combining, unifying and coordinating the many processes and activities within the project management process groups. Therefore, project integration management involves making choices about resource allocation and trade-offs, while managing those interdependencies that are in the project management knowledge areas.
Project management software helps coordinate your project integration management. ProjectManager is award-winning project management software that has robust Gantt charts that organize project phases, resources, costs, tasks and more. You can see your entire project on a visual timeline to help you make better decisions in terms of resource allocation over the life cycle of the project, plus link dependencies, filter for the critical path and set a baseline to track project variance in real time. Get started with ProjectManager today for free.
The 7 Project Integration Management Steps
There are certain steps or processes that you and your team should take to implement project integration management.
1. Write a Project Charter
The project charter is what gives the authority to initiate the project. A project charter contains the preliminary roles and responsibilities of the project, including the goals and objectives, and the appointing of a project manager. It is used as a reference document as the project moves forward.
The project charter is generic enough that it won't have to be changed much throughout the project life cycle. It is usually written by a manager who works directly above the project manager, though a project manager can be the one who creates it.
2. Create a Project Management Plan
The creation of a project plan is the most important step in the project integration management process because it's a document that defines how all the different elements of a project will work together for its successful delivery.
Here are some of the main elements of a project plan:
It should also include baselines, such as the schedule baseline, cost performance baseline and scope baseline. The baseline will only change through a formal change request.
It's at this point that there will be kickoff meetings after the planning phase but before the project is executed. This forum is used to communicate the project responsibilities of its key stakeholders.
3. Direct and Manage Project Work
Once there's a solid project management plan describing how the project will be executed, then comes the time to direct and manage the project execution. The project has started, and deliverables are being produced. This is the process of managing the technical and organizational parts of the project. It serves to foster a smooth execution of project work. The execution of the project is divided into three parts: implement, manage and report on status.
This is how project goals are achieved. The project management plan creates the deliverables. Change requests are applied to boost work performance. Environmental factors are considered. The organizational process assets are assessed, and the project management plan is updated accordingly.
4. Manage Project Knowledge
Project knowledge management refers to the process of managing the information that's produced by a project to leverage it for future projects. Project-based organizations must make sure that they properly store all project documentation and any form of data produced by projects so that historical data can be used as they plan related projects in the future.
5. Monitor and Control Project Work
The work of the project needs more than directing and managing; it requires that the project work be monitored and controlled. This includes change management, along with the process, tools and techniques used to manage the change and development in a project.
6. Implement Integrated Change Control
Change can be requested during the project life cycle, but these requests must be monitored and controlled to make sure that the quality of the project is not negatively impacted. Therefore, someone or some team needs to be tasked to oversee change and its implementation to control the change.
Change requests that come up during this phase are evaluated, managed and documented. A change control board is created to review these requests and approve them or not. The project manager is diligent in looking for where the project might be moving away from the project plan, and if so, they will take corrective action.
7. Close Out the Project
Lastly, the project must be closed when it's done. This process includes reviewing the various processes used and rating them on whether they were successful or not. Everything must be well-documented to create an archive that future projects can reference for decisions on how to implement their plans and processes.
Therefore, at the end of each project phase, it's important to create a document that outlines what lessons were learned over this period. When processes are interacting on a project, project integration management is crucial. It creates consistency throughout the project from planning to documentation and can dovetail with long-term strategic planning to reveal opportunities.
Why Is Project Integration Management Important?
Project integration is important because its goal is to ensure your project processes are running efficiently and meet your planned objectives. It does this by coordinating and synchronizing processes throughout the life cycle of the project. Another benefit of project integration is that it makes sure everyone knows their roles and responsibilities, which avoids confusion that can slow down a project.
Another aspect of project integration is that it makes sure the project is progressing as planned by monitoring and measuring progress. This leads to more insightful decision-making and control of performance. All this works to ensure that deadlines are met and that the project benefits are aligned with the organization's strategic goals.
Project Integration Management Tools
As noted, project integration is facilitated with the use of project management software. The following are some of the project management software features that help with project integration.
Gantt charts are used to schedule projects and coordinate all project elements, from tasks to scheduling and managing resources. They can also link dependencies between tasks to avoid costly delays.
Kanban boards visual workflow across the entire production schedule of a project. This provides managers with transparency into what teams are doing as they execute tasks and allows managers to identify bottlenecks and resolve them to keep teams working unobstructed.
Once the project is in the execution and monitoring and controlling stages, the project dashboard gives managers a high-level overview of progress and performance. They can catch issues quickly and resolve them as well as make sure the actual progress matches the planned progress.
Tips for Effective Project Integration Management
Project integration is clearly important to the success of a project as we've shown above. The following are some tips to make sure your project integration is as effective as possible.
Use Project Management Software
Above we highlighted some of the project management tools that help deliver effective project integration. Depending on which project management software you use, there are all or some of these features, plus others that can give you more control over project integration, especially if the project management software is online with real-time data.
Assemble a Cross-Functional Project Team
Many projects today require collaboration between very different departments in an organization. Being able to establish mechanisms and links that facilitate that collaboration helps these different teams work together for the benefit of the project.
Track Project Constraints
There are four project constraints: scope, schedule, budget and quality. Being able to keep the first three project constraints balanced will ensure that the project is delivered meeting quality standards. Being able to track these constraints throughout the project's life cycle will enable project managers to keep the project on schedule and delivered without overspending or undershooting its quality expectations.
Project Templates for Project Integration Management
If you're not ready to upgrade to project management software, ProjectManager can still help. Our site has dozens of free project management templates for Excel and Word that cover every phase of a project. Here are a few that can help with project integration.
A project charter documents high-level project information to inform stakeholders of deliverables, milestones and the roles and responsibilities of the project team. You can capture all that data with our free project charter template for Word.
Coordinating all your resources, tasks and phases requires a project plan. Our free project plan template for Word has space for you to capture everything from project scope, phases and tasks to resource requirements, task dependencies and budget.
To keep projects running smoothly, they must be managed. This includes any changes, which is why our free change log template for Excel is essential. It helps you identify, prioritize and track changes to ensure that they don't negatively impact your project.
Using ProjectManager for Project Integration Management
ProjectManager has powerful tools so you can implement project integration management at your organization. For example, when it comes to making the project management plan, we offer an interactive Gantt chart.
This planning and scheduling tool lets you outline all of your project tasks and place them in phases. You can link those tasks and assign them to team members as needed. You can make one ultimate Gantt chart that consolidates all the management plans of everyone in the organization.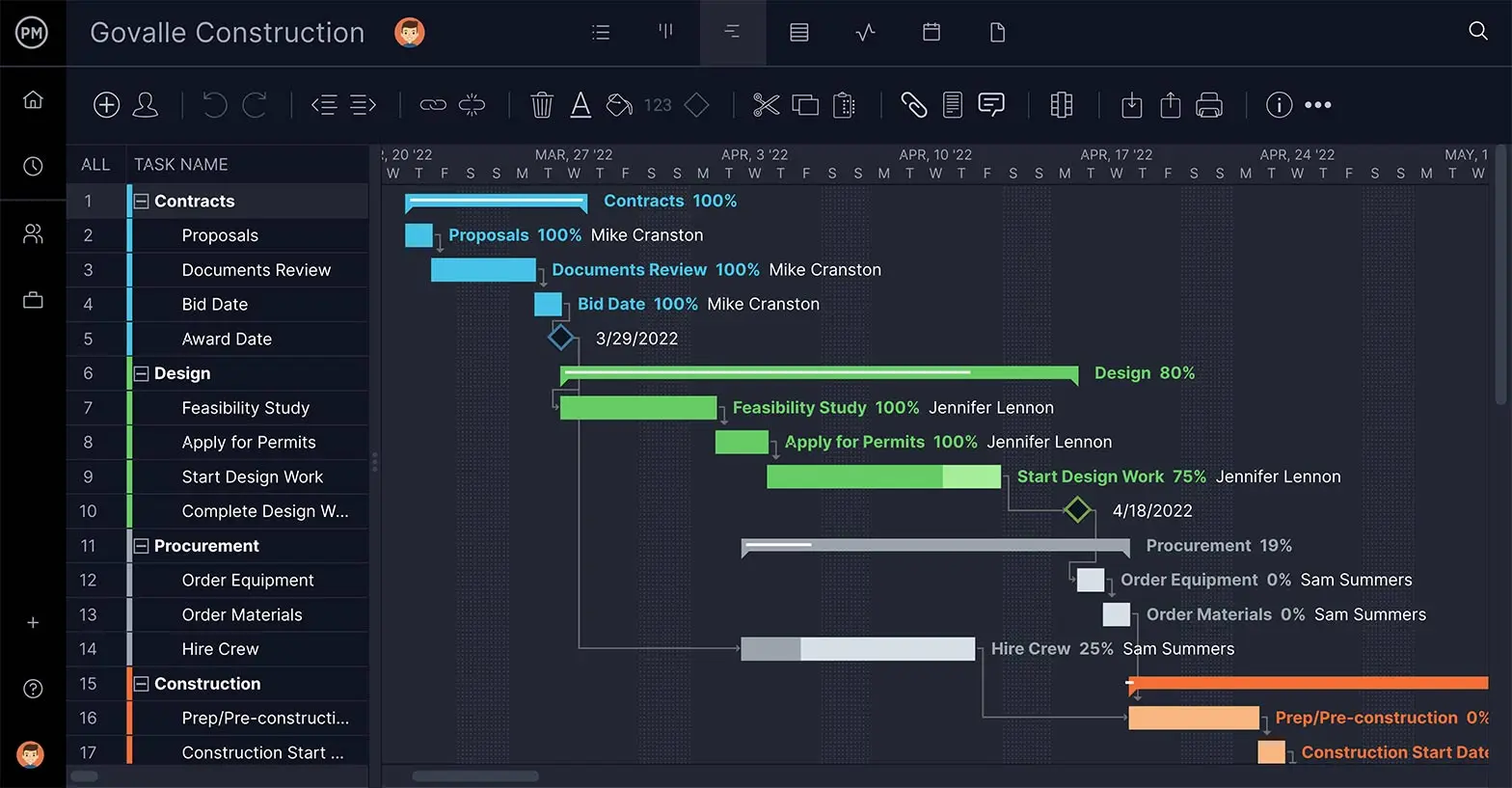 Team members can manage their assigned tasks in either a task list, kanban or Gantt view. This lets everyone on the team manage their work in their own unique way, improving efficiency and transparency across the board. Whenever someone gets assigned a new task, they'll receive an email alert, so they know a new item has been added to their workflow. Plus, ProjectManager lets team members focus on tasks in specific projects, which is helpful given the different departments and processes in project integration management.
ProjectManager has tracking features that are simply unmatched. Our one-of-a-kind project dashboard shows project metrics in real time. This enables a project manager to get a bird's eye view of their project status, identifying any bottlenecks before they become real problems.
Project integration management happens from the start to the finish of a project. It touches on every aspect of project management and requires a powerful tool to manage all that information. ProjectManager is online project management software that can help ease the complex process by offering real-time data and robust project management tools that foster collaboration. See how it can help your project integration management by taking this free 30-day trial now.