Manufacturing depends on a supply of raw materials, labor and the proper functioning of machinery to turn those inputs into the outputs that customers want. Manufacturing engineering is what keeps those integrated systems operating.
After defining what manufacturing engineering is, we'll look at the professionals who work in that discipline, the manufacturing engineers. Then, for those looking to employ a manufacturing engineer, we have a sample manufacturing engineer job description.
What Is Manufacturing Engineering?
Manufacturing engineering, sometimes called production engineering, is a type of engineering that's concerned with the planning of the practices of manufacturing. It researches and develops tools, processes, machines and equipment with systems that are integrated into the manufacturing facility. The goal is to produce quality products for the least amount of cost.
At a high level, manufacturing engineering is the process of turning raw materials into finished products in the most effective and efficient manner possible. Manufacturing engineering involves both industrial engineering and mechanical engineering skills. However, a good manufacturing engineer also has knowledge of mechatronics, commerce, economics and business management.
To achieve the goals of manufacturing engineering, different facilities and systems must be integrated to deliver quality products without spending too much. This requires planning to coordinate the various activities to work together. ProjectManager is award-winning project management software with powerful Gantt charts for manufacturing processes. This allows manufacturing engineers to optimize resources, keep to their budgets and track those manufacturing processes in real time. Timelines visualize complex task relationships and users can link all four types of task dependencies and create the stages of a manufacturing system. Get started with ProjectManager today for free.
What Does a Manufacturing Engineer Do?
A manufacturing engineer is responsible for the design and management of manufacturing systems, focusing on the machine and assembly processes, to produce products. They create the stages of a manufacturing system that's responsible for turning the raw materials of production into finished products. Their goal is to do this in the most cost-effective way possible without sacrificing quality.
The manufacturing engineer will use processes such as machining, which includes milling, turn, grinding, etc. There's also assembling both by hand or by robot. Processes include injection molding, 3D printing, melting, casting, extruding, rolling, forging, machine pressing, stamping, shearing, punching, folding, precision measurement and heat treatment.
All of these processes are applied to raw materials or individual parts to create the final product. Again, manufacturing engineers are responsible for making sure these processes are done as efficiently as possible, saving time and money without negatively affecting quality. This is done through the selection of technology and processes, planning and the design of the factory. The manufacturing engineer is responsible for running, maintaining and continuously improving these manufacturing processes.
Manufacturing engineers can also be tasked with inventory control, quality management, quality control, material flow, cost analysis, procurement and supply chain management. If they're working in a new facility, a manufacturing engineer can also be tasked with determining the best manufacturing process, defining each step and designing and laying out the production line. They'll have a hand in choosing the machinery, designing and laying out the workstations and determining how to ramp up production.
Manufacturing Engineer vs. Process Engineer
To ensure that you get the right candidates when looking for a manufacturing engineer, it's important that you know the difference between one and a process engineer. We've talked a lot about manufacturing engineers, who mostly work in discrete manufacturing. That is, with machines or assembling individual parts into a distinct product usually done on an assembly line.
Process engineers, however, are chemical engineers. They work in process manufacturing or continuous manufacturing, which uses a formula or recipe of ingredients that are blended using a chemical reaction. In factories that do process manufacturing, you'll find piping, pumps, tanks, flow valves, steam valves, etc., rather than machinery.
Therefore, what you make in your facility will determine whether you need a manufacturing engineer or a process engineer. The former is going to work on systems and develop processes for machines or assembly lines, while the latter deals with formulas or ingredients that are blended together in some manner to create your final product.
Related: 13 Free Manufacturing Excel Templates
Sample Manufacturing Engineer Job Description
As you can see, there are many responsibilities given to a manufacturing engineer. They're a critical part of creating a production that delivers quality products on time and within budget. When looking to fill this position, a manufacturer will want to have a thorough job description to attract only qualified candidates.
We've provided a sample manufacturing engineer job description that you can cut and paste onto your job board. Feel free to add and delete as you see fit to better reflect the open position and the particulars of your company, especially the summary. The summary should introduce the company and the benefits of working there. That should reflect the specific needs and concerns of your business.
Summary
Acme Manufacturing produces quality widgets for industrial products. We've been in business for 40 years and have over 100 employees. Founded by manufacturing professionals who introduced new technology into production, we're looking to hire a manufacturing engineer with the skills and experience to take our company to the next level. You'll be expected to develop new processes and manage existing ones to create new efficiencies. We offer a generous benefits package and bonuses based on performance are awarded annually after a review.
Main Duties & Responsibilities of a Manufacturing Engineer
Evaluate manufacturing processes
Design and conduct research programs
Develop manufacturing processes
Study equipment requirements, research testing methods and work with equipment vendors
Improve manufacturing efficiency through the analysis and planning of workflows, space requirements and equipment layouts
Ensure product quality through the design of testing methods
Calculate production, labor and material costs to give manufacturers data for better decision-making
Collect, analyze and summarize information and trends in preparation of product and process reports
Answer questions and field requests regarding manufacturing engineering
Comply with government regulations
Maintain and repair equipment to ensure it's operational
Manage relationships with maintenance and service professionals
Maintain product and process database by writing computer programs and entering data
Train and guide technicians in the design and development of projects
Keep up with professional and technical knowledge, attend educational workshops, trade shows, etc.
Manufacturing Engineer Skills
Strong analytical skills to understand data and draw conclusions from it
Able to problem-solve when dealing with complex systems and processes
Takes initiative and takes charge without having to be told to take action
Knowledge of relevant technological, methodological and other disciplines related to manufacturing
Have leadership qualities, good communication and take feedback
Strong written communication skills
Manufacturing Engineer Education
Bachelor of Science degree, higher education degree preferred
Minimum of five years of related experience, preferably in engineering
Experience using CAD or CAM software
Experience using project management software
Manufacturing Engineer Salary
The salary for a manufacturing engineer can vary depending on where the job is located and the level of experience, skills, etc., of the candidate. The estimated average salary for manufacturing engineers is $94,635 annually in the United States. This is a midpoint salary, which, again depending on the candidate and the location of the job, can be more or less. However, if an employer is looking for a senior manufacturing engineer they can expect to pay in the range of $128,711. A lead manufacturing engineer can make around $110,121 per year. It's also important to factor in bonuses that can add an additional $15,000 to a manufacturing engineer's salary.
How ProjectManager Helps Manufacturing Engineers
If you're hiring a manufacturing engineer, you'll need the tools they require to do their work. One of the most important when dealing with processes and monitoring of that process is project management software. ProjectManager is award-winning project management software that has the features manufacturing engineers need to plan and track their processes in real time. Our multiple project views allow manufacturing engineers to work how they want. We've already shown how our robust Gantt charts help manage resources, but we also have a sheet and calendar view, task list and kanban boards.
Plan With Kanban Boards
Our kanban boards visualize the workflow of your production line. They're completely customizable so you can add as many columns as you need to reflect your production cycle and track work as it moves between stages. This helps with order fulfillment as you can give clients more accurate estimates as to when the finished product will ship. It also helps to identify bottlenecks and clear them before they interfere with the production of your product.
You can better understand specifications as files can be attached to the kanban cards and detailed descriptions can be added to the card itself. Manage resources to ensure you have what you need and automate workflows to streamline production. To ensure quality throughout each stage, you can even add task approvals.

Track Progress, Timelines & Costs With Real-Time Dashboards
To improve processes, a manufacturing engineer must be able to monitor them. Our real-time dashboard provides live data for more insightful decision-making. Unlike lightweight alternative software packages, there's no time-consuming setup with our dashboard. Just toggle over from the Gantt or kanban board and you'll find six easy-to-read graphs and charts that track key performance indicators (KPIs) such as time, cost, workload and more. You get a high-level view of your production at a glance whenever you need it.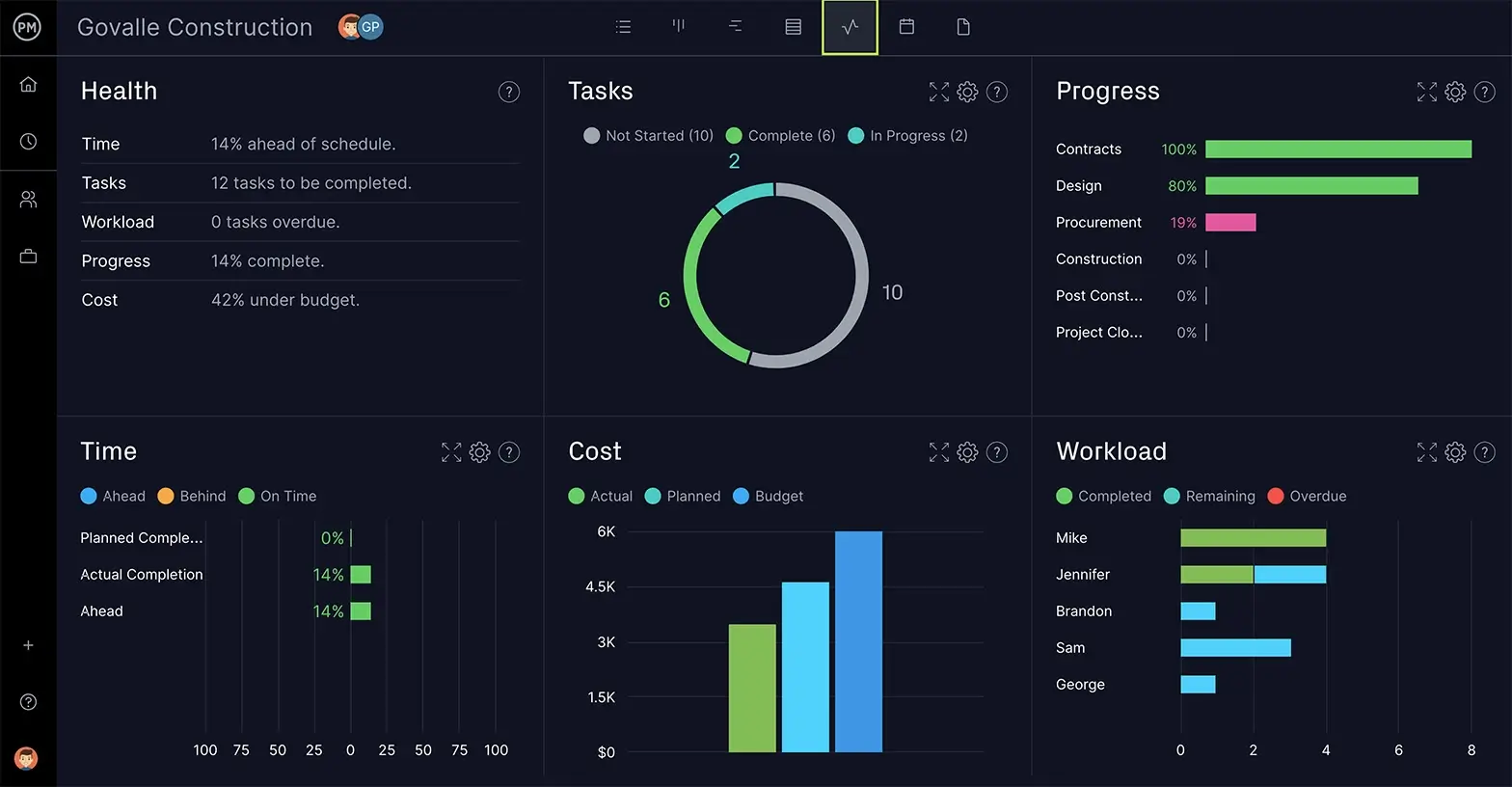 Another feature for more in-depth data is our customizable reports. Quickly generate a status report or portfolio report, variance and more reports. All can be filtered to show only the information you want to see. They can also be shared in a variety of formats to keep stakeholders updated.
ProjectManager is online project management software that connects teams in the office, on the factory floor or anywhere in between. Share files, comment at the task level and much more to foster better collaboration. Get started with ProjectManager today for free.