Productivity begins with a to-do list. It's the first step toward organizing your work and getting it done. To-do lists are essentially a repository of tasks, but they can be much more than that, especially if you're using a to-do list for project management. To-do list apps can describe the work, prioritize it and more.
Using a to-do list app to manage projects keeps you focused and limits distractions so you and your team can complete work in a timely manner. To-do list apps take a scrap of paper that most of us jot our tasks down on and turn into a visual task management tool for working more efficiently.
What Features Make the Best To-Do List App?
Let's review the key features to look for when choosing a to-do list app or to-do list software for managing teams.
User-friendly interface: To-do list apps are meant to streamline your team's work, so they must have an easy-to-use user interface that helps both managers and team members track tasks easily.
Calendars: Calendars are a must-have feature for any to-do list app. They're mostly used to manage projects with a defined timeline.
Automation for recurring tasks: Ideally, you should choose to-do list software that offers automation to manage recurring tasks, which saves time to go from planning to execution.
Team collaboration features: To-do list apps should be more than mere task lists. They should come equipped with features such as file sharing and messaging at the task level so team members can collaborate as they execute work.
Time tracking tools: The best to-do list software should help managers keep track of the time that each team member spends on tasks, so they can track labor costs. Some main time-tracking tools include dashboards, workload charts and timesheets.
Project management tools: Project management tools like Gantt charts and kanban boards are the perfect complement to any to-do list. Most organizations execute projects big and small, so having a to-do list software with these features is ideal.
What is the best to-do list app? That's for you to decide depending on your team's needs. We've tried a number of the most popular to-do list software for project management. Some of them can be accessed online, while others can be downloaded from the web, or installed in your iOS or Android devices.
Best To-Do List Apps of 2023
Let's start with the more robust to-do list apps for project management. Most of these come with free and paid versions that offer more features.
1. ProjectManager
Best online to-do list app for project management available for macOS and Windows
Project time tracking features
To-do list app available for iOS and Android
ProjectManager is award-winning software that organizes tasks and helps you work more productively. It manages your tasks (and your team's tasks), allowing you to assign, track and drive progress. More than just a task list, it fosters collaboration, allowing users to share files and increase productivity. Best of all, it's easy to use.
With multiple project views, there's a tool for everyone. Use calendars to see your tasks by date, task lists to collect all your work in one place and kanban boards to visualize your workflow. There's even an in-depth Gantt chart if you want to plan and schedule your work, and turn your to-do list into a timeline.
In ProjectManager, you can assign priority levels to your tasks and assign due dates to help prioritize your work. You can see this on your personal to-do list or across projects. As those tasks add up, you can filter your to-do list by the due date, owner, project and more.
Keeping track of your to-do list is how you manage your time and stay on schedule. Because the to-do list app is online, it's easy to update your progress. You can log on with any browser or operating system.
If you're working with a team, you can easily collaborate and add comments at the task level. To stay updated on progress, set up notifications and email alerts that are triggered whenever a task is updated or commented on. There are even in-app notifications, so you never have to leave the tool.
The wonderful thing about ProjectManager is that it can work as a great to-do list app, while also having the tools and features to manage projects, both big and small. Try it today with this free 30-day trial. 
Pricing
Team plan: $13 user/month
Business plan: $24 user/month
Quick Facts
ProjectManager offers a free 30-day trial
ProjectManager has a mobile project management app for Android and iOS
2. Trello
Best to-do list app for kanban boards
Organizes by priority
Mobile to-do list app available for iOS and Android
Trello is a to-do list app that aims to help teams work better. It manages tasks solely with kanban boards, as it targets collaboration. It can still work as a to-do list for individuals, but since work is usually a collective effort, Trello makes a strong addition to the best to-do list app roundup. It lists tasks and organizes them by priority. Think of it as supersized Post-It notes on a bulletin board.
The tool allows you to add photos, notes, files, lists, labels and color codes. Like most kanban boards, the cards drag and drop from one column to the next as you move through the production cycle. This allows you to organize your work easier. Like any good to-do list app, it allows you to see all your work in one place, including due dates, comments and more. Trello is a great tool for collaborating with teams, whether they're using Android or iOS. Trello doesn't offer Gantt charts, but you can turn your Trello project into a Gantt chart with ProjectManager.
Pricing
Standard: $5 user/month
Premium: $10 user/month
Enterprise: $17.50 user/month, estimated costs for 50 users
Quick Facts
Trello has a 14-day free trial
Trello has a mobile project management app for Android and iOS
3. Todoist
Best free to-do list app
Works on most platforms
Mobile to-do list app available for iOS and Android
Todoist is a powerhouse of a to-do list. That means it's a to-do list app and much more. It can add tasks and due dates, and there's an inbox that collects all your tasks as you create them—then lets you move them to whatever project they belong to. That's on the free version. To create custom filters and labels, plus some collaboration tools, you'll have to buy the paid version.
Another selling point is that Todoist will work on almost any platform and has browser extensions, so you can use it anywhere. It integrates with Gmail and Outlook as well as Dropbox, Google Maps and more. If you're looking for a dynamic but easy-to-use to-do list app, then Todoist checks all the boxes.
Pricing
Pro: $4 user/month, up to 300 projects
Business: $6 user/month, up to 500 projects
Quick Facts
Todoist has a 30-day free trial
Todoist has a mobile project management mobile app for Android and iOS
4. Asana
Best to-do list app for collaboration
Tasks can be shared across projects
Sets due dates and times
Asana is a to-do list app that helps teams plan online. The software lets you care to-do lists as simple or complex as you need. You can see all your tasks in one place, set due dates and time, create task dependencies and even automate routine tasks. To-do lists can be viewed as a board, timeline or calendar, plus there are collaborative features that help teams share tasks across projects.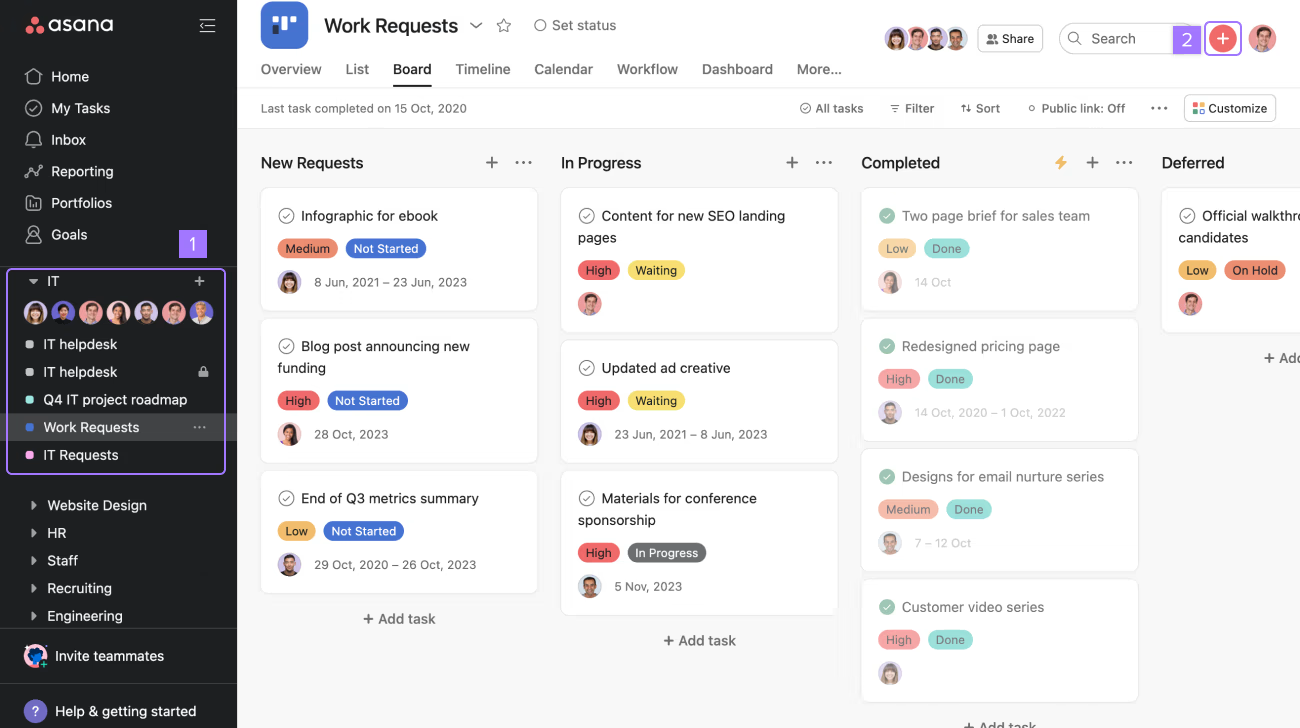 While the to-do list app prides itself on simplicity, it's not that easy to use at first unless you happen to be an experienced user of project management software. More troublesome is that you can only assign one team member to a task, but many tasks are executed by multiple team members, which creates a hurdle that few users will care to clear. There's also a pricing issue. For a to-do list app that has limitations, it's prohibitively costly per user, per month.
Pricing
Premium: $10.99 user/month
Business: $24.99 user/month
Quick Facts
Asana has a 30-day free trial
Asana has a mobile project management app for Android and iOS
5. ClickUp
Best to-do app for customization
Many pricing tiers
Good integration
ClickUp is a feature-rich to-do list app, with a variety of pricing options that allow all users to find an entry point that suits their needs. Managers can customize the app however they want, which is attractive to organizations that are looking to put their imprint on the tool. There's also a lot of integration that connects users with the other apps they use on a daily basis. It's not only a to-do list app, of course, but has features to build reports, collaborate and more.
Unfortunately, like many of the featured to-do list apps on this list, ClickUp has a steep learning curve. The advantages of many features and being fully customizable can make the app hard at first. Let's just say you'll have to invest time to get to know how to use it. In fact, a lot of the positives for this app are also negative. There are a good number of integrations, but not as many as other to-do list apps. The many pricing options all have different features, which can make it frustrating to choose. The mobile app is limited and the tool isn't great for larger teams so you're going to have to think about if this is the right fit for what you want.
Pricing
Unlimited: $5 user/month
Business: $12 user/month
Business Plus: $19 user/month
Quick Facts
ClickUp doesn't have a free trial
ClickUp has a mobile project management app for Android and iOS
6. TickTick
Best to-do list app for the Pomodoro Technique
Task management features
Lists can be shared
TickTick is a cross-platform to-do list app that fosters collaboration. It allows you to make custom task views and has a place to even add notes. One thing most potential users will respond to is the price, which is fairly low in comparison to other to-do list apps on this list. Of course, there are task management features to add due dates, assign team members and add priority. Lists can be shared to facilitate collaboration. Most interestingly, there's a Pomodoro Technique timer, which applies to a working method that focuses on a task for only 20-25 minutes. Then you take a timed break and repeat the process.
As with many other to-do list apps reviewed here, TickTick has a free version. The issue is that both the free and the premium plans have restrictions. Naturally, the free account has more restrictions and fewer features, but the premium plan restricts the number of tasks and lists you can make. This only makes sense if you think of this tool as a to-do list app for simple tasks like having a list to go grocery shopping with. Anything more advanced and you'll want to look elsewhere. Some users have complained about poor customer service, which can be the nail that shuts the coffin of a to-do list app.
Pricing
Quick Facts
TickTick doesn't have a free trial
TickTick has a mobile project management app for Android and iOS
7. Microsoft To-Do
Best to-do list app for Microsoft users
Break down tasks with due dates
Mobile to-do list app available for iOS and Android
Microsoft To-Do is a daily planner that lets you manage your to-do list online to stay organized wherever you are. It's great for your personal life or work in that it can be shared with friends, family and coworkers. Tasks can also be broken down into steps with due dates, and you can even set reminders to keep you on track.
Naturally, it syncs with Microsoft 365, so if you're already using that program, this is going to be a seamless transition. Microsoft To-Do can be integrated with your Outlook email, Windows desktop and more. The price is right. The app is free and works on both Android and Apple phones.
Pricing
Quick Facts
Microsoft To-Do has a project management app for Android and iOS
8. WorkFlowy
Best to-do app who only wants a simple to-do list
Lists can be shared
Collaborative features
WorkFlowy is a simple to-do list app with an easy-to-use interface. It boils down to lists of their essentials and therefore is great for the person who lives and dies by their task lists. WorkFlowy creates bulleted lists in a web and mobile app. You can share the lists you make, and there are some basic collaboration features included in the free app (there's also a paid version with more features).
But don't intend to use it for collaboration, as many other apps do that much better. The paid version of this to-do list app is a bit steep, but the free one is so streamlined it might not appeal to those who want to add due dates, reminders, set up recurring events or integrate with calendars. You can't back up your data, either, unless you opt for the paid version, which backs up to Dropbox and has password protection.
Pricing
Quick Facts
WorkFlowy has a 7-day free trial
WorkFlowy has a mobile project management app for Android and iOS
9. Toodledo
Best to-do app for customized lists
Good for personal and work lists
Time-tracking features
Toodledo is an online to-do list and task management app. It allows you to write long notes, customize lists, create structured outlines and even track your habits to make you more productive. Toodledo is good for personal tasks but especially for work. It allows you to assign tasks and attach files to those tasks. You can even track time spent on the project, which is key to keeping on schedule.
Speaking of schedules, it has scheduler features to help you make the most of your free time. Other features include setting up recurring tasks, getting geo-based reminders and viewing tasks on a calendar. Of course, you'll have to pay for the better features, such as collaboration, and some have complained about the interface being unappealing.
Pricing
Standard: $3.99 user/month, up to one collaborator
Plus: $5.99 user/month, up to five collaborators
Quick Facts
Toodledo doesn't have a free trial
Toodledo has a mobile project management app for Android and iOS
10. Things
Best to-do app for unclutter interface
Easy to use
Keyboard shortcuts
Things is a personal task manager that's designed to be almost invisible. If you don't want to have a fussy to-do list app and just want to get down to business, then this is the tool for you. It cuts to the chase, but not without giving you the features that help you stay organized and reach your goals.
There's no learning curve, and you can open the app to get going immediately. There are lots of keyboard shortcuts, and it's simple to copy text from other apps. The only downside is that Things works on Apple products exclusively. If you're an Android or PC user, you'll have to look elsewhere. But if you work on a Mac, this might be the right fit for you.
Pricing
For Mac: $49.99
For iPhone & Watch: $9.99
For iPad: $19.99
Quick Facts
Things has a 15-day free trial
Things has a mobile project management app for macOS and iOS
Why More Power Is Better When It Comes to To-Do List Apps
These are just a handful of the better to-do list apps. There are plenty more. Once you look into it, you might be overwhelmed, but don't be. If you're looking for a to-do list app for project or work management you want one that goes the extra mile. Your task list should be only one of a suite of features designed to plan, monitor and report on your tasks.
Using a task management app with tools that help you through every phase of the project means you don't have to jump around from one program to another. However, while to-do list apps can be very useful, you might need more robust project management software to plan, schedule and track your projects.
ProjectManager is one of the best project management software for all types of projects. Everything is in one place, backing up all your data, letting you know if you're meeting your targets with detailed reporting and reminding you of important deadlines to keep you from falling behind.
ProjectManager is online project management software with robust task lists that connect to Gantt charts, kanban boards and calendars. Resource management tools ensure your workload is balanced for greater productivity. Real-time dashboards give you a high-level view and one-click reporting helps you make data-driven decisions. Try our task list app for free with this 30-day trial offer.