A flowchart is a diagram that shows a process as a visual representation of the solution to a problem. It breaks down each of the essential steps that lead to the completion of the process. Download our free flowchart template for Word when planning a process to identify the essential steps while capturing the bigger picture of your project.
Why Use a Flowchart Template?
Using our free flowchart template creates the structure on which you can build your process. It's a reusable template that's also customizable. You can create as many as you want and change our layout to reflect your process.
In general, a project flowchart can take a complex process and organize it visually to make it easily digestible by breaking down the process into steps. It creates clarity for what needs to be done in a way that's easy to share and communicate clearly.
A project flowchart is illustrated with symbols and each has the following meaning:
An oval means the start or finish of the process
An arrow represents the direction of the process from one step to another
A diamond is a decision on an activity
A rectangle represents a process
By using a flowchart template for Word and sharing it with the team, managers can coordinate a collaborative effort. Everyone on the team can see the whole process visually, which will help them do their part and see how their work is connected to the other's work on the team. This leads to greater efficiency and exposes inefficiencies in the process. The flowchart only focuses on essential tasks, which helps teams work on what's most important while also exposing the weak links that can be removed.
Who Should Use This Flowchart Template for Word?
Our free flowchart template for Word is useful for anyone who wants to organize their tasks into a process that focuses on the essential elements of that work. The flowchart will allow project managers to understand, analyze and optimize their processes.
The flowchart is used across a range of industries, from software development and engineering to business and education. In project management, our free flowchart template can help a project manager determine the best way to execute a project or one of the many processes in that project.
However, the flowchart template isn't only the purview of a project manager. Because a flowchart is such a powerful communication tool that visually defines a process quickly and easily, it can be shared with the project team and shareholders alike to help the team understand what they're tasked with while giving stakeholders an overview of the work to come.
When Should You Use This Flowchart Template?
A flowchart template is an important tool that can be useful for many activities when managing a project. We've just explored the most obvious use, which is its ease of mapping out and documenting a project or process. But there are more uses.
Part of the power of a flowchart is that it can take a complex idea or process and visualize it in such a way that it's easy to understand. This helps communicate ideas more clearly to the project team that doesn't have the time to research as thoroughly as the project manager.
Organizing the Team with a Flowchart
The project manager not only can document and communicate the process, but a flowchart helps to organize the project team and assign them tasks. It also gives the project manager a hand in making decisions and backing up those choices as the flowchart will illustrate the consequences of that decision.
Identifying Bottlenecks
Another benefit of using a flowchart template is that it can help project managers identify bottlenecks in their processes. By doing so, they can reallocate resources as needed to avoid those bottlenecks, which can delay a project and risk overspending its budget.
Tracking Progress
There's also tracking the progress of the project. The steps are clearly defined, which allows project managers to see where they are in comparison to where they should be at that point in the project plan.
Standardizing Processes
Finally, the flowchart template standardizes processes. Once you've completed the project, the flowchart can be archived and used again in future projects that have similar processes. This saves time when planning.
But the flowchart is a static document, great for communicating the process but not ideal when executing it. That's where project management software can help. ProjectManager is award-winning project management software that turns a flowchart into an actionable project plan. Use our powerful Gantt charts to organize tasks, link dependencies and filter for the critical path. You can then assign teams and track their progress in real time.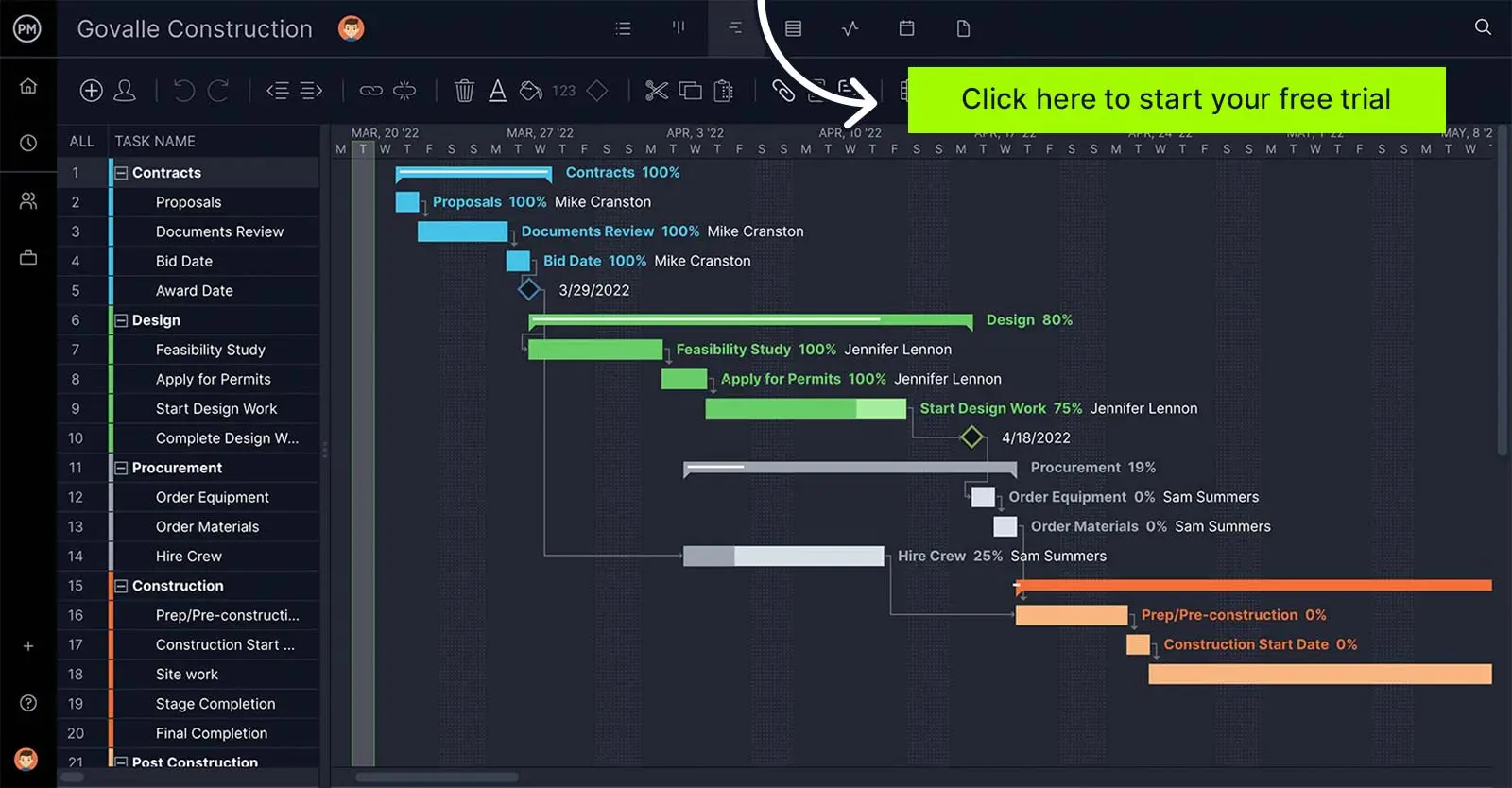 How to Use This Flowchart Template for Word
Download our free flowchart template for Word and then get everyone on the project team gathered. It's best if you have those people who will be involved in the process involved in creating the flowchart. That can include not only the team but also suppliers, customers and more. They're all going to have valuable input.
Then use our customizable flowchart template. It can be added to, or items can be removed, depending on your process or project. First, you'll have to identify the process or project. However, the process of preparing the flowchart mapping is relatively simple and follows these seven steps.
1. List Your Tasks
Start by brainstorming with your team. Be thorough. Make sure you come up with everything that's needed to get from the start to the finish. Don't worry about the sequence at this stage, just collect all the tasks that are needed to complete the process or project.
2. Sequence Tasks in Chronological Order
Once you have all the tasks, you'll want to prioritize them or, more accurately, put them in order chronologically. This involves figuring out where the process boundaries are. That is, where does the process start and where does it end?
3. Choose the Right Shape for Each Task in the Flowchart
The flowchart is made up of symbols that were standardized by the American National Standards Institute (ANSI) in the 1960s and adopted by the International Organization for Standardization (ISO) in 1970. Though they are updated and improved over time, the following are the most common symbols.
Flowline: Arrow showing direction between two symbols
Terminator: An oval that indicates the start or end point
Process: A rectangle that represents the process, action or function
Inputs or outputs: A parallelogram shows your inputs or outputs
Decision: A diamond indicates a question to be answered, usually with a yes or no
4. Identify Decision Tasks and Their Outcomes
At this point, you'll want to identify the criteria that will help decide those decision points in your flowchart. The decisions and their outcomes can be based on several different criteria, such as cost, feasibility, time, constraints or other considerations.
5. Draw Your Flowchart
Now you want to draw the flowchart using the information above. Use our flowchart Word template to copy and paste the appropriate symbols and arrows to reflect the process or project you're working on, from start to finish.
6. Review Your Flowchart
Finally, you'll want to look over what you've made and make sure it's accurate. It'll be helpful to run it by all those involved as you did at the beginning of the process. Not only will they be able to help you review the work, but they're going to need to understand it going forward.
More Free Templates to Help You Plan Workflows
The flowchart template is only one of dozens of free project management templates for Excel and Word that you can download from our site. We have free templates to help you with every stage of your project, from initiation to completion. Here are some to help you in the planning process.
Part of making a flowchart is knowing the tasks involved in that process. Using our free work breakdown structure for Excel helps you identify all the project deliverables and in so doing the necessary tasks that need to be executed to get you there.
The free project plan template for Word is an extensive document that captures all the guidelines and procedures for your project. It'll address the project scope, the project management phases, project tasks, dependencies, budget and a lot more.
Once you have your tasks identified and your plan in place, our free Gantt chart template allows you to schedule those tasks from start to finish. Once you list all your tasks in our template, including their duration, they automatically populate a visual timeline so you can see the entire project in one place.
How ProjectManager Helps You Keep Track of Your Projects
Templates are great, but they have limitations. If you're managing a project, the last thing you want is something that will slow you down. That's why templates inevitably lead to project management software, which increases the efficiency of your work. ProjectManager is award-winning project management software that has the features you need to better plan, manage and track your projects in real time.
Use Multiple Project Views to Execute Plans
We've already shown how robust Gantt charts schedule tasks and lay out an entire project on a visual timeline, but not everyone who's tasked with executing that work is going to be comfortable using Gantt charts. That's why we have multiple project views so users can work how they want. For example, kanban boards visualize workflow, while task lists are great for knocking off jobs one by one. There's also a sheet and calendar view that stakeholders like for monitoring progress. Everyone gets the tool they want, but all views are updated together in real time.
Track in Real Time With Live Dashboards
The flowchart template can be used to track your project or process as it's being executed, but our real-time dashboard is a more powerful monitoring tool. It captures live data and displays it in easy-to-read graphs and charts that track metrics such as time, tasks, costs and more. You can get a high-level overview whenever you want. Don't bother with lightweight alternatives. They make you spend time you don't have set up their dashboards. Why wait for important project data when you can get it instantly whenever you toggle over to our dashboard?
ProjectManager Is the One Project Management Software You Need
ProjectManager is online project management software that connects teams whether they're in the field, the office or at home. They can share files, comment at the task level and much more to foster greater collaboration. Add our risk management, resource management and task management features to help you keep your project on schedule and avoid overspending and you have the one tool to deliver a successful project. Get started with ProjectManager today for free.