Thanks to the evolution of modern business practices, nearly every project manager is familiar with scrum project management. Scrum has migrated from software development and now it's widely used by companies from many industries. If you want to take advantage of this agile project management framework, you'll need to understand what a scrum team is and how it works.
What Is a Scrum Team?
A scrum team typically consists of a scrum master, a product owner and a development team who use agile project management tools and techniques to plan and execute projects. Scrum teams are usually involved with software development, product development and project management.
Scrum teams are self-managed which means scrum team members must be as autonomous as possible without requiring micro-management. Instead, scrum team members use scrum boards, product backlogs, burndown charts and other agile tools to manage their work. The skill sets of the team members of a scrum team must be balanced, so they all work separately but together.
When scrum is implemented, scrum teams use project management tools to facilitate the agile process. ProjectManager is online project management software that's flexible enough for traditional, agile and hybrid teams. Scrum teams use our kanban boards to manage their backlog and collaborate on sprints. The product owner gets visibility into their process and can reallocate resources as necessary to avoid any bottlenecks in the team's work. It's a win-win situation for the entire scrum team. Get started with ProjectManager today for free.
What Is the Ideal Size of a Scrum Team?
Scrum teams are small, usually with five to nine people, with seven being the ideal number. One product owner, one scrum master and then five to seven members of the development team. There are no sub-teams. The people who make up the scrum teamwork should work full-time, ideally in the same office. If the work must be conducted over various locations, then each of those sites should have its own scrum team.
Scrum Team Roles and Responsibilities
If you're interested in using the scrum framework, you need to understand the scrum roles and responsibilities. As stated, there are only three major roles on a scrum team, and these roles don't necessarily align with traditional project management methodologies. Let's examine each role for a more complete understanding of the structure of a scrum team.
1. Product Owner
The product owner makes all the product development decisions such as defining the product features and sprint planning goals. This person has the product vision and is responsible for defining the work and prioritizing tasks for agile sprints. Product owners are clear on the project goals and customer needs. They communicate them to the scrum team and guide them through the project.
Let's go over the main responsibilities of the product owner role to learn more about this scrum team member.
Product Owner Responsibilities
Managing the product backlog
Stakeholder management
Define product goals and product features to create a realistic product backlog with the scrum team
Collect user feedback from sprint reviews to make product backlog decisions
2. Scrum Master
Scrum masters provide guidance to the scrum team. They ensure the development team focuses without being distracted by an overreaching product owner, from the organization or internal factors. The scrum master also leads a daily scrum meeting to make sure everyone is working within the scrum framework. Unlike a project manager, who manages a project, the scrum master cooperates with product owners and guides the development team members who work autonomously.
Let's go over the main responsibilities of the scrum master role to learn more about this scrum team member.
Scrum Master Responsibilities
Lead scrum events including sprint planning, daily scrum, sprint review and scrum retrospective
Help everyone in the scrum team understand the product backlog and facilitate a consensus between product managers and development teams
Promote the use of the scrum method in organizations
Coach the development team in self-organization and cross-functionality to facilitate team collaboration
3. Development Team
The development team is responsible for executing the project scope. They work collectively to figure out how to achieve their goals. Priorities are set by the product owner while work is monitored by the scrum master. Scrum development teams are self-managed and depend on strong bonds, empowerment and a positive work environment.
Let's go over the main responsibilities of the development team role to learn more about these scrum team members.
Development Team Responsibilities
Accomplish the goals defined by the scrum team in the product backlog
Attend scrum events and follow the directions of the product owner and scrum master
Provide feedback to help product owners and scrum masters set realistic product goals
Scrum Team Meetings
Scrum teams plan their work using four scrum events: sprint planning, daily scrum, sprint review and scrum retrospective. Here's how they work.
Sprint Planning
Scrum teams plan their work through sprint planning sessions. Sprint planning sessions are meetings where scrum teams plan how they'll execute the work that's needed to develop a product or complete a project. Agile sprints are short action plans that cover two to four weeks of work. In those agile sprints, each team member is assigned a set of tasks for which they'll be responsible.
Daily Scrum Meetings
Daily scrum meetings allow scrum team members to communicate. Scrum daily meetings help scrum team members share how their tasks are progressing and inform the rest of the team whether they're on track or if they've encountered difficulties that are slowing down their work.
Sprint Review
During sprint reviews, scrum teams share their progress with project clients and stakeholders who provide feedback that's used to make changes to the product or project and plan future sprints.
Scrum Retrospective
Scrum teams evaluate their performance through scrum retrospective sessions. Sprint reviews are meetings in which the scrum team members share their opinions on what went well and what went wrong during the last sprint so that the next sprint planning section can be more successful.
3 Benefits of a Scrum Team
Adopting the scrum methodology to complete projects and develop products is beneficial for organizations for several reasons. Here are some of them.
1. Scrum Teams Focus on Client Satisfaction
As stated, scrum teams constantly share their progress with the project client and stakeholders to get feedback that they can use to improve their scrum process. This helps ensure their requirements will be satisfied once the project or product is delivered.
2. Scrum Teams Achieve Work Faster
Scrum teams are unique for several reasons. One is that scrum team members work on multiple tasks simultaneously without depending on other tasks to be completed, which allows scrum teams to be more efficient and complete projects faster than other types of teams because work is completed simultaneously.
3. Scrum Promotes Team Collaboration
Scrum meetings ensure all members of the scrum team are communicating constantly, which helps them understand what's expected of them and what the project goals are.
How ProjectManager Helps Scrum Teams
ProjectManager is robust project management software that offers multiple project planning, scheduling and tracking tools to help scrum teams deliver projects successfully. Here are some of its key features for scrum project management.
Track Work With Kanban Boards
ProjectManager's kanban board view is ideal for scrum teams. Kanban boards are a visual project management tool that allows scrum teams to keep track of tasks and share their progress. As progress is made on tasks, simply move the task card from one column to another to keep your team updated.
Monitor Costs, Progress and Timelines With Real-Time Dashboards
ProjectManager's real-time dashboards let product owners and scrum masters monitor the progress of the development team and keep track of costs, deadlines and budgets. All facets of the dashboard update alongside progress to show a single source or project truth.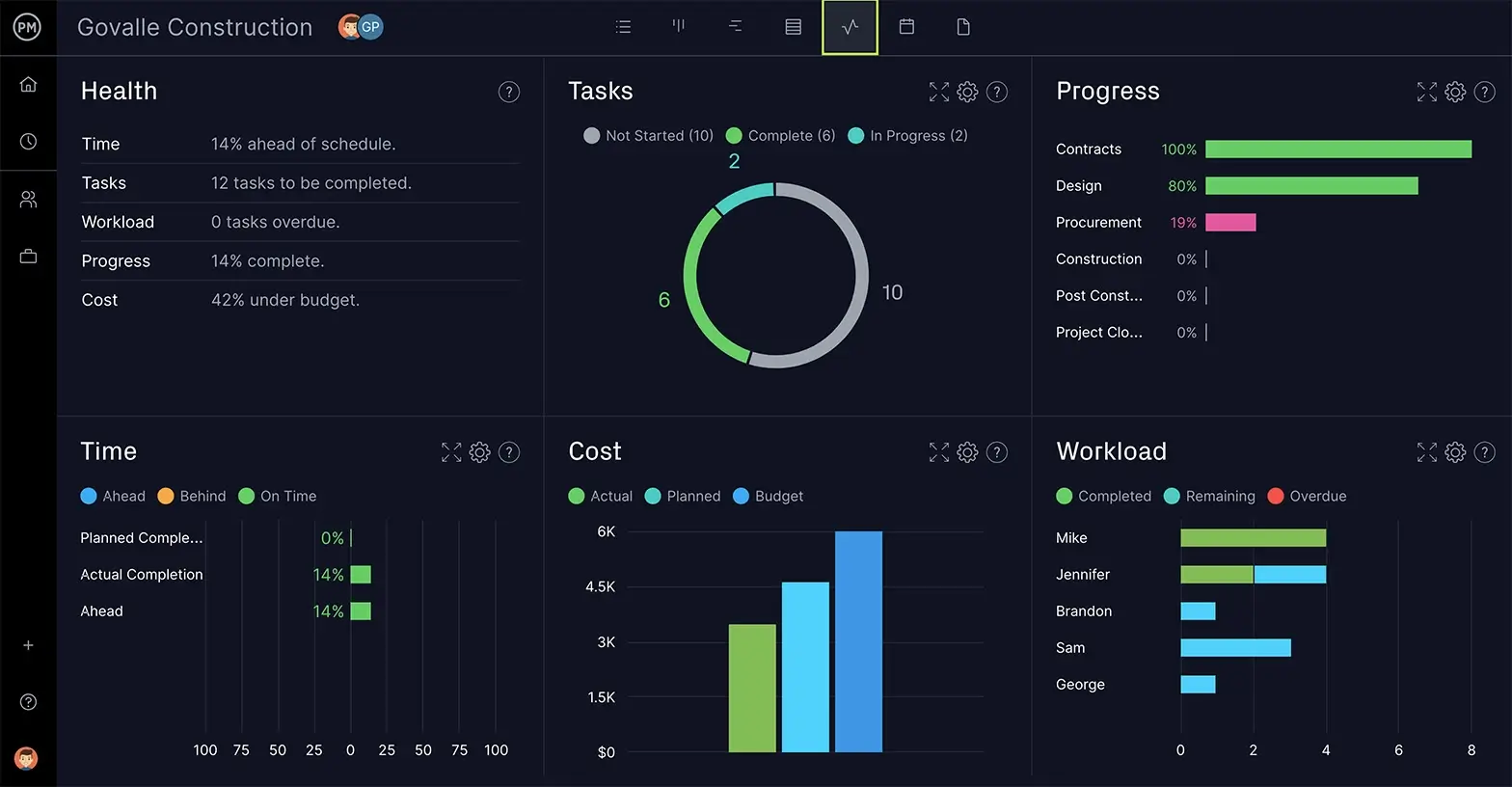 Streamline Teamwork With Online Collaboration Tools
ProjectManager's planning tools have built-in collaboration features such as messages and email notifications. It's easy to stay on the same page as your team as the project unfolds. In addition, ProjectManager offers unlimited file storage so scrum teams can add documents as needed as they complete their projects.
If you're looking for a tool to support the autonomy of your scrum team, then ProjectManager is for you. Our online project management software is designed to foster collaboration and give scrum teams the tools they need to take control of a project. Try it today with this free 30-day trial.