Knowing how to start a project is one of the most critical skills for any project manager. A large project (or a small one) starts with the small stuff and builds to something bigger and more complex. You need to get to work, but how you get to work is equally important.
10 Simple Steps to Start a Project
Projects can seem complicated and they certainly can be. But even the most complex project can be broken down into simple steps to help make it more manageable. Once that is done, you'll need project management software to start, execute and deliver the project.
ProjectManager is award-winning project management software that empowers teams to plan, manage and track projects in real time. Use our robust Gantt charts to plan projects, link project dependencies and set a baseline to track planned vs. actual effort in real time. Get started with ProjectManager today for free.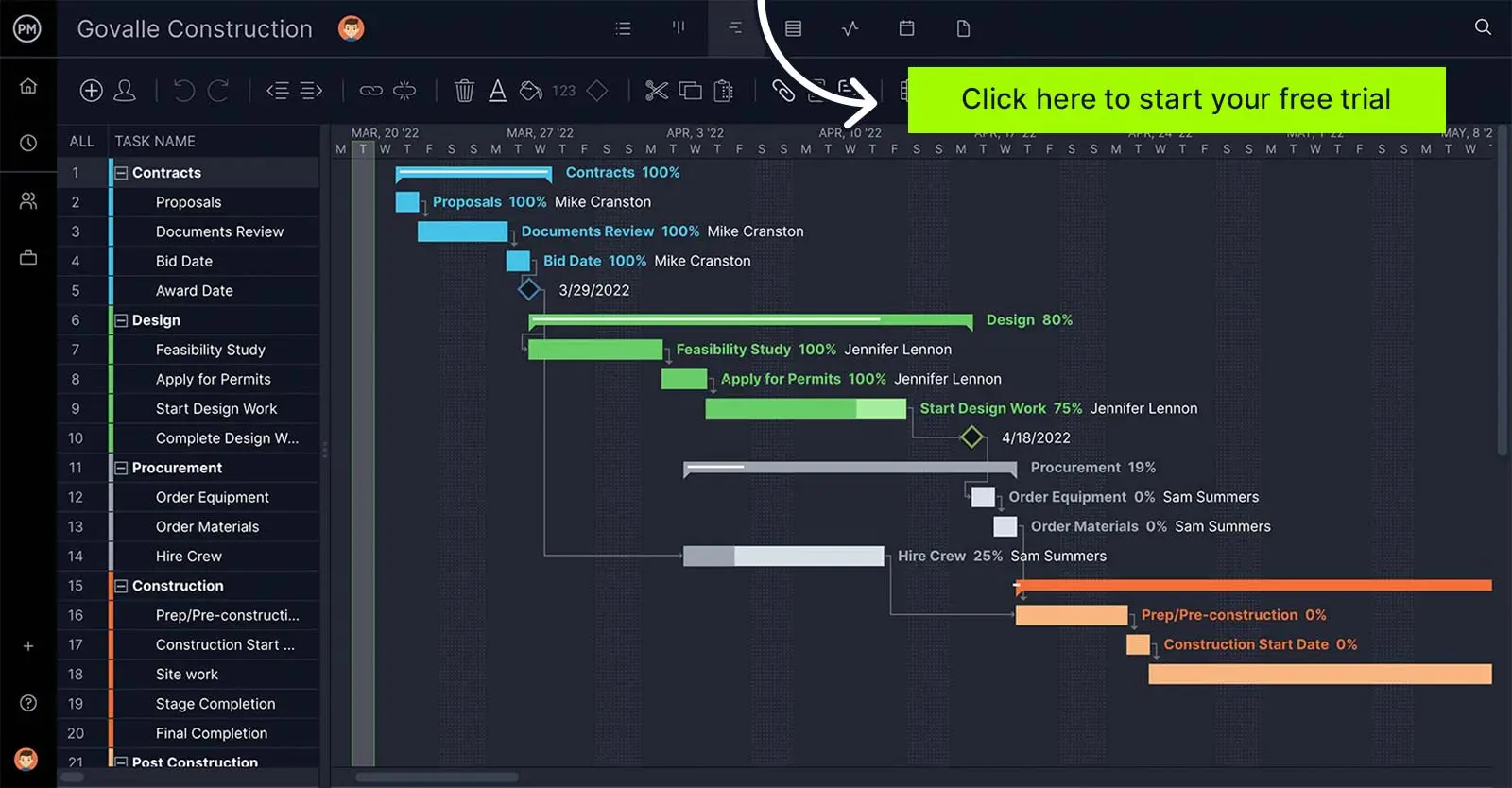 1. Determine the Purpose of the Project
Before you start a project you have to understand why there's a project. What is its purpose or reason for existence? This vision must be clear and shared across the project team.
2. Define Your Project Goals and Objectives
Now that you have a general idea of why the project exists, you have to get a bit deeper and define its goals and objectives. That is, what does the organization want to achieve with this project? The goals and objectives should be SMART, which means specific, measurable, achievable, realistic and time-bound.
3. Determine the Scope of Your Project
Project scope is part of the project planning stage and it will determine and document all the deliverables, tasks and costs of the project. Create a detailed outline of all aspects of the project, such as resources, timelines, etc.
4. Estimate Your Project Duration
The project duration is the total amount of time needed to complete the project. You can figure this out by using a work breakdown structure to identify all your deliverables and from that figure out all your tasks. These tasks will then be given start and end dates. After you do all this, you'll have the duration of the project.
5. Estimate Your Project Costs
Project costs refer to the financial investment for delivering the project. Every task will have associated costs, such as team member salaries, equipment rentals, raw materials and more. Each of these costs must be accurately estimated and added together to determine the project's budget.
Get your free
Project Budget Template
Use this free Project Budget Template for Excel to manage your projects better.
6. Conduct a Feasibility Study
A feasibility study will let you know if the project is worth initiating. It's a practical review of the proposed project plan and method so don't get involved in a project that will not provide a return on investment.
7. Create Project Initiation Documentation
The feasibility study on but one of many documents that'll be created during the start of a project. Here are some others.
8. Define a Project Budget and Get Funding
Once you've estimated the project costs, as explained above, you'll go about creating the project budget, which is the amount of money needed to deliver the project, often including the profit for the project management team, as in a construction project. This budget will have to be submitted and approved by the client or stakeholders in order to get the funding to execute the project.
9. Assemble a Project Team
When a project and its budget are approved, the next step is assembling a project team with the skills and experience to execute the project as planned. A project manager will lead this team and define their roles and responsibilities.
10. Have a Project Kickoff Meeting
A kickoff meeting is how a project is formally started. It notifies all project stakeholders that the project has begun, introduces the project team and communicates the project's requirements, background and more.
3 Essential Tips for Starting a Project
In larger or more formal projects, there is the project "kick-off," an entire phase of the project that is made up of everything that needs to be done before the actual start of the work. Check out our project kickoff checklist to get the detailed list. Briefly, the kickoff involves gathering all the information you need to find the right team, the right tools and defining the project's objectives and scope by creating a lot of documentation.
For example, there's the statement of work, which is a description of what you intend to accomplish. There are budgets to create, supplier contracts to draft, team organization charts and risk assessments, to name just a few.
All of that is important. But sometimes, while scurrying around madly getting approvals and documentation created for the upcoming project, we forget about the basics. Whether you're planning a large project or a small one, you want to remember the essentials of what makes a project start out on the right foot.
We've outlined three essentials to starting a project below.
Get Everyone on the Same Page
It's crucial that everyone involved in the project is brought in early to define the project and weigh in on the project's risks, outcomes and deliverables to help ensure a successful outcome. That means not only your team but the project stakeholders, business owners, end-users, IT architecture team… everyone.
Devin Deen, Scrum master and project management expert suggests that the most effective method of getting everyone on the same page at the start of a project is simply by creating a PowerPoint presentation together with your team. The keyword there is "together." Everyone should contribute to it, workshop it, and yes, that even includes your business stakeholders. The presentation should cover the top-level points about a project, such as objectives, scope, rules and responsibilities, approach, schedule and risk. By enlisting their support, you're getting all parties on board and encouraging their buy-in.
But more than that, by inviting people to participate in the co-creation of the project, you'll get engagement and support early on in the project. So whether you choose a collaborative PowerPoint presentation or just invite key people to coffee, the important point is to get everyone on the same page as early as possible.
Get to Know Your Team
You hire for expertise, but projects are not all about just delivering tasks on time. You spend time with people you work with sometimes more than you see your own family! It's important to develop a team culture where everyone feels engaged, involved, heard and respected. To do that, you need to get to know the team.
This isn't as hard as it may sound. Take a little time to meet individually with team members, and learn what they want to achieve with the project and how it's going to impact their lives. Also, ask what skills and opportunities they hope to gain. It's important for you to know early on in the project where you can add value to help build skills in your team members, but also where they can add value in other areas of the project that may not be evident with their core position.
You'll also want to use team-building activities, like the classic kickoff party. Or even a pre-kickoff meet and greet. It may seem a bit premature to party at the start of a project, but every milestone on the path to successful project completion needs to be acknowledged.
Get the Right Tools
When you're getting to know your team, inquire about what tools they need to get the job done. It's better to have these defined and delivered at the start of the project, so the beginning of the work doesn't feel like a chaotic swarm of people demanding access to this or that, or worse, sitting idly by because they don't have the software they need.
Make sure you select tools that can extend to everyone on the team. You'll want project planning and scheduling features, reporting and project dashboard capabilities, task management, budget tracking and team collaboration features all in one. Then, if your team requires specialized tools, those can be added to the core project tool, via API or plugins, so you set up a workspace where all the data and activity is centralized.
Whether you're working on a big project or a smaller one, the right online project tools are better to start your project with, versus a handful of disparate spreadsheets or data tools that don't facilitate easy data sharing and team communication.
Before you kick off that next project there's one thing you want to have in order to ensure success, and that's the right tools to do the job more efficiently. ProjectManager is a collaborative online tool developed with the project leader in mind. It's there for you at every phase of the project, from kickoff to planning and reporting, while also offering you a real-time dashboard so you always know what's going on with your projects. Try it for yourself with this 30-day free trial.