Connectivity is key to productivity in project management. Airtable is one of the many project management software solutions that presents itself as the app to connect your data, workflows and teams. Yet, many people are searching online for an Airtable alternative.
Why seek an alternative project management solution? Let's find out by first understanding where Airtable excels and where it falls short. Rather than a takedown of Airtable, we're here for a more realistic look at the tool. Once we've explored its offerings, we'll list 10 Airtable alternatives that might better serve your business.
How Airtable Works
Airtable helps you build custom applications to streamline your business processes, workflow and the overall projects you're managing. Users have employed the software to track and manage projects of varying sizes. It offers tools such as automation to keep stakeholders informed.
Even users who are seeking Airtable alternatives have praised its customizability and multiple views. It has a grid view that's similar to a spreadsheet and a form that is open to third parties. In addition, it has Gantt charts, a gallery (similar to a kanban board) and a calendar view. Having these different views lives up to the software's promise of connectivity.
Reasons to Seek an Airtable Alternative
While Airtable sounds powerful, we wouldn't be talking about the tool if there weren't ample reasons for seeking an Airtable alternative. One big oversight, especially for an app that prides itself on collaboration, is the steep learning curve. Even if you're an expert at Excel, you'll find the tool hard to use and navigate. Even performing simple tasks like copying and pasting can be challenging.
The tool seems to think of itself as a super-sized Excel, yet Airtable is even more complicated. For example, there's a formula function on Excel that makes managing projects easier. Airtable doesn't offer any sort of formula function. That absence alone is sure to have many seeking an Airtable alternative.
Even the communication tool, the foundation of collaboration software, is lacking. There's no way to have a general dialogue with the project team. Yes, you can comment on individual data rows, but if you have to take time to search for those comments, then you're wasting time and not collaborating.
And thanks to Airtable's pricing, you're also paying a premium to get a limited scope. For example, Airtable's workspaces are separate and one cannot link to another unless you're willing to pay twice as much for one person to have access to two workspaces. Data from different workspaces are hard to connect and this becomes an obstacle to integrated analytics.
2023 Best Airtable Alternatives Software Rankings
If you're looking for Airtable alternatives, you've found the right list. The tool is suitable for larger organizations that can afford it, but most project managers looking for a solution that serves all of their purposes will be looking elsewhere. This is why we explored the 10 best Airtable alternatives and listed below in descending order.
1. ProjectManager
ProjectManager tops our list of Airtable alternatives for many reasons. One, it's an award-winning project management software that's easy to use; you can onboard your team in minutes and get started right away without any complicated setup or intensive training. Two, it's a one-stop shop for all of your project needs. From task and resource management as well as time-tracking and timesheets to planning, monitoring and reporting, the software does it all—and in real time because it's an online tool. Add workflow automation to streamline processes and task approval to ensure quality to make your decision that much easier.
Work on Multiple Project Views
But that's not all! Just as Airtable has multiple project views, so does ProjectManager. There's a robust Gantt chart that filters for the critical path and sets a baseline to track project variance in real time. In addition, there's a sheet, list, calendar and kanban view that all update simultaneously so there's one source of truth keeping everyone working better together. That's real-time collaboration across departments that appeals to teams whether they work in traditional, agile or hybrid methodologies. There's even a global search feature to quickly find what you're looking for across all of your tasks and projects.

Monitor Progress and Performance in Real Time
While Airtable has features that mimic dashboards, you have to install and set them up from third-party apps. ProjectManager beats that inconvenience with real-time dashboards that are ready to use when you are. There's no setup required. The dashboards work automatically, collecting and calculating data to display across six project metrics, including time, tasks, workload and more. Now you can see your project's performance and progress at a glance. For a deeper look at project data, use one-click reports, which can be filtered and easily shared to update stakeholders.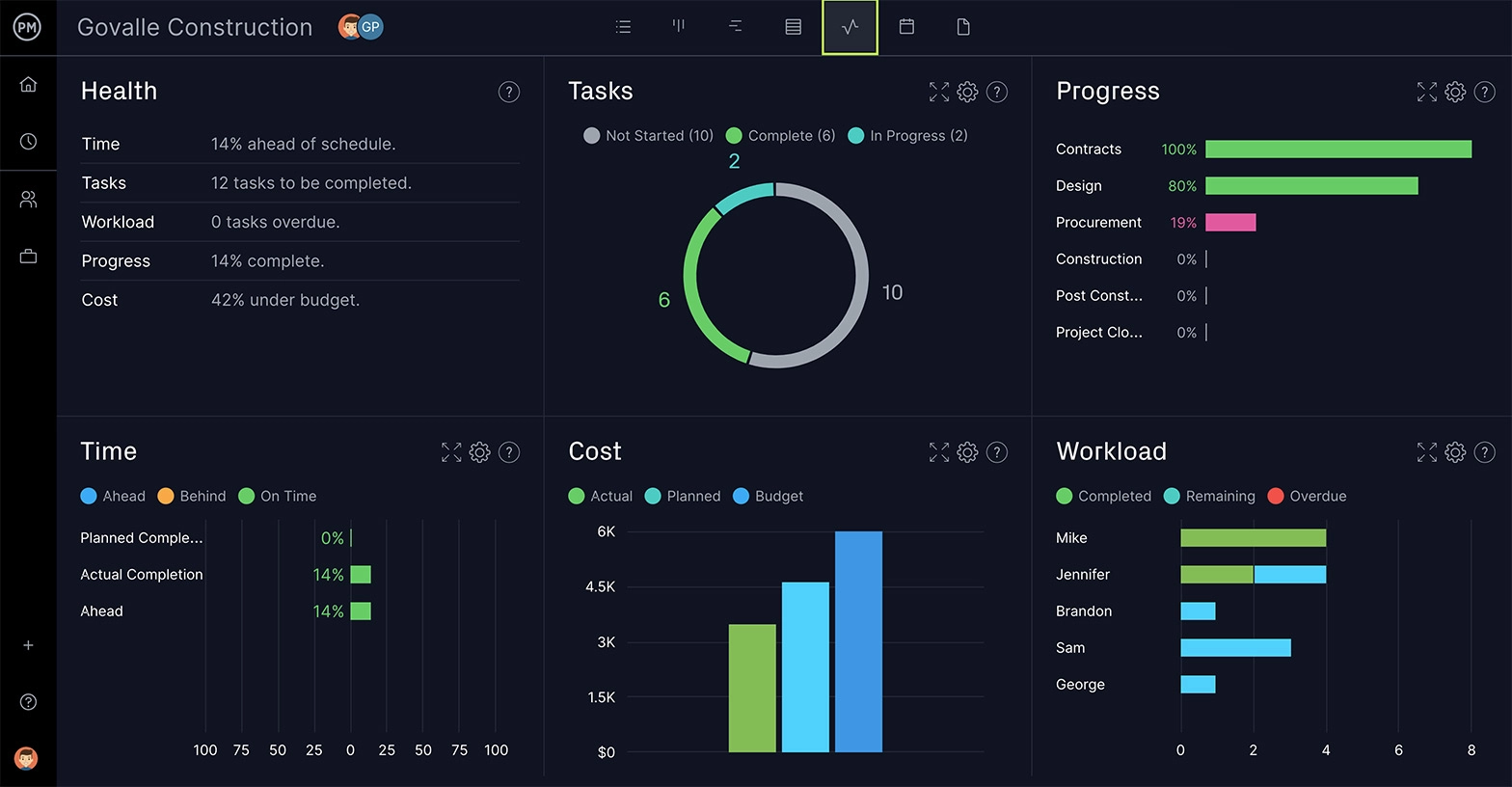 We've only covered the tip of the iceberg as to why so many users love ProjectManager. On top of all the features you get with this software, we were also impressed by its collaborative platform that connects teams no matter where or when they're working. Users can comment and share files, plus email notifications and in-app alerts keep everyone updated on changes, which is more efficient than what we've seen with other Airtable alternatives. Get started with ProjectManager today for free.
Pricing
Team: $13.00 user/month
Business: $24.00 user/month
Q&A
Does ProjectManager offer a free trial? Yes, ProjectManager has a 30-day free trial
Does ProjectManager have a mobile project management app? Yes, it's available for Android and iOS
2. Smartsheet
Smartsheet is an Airtable alternative that also takes its lead from Excel. The tool looks like a spreadsheet but with more flexibility. It aims to boost your team's productivity and lives up to that promise with an easy-to-use UI, whether making plans or streamlining workflows. There are other tools that the software offerings including a card, calendar and Gantt view, which promise a more complete project management experience.
However, that experience is tarnished when you try to use those features. This is especially true for the Gantt chart as it isn't fully functional. Those who need an Airtable alternative that delivers real project management tools will be disappointed. There's a lack of time tracking, a hole can be filled with third-party apps, but why would you want to add costs to an already pricy tool just to get features that are available on other Airtable alternatives we review on this list?
Pricing
Pro plan: $7 user/month
Business plan: $25 user/month
Q&A
Does Smartsheet offer a free trial? Yes, Smartsheet has a 30-day free trial
Does Smartsheet have a mobile project management app? Yes, it's available for Android and iOS
3. Nifty
Nifty is project management software for large-scale projects that employ multiple teams. It helps you organize the tasks in your project, track their time and manage your teams all within one tool. The time tracking feature includes monitoring how long teams are taking to complete their tasks, which is a helpful addition. This software is also included on our Airtable alternatives list due to collaborative tools and unlimited guest and client use.
Nifty is still a relatively new product, though, and with that comes the occasional glitch, especially when integrating with third-party apps. Other issues that might stem from its short time on the market are recurring tasks, project templates and task management. Some users have complained about the calendar being cluttered and the mobile app as customers may avoid it due to the time it takes to load. There are no online tutorials or any sort of user manual to help train new users which are going to be an obstacle for some users to clear when choosing an Airtable alternative.
Pricing
Free: $0 user/month
Starter: $9 user/month
Pro: $16 user/month
Business: $25 user/month
Unlimited $499 per month
Q&A
Does Nifty offer a free trial? Yes, Nifty has a 14-day free trial
Does Nifty have a mobile project management app? Yes, it's available for Android, Chrome and iOS
4. Wrike
Wrike is a project management Airtable alternative with strong task management and team collaboration features. It offers Gantt charts for scheduling and users have responded positively to the many integrations that work with the software. There are also dashboards and reports, which are essential features when monitoring and tracking your project's performance and progress. Workflow automation is another plus that makes this tool attractive to many.
What users might not find as attractive is how complicated Wrike can be to use. The learning curve is steep for both professionals and newbies. It'll take a while for most to get comfortable with the tool, which takes time away from the project. That includes the onboarding process to the tool as users must be added manually. If you're working with a large team, that's going to cost you a significant amount of time. If you're looking to analyze data, you'll be disappointed in the lack of filtering options. There's no proper task prioritization, either. While Wrike is one of the more robust of the Airtable alternatives we reviewed, these shortcomings are unattractive to many potential users.
Pricing
Professional plan: $9.80 user/month
Business plan: $24.80 user/month
Q&A
Does Wrike offer a free trial? Yes, Wrike has a 14-day free trial
Does Wrike have a mobile project management app? Yes, it's available for Android and iOS.
5. Zoho Projects
Zoho Projects is another strong contender in our Airtable alternatives list. It's project management software that lets you plan projects, including subtasks, and has great communication features such as forums, activity streams and chat. The tool has timesheets and resource utilization charts to help with productivity. Another nice feature is that teammates can share files and other information that's accessible by the whole team whenever they need it.
But there's a reason it lands at the halfway mark for our Airtable alternatives. One glaring problem is search as there are no global search features. Although you can search for tasks in a project, if you're working on more than one project and want to find a task across several projects, that's not going to work on this app. Another big problem is the dashboard. Clients are going to want access to this high-level view, but you can't add dashboards alphabetically, which makes it harder to find one specific one if there's a list of many. All of this is problematic enough, but the main issue is that the tool isn't easy to use. For those considering Zoho Projects, this might be a dealbreaker.
Pricing
Premium: $5 user/month
Enterprise: $10 user/month
Q&A
Does Zoho Projects offer a free trial? Yes, Zoho Projects has a 10-day free trial
Does Zoho Projects have a mobile project planning app? Yes, Zoho Projects offers a mobile app
6. Asana
Asana is a popular project management software, which might be due to aggressive marketing or ease of use. Either way, there are practical reasons why so many people seem to like it. It's easy to use, which is always a plus, and there are many integrations to expand the scope of the tool. People love the collaborative features that allow you to invite others to the digital workspace, comment and more. The collaboration and task management feature earned Asana a place on our list of Airtable alternatives.
What might detract from the experience is the lack of time-tracking features as it's a major fault in Asana's task management tools. In fact, most project management software on this list has time tracking because it's simply that important. Time tracking is one of the main tools to keep you on schedule. On another note, even though Asana is easy to use, that doesn't mean you're going to jump in and just intuitively know everything. Newcomers to project management will have to get some experience under their belts before they can really take advantage of the software. Task management is another essential part of any project management software, but Asana's task management capabilities are not where they should be. Perhaps our main gripe with Asana is that you can only assign one user to a task at any given time. These are only a few reasons why the tool falls to this spot on our Airtable alternatives.
Pricing
Basic: Free forever
Premium: $13.49 user/month
Business: $30.49 user/month
Enterprise: Custom pricing
Q&A
Does Asana offer a free trial? Yes, Asana has a free 30-day trial
Does Asana have a mobile project management app? Yes, it's available for Android and iOS
7. Notion
Notion is project management software where teams can plan, implement and track their projects. There are various tools, such as kanban boards, lists and calendars, which can have customized workflows. A wiki collects everything from goals to office policies and contact information. There's also document management, whether videos, code, bookmarks or images, all of which can be tracked. All of these positives make it a powerful Airtable alternative.
What weakens its placement on our list of Airtable alternatives is that the software takes a significant amount of time to set up. It's not plug-and-play such as others on our list. If you want to take advantage of its collaboration features, you're going to have to do some major configurations. Another area that could use improvement is its search and navigation, which requires more than a keyword to be effective. Depending on what type of project you're working on, these can be minor inconveniences or major disruptions.
Pricing
Free: $0 users/ month
Personal Pro: $5 user/month
Team: $10 user/month
Enterprise: Custom pricing
Q&A
Does Notion offer a free trial? Yes, Notion Personal Pro has a free trial with a 1,000 block limit
Does Notion have a mobile project management app? Yes, it's available for Android, Windows and iOS
8. ClickUp
ClickUp is a cloud-based project management tool that streamlines projects and workflows, organizes tasks, tracks changes and helps to manage teams. You can use it to create schedules, organize calendars, manage capacity and track time spent on tasks. There are also collaboration tools that connect teams and reporting features that can customize reports and securely share that information. These are some reasons it made our top-10 Airtable alternatives.
All those features are great, but not when they're designed in such a way that the overall software becomes too complex, a major complaint from users. Even the automation features, which should streamline processes, are reportedly difficult to use. The fact that you can configure everything is like having an unlimited choice that can be paralyzing, especially when you're setting up the tool for the first time. A lot of users who have tried this Airtable alternative have complained that it's buggy, so you might want to try different software altogether.
Pricing
Unlimited: $5 user/month
Business: $9 user/month
Business Pro: $19 user/month
Q&A
Does ClickUp offer a free trial? No, ClickUp doesn't have a free trial
Does ClickUp have a mobile project planning app? Yes, it's available for Android and iOS
9. Basecamp
Basecamp is another online Airtable alternative that focuses on collaboration, tracking tasks, deadlines, files and discussions. It's more of a collaboration app than a project management app, though it could be used to manage some projects. Think of it as a virtual hub for your team, which is especially helpful for those organizations that are working with distributed teams. It's easy to use and flexible with enough integrations to help close the gaps in the software.
Those gaps are substantial if you're more in the market for a project management Airtable alternative. The biggest gap in managing a project on Basecamp is the lack of Gantt charts. For some, it's impossible to even consider managing a project without one. It also has no features that help you monitor and track the details of a project to make sure everything is coming together according to the schedule. In reality, this is a good communication tool. However, if you're looking to manage a project, you'll have to use it as a piece of a larger collection of other apps.
Pricing
Personal: Free for three projects and up to 20 users
Business: $99 flat fee
Q&A
Does Basecamp offer a free trial? Yes, Basecamp offers a 30-day free trial
Does Basecamp have a mobile project management app? Yes, it's available for Android and iOS
10. Trello
Trello is another Airtable alternative that has particularly strong kanban boards among the other project management features you might want. The visual workflow of a kanban board is easy to understand and use. It's also great for agile project management. With Trello, there's some automation and you can use third-party customization to get more usability out of the app.
Putting all of your eggs in one basket can be problematic. For example, kanban boards are great for what they do, but if you're working on bigger, more complex projects with lots of tasks and you're going to get frustrated. There's also no Gantt chart or way to link task dependencies and filter for the critical path, all essential for project scheduling. The bottom line is it's not a fully-featured project management tool with tracking and reporting. Even if you're working in an agile environment you'll be disappointed in its lack of roadmaps and inability to review iterations. Even if you love kanbans and need no other tool, you'll find better Airtable alternatives with more robust kanban boards, which is why this tool lands at the bottom of our list.
Pricing
Free plan: $0 user/month
Standard plan: $5 user/month
Premium plan: $10 user/month
Enterprise plan: $17.50 user/month (min 25 users)
Q&A
Does it offer a free trial? Yes, Trello has a 14-day free trial
Does it offer a mobile app? Yes, Trello has a mobile app
Related Content
If you're looking for an Airtable alternative, then we've given you a bunch of choices. Choose the right one for you. But there are many project management tools on the market, maybe you're looking for a different alternative. We've done a lot of these alternative roundups and below are three to check out if you're still looking for the best software tool to help you work more effectively.
It's clear that ProjectManager is the best Airtable alternative for 2023. Chock full of all the project management features you need, with more coming soon, you can plan, monitor and report on your work all in real time. Get the collaboration tools you need to connect, task management features to streamline work and resource management tools to keep everyone working at capacity. Join the teams at NASA, Siemens and Nestle who use our tool to deliver success. Get started with ProjectManager today for free.