Project management consultants don't only add value to a project, but they can help introduce project management processes to any team. It's a great career transition for current project managers to consider. Jennifer Bridges, PMP, shows you what PM skills, PM tools and related experience you need to succeed in this competitive field.
What Is a Project Management Consultant?
A project management consultant gives expert advice to their client. This includes recommendations regarding project management and other forms of support for businesses that request it.
The project management consultant has relevant skills and a wide range of knowledge about project management to provide guidance and help organizations make better decisions throughout the life cycle of a project.
They're also tasked with understanding their client's business and even directing some aspects of their project, such as helping the project manager create a strategy, assess risk and more. They can assist with distributing resources, analyzing data to identify issues before they arise in the project, creating project plans, roadmaps and more.
What Is Project Management Consulting?
Project management consulting is a type of business that provides expert advice about project management to its clients to help them improve efficiency and know which projects are right for them. A project management consultant is used when an organization needs professional help from an external source as it doesn't have the resources internally to deal with these issues.
In terms of that help, project management consulting firms can be hired for a variety of reasons. The organization might want to resolve a specific question, there could be a leadership void, operations or performance are lacking and so on. The project management consultants will then be hired and work closely with their clients to identify and resolve project management-related issues.
To do their jobs, project management consulting requires the same project management tools that are used when managing an active project. ProjectManager is award-winning project management software that helps plan, manage and track projects in real time. This gives project management consultants the tools they need to monitor with real-time dashboards to gather data and then plan with robust Gantt charts to get projects back on track. Get started with ProjectManager today for free.
Project Consultant vs. Project Manager
A project consultant has the skill set of a project manager and can even end up doing some of the project manager's responsibilities, but they're different positions. For one, a project manager is usually only tasked with one project, unlike a program or portfolio manager. A project consultant can be hired to work on multiple projects for various clients at the same time.
Project managers lead a project and are very hands-on, dealing with the daily operation of the project. A project consultant might drop in and help, but in general, has a more high-level view of the project and from what they observe will provide advice or support as needed.
The project consultant is a higher-level professional than the project manager for these reasons. Project managers are focused on the project and the methods of managing it. Project consultants often deal with business management issues and have a multi-focus approach.
In this video, Jennifer draws on personal experience as a PM consultant to help those considering a career switch into this growing field. Jennifer has over 20 years of experience as a project manager and a project management consultant and knows the pros and cons of the role.
What Do You Need to Become a Project Management Consultant?
Jennifer notes five requirements that'll round out your resume when applying for a project management consultancy position.
Skills: You can't guide a project if you're not already well-versed in what makes up a project and the various methodologies to successfully control and manage one. You need to be versed in several different methodologies, such as Agile, Scrum, PMBOK, and Prince2, depending on the types of organizations you're looking to support.
Experience: Skills alone won't cut it. It's the old debate between book smarts and street smarts. The truth is you need both to inform your decisions.  Make sure you have at least 5-10 years of experience as a project manager to provide real value to your clients.
Expertise: If you can show that you've handled situations that the organization is currently wrestling with and found a viable solution, you'll be a vital resource.
Training: The need to have the background to understand and apply methodologies and tools with the knowledge that they're effective tools to project success will make you a more viable candidate.
Certification: Finally, if you have project management certification, then there's an independent third party verifying the skills you claim you have.
What Does a Project Management Consultant Do?
We've already touched on what a project management consultant does when hired, but it's worth going into greater detail. Their responsibilities vary and cover projects in a similar manner as project managers, but have a different perspective that provides them with valuable insights and improvements.
That means a project management consultant must have answers and be able to do any number of things to deliver those solutions, such as:
Solve problems: Any project generates problems; the valuable consultant is one who can provide practical solutions.
Frame issues: It's important to put these problems in context, whether a historical precedent or just how it impacts other aspects of the work.
Facilitate creativity: You're not only coming up with solutions but helping the project team work creatively to come up with solutions, too.
Ask questions: No one has all the answers, and a smart consultant is one who knows when they're outside their sphere of knowledge and isn't afraid to ask questions.
Provide options: As you gather information, provide a set of solutions, then the project team and you can figure out which is the most viable.
Generate solutions: It might be your decision to decide on which course of action is best and lead the troops to rally around this decision.
Recommend tools: PM consultants often recommend new project management software solutions to support the processes and methods they're recommending.
Project Management Consultant Skills
Beyond the technical and experiential skills required, a project management consultant needs to have interpersonal skills, which Jennifer outlined.
Be Accountable
You're there to provide direction, which means you must take ownership of the decisions you make and not pass the buck. Make sure you're prepared for all calls and meetings.
Be Reliable
Nobody follows someone they don't trust, so do what you say you'll do and build a strong relationship with the project team. Show up on time and follow up on calls and meetings.
Be Resourceful
Every project has different constraints, but you must think creatively and freshly to pull it through difficult times to a successful end. Make sure you're adding value to the project.
Follow-Up
You need to not merely give orders but manage that process, which means following up to see if there are any issues. Check-in regularly with your team to ensure progress is being made.
Follow-Through
If there are issues, whether it's on the project team or within the project, then it's your responsibility to resolve them and redirect the project toward success.
Pro tip: Working as a project management consultant can be a great way to improve your career. It offers you a way to reignite your passion, expand your network and invest in yourself, among other things.
Project Management Consultant Certification Examples
If you're looking for a project management consultancy, you'll want to first explore their experience and see if they'd make a good fit for your business and the projects you're undertaking. Another thing to consider is if the project management consultants have certification. Certification doesn't mean they'll be ideal for your business but offers a third-party verification of their skill sets. Here are a number of certifications to look for.
This certification is offered by the Project Management Institute (PMI), a trade organization for the industry, and provides a way to distinguish the level of project management skills and experience. It's globally recognized and tests a candidate's ability to manage people, processes and business priorities.
Unlike a PMP, this certification is more common for people starting off in the project management space. It's an entry-level graduate certification that project managers get to learn business and technical skills. Once you've completed and passed these courses, you'll have the skills and experience to manage projects professionally.
This is another certification offered by PMI. It's an advanced-level certification geared towards those professionals who work with project teams, manage requirements and product development as well as conduct business analysis as project and program managers. Therefore, unlike other certifications, it focuses on business analysis, identifying business needs and recommending relevant solutions.
This certification shows an advanced competency in the coordination management of a portfolio of projects. It's for senior-level portfolio managers and instructs on ways to achieve strategic objectives. The goal is to fail less often and waste less money when aligning projects, programs and operations with strategic objectives and investing resources to deliver value.
Project Management Consultant Salary
The salary for a project management consultant varies depending on where the position is located, the industry and the skills and experience of the candidate. That said, the average base pay is about $100,000 with bonuses and additional benefits boosting that to roughly $128,000 annually, according to Glassdoor.
Benefits of Project Management Consulting
The salary is only one of the benefits of working in project management consulting. Depending on the firm you work for, there are usually good health and retirement benefits, as well as PTO and other benefits. In terms of clients, the benefits are many. They'll have a professional on board with the capacity to direct projects to success through their skills and knowledge. There's also less likelihood of conflict as consultants have no other stake other than your best interest.
A project management consulting firm is less likely to make costly mistakes and thus will also minimize your risk while delivering quality. This leads to time and cost savings due to their work from start to finish.
ProjectManager Is Ideal for Project Management Consulting
A project consultancy uses the same tools as a project manager and their team to plan, execute and track their work. ProjectManager is award-winning project management software with a full suite of tools that empower users to control their projects and deliver success. We have features that allow project management consultants to plan and report on their projects with dynamic tools that help with analytics and provide updates to their clients.
Plan With Powerful Gantt Charts
Project management consultants can offer all the advice in the world, but without the tools to implement it, there won't be action. Our robust Gantt charts help you organize your tasks, link all four types of task dependencies and even filter for the critical path to identify essential tasks. You can manage costs and resources, too. Once you set the baseline, you can track your project's planned effort against its actual effort to help you stay on schedule. This data is shared throughout the tool to the dashboard, reports and more.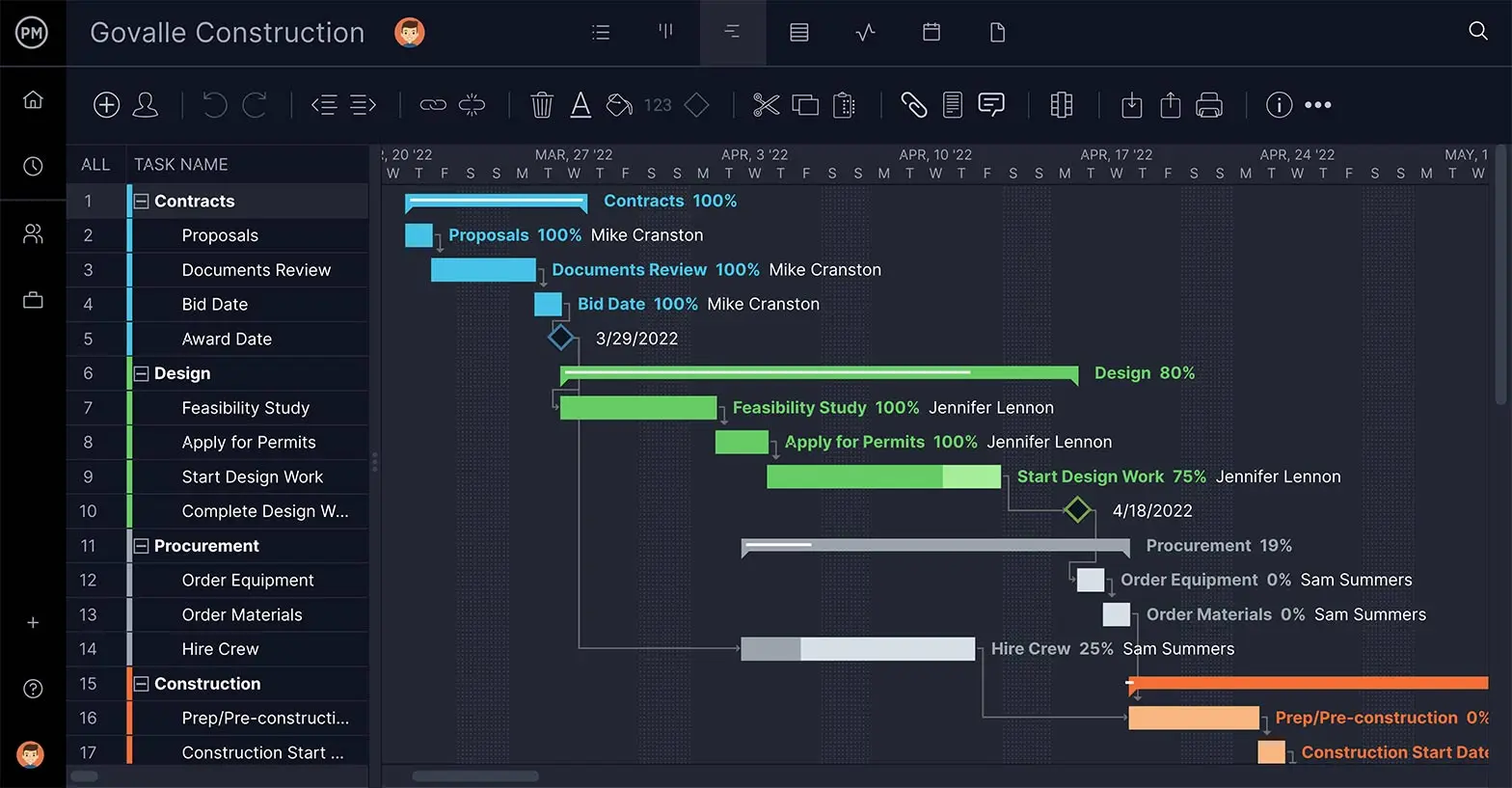 Get Detailed, Customized Reporting
Reporting is a key tool for project management consultants. We give them real-time data to make more insightful decisions. There are reports on project and portfolio status, as well as workload, timesheets, variance and more. These reports can all be filtered to see only the information you want. They can also be saved to various formats and easily shared to keep your clients updated on the project's progress and performance.
Of course, these are only a few of the tools you'll find on our software. There are multiple project views that allow teams to work how they want for better task management. Risk management features help you identify and mitigate issues as they arise and resource management tools show team availability and help you balance the team's workload to keep them working at capacity and productive.
ProjectManager is online project management software that connects project management consultants to their clients anytime and anywhere. We make it simple to share files, comment at the task level and more. Join teams at Avis, Nestle and Siemens who use our software to deliver successful projects. Get started with ProjectManager today for free.