The expression "product manager vs. project manager" is commonly seen online, but what is the true difference between the two? Both roles are responsible for managing either the product or project lifecycle, two separate but similar processes that require leadership and planning.
Organizations might need to run complex projects that involve the development of a final product. In those cases, it can be hard to understand the difference between a product manager and a project manager, as both roles and skills are needed.
What Is a Product Manager?
A product manager leads a team through the product life cycle. This process consists of assisting with market research, creating the product vision, planning the product development process and setting up a product roadmap for execution. Then, the final product is launched to market, where it goes through maturity stages until its product life cycle ends.
It's important to note that this process is a cross-functional effort. The product life cycle is not solely supervised by the product manager; instead, this role collaborates closely with project management, sales, marketing and other departments.
What Is a Project Manager?
A project manager is a leader who oversees cross-functional teams through the project life cycle to guarantee successful project completion. Project managers are in charge of managing teams during the initiating, planning, scheduling, monitoring and closing phases of a project.
Both project managers and product managers need the tools to effectively collaborate. ProjectManager is a project management software that can be used by both product managers and project managers to plan, schedule and track time, costs and tasks. ProjectManager offers several planning tools such as Gantt charts, task lists, calendars and much more. Get started for free.
Product Manager vs. Project Manager: 4 Key Differences
To better understand the differences between these two roles, let's do a side-by-side comparison. This direct comparison will help you decide which role is best for your project or whether you need to fill both positions. It's also important to identify potential areas of overlap to avoid potential misunderstandings or conflict.
1. Responsibilities
We've only provided a general description of each role. But what does a product manager do? And what does a project manager do? Let's take a look at the most important responsibilities of a product manager vs. a project manager.
Product Manager Responsibilities
Here are the main responsibilities of a product manager throughout the product development process.
Create a product vision
Supervise the market research process and define customer needs for the product team
Define KPIs for product performance and product success
Create and manage a product roadmap
Of course, these roles can vary greatly depending on the types of products or projects being executed in the organization. For example, manufacturing product managers are responsible for tangible products, while software development product managers assist different teams and oversee agile workflows to assist in the software product launch.
Project Manager Responsibilities
Project managers have many different roles and responsibilities throughout the project life cycle, as each stage has its own challenges. Here are the most important responsibilities of a project manager.
Assemble and manage a project management team
Develop a project plan
Create project management documents such as a project budget, project schedule, resource management plan and risk management plan
Use project management skills and project management tools to manage each step of the project life cycle
Monitor the project management knowledge areas of a project, such as tasks, resources and time
2. Skills
There are similarities between the soft skills that are required to be a product or project manager as both roles require leading a team and managing timelines, costs and resources. In fact, there are many soft skills that overlap between these two roles. Here are a few of those soft skills for both product and project managers.
Leadership skills
Problem-solving & communication skills
Organizational skills
Negotiation skills
On the other hand, hard skills differ for both positions as individuals need to be proficient in either project management or product management. We'll focus on the hard skills required for these management roles.
Project Manager Skills
There are several ways to become a project manager. Here's a quick overview of the most common project management skills.
Project life cycle management: A project manager must be qualified to manage the five phases of a project life cycle, also known as project management process groups including project initiation, planning, scheduling, tracking and closing
Project management knowledge areas: The 10 project management knowledge areas group the key activities of project management including time, scope, resource and cost management
Product Manager Skills
There are several ways to become a product manager. Here's a quick overview of the most common skills for a product manager.
Product life cycle management: The product life cycle starts once a product is introduced to the market and finishes when it's removed. During this period, the product manager must demonstrate product management skills and oversee the execution of five phases including product development, introduction, growth, maturity and decline
Product planning: Product planning skills involve planning a product vision, a product roadmap and allocating resources to execute sprints and deliver product releases. This requires strong planning, scheduling, task and resource management skills
3. Certifications
As both roles are technically geared for the delivery of products and projects, there are different processes, skills and certifications required for each. For example, many project managers are accustomed to working within the PMI guidelines for best project management practices whereas product managers might rely on agile product development, lean manufacturing processes or lean software development methodologies.
Product Manager Certifications
Product Manager certificate by the Product School
Product Management certification by the Pragmatic Institute
Certified Product Manager Credential by the Association of International Product Marketing and Management (AIPMM)
Project ManagerCertifications
Certified Associate in Project Management (CAPM) certification by the PMI
Project Management Professional (PMP) certification by the Project Management Institute (PMI)
PRINCE2 Foundation/PRINCE2 Practitioner certification by Axelos
4. Salary
According to Indeed, the average salary for a product manager in 2023 is $89,861 per year, while the average salary for a project manager is $77,162 per year. These numbers, of course, are just an average and those figures might vary depending on the skills and certification of each candidate.
Product Manager vs. Project Manager: Areas of Overlap or Conflict
While both are leadership roles and the titles are similar, there's a difference between a product manager and a project manager as Jennifer Bridges, PMP, explains.
ProjectManager Is a Great Tool for Both Roles
ProjectManager is the ideal planning, scheduling and tracking tool for both project and product management. Here are some of the features that make ProjectManager stand out as a choice for product and project managers alike.
Plan and Track Projects With Gantt Charts
ProjectManager's Gantt chart is a powerful planning and scheduling tool for both project management and product management purposes. With our Gantt charts, you can schedule product releases and create a project schedule, a product roadmap or a high-level timeline for your project or product lifecycle.
Track Time, Tasks & Cost With Real-Time Dashboards
As you go through the project management or product development phases, you'll need to monitor progress. ProjectManager's real-time dashboard allows you to track all your costs, tasks and time so that your products or projects are delivered on time and under budget.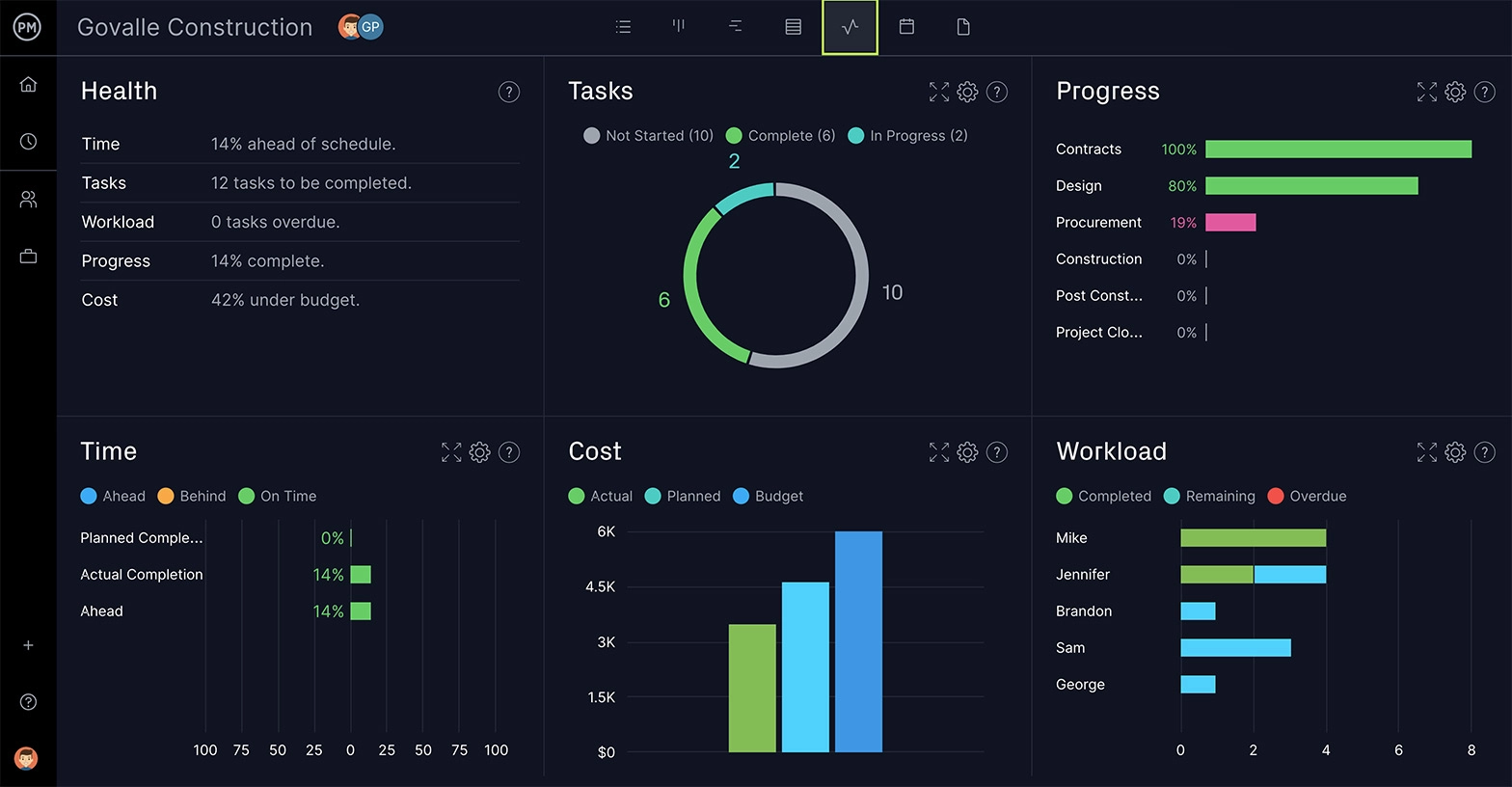 Manage Workload & Timesheets
As a project or product manager, you're in charge of a team. It's important that you manage their workload properly so that your team members have an equal amount of work to execute. ProjectManager's workload features allow you to allocate and reallocate your team member's time to execute work right. Then use our timesheets to track time and costs.
ProjectManager is great for product development teams and project managers alike. If you need a tool that can help you manage your product or your project, then sign up for a free 30-day trial of ProjectManager.