Planning is everything. Without a plan you're working in the dark. But the plan is only the beginning. The real work begins when executing that plan. Learn how to execute a plan to deliver a successful project.
How to Execute a Plan in 8 Steps
Once you've put the time and effort into creating the plan, you need to execute it. That means doing the tasks in such a way that you don't spend over your budget and miss your deadline. Follow these eight steps to ensure a successfully executed project.
Get your free
Action Plan Template
Use this free Action Plan Template for Excel to manage your projects better.
1. Identify the Goals & Objectives of Your Plan
You've already identified the goals and objectives of the project and created a project plan to achieve them. Now that you're executing that plan, always keep those goals and objectives in mind and make sure the project is working towards reaching them.
2. Map Out Tasks On a Timeline
To make sure that all the tasks are completed by the deadline, you've organized them by priority and have mapped them on a timeline. As you execute the project, refer back to that timeline to make sure that the tasks are completed in a timely manner.
3. Assemble a Team
The plan can't be executed without a team. They are your most valuable resource. Choose your team wisely. They should have the skills and experience necessary to complete the project and jell as a team to work collaboratively.
4. Assign Tasks to Team Members
Once you have the team, assign them tasks according to their abilities. Make sure you give them direction, but also ownership of the work. Be available to answer any questions and get feedback from them.
5. Track Your Team's Progress
As the team works on their tasks, you'll want to keep track of their progress and performance. If you see them falling behind it might be necessary to reallocate resources to get the project back on track.
6. Control Costs & Risks
Also, monitor how much money the project is spending. You'll need to control those costs to keep them aligned with the budget. You should have identified risks when planning. Now you want to keep an eye out for any issues that arise and quickly resolve them.
7. Communicate with Your Team
Stay in communication with your team. They will have questions about tasks and can provide feedback from the front lines of the project. The more open communication is in both directions, the better for the health of the project.
8. Measure the Success of Your Execution
Use key performance indicators (KPIs) to track your project. They are also helpful as success criteria.
Tips to Execute a Plan
The planning phase is the backbone that holds up any project. Jennifer Bridges, PMP, shows you how to take your project plan and execute it right.
Thanks for watching!
Action Plan Template
This action plan template helps you gather all the details that you and your team will need to know to successfully execute a plan, such as its action steps, phases, resources and timeline.

What Tools Can You Use to Execute a Plan?
Project management tools are ideal to track the execution of any type of plan. Let's see how project management tools that can help you stay on track.
Gantt Charts
The Gantt chart is a scheduling tool that has a spreadsheet on the left and a timeline on the right where you can see the entire project, including dependencies, milestones and more. You can track progress on the Gantt chart, but there will undoubtedly be changes to the project plan.
A digital Gantt chart, like the one in ProjectManager's software, makes adjusting the scheduling easy. Just drag and drop the task to the new start date or deadline. All the other tasks are adjusted automatically.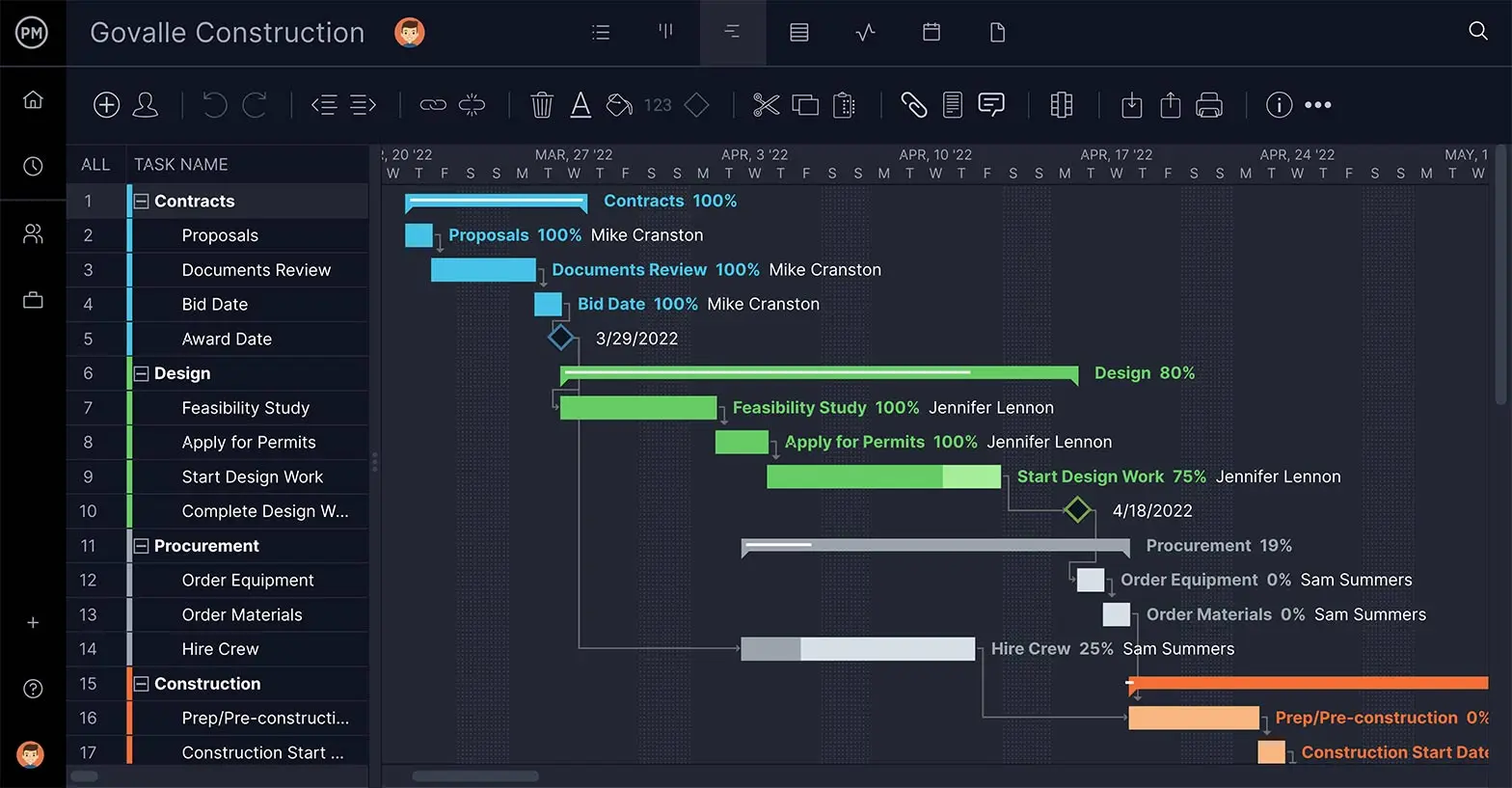 Project Dashboards
The monitoring and controlling phase of a project occurs simultaneously with the execution of the project. Using a project dashboard provides a high-level view of the project whenever you want. Unlike light-weight competitors, ProjectManager has real-time dashboards that don't require time-consuming set up. You can use it right away to monitor time, cost, workload and more.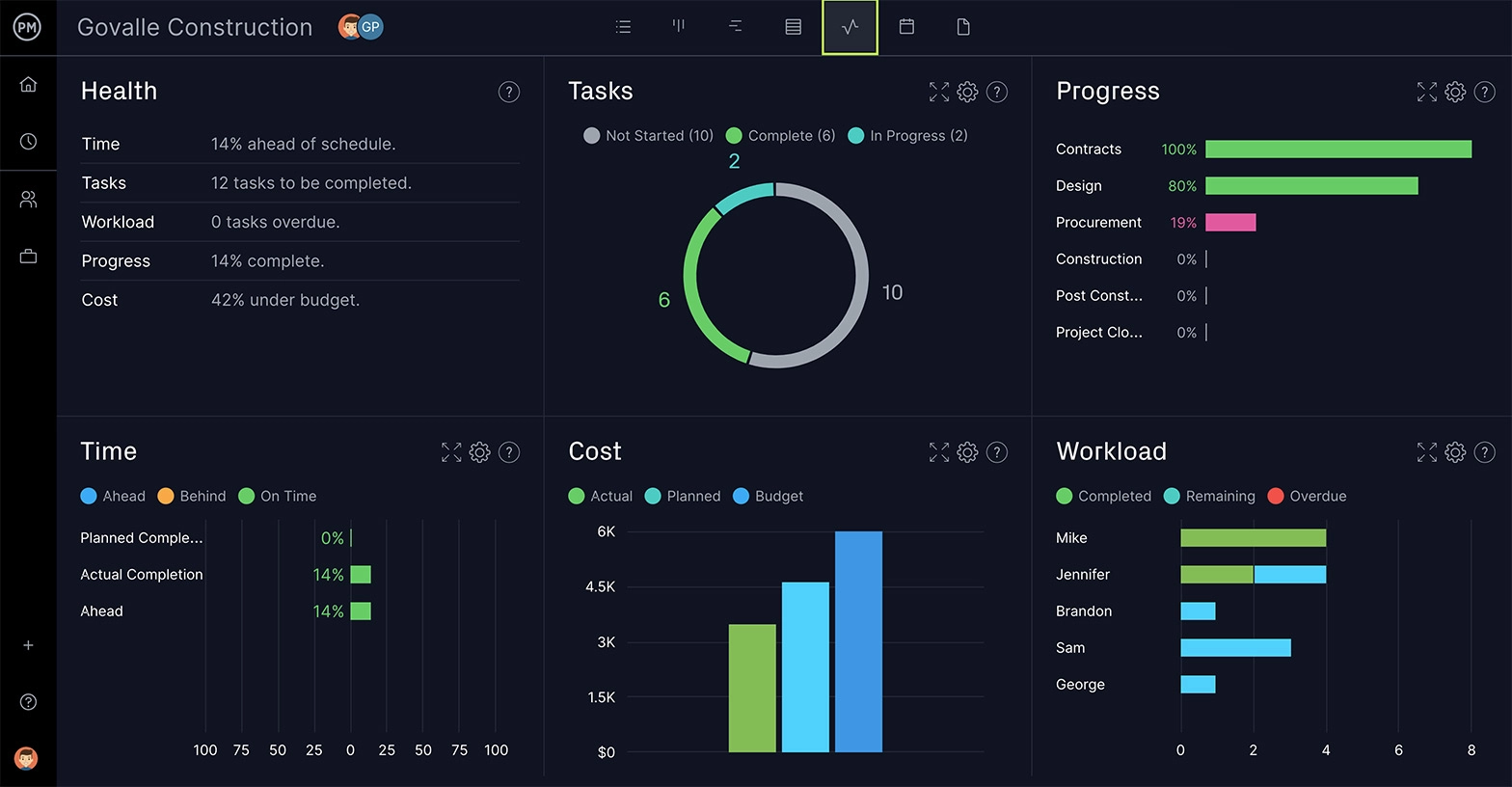 Kanban Boards
Gantt charts usually have more information that a project team needs when executing its tasks. Kanban boards are a great tool for teams in that they allow them to manage their backlog and collaborate when planning sprints. The visual workflow of the kanban board is also great for managers who get an overview of the production cycle and can identify and remove bottlenecks before they cause problems.
Free Planning Templates
ProjectManager has all the tools listed above and more, but if you're not ready to upgrade yet we also offer dozens of free project management templates for Excel and Work for all phases of a project that you can download right now. Here are a few that can help when executing your project.
Our free action plan template for Excel can be used to plan and execute projects. It breaks the project down into phases, tasks, assignees and more. You can even track time and costs.
If your project isn't that complex or if team members want to manage their tasks, our free to-do list template for Excel is a great help. Not only does it list your tasks, including start and end dates, but you can see the percentage complete to ensure you're staying on schedule.
To successfully execute a project you need to identify and assign the roles and responsibilities of the team. Our free RACI matrix template for Excel helps you do this by indicating who is responsible, accountable, consulted and informed.
So as you can see there's so much more than just executing the plan. So if you need a tool that can help you execute your plan successfully, then sign up for our software now at ProjectManager.