Milestones are used in project planning to indicate important dates on the timeline, such as when one project phase ends and another one begins. They can also be used to show when a major deliverable is handed off. A milestone template maps those milestones across your schedule and helps you stay on track.
Use our free project milestone template to better plan, manage and track your project in real time. Using a milestone chart template allows you to break up your project schedule into phases and mark those points in which important deliverables are produced. The ability to chart project milestones is an essential part of any project schedule.
What Is a Milestone Chart?
A milestone chart visualizes the milestones from your project schedule. This gives the team a sense of what's to come in the project and when it must be completed. These milestones can be the end of a project phase, the beginning of the next project phase or an important deliverable.
Because the milestone is clearly indicated on the project timeline, it creates a more digestible plan and helps the team execute their work without feeling overwhelmed. It also helps the project manager to see where the project team is in relation to the project schedule as a means of tracking progress.
More than an Excel Project Milestone Template
When you open your milestone template in ProjectManager, you can do more than what a static Excel template can offer. Milestones are represented by diamond-shaped icons on the Gantt chart. You can also link all four types of task dependencies to avoid costly delays, filter for the critical path and, when your schedule is done, set a baseline. Now you can track your planned effort against your actual effort in real time to keep to that schedule.
But that's not all you get when you use our free milestone template in ProjectManager. You're connected to a suite of project management features that'll help you track milestones in real time, keep teams productive and much more. Our Gantt chart is connected to tracking tools that help you manage your team, equipment and materials throughout the project's lifecycle. You can also allocate your assets to schedule strategically, reduce risk to your project and monitor your budget to track costs.
Why You Need a Project Milestone Template
A project milestone template is a scheduling tool that not only breaks up the larger project into manageable sections but also helps you track progress so you can keep to that schedule. Using our free template provides another layer of structure that holds your project schedule together.
Using ProjectManager to manage your milestones goes beyond what a static Excel spreadsheet can do. For one, milestones are part of the Gantt chart, which is an essential scheduling and planning tool. But the Gantt chart is one of multiple project views that can be used to plan, manage and execute your project.
While project managers tend to work on Gantt charts, their teams likely don't need that much data to do their work. That's why we have kanban boards that visualize workload. They allow teams to manage their backlog and collectively plan sprints. Managers get transparency into the work, which allows them to catch roadblocks and reallocate resources quickly to keep teams unobstructed. And, of course, you can indicate milestones on the kanban board. That's one project view, but we also have robust task lists, a sheet and calendar view, too—all of which have milestones.
Teams get the tools they need to execute the project and project managers have visibility to ensure that there aren't costly delays. Milestones are met and the project schedule is kept. You've determined a way to identify, map and track milestones and you get a full set of scheduling tools to help you plan, assign and track tasks.
What Is Included in This Project Milestone Template?
When you open the project milestone template in ProjectManager, you have a full suite of tools. Let's focus on the milestones as that's why you came here in the first place. Here's a list of what you can do with milestones in your project schedule with ProjectManager.
Milestone List
Milestones can be seen on the Gantt task information panel when you have milestones on the Gantt chart. To access the Gantt task information panel, click on the "i" icon on the Gantt chart ribbon that's located to the right of the print icon.
Milestone Schedule
The Gantt chart is made up of two parts. There's a spreadsheet on the left with all the project data. On the right is a timeline where that data is visually represented. The milestone schedule can be viewed as diamond icons on the timeline side, which can be added by clicking on the diamond icon on the Gantt ribbon. You can filter the Gantt chart for milestones, too.
How to Use This Milestone Template
Once you've opened the project milestone template, you'll drop into the software on our Gantt chart view. Here, you can import an Excel, CSV or Microsoft Project file, or you can create a new project by following these steps.
Add Tasks to the Gantt Chart
On the left-hand side of the Gantt chart, you can start adding tasks. Each task should have a start and end date, which will create a task bar between those two points in time on the timeline. You can also add resources for this task and associate costs, assign team members and more.
Set Tasks as Milestones
If the task is a milestone, you can set it as one by going to the Gantt ribbon and selecting the diamond icon, as explained earlier. You can add as many milestones as you'd like, but it's best to use them sparingly or else they lose meaning.
Track Your Milestones Using the Gantt Chart Timeline
As you execute the project, you can view your milestones as diamond icons on the timeline of the Gantt chart to track their progress. It's a rudimentary way to track, and there are more sophisticated ways that we'll get to shortly, but any tracking tool is worthwhile in project management.
More Project Management Templates to Help Manage Project Milestones
Before we get to other tools that can help manage your project milestones, let's not leave the realm of templates. We've highlighted some others that can help you manage project milestones. ProjectManager has dozens of free templates for Excel and Word that cover all aspects of project management. Here are a few that are related to managing project templates.
If you're not ready to try ProjectManager, you can use this free Gantt chart template for Excel. It does only a fraction of what our software can do, but you can organize your tasks and their duration, which will automatically populate the timeline.
Work Breakdown Structure Template
Our free work breakdown structure template for Excel will make sure you don't neglect any tasks when building your Gantt chart. This hierarchical chart will allow you to identify all project deliverables and associated tasks.
To get those tasks done, you'll need our free to-do list template for Excel. It has space to list all your tasks, including the start and end dates for each. It also shows you the percentage complete for each task and allows you to track your progress.
Manage Your Project Milestones with ProjectManager
ProjectManager is award-winning project management software that helps you plan, manage and track your project in real time. Our Gantt charts have milestones but can also filter for the critical path and set a baseline to track project variance. Once you've set the baseline, we have various features to help you monitor your progress and performance.
Get a High-Level View With Real-Time Dashboards
Our software shares live data across all its features. For example, you can toggle to the real-time dashboard at any time to get a high-level view of the project. The dashboard automatically collects live data and translates it into easy-to-read graphs and charts that display project metrics such as time, cost, workload and more. Unlike lightweight software, there's no time-consuming configuration necessary. Our dashboard is ready when you are.
Use Customizable Reports to Update Stakeholders
When you need more data than the dashboard can provide, use our reporting feature to get the details you need to better understand and guide the project to a successful end. You can get reports of project status, portfolio status if you're managing more than one project, timesheets and much more. Each report can be filtered to show only the information that you want to see. Then they can be shared in a variety of formats to keep your stakeholders informed.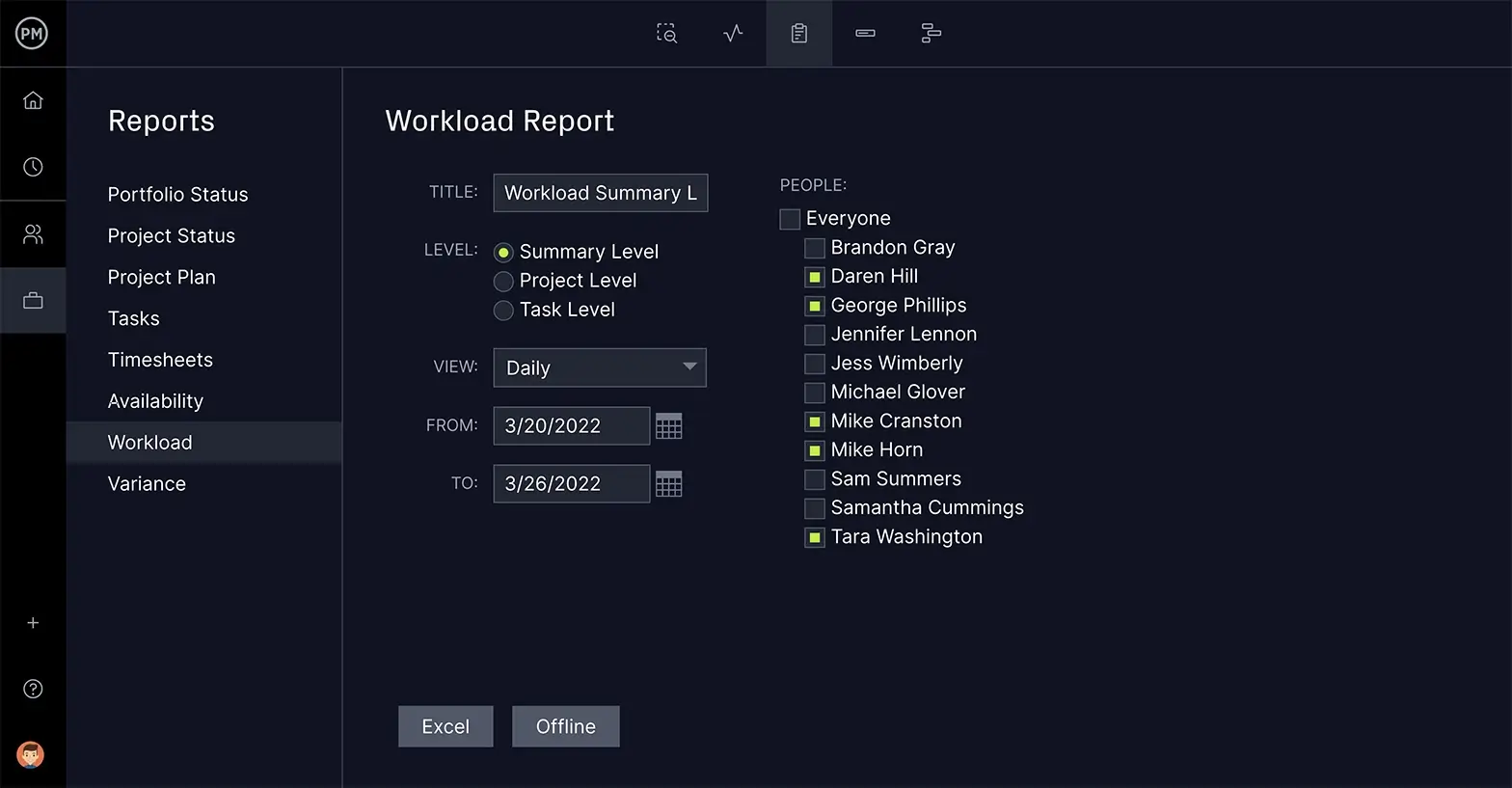 Related Milestone Content
Yes, we have templates, but that's only the tip of the content iceberg. ProjectManager is an online hub for all things project management. Our site has weekly blogs, extensive guides and tutorial videos that you can read for free. Here are just a few of those that are related to our milestone topic.
ProjectManager is online project management software that empowers teams with secure, powerful project management software that allows you to better plan, manage and track your projects in real time. Multiple project views and task management, risk management and resource management features give you more control over your project. Join teams at Avis, Nestle and Siemens who are using our software to deliver successful projects. Get started with ProjectManager today for free.