There are many ways to plan a project. A project calendar is a great way to see assignments and deadlines laid out in a familiar format. Our free project calendar template for Excel can be used when planning, executing and managing tasks throughout the project's life cycle. Download our free project calendar template for Excel to plan out all phases of your project.
Or, better yet, open the project management calendar template in ProjectManager and manage your project with a calendar, Gantt, list, kanban or sheet view. Share files, comment on tasks and track progress and performance in real time to make sure your actual effort meets your planned effort. Get started for free and build a dynamic project calendar in no time.
What Is a Project Calendar?
A project calendar is a planning tool that shows the start date and end date for project activities. It's a simple way to display the project's tasks and assign them to team members. It can be viewed as a differently formatted to-do list with tasks laid out on the grid of a monthly calendar.
But project calendars are more than a means to collect important project dates. They can be used for an overview of project work to foster better task management, team collaboration and to communicate changes in workflow.
You can also use a project calendar to show the availability of your project team. Holidays can be blacked out while working days and the PTO of various team members can be indicated to help when making assignments.
Why You Need a Project Calendar Template
We've already touched on some of the reasons a project calendar template is important. Project managers use them for a variety of tasks. For example, as noted, they can chart the regular hours of their team members to make it easier for project managers to see the availability of those team members when making assignments.
Company holidays can also be indicated to avoid scheduling work on those days. The same is true for the vacations of team members. But there are also scheduling tasks. The project calendar gives you a monthly overview of the project timeline and you can see all the tasks that are to be completed over that time.
Teams are resources, but they also need equipment, materials and other resources to execute their work. Therefore, scheduling resources can also be done on the project calendar template to ensure you have what the team members need when they need it. A project calendar can also make sure everyone on the project team is aware of upcoming meetings, deadlines and milestones.
How to Use This Project Calendar Template
If you download our free project calendar template for Excel, you'll see it's been divided into 12 sheets, one for each month. The first sheet has a sample project to give you an idea of how you'd use the project calendar template. Simply merge cells together to show the duration of each task and color-code them to indicate their project phase. This creates a bar that goes from the start date of the task to the end date with the name of the task and any description added to that bar.
ProjectManager Takes Your Project Calendar Template Further
However, if you choose to open the template in our software, you have a range of options. You can create project plans on Gantt charts, and teams can execute those tasks on kanban boards and task lists. Everything updates in real time so you always know where you are in the project and can keep stakeholders informed on progress.
Our multiple planning tools do more than set due dates, milestones and break projects into phases. You can also link all four types of task dependencies, track time and costs against the baseline you set and even balance resources with our color-coded workload chart, which helps you keep team members working at capacity and avoids bottlenecks.
Get visibility into your team's availability. You can set their working days and hourly rates and view if they have PTO, vacation or global holidays if your team is distributed. It's easy to reassign tasks and workflows can be automated, adding recurring tasks, to keep teams focused on more important tasks. Plus, task approvals can be set up to make sure work meets quality expectations.
All of our planning tools are connected to real-time dashboards and customizable reports, project portfolio roadmaps and online timesheets. Don't tie your hands behind your back with an Excel spreadsheet when dynamic project management software can give you greater control over delivering a successful project.
What Other Project Management Templates Can Help You Make a Project Calendar?
There are many ways to schedule tasks, so ProjectManager has many project views, not simply a project management calendar. We also have dozens of free project management templates for Excel and Word that cover every aspect of a project's life cycle, from initiation to closure. Here are a few free project management templates that you can use to make a project calendar and schedule your work more effectively.
Part of a project calendar is managing your team's schedule. Our free work schedule template for Excel allows you to chart out the working days for your team either weekly or monthly. The free template collects names, tasks, projects and the estimated hours spent on tasks.
Our free project timeline template for Excel is another way to build your project schedule other than using a project calendar. It's divided into two sections. On the left is a spreadsheet that lists tasks, start and end dates, which then automatically populate a timeline to the right.
If you're building a project calendar for a construction project, then our free construction schedule template opens in our software and organizes your tasks on a Gantt chart, which is similar to a timeline but more powerful. It connects to time-tracking tools, resource management features and much more.
ProjectManager Is the Best Project Management Calendar Tool
You can use all these free templates to get started planning and managing your project, but they'll only take you so far. They're static documents that require manual updates, which takes time and effort away from the project. ProjectManager is award-winning project management software that helps you plan, manage and track your projects in real time. Our project calendar is updated automatically with all the other features on our tool so you can see availability, the percentage complete of a task and much more.
Organize Tasks With Robust Gantt Charts
Gantt charts give you more control than project calendars. You can link all four task dependencies to avoid costly delays. We allow you to filter for the critical path quickly and easily, so you know the essential work to complete the project without sacrificing quality. Once you have a schedule in place, with all resources and associated costs, capture that plan by setting a baseline. Now you can track your planned effort against your actual effort in real time. Then you can toggle over to the project calendar and all your data is displayed there so teams can view their work or stakeholders can make sure you're meeting all your project milestones.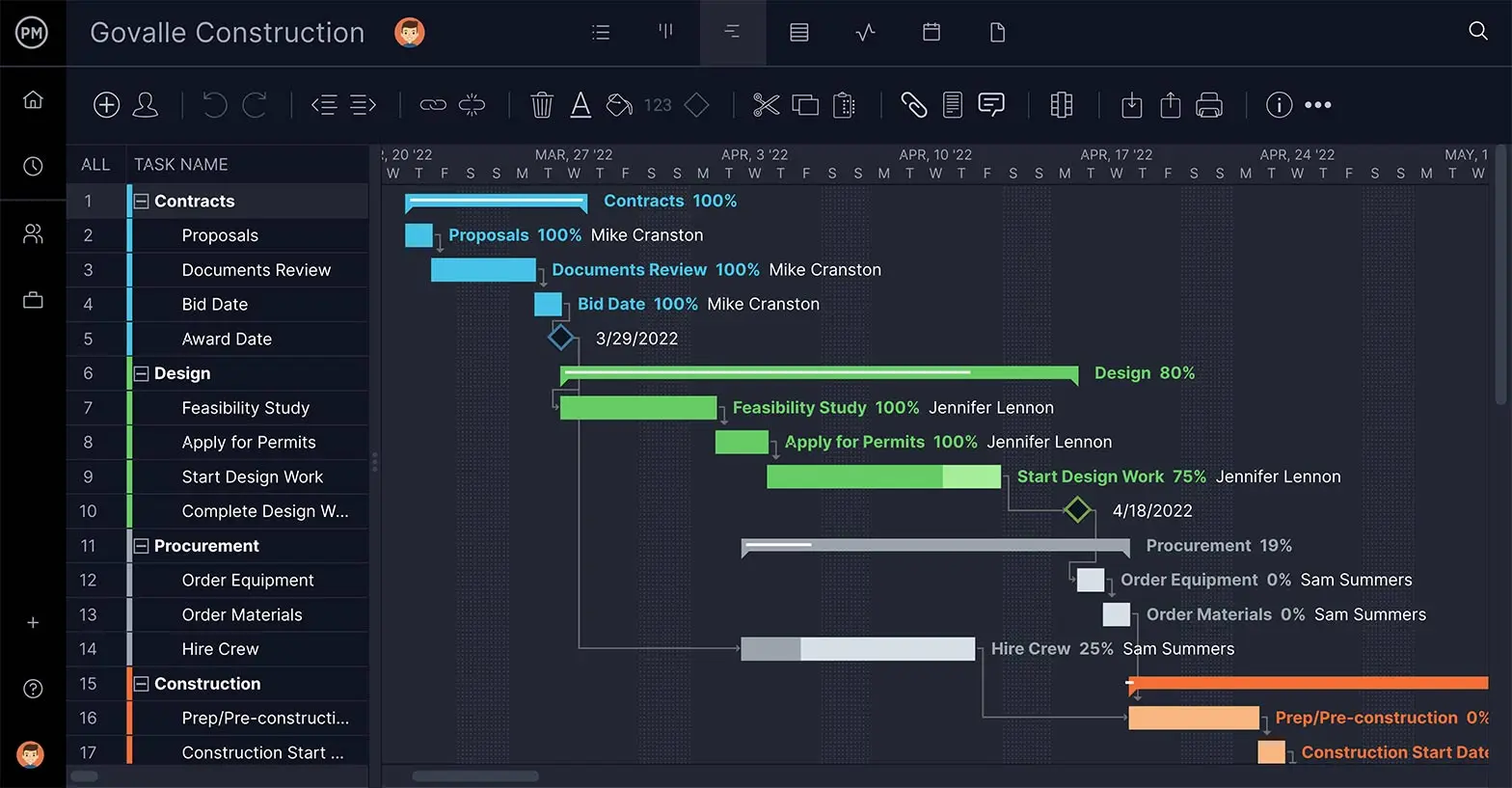 View Progress and Performance on Real-Time Project Dashboards
Once you have a schedule and execute it, tracking your team's progress and performance is paramount to keeping the project on track. When you toggle over to our live dashboard, you get real-time data on your project. Our software automatically feeds the dashboard with live data that are then displayed in easy-to-read graphs and charts. View metrics from time to cost, workload and more. Unlike other software products, there's no time-consuming setup required. It's ready to give you a high-level view of your project when you want it.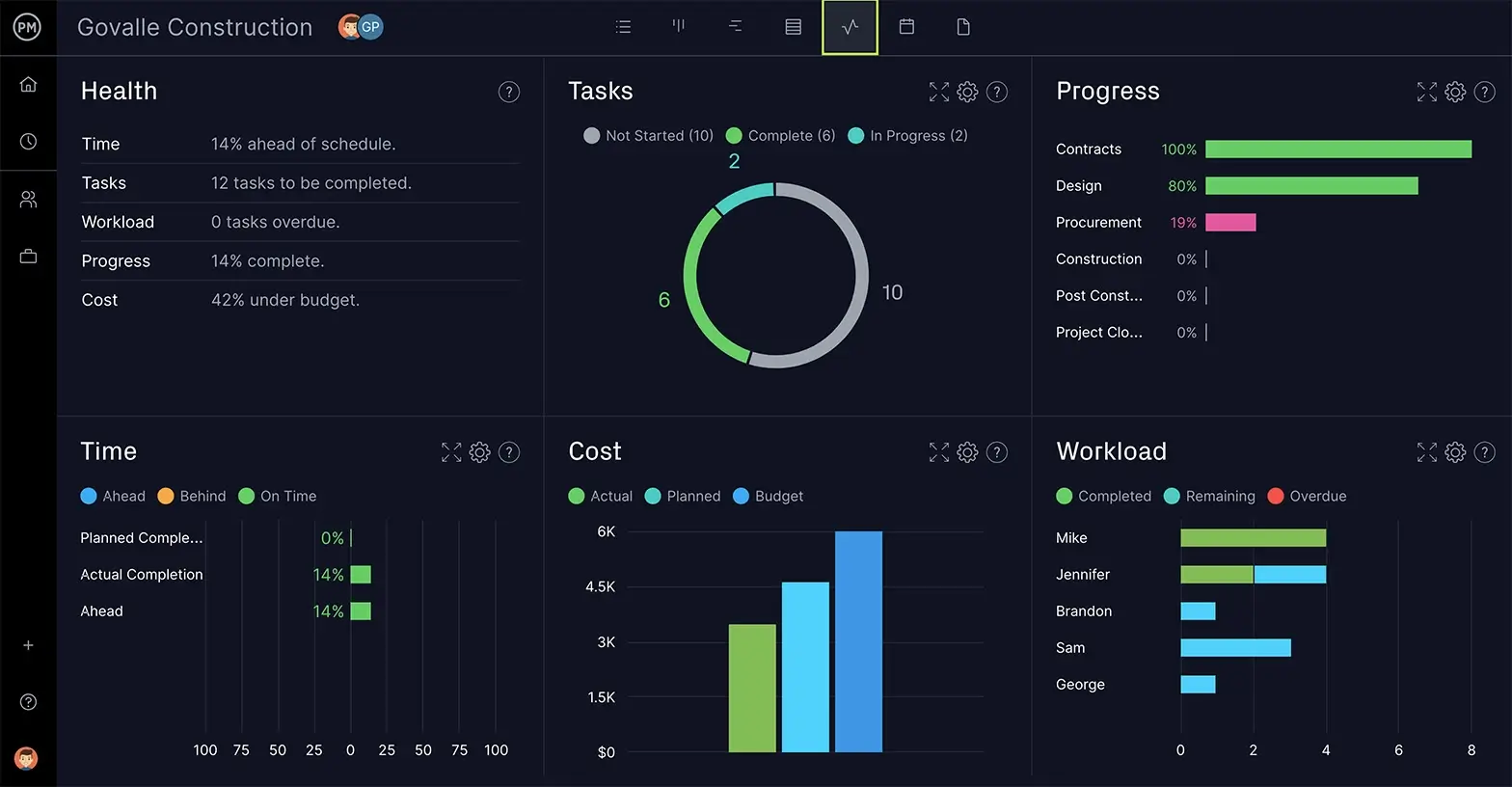 Related Project Calendar Content
If you're still on the fence about the necessity of a project management calendar, then you can read the following free articles that talk about project calendars, timelines and project schedules. Our website has more than free templates. We're also the informational online hub for all things project management, with weekly blogs, guides and tutorial videos. Here's a sampling of calendar-related content.
Get Started With ProjectManager for Free
If you're ready to make a project calendar and get all the task management, resource management and risk management features you need in one place, then take our free 30-day trial. Our software has automated workflows, task approvals to ensure quality, integrations to incorporate all your favorite third-party apps and much more. Get started with ProjectManager today for free.