Once you have a strategic plan that defines your business strategy and sets up long-term goals, the next step is to achieve what you set out to do. Use our free operational plan template for Word to map out the steps you'll take to get from where you are to where you want to be.
Or you can open an operational plan template in ProjectManager, where you can manage your plan with a Gantt chart, spreadsheet, task list, kanban board or calendar—all in an online collaborative space. Update your plan and invite your team, so you can work together in real time and track progress along the way. Get started for free and make a better operational plan.
What Is an Operational Plan Template?
An operational plan is short-term and can cover daily, weekly or monthly timeframes. It focuses on business operations, which are all the activities that are executed to deliver a product or service. The focus of the operational plan is to deliver on the strategic initiatives of a business. That's why an operational plan is more detailed than a strategic plan; it details timelines, the scope of work and more.
The free operational plan template for Word is a tool to organize all the information you'll need to meet the strategic goals of your business. It acts as a plan to outline the tasks, resources, budget and timeline, but also as a means of communicating the operational plan to the entire business to get buy-in from everyone involved. They have to understand deadlines, metrics for success and more.
Why Should You Use an Operational Plan Template?
Using our free operational plan template for Word provides your business with a single document that communicates the goals for everyone to understand. It helps identify parts of the business that need sharpening, can generate more revenue, are inefficient or can benefit from a partnership.
An operational plan is useful for any sized business, big or small, in that it connects teams across departments and focuses their activities on achieving the business's strategic goals. Through the operational plan, the leadership team can detail tasks and outline what everyone in the business will be responsible for doing.
Not only does the operational plan set forth the work, but it defines the metrics that'll measure the progress of that work to ensure that it stays on schedule. All of this works to boost productivity as there are assignments, deadlines and monitoring to keep everyone on track.
Who Should Use This Operational Plan Template?
Since the operational plan is designed to create daily tasks to achieve a business' short-term goals, it's a document that will touch many hands. The first is leadership, as they're the ones tasked with developing the strategic plan that informs the operational plan.
Next, managers are often the ones assigned with the responsibility of creating the operational plan, though it'll involve a good deal of back-and-forth with leadership to ensure it addresses everything that's in the larger business strategy.
Finally, the operational plan filters down to the team or employees who are assigned the tasks that will deliver the goals that the business wants to achieve. As they do this work, though, managers will also be using the operational plan to monitor their progress and make sure they're hitting the milestones which mean the work is moving forward as scheduled.
Breaking down the strategic goals into actionable steps is what makes an operational plan an effective tool for businesses. It must coordinate across different departments, often in different locations, and flow unobstructed through managerial levels. Doing this ensures that everyone is working toward the same objectives. Project management software is key to planning, managing and tracking an operational plan.
ProjectManager is award-winning project management software that can do much more than a static template. While our free operational plan template for Word sets up your operational plan, our software realizes it with robust Gantt charts that organize tasks, resources and costs on a timeline. You can link all four types of task dependencies to avoid costly delays and set a baseline to track your progress in real time against your planned effort. Get started with ProjectManager today for free.
What Does This Operational Plan Template for Word Include?
When you download our free operational plan template for Word, you get an outline of everything you'll need to develop and execute that operational plan to achieve your strategic goals. You can add your company logo and customize the template however you want. If you need to add or subtract sections, it's as easy as cutting and pasting.
On top of the operational plan template, you'll find an informational box. This is where you can name the plan, who created it and the date that it was made. There's also space to add contact information. Again, if there are additional administrative details you want to add, the template can be easily customized. After this, there's the meat of the operational plan, which includes the following.
Executive Summary
You want to start the operational plan by summarizing it for stakeholders who are only going to want the broad strokes. In this brief section, touch on all the points that'll follow and will be more fleshed out.
Operational Objectives
The objectives of your strategic plan are going to direct the objectives of the operational plan. The strategic initiative is more general and the operational plan must fill in the blanks to make it clear how you'll get from where you are as a business to where you want to be. That operational goal, though, must align with the strategic one.
Tasks, Processes & Workflows
Now we're getting into the nitty-gritty of the operational plan. This is where the tasks are determined and whatever resources are required to execute them. You'll want to assign each task to a specific team or team member as well as what processes they'll use and map out the workflows.
Operational Budget
Tasks and resources cost the most. This is where you'll accurately forecast the financial side of the operational plan. You'll want to again list your tasks and resources, but this time, add an estimated cost next to each task and the associated resources in order to figure out what the project will cost.
Operational Timeline
You've outlined what must be done, by who and with what, including how much it'll cost. Now it's time to develop a schedule. The project, by definition, has a start and end date. Each task also has a start and end date. To figure out the duration of the project, you'll list all the tasks and add a start date, end date and duration for each one.
Hiring Plan
Depending on your organization, you might have internal teams who will execute the organizational plan or you might have to contract or hire others to fulfill the requirements of the plan. Here is where you'll note that. If new hires are needed, detail what those hires will be.
Quality Assurance and Control
The operational plan might require that you comply with various regulations or codes. Even if there are no such things related to what you're planning to do, you'll still want to make sure that what you produce is meeting quality expectations. This requires having a quality assurance plan with controls to monitor and respond to issues.
Key Performance Indicators
In order to control the organizational plan as it moves into its execution, you'll need to define key performance indicators (KPIs). These metrics will allow you to measure progress and performance to make sure you are hitting milestones, staying on schedule and meeting your budget.
Risks, Assumptions and Constraints
Every project has risks, assumptions and constraints. Here you'll want to identify what they are and how you'll deal with them. These all can impact the project, both negatively and positively. It's important to have a plan in place to address them quickly to mitigate or take advantage of these things as they occur.
ProjectManager Helps With Operational Planning
In order to manage all these different parts of your organizational plan, you'll need project management software. ProjectManager is award-winning software that helps you plan, manage and track your operational plan in real time. Our risk management, task management and resource management features help you keep the project on track and teams productive by managing time, resources and costs effectively.
Use Multiple Project Tracking Views
An operational plan is executed across departments in a business. These different parts of the organization are likely to use different tools, from development to marketing and sales. Our multiple project views mean that everyone gets to use the tool that works for them. Managers can plan on Gantt charts while others can execute the plan on kanban boards to visualize workflow (great for software developers) or task lists, calendars and more. Every project view is updated in real time so no matter which one you're using the data on, it's up to date and keeps everyone on the same page.
Monitor Costs, Time and Progress on Real-Time Dashboards
KPIs are essential to keeping the operational plan on track. Some of those metrics are costs, time and progress, which are all key to staying on schedule and within your budget. Our real-time dashboard automatically collects this data and displays it in easy-to-read graphs and charts that show those metrics in addition to workload and more. There's no time-consuming or complicated setup needed as you'll find with lightweight tools. Simply toggle over to the dashboard and it'll give you a high-level view of your project.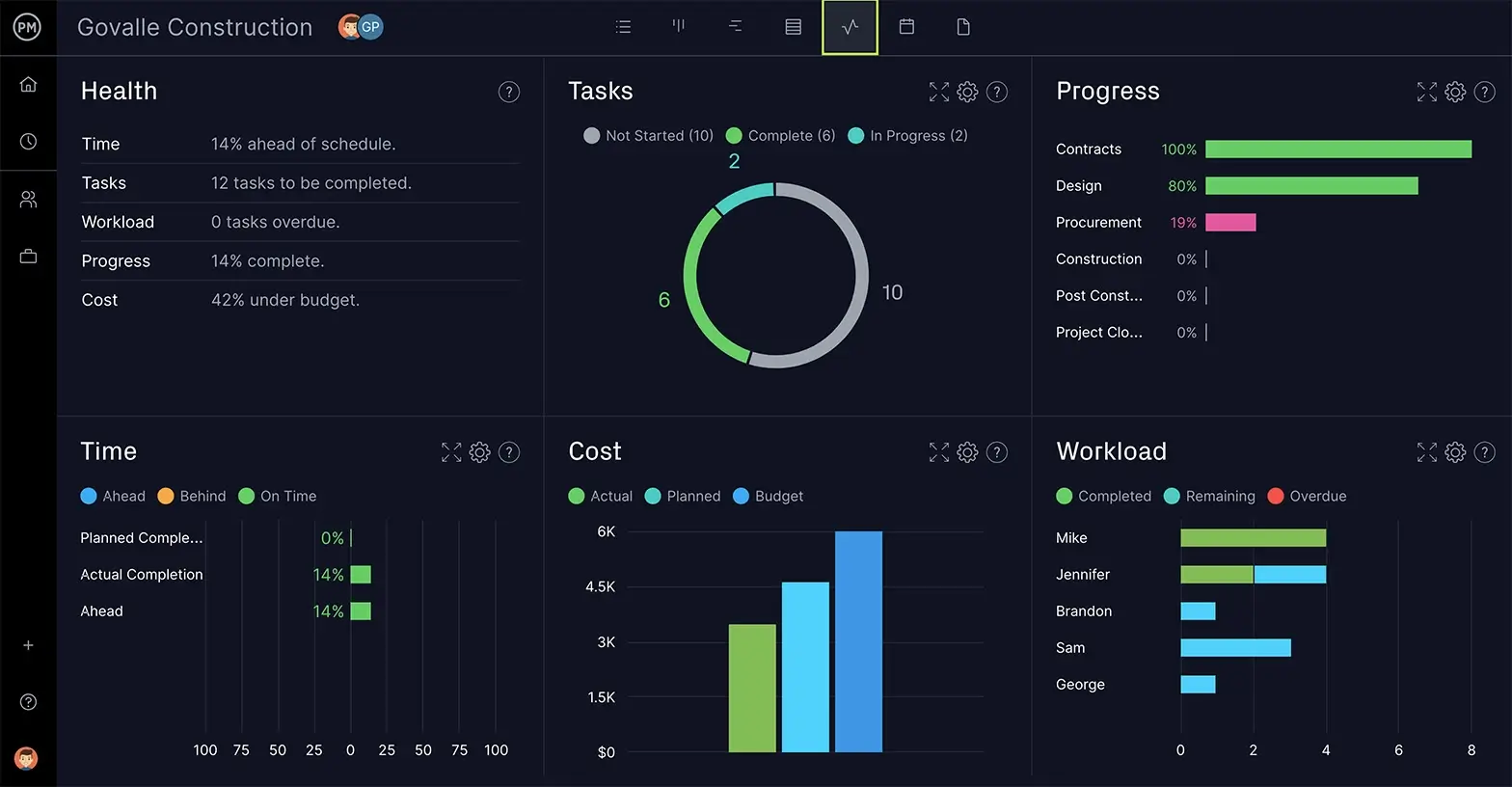 Related Operations Management Content
ProjectManager is powerful project management software, but it's also an online hub for all things related to project management. Of course, there are dozens of free project management templates to download, but there are also weekly blogs, guides and more. Below is just a sampling of what our site has to offer. We cherry-picked the operations management-related works but look around. There's plenty more.
ProjectManager is online project management software that empowers teams to plan, manage and track operational plans in real time. Gantt charts map out your plan, including costs, resources and more. Use kanban boards, task lists and more to execute, and it's easy to generate customizable reports to get more detail than dashboards can offer. Then share them to keep stakeholders updated. Get started with ProjectManager today for free.