Before you can approve a proposed project, you must know if it's feasible. That means conducting a thorough feasibility study to consider all the critical aspects of the proposed project to determine if it'll succeed.
Download our free feasibility study template for Word and find out if the project you're contemplating will give you a return on your investment and can be completed successfully with the money and time you have to do it.
Why Do You Need a Feasibility Study Template?
A feasibility study allows project managers to see the logistical, financial and market challenges of a proposed project. Using a feasibility study template means that all those critical areas are already outlined, and the documentation is consistent from project to project.
A feasibility study template enables project managers to make essential decisions, such as estimating the funds required to fulfill the project. This will determine if the price is something they can recoup or if it's going to lose money for the organization, meaning it's not worthwhile.
Another important aspect of the feasibility study template is that it gauges the potential business of the project and whether that business will result in a return on the initial investment. This includes looking at the marketing the project will enter and whether there's room for the product or service, considering consumer needs and competition. You'll test both the marketplace and consumers to see if your service or product fills a need. This feasibility study template for Word allows you to identify if people want what you'll make, or if the available product or service is lacking.
If there's a product or service offered by competitors, the feasibility study template outlines who those competitors are and provides a profile to show where you can take advantage of their weaknesses or lack of market penetration. Continuing with consumers, the feasibility study template can also help you determine what price is acceptable for your project deliverable and your potential market share.
Software turns a feasibility study into a real project
If you decide to approve the project, then you'll need project management software to plan, manage and track it. ProjectManager is award-winning project management software that has the tools you'll need to organize tasks, make a schedule and manage your resources to deliver the project on time and within budget. Our Gantt charts link all four types of dependent tasks, filter for the critical path and allow you to set a baseline to capture your plan. Now you can compare the planned effort against your actual effort in real time to help you stay on track. Get started with ProjectManager today for free.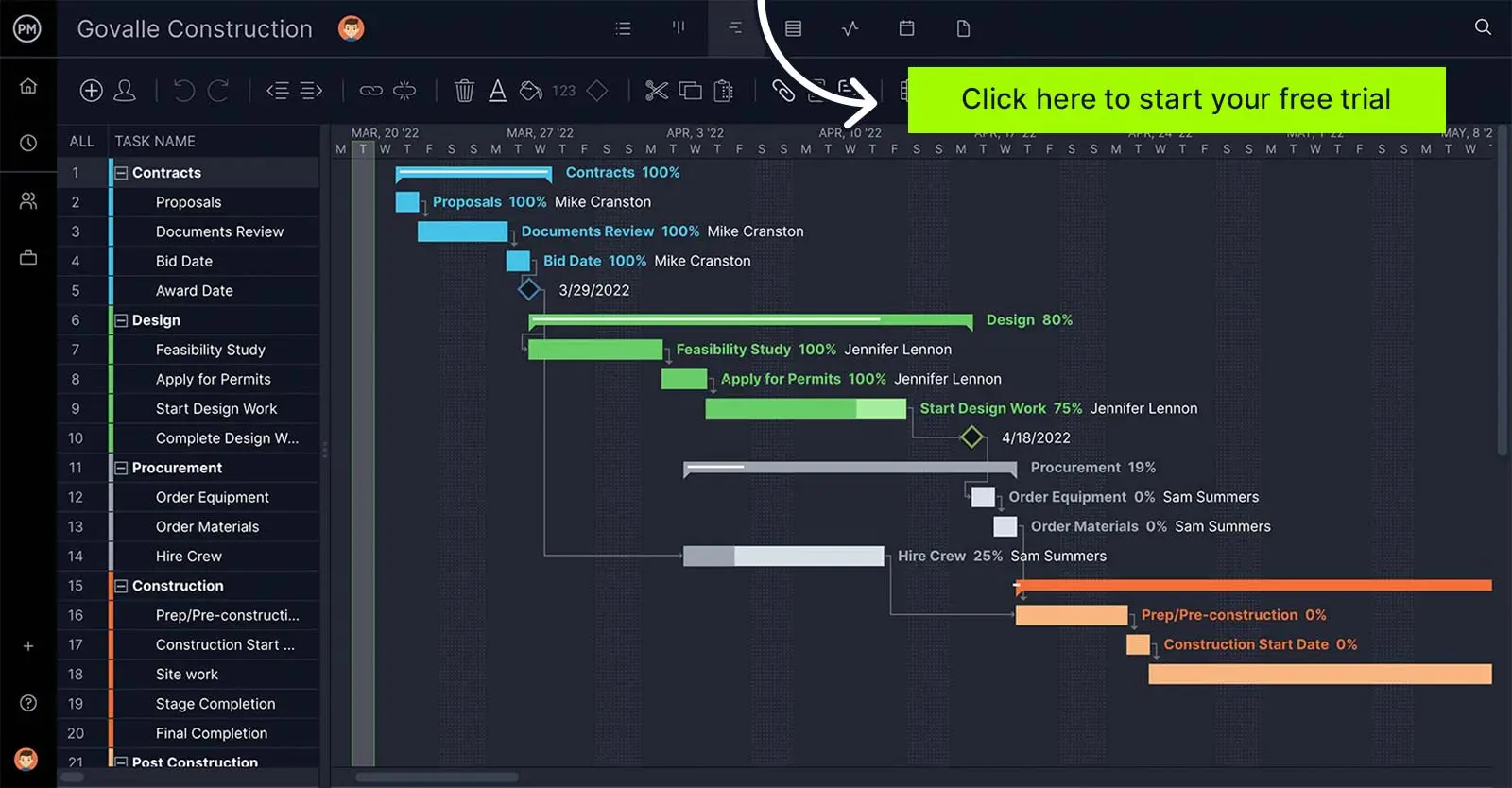 When to Use a Feasibility Study Template
You might've heard that there's no point in doing a feasibility study after a project's been approved, but that isn't always true. It's always better to know information than have questions regarding the project. However, the point of a feasibility study is to determine whether you should do the project.
That's why a feasibility study is done before the project, whether that's bidding or proposing a project, launching a new business, or adding a new product line. In fact, a feasibility study is a great tool to apply before any major business move, even acquiring a rival company.
Since a feasibility study analyzes the potential success of a project, it's carried out in the earliest stages of assessing project viability. It does this by researching the expected costs and project benefits that the proposed project will provide to the organization. The feasibility study template, therefore, is used during this pre-project overview, before any commitment is made.
Who Should Use This Feasibility Study Template?
The feasibility study template can be filled out by any number of people, but it's advisable to choose a professional or consultant who's not part of the proposed project. You don't want someone who's financially or personally involved in the project to make an impartial study. Even if they could, there will always be the appearance of impropriety.
Of course, you'll want someone qualified to make an insightful analysis of the proposed project. They should have subject matter expertise that aligns with the project. Academic credentials work as do professional certifications and experience, as long as they're relevant to the proposed project.
It's also customary to have someone from your team use this document. In fact, for the early investigation, it's not unusual to do the feasibility study in-house, but you'll want to balance that opinion with a trusted professional or consultant who understands the proposed project and the context in which it's being executed.
How to Use This Feasibility Study Template
First, download our free feasibility study template for Word. You'll find a customizable Word document that's formatted to capture all the data you'll need to make a thorough feasibility study. If you want to add more information just copy one of the boxes and change the type to reflect what you want to cover. Here's what we've included.
Executive Summary: For the executive summary, write a brief overview of the project, what it wants to achieve and how it plans to do so.
Description of the Product or Service: explain what the final delivery of the project is, why it's desirable and what is the demand for it.
Technical Considerations: how will the product or service be delivered to customers? List the materials needed, labor, transportation and all the technology needed to make this happen.
Product or Service Marketplace: what is the target market, demand and who are the key competitors?
Marketing Strategy: how will you reach the target audience? Detail the marketing push, whether digital, direct mail, etc.
Organization and Staffing: what are your current staffing levels and will there be a need to hire or restructure in order to fulfill the demands of the project?
Schedule: what is the timeline for the project? Include any constraints, whether budget, resources, etc.
Findings and Recommendations: sum up the findings of the feasibility study and make recommendations on whether to or how to move forward.
Other Free Templates to Help After Your Feasibility Study
Our free feasibility study template is only one of the dozens of free project management templates for Excel and Word that you can download on our site. We have free templates for every phase of the project that will help if you move forward with the project. Here are just a few.
A Gantt chart is a project management tool that organizes your tasks. It looks like a spreadsheet on one side, but everything on that spreadsheet is then populated on the other side as a visual timeline. Our free Gantt chart for Excel is an essential scheduling and planning tool.
Once you start the execution phase you'll want to monitor and control your project. Our free project dashboard template for Excel gives you a high-level overview of project metrics such as the percentage of tasks completed, the workload of your team, project costs and more.
Projects don't always go as planned, which is why it's crucial to identify risks and have a plan to monitor and mitigate them. Our free risk register template for Excel makes sure you're prepared by listing risks, their impact on the project and what your response will be.
ProjectManager Helps You Get Your Projects Started
Templates are a nice way to get a foot up on project management, but they're static documents that require a lot of manual input. Even then, they can't do what project management software does. ProjectManager is award-winning project management software that picks up where your feasibility study lets off. It has all the features you need to plan, manage and track your project in real time.
Get a High-Level View of Projects With Real-Time Dashboards
A feasibility study looks at a potential project and determines if they're viable. But that's true only if the execution of the project follows as expected. To monitor your progress and performance, use our real-time project dashboards, which automatically collect live data and display it in easy-to-read graphs and charts. Just toggle over to the dashboard whenever you want to track costs, time, workload and much more. Unlike templates and lightweight software, there's no configuration required. Our dashboard is plug-and-play.
Secure Timesheets Streamline Payroll and Track Team Hours
Your team is your most valuable resource, don't have them waste valuable time on busywork. As team members log their hours in our software, their timesheets are automatically updated. Managers can add tasks from different projects, copy timesheets from past weeks and there's also an auto-fill function. Security is also key to any timesheet feature and ours lock when submitted to an administrator, who can oversee and approve the timesheet in the software. Managers can also view timesheets to see the percentage complete of their teams' tasks.
Related Feasibility Study Content
If you want to do a bit more research before deciding about ProjectManager, browse our website. We have tons of free project management content, from weekly blogs and tutorial videos to guides and, of course, free templates. Here are just a few pieces of content that relate to feasibility studies.
ProjectManager is online project management software that empowers teams to plan, manage and track their projects in real time. Risk management, resource management and task management features help you fulfill the promise of your feasibility study and deliver projects on time and within budget. Join teams from Avis, Nestle and Siemens who use our software to deliver success. Get started with ProjectManager today for free.